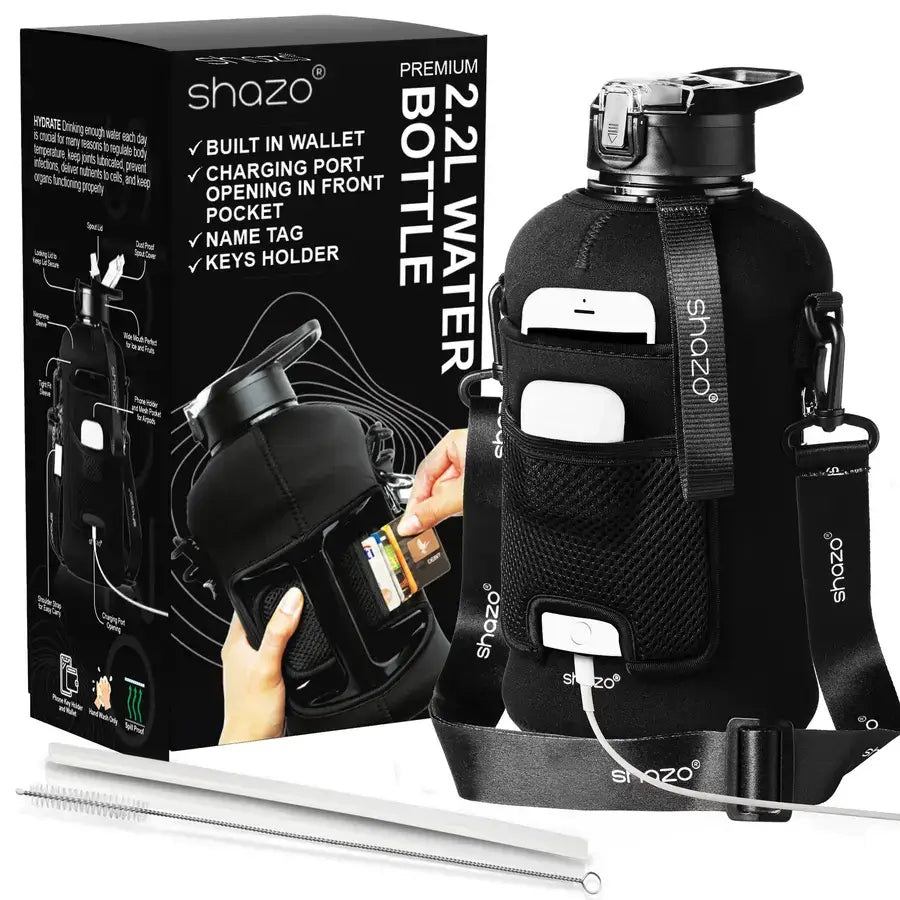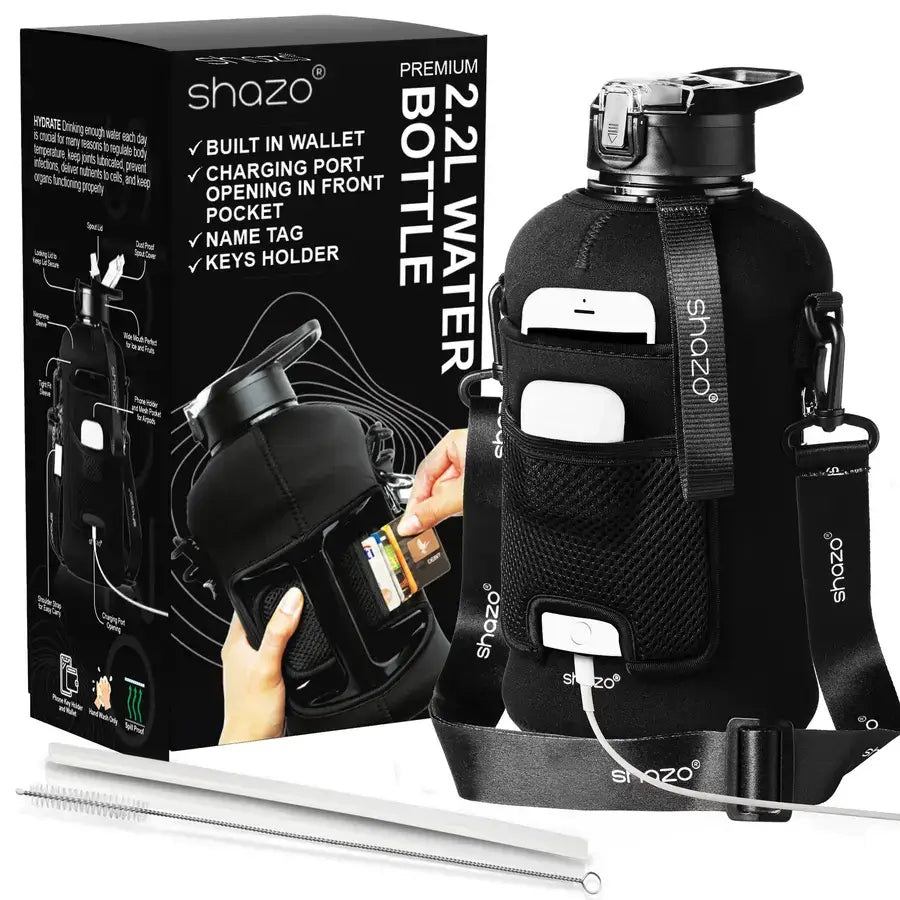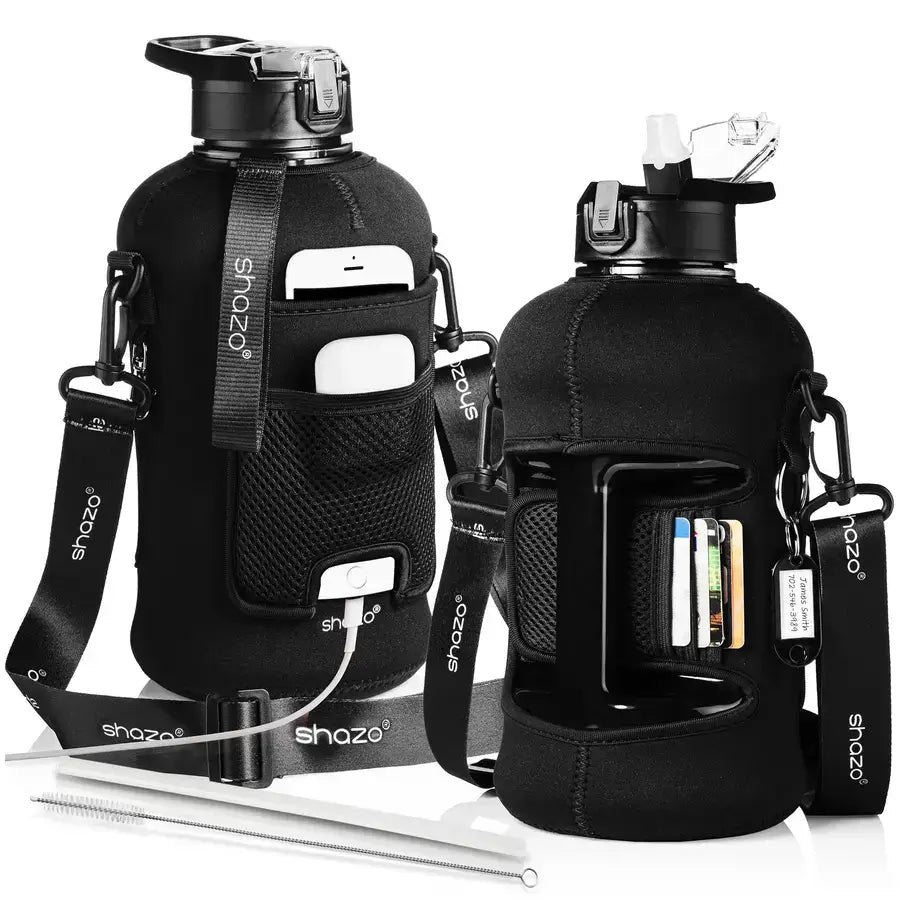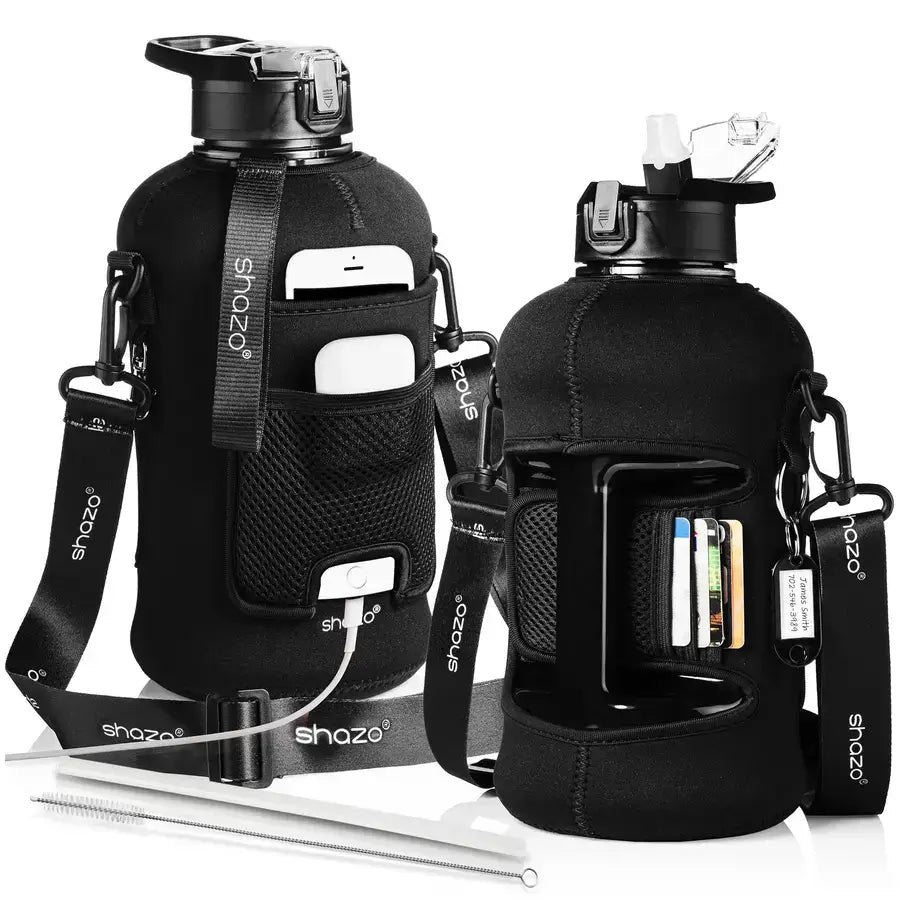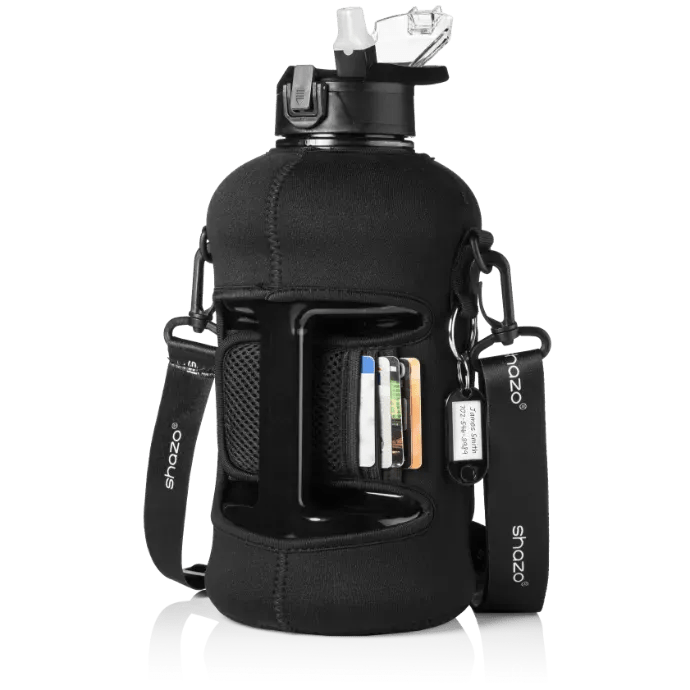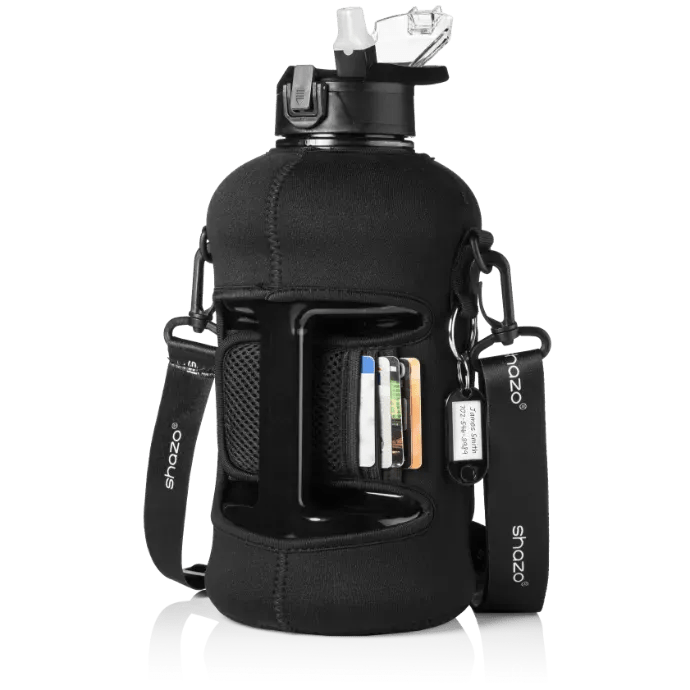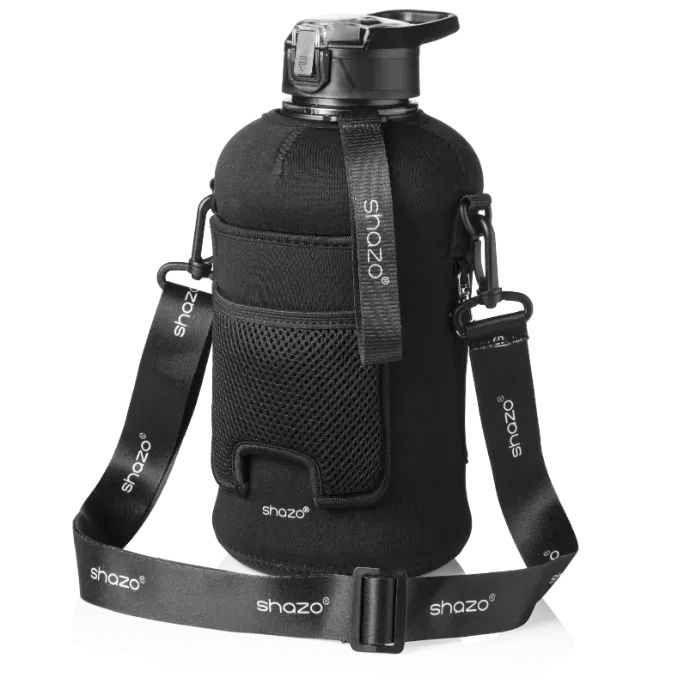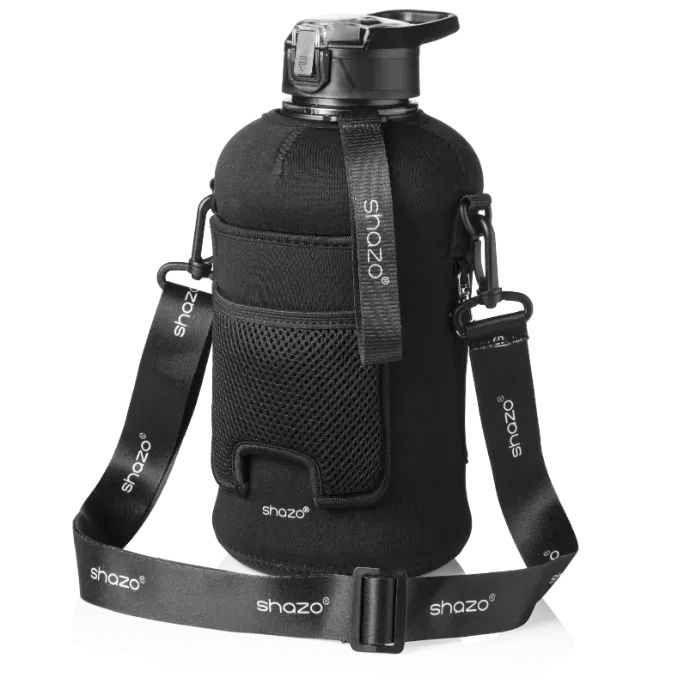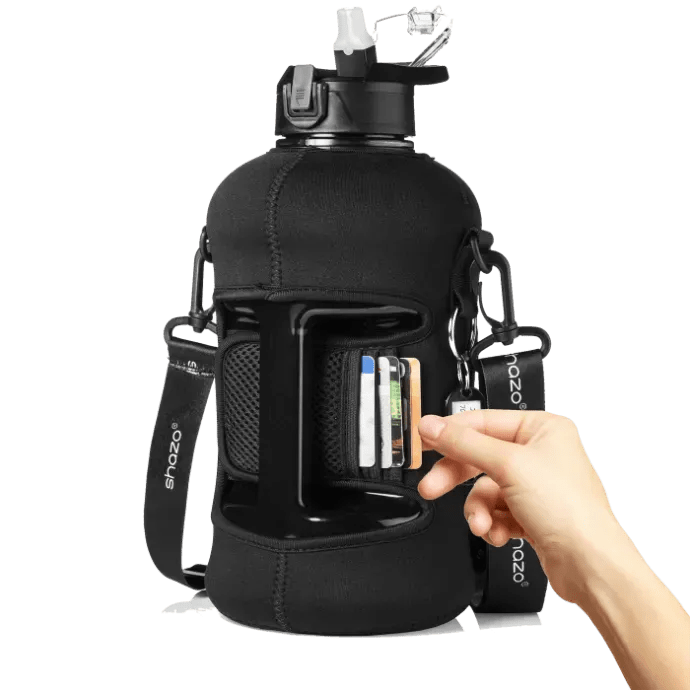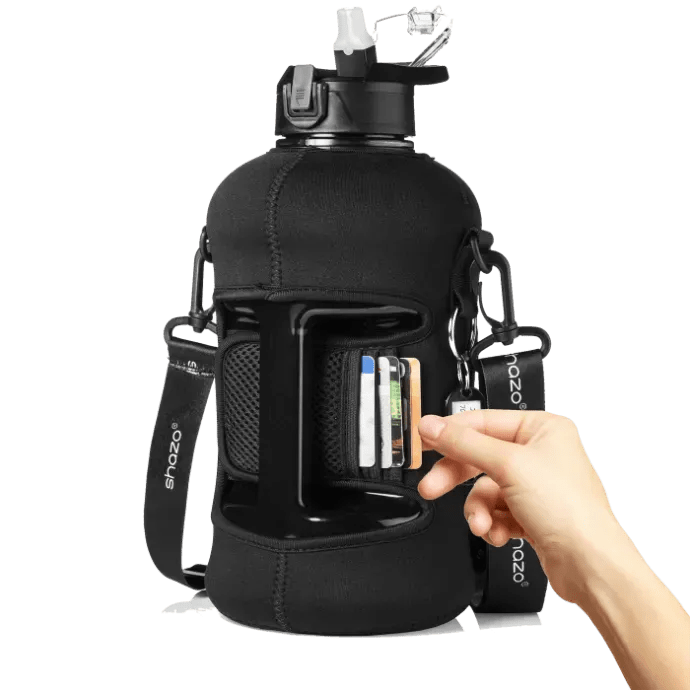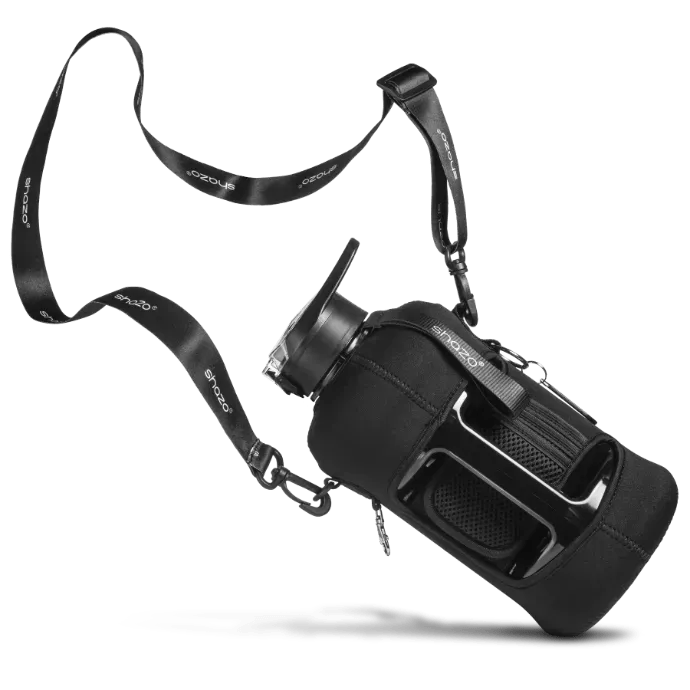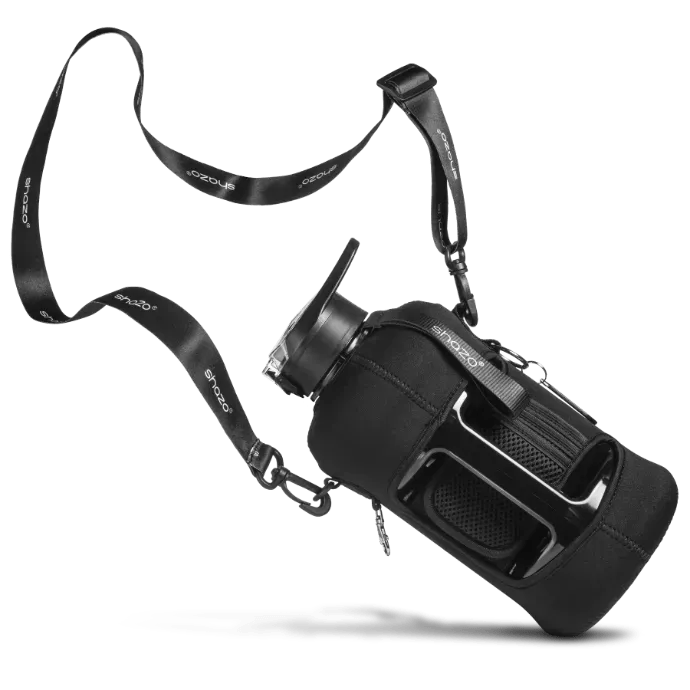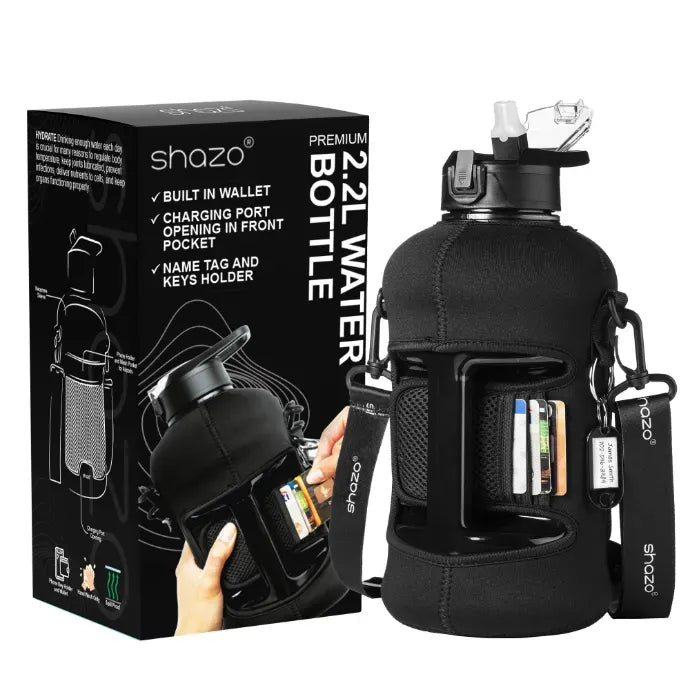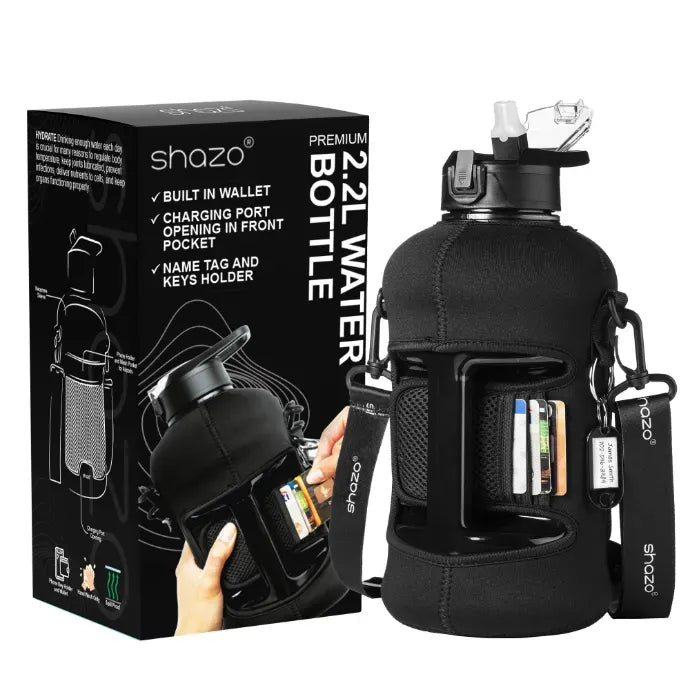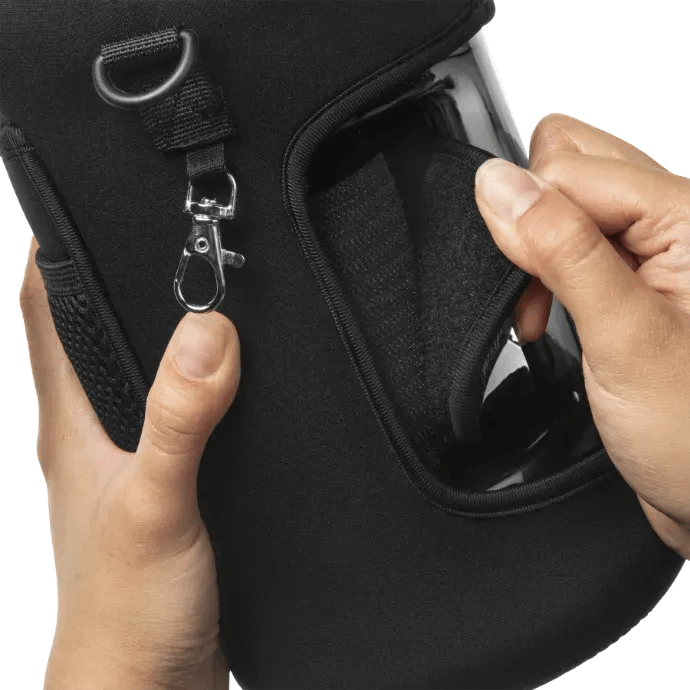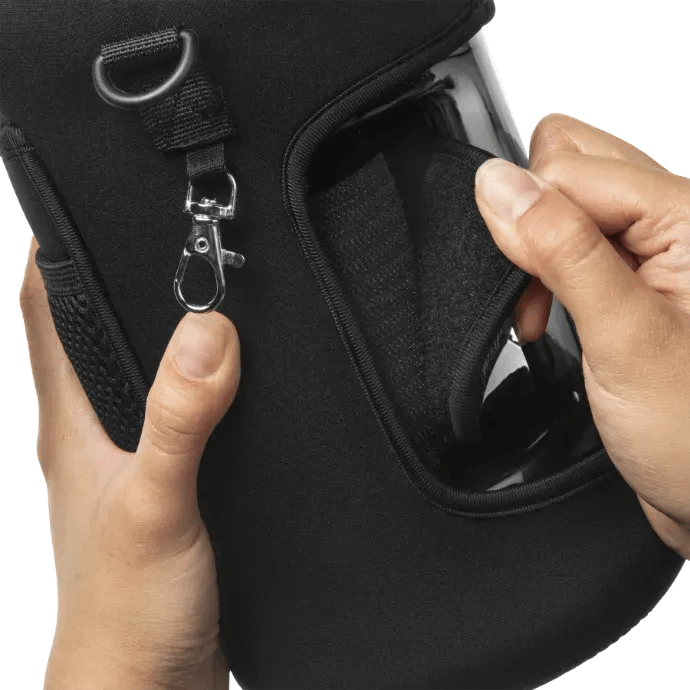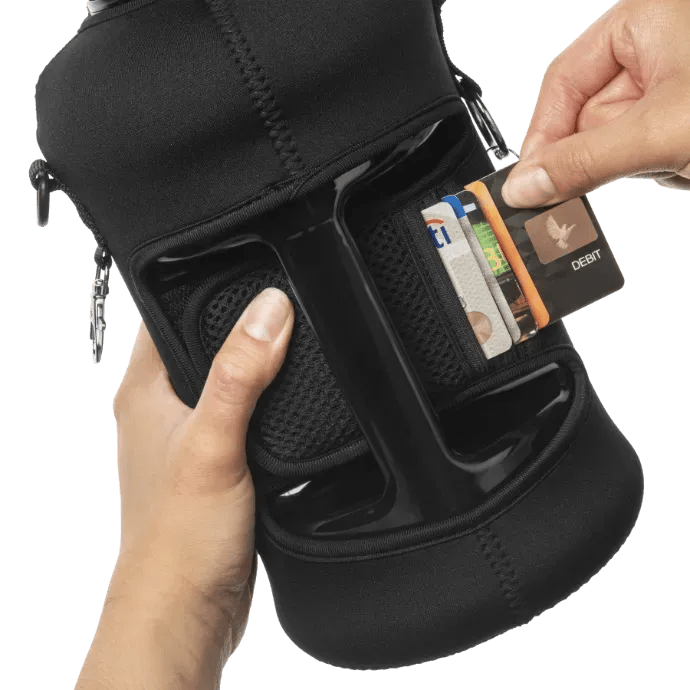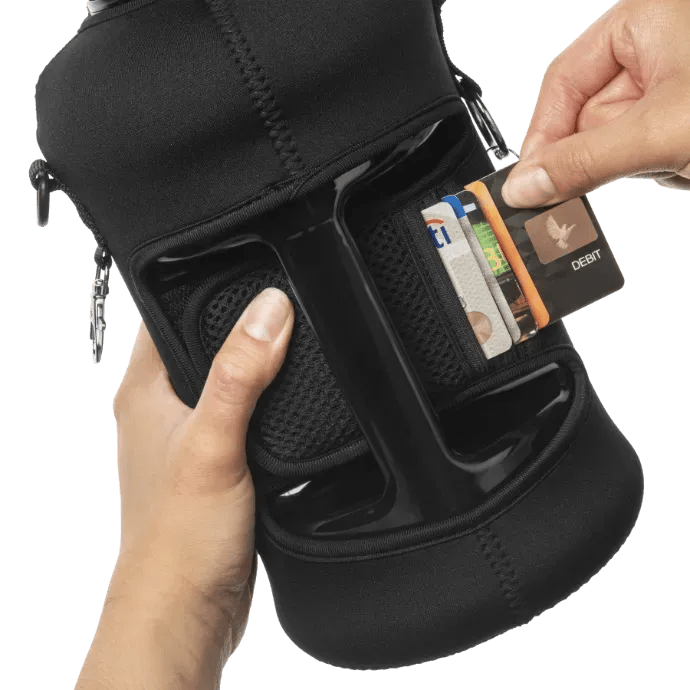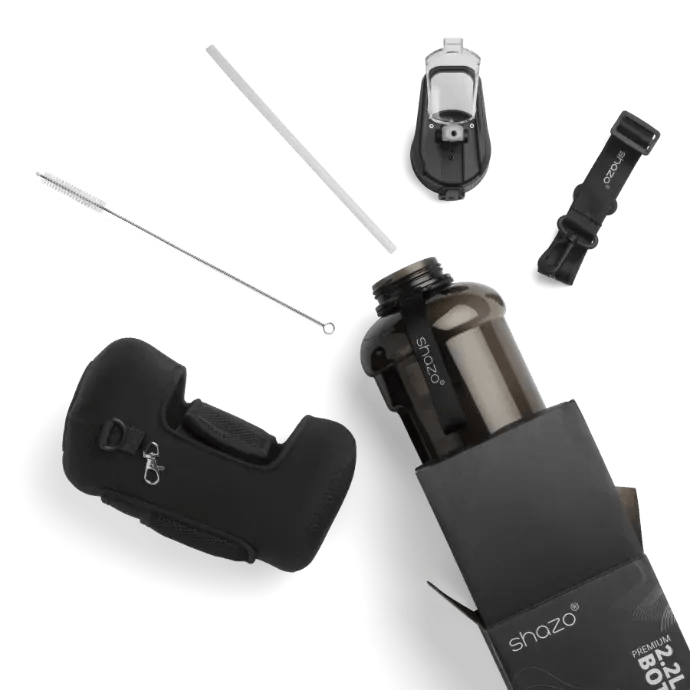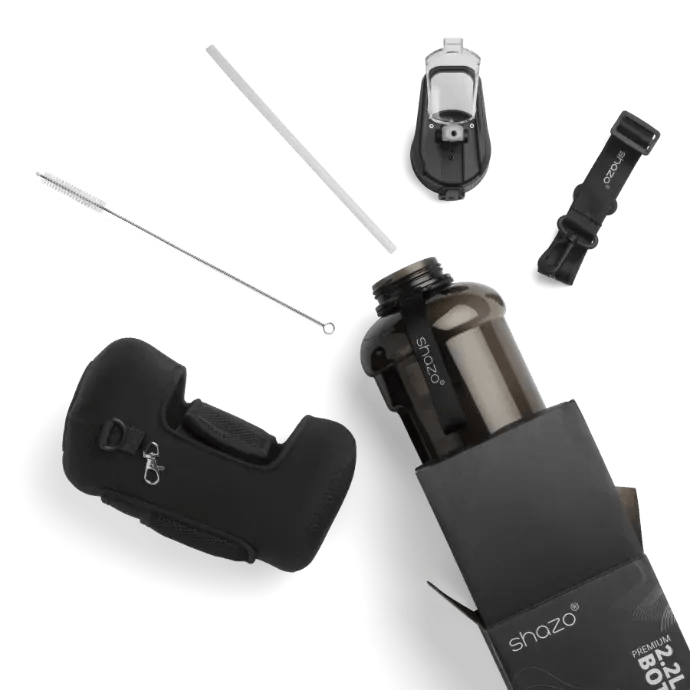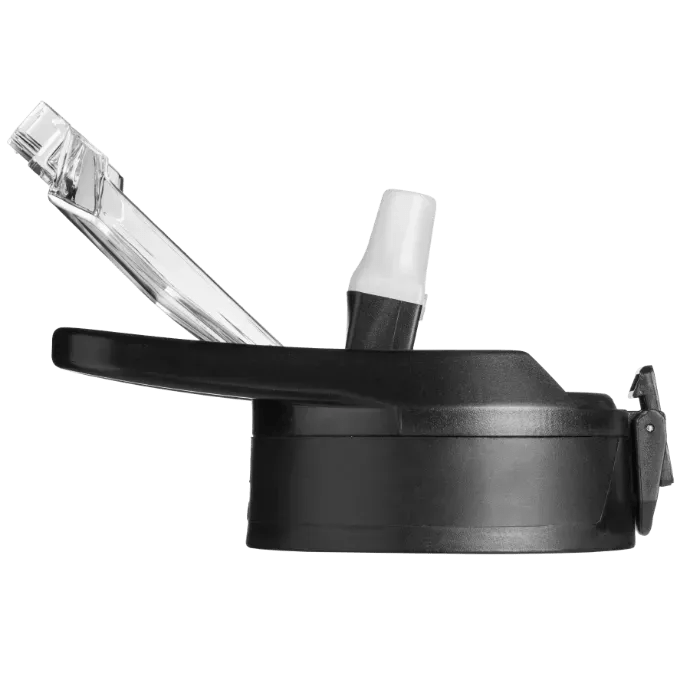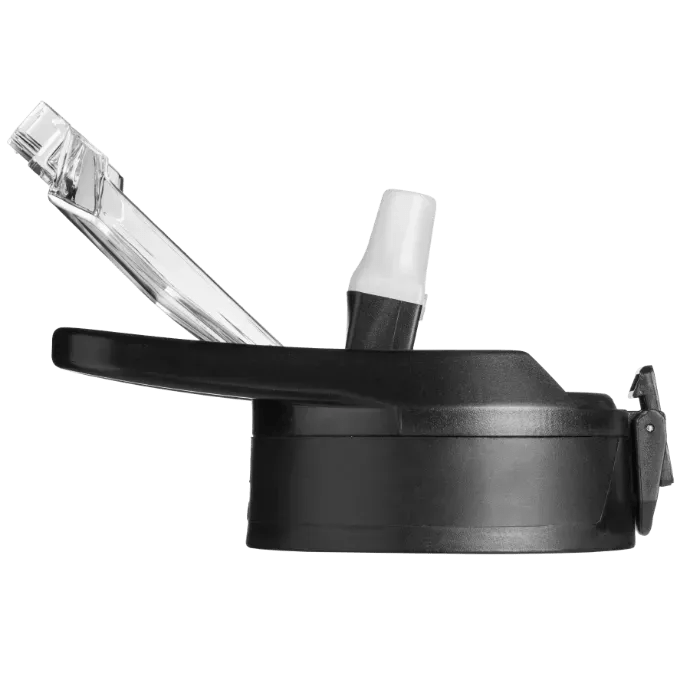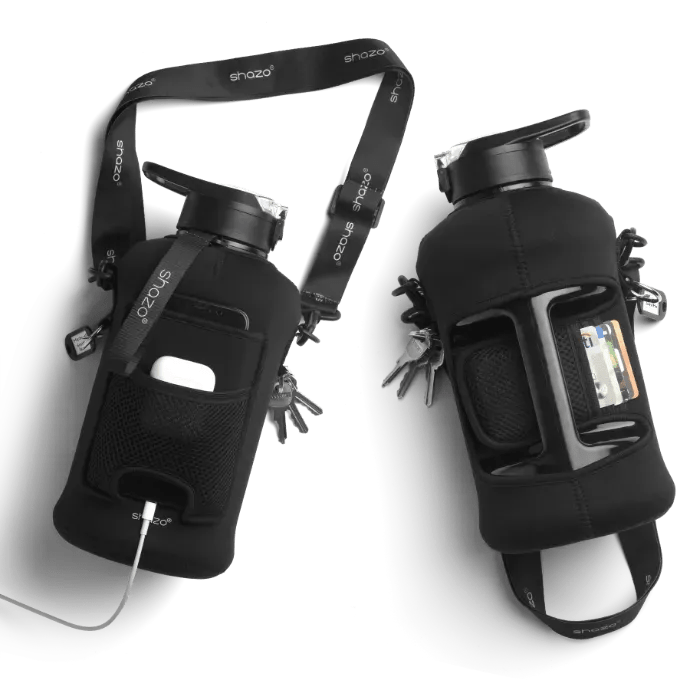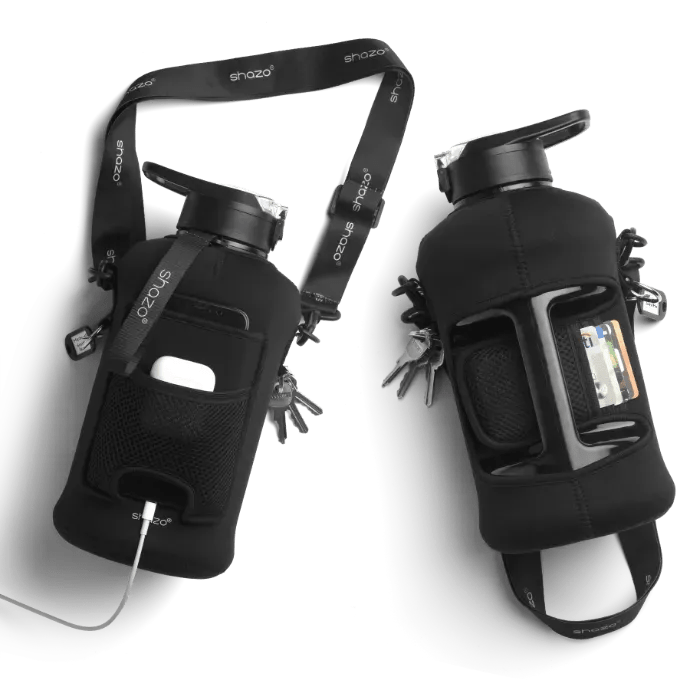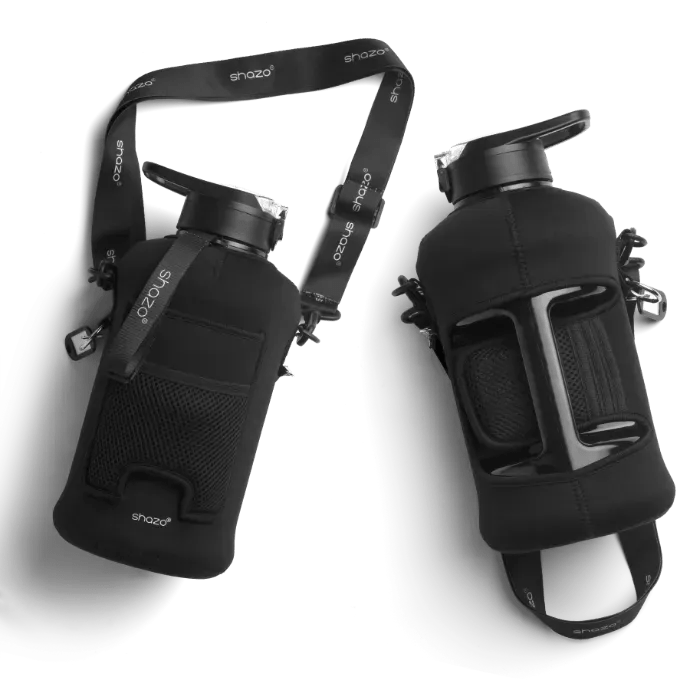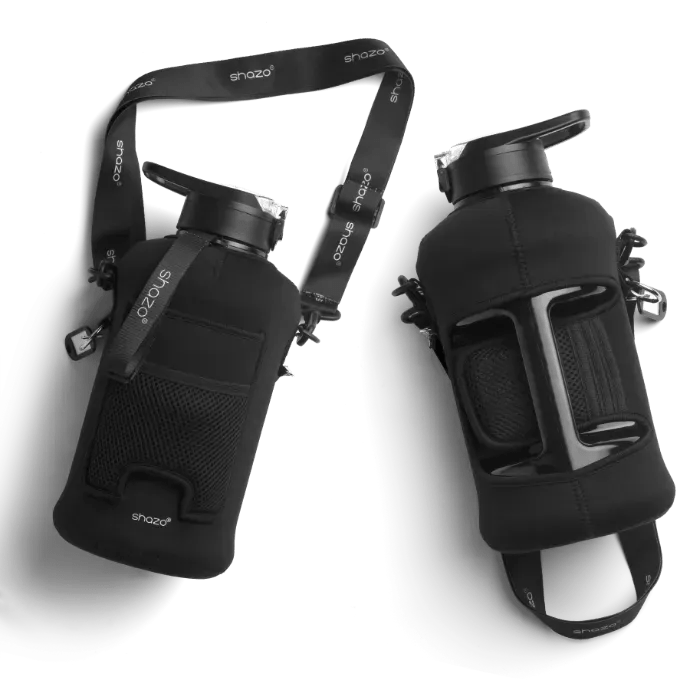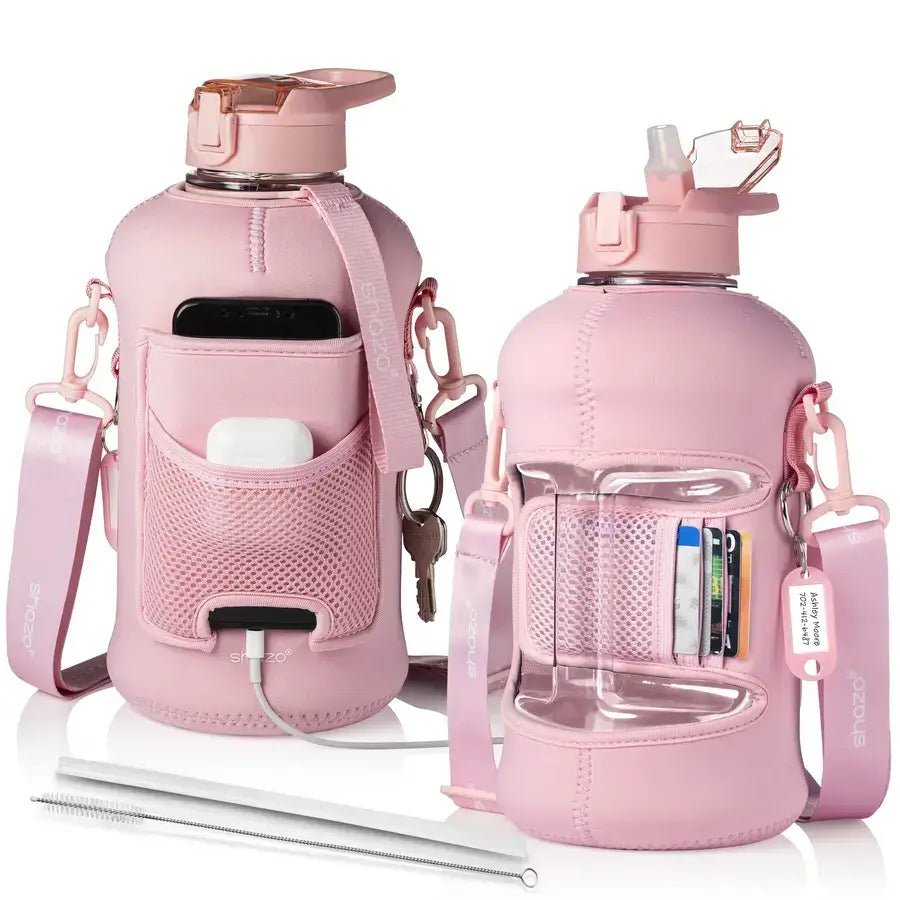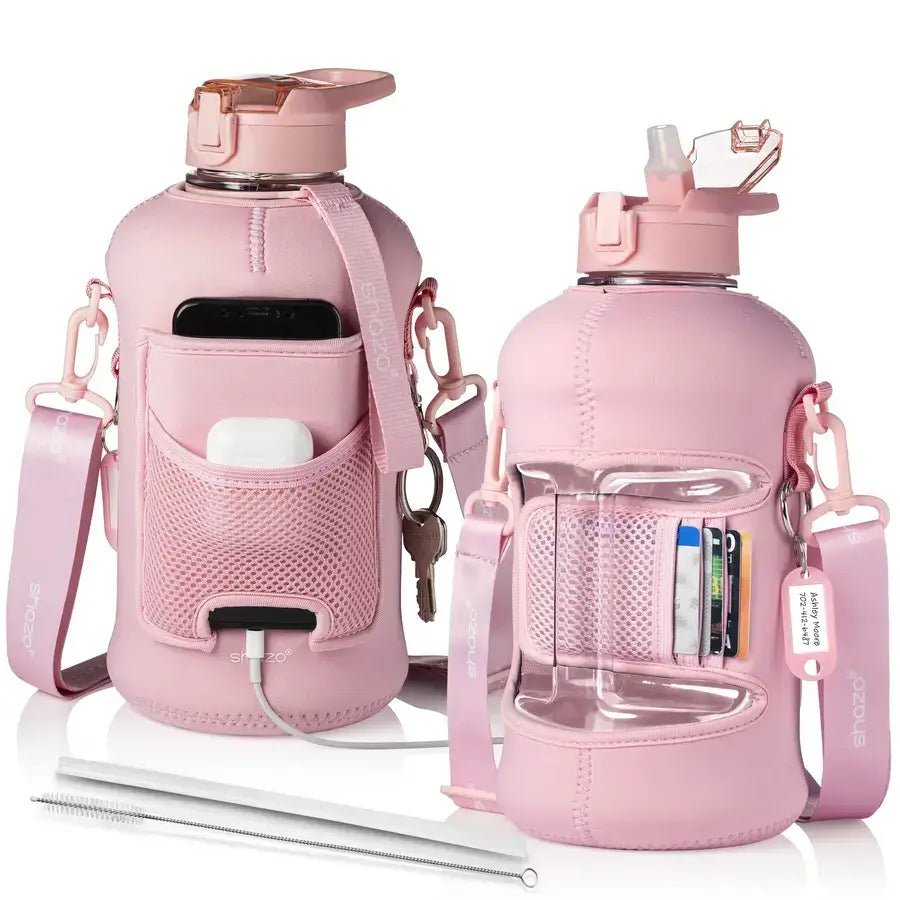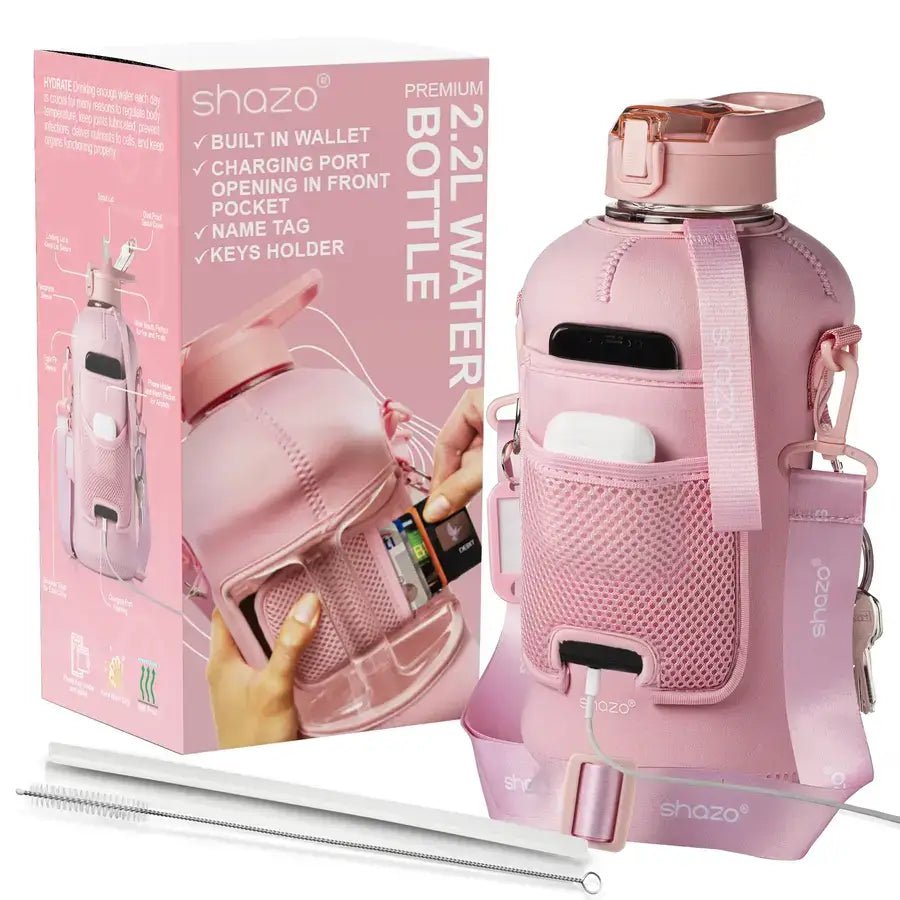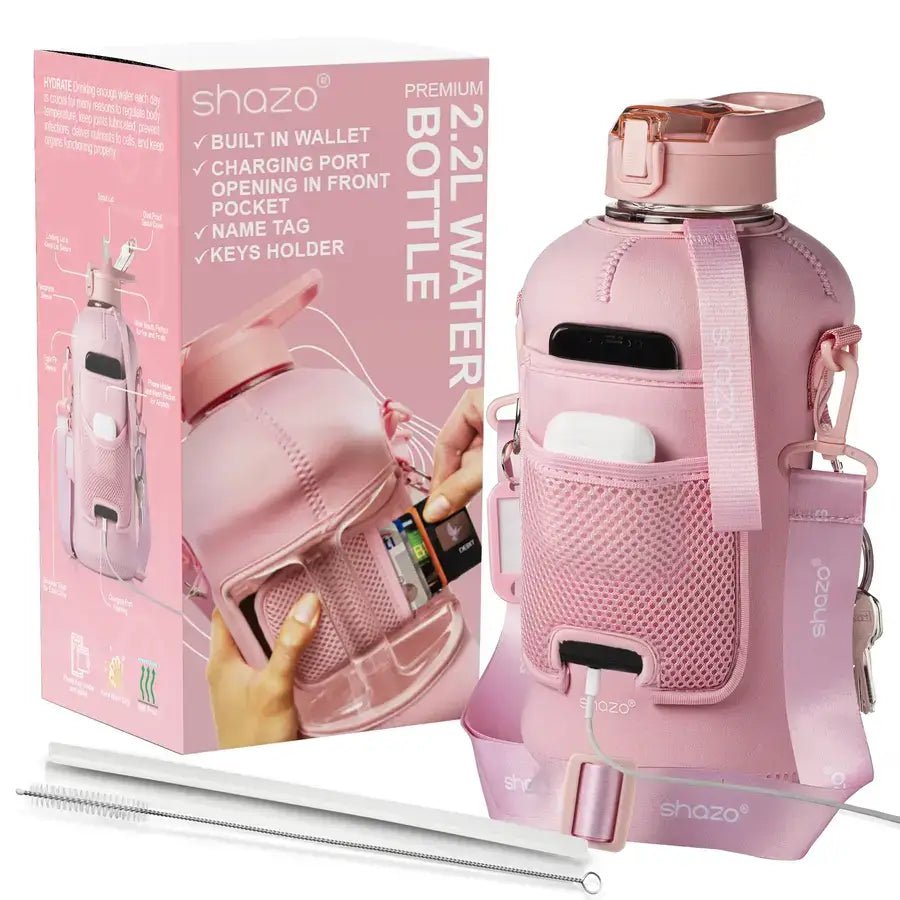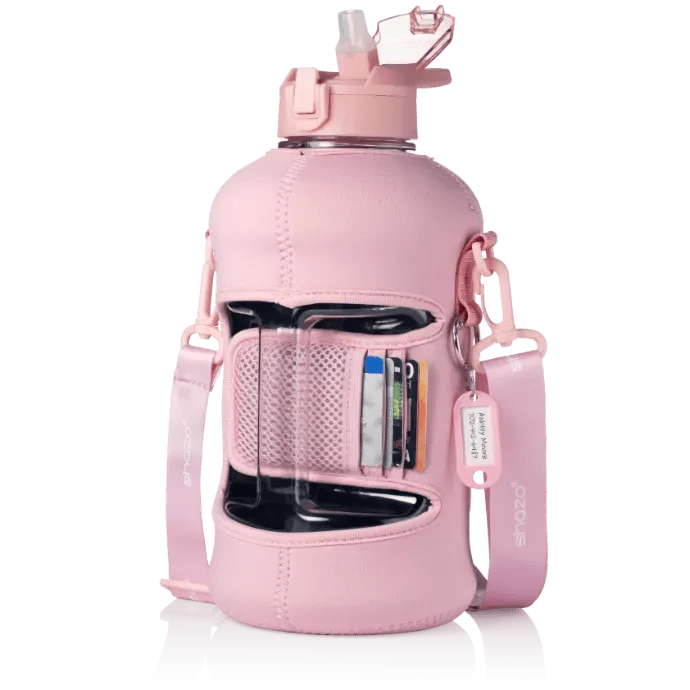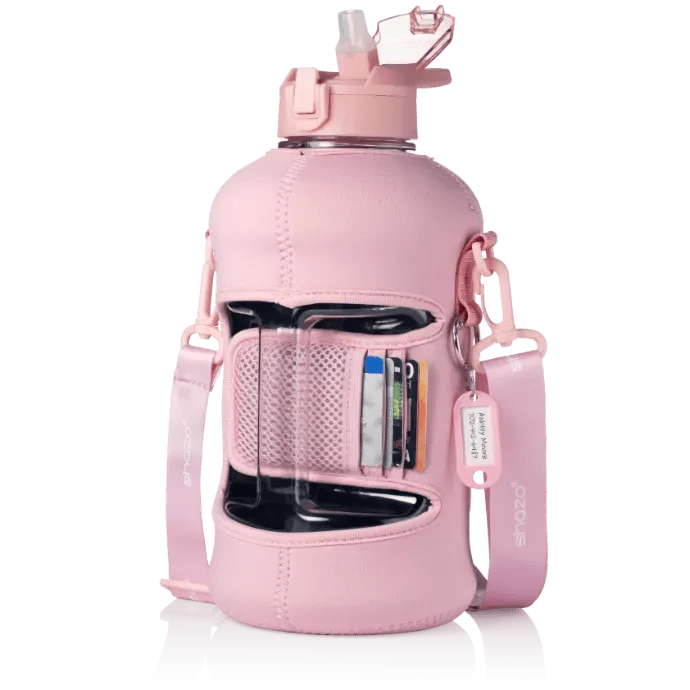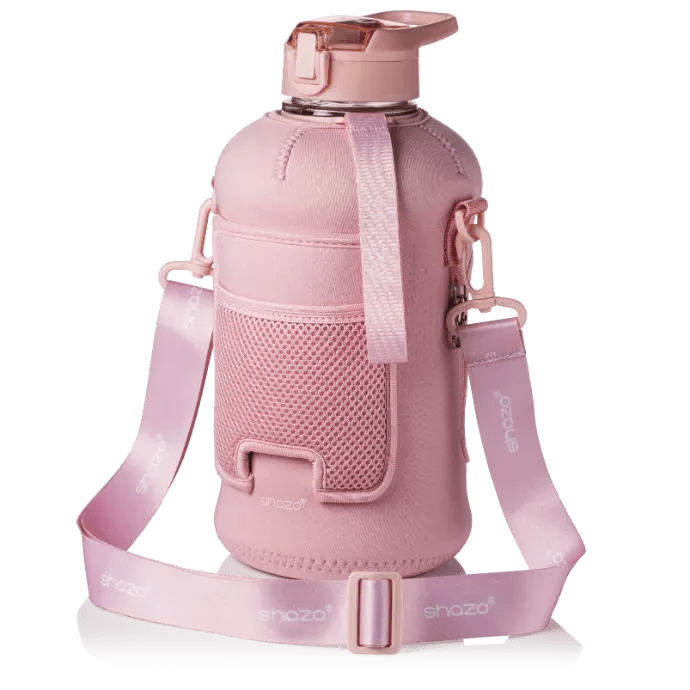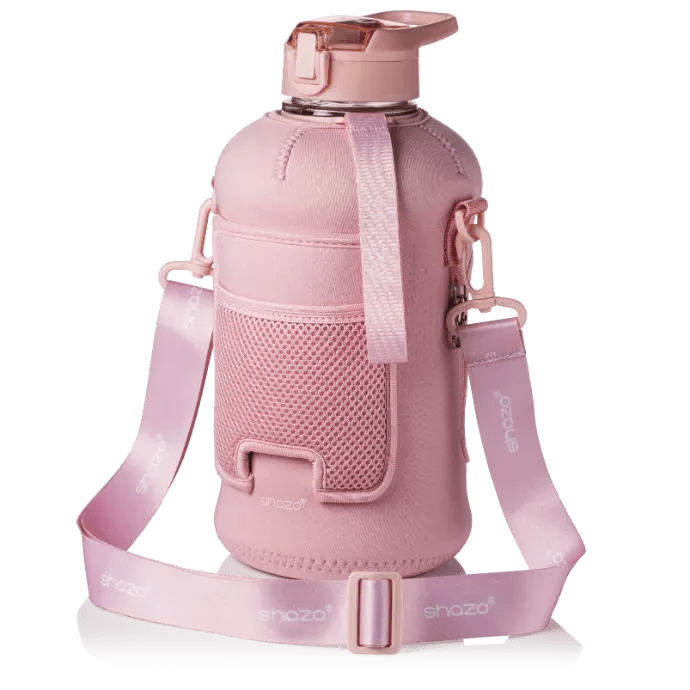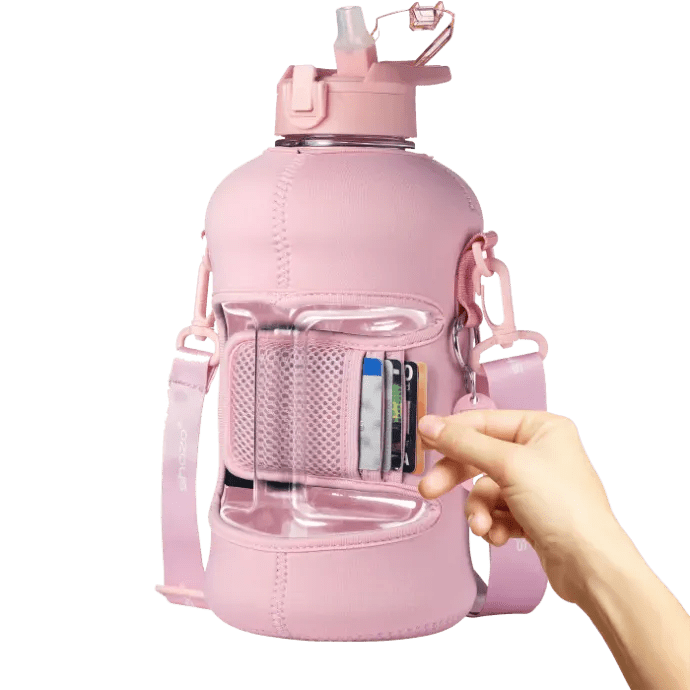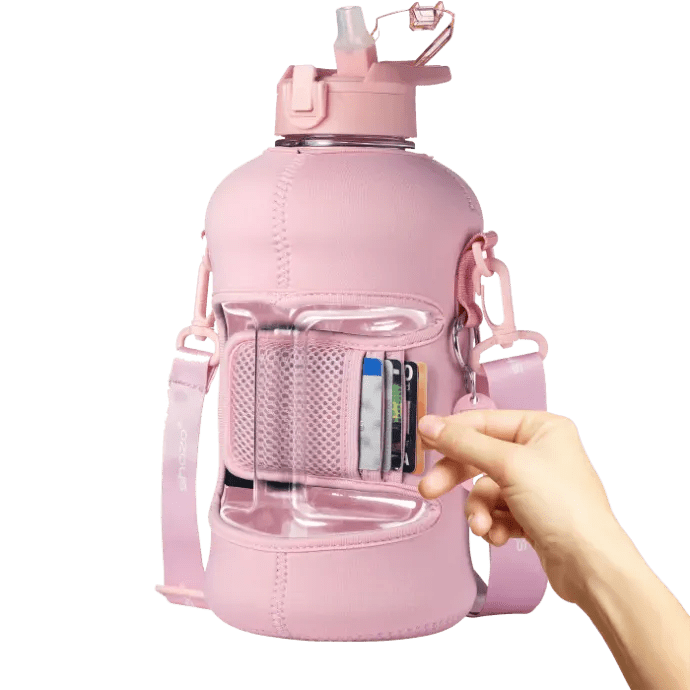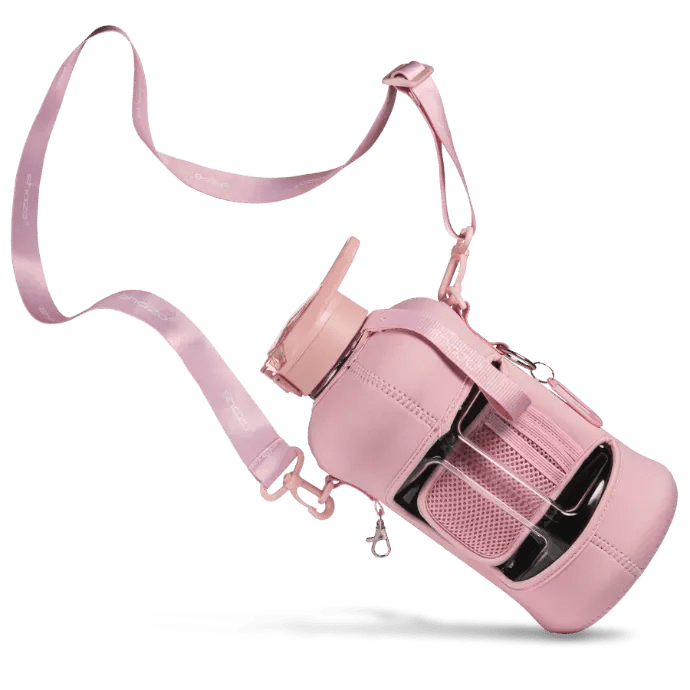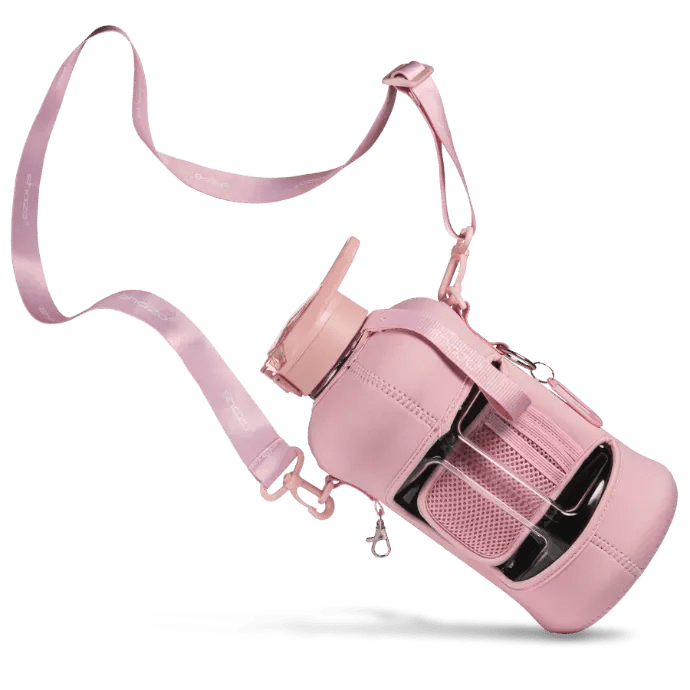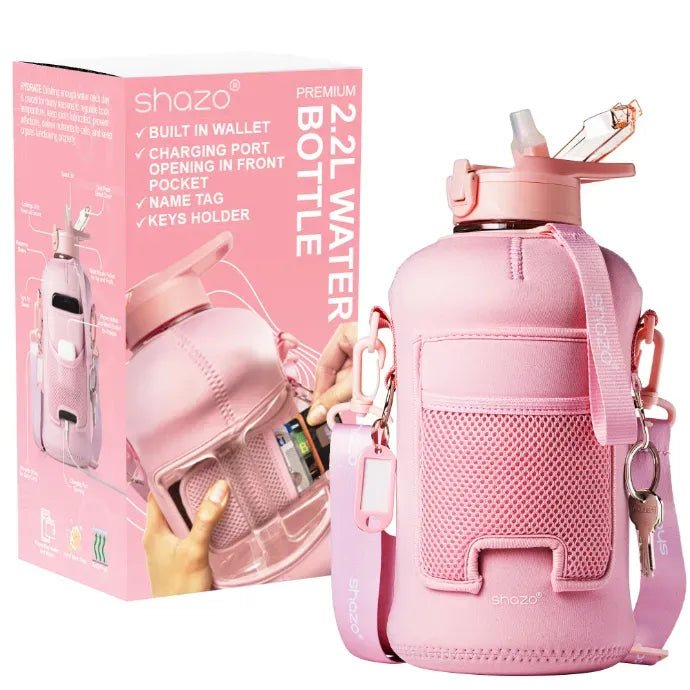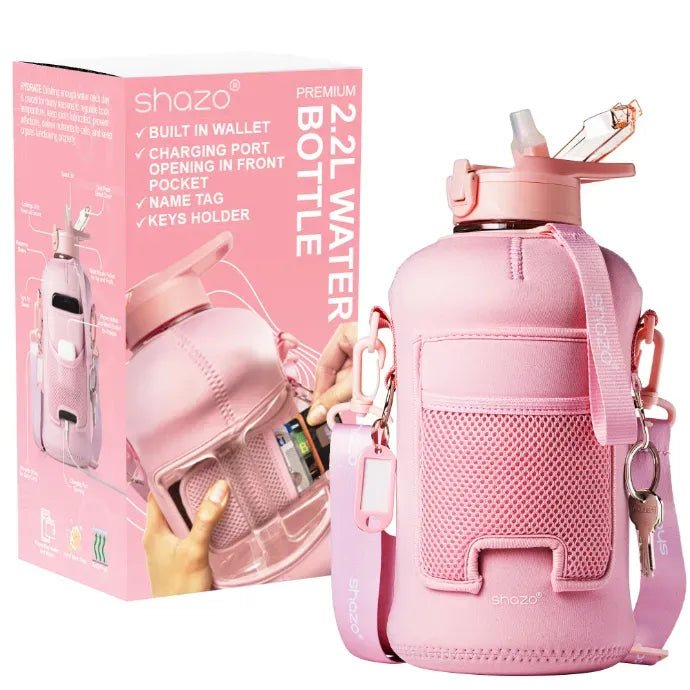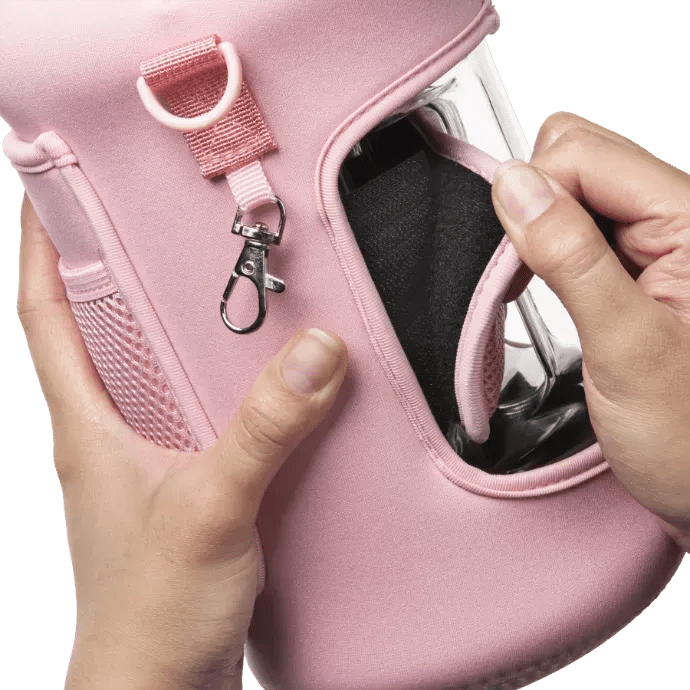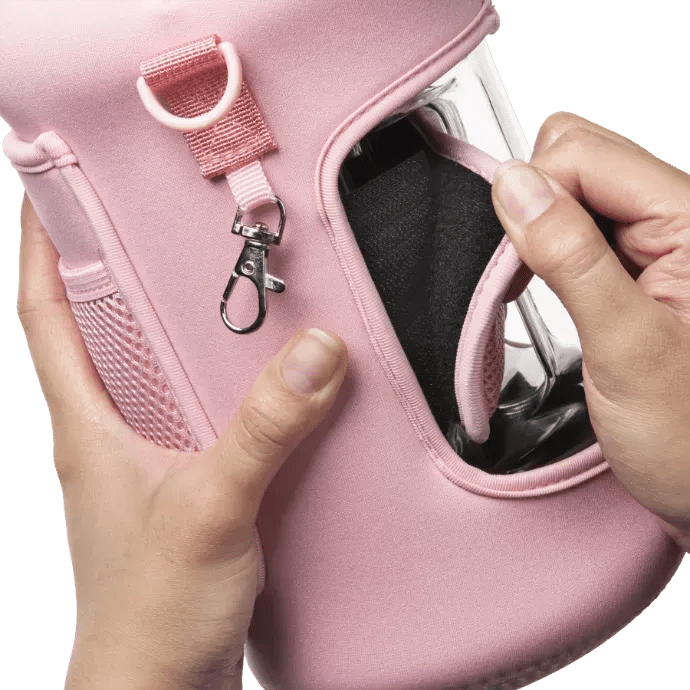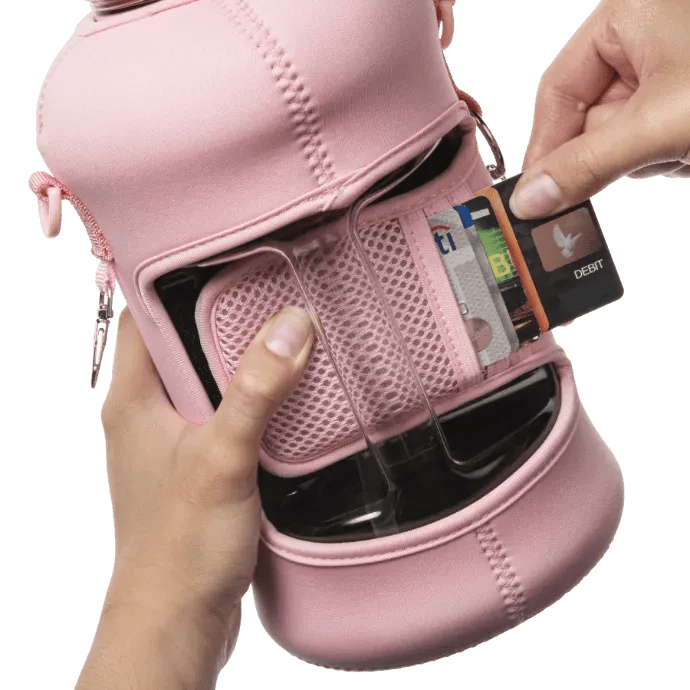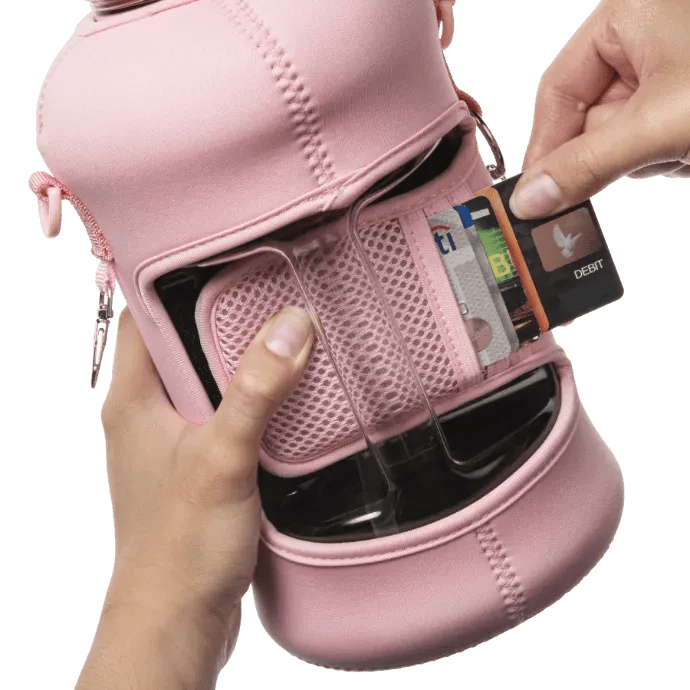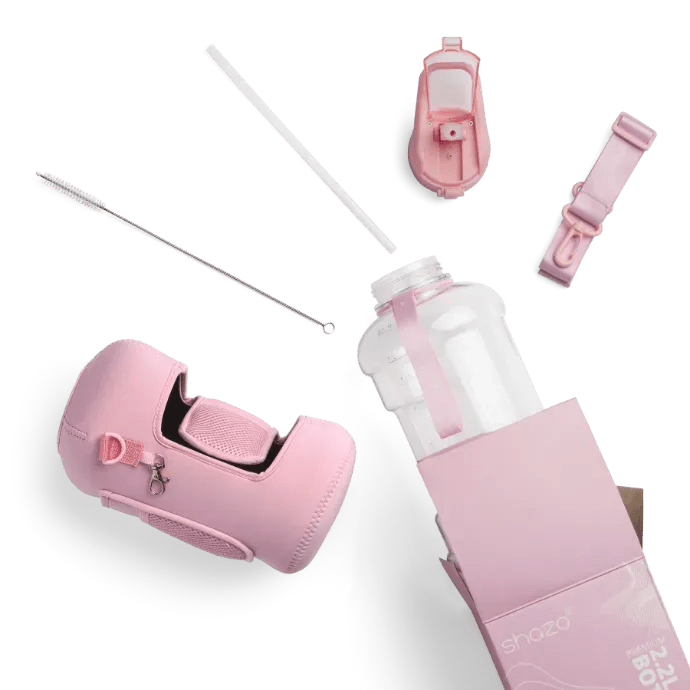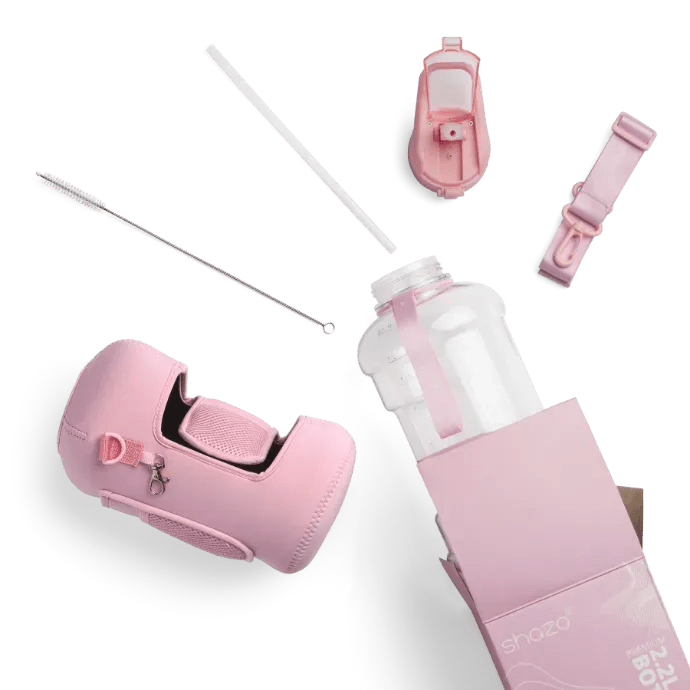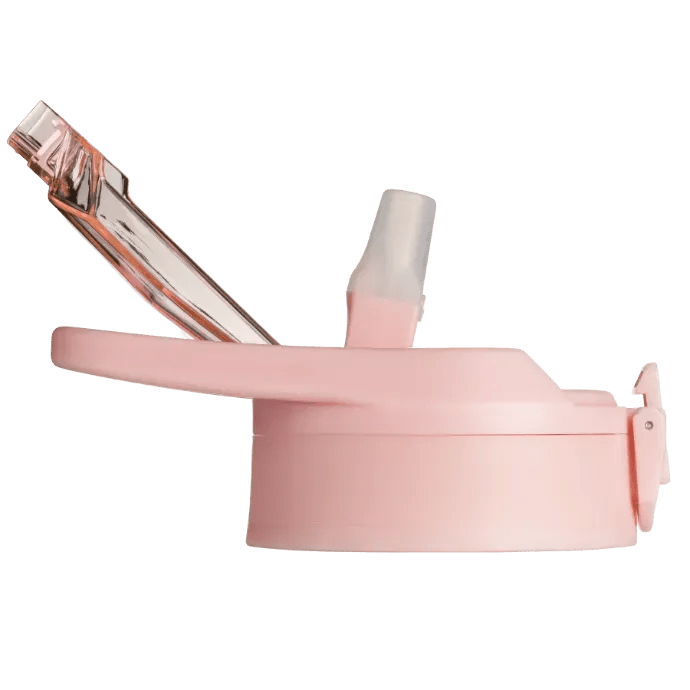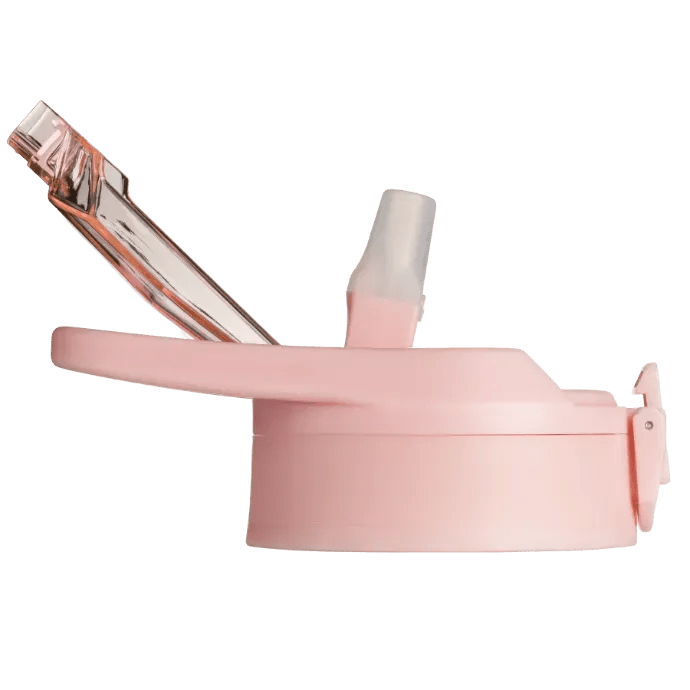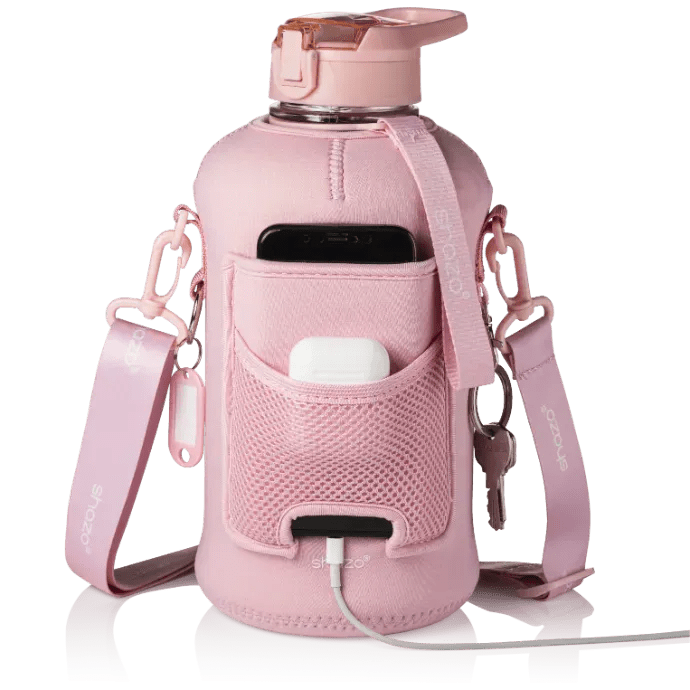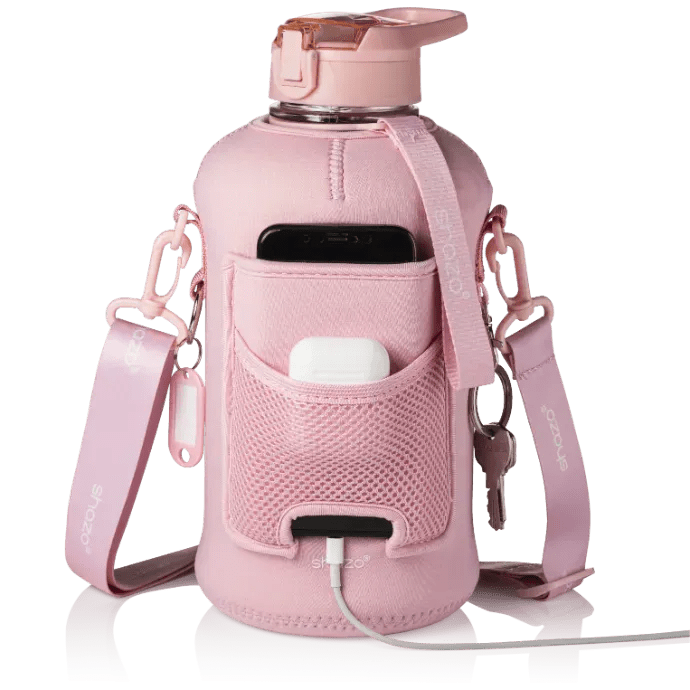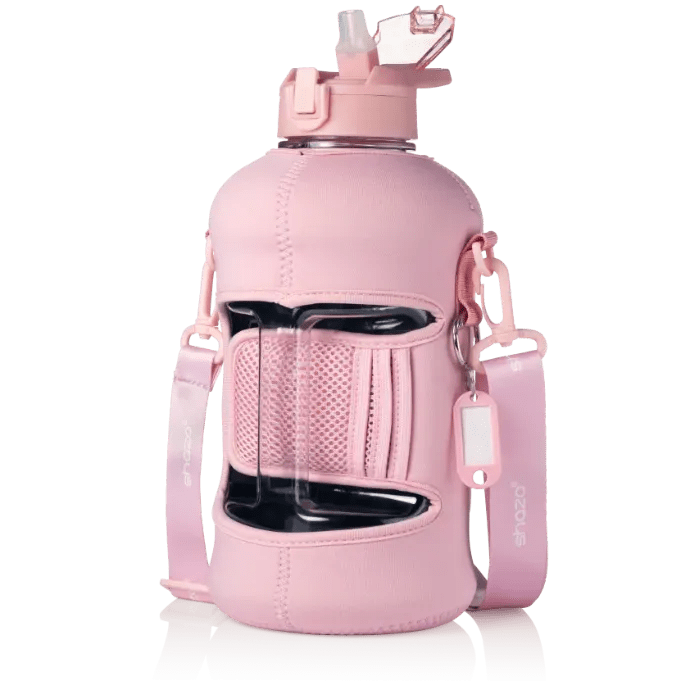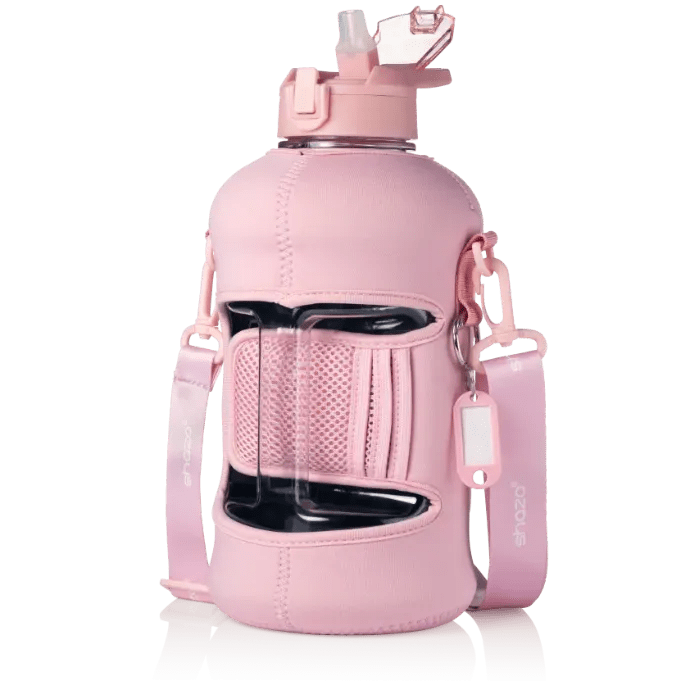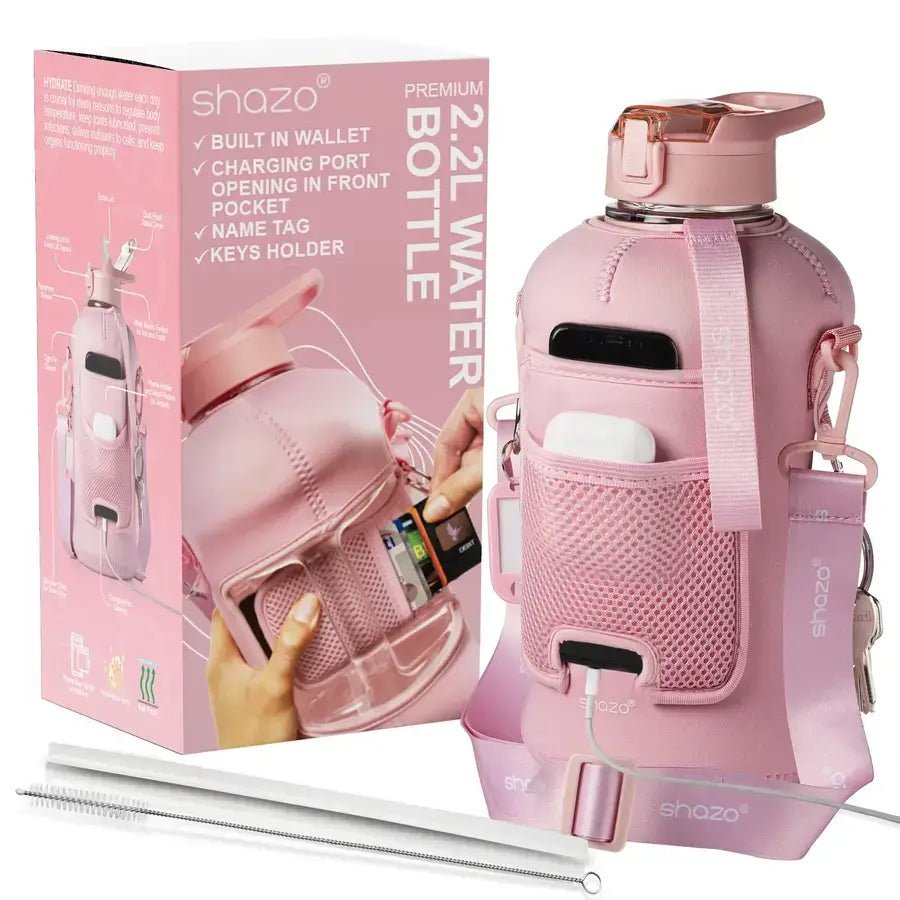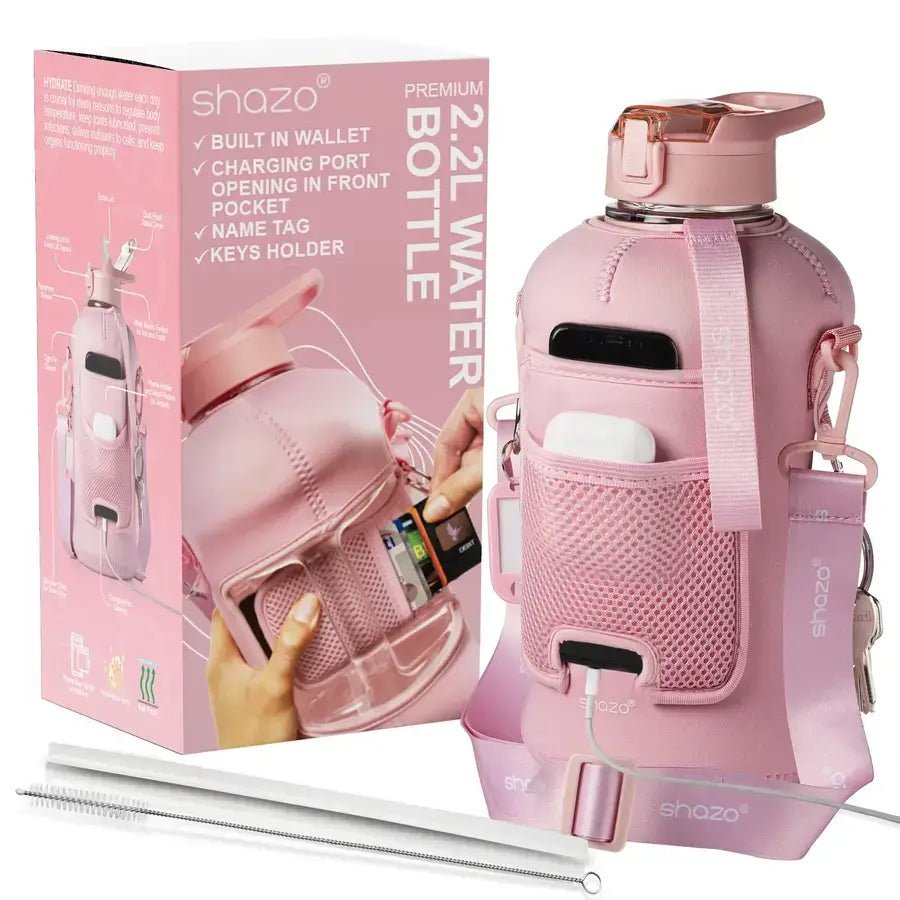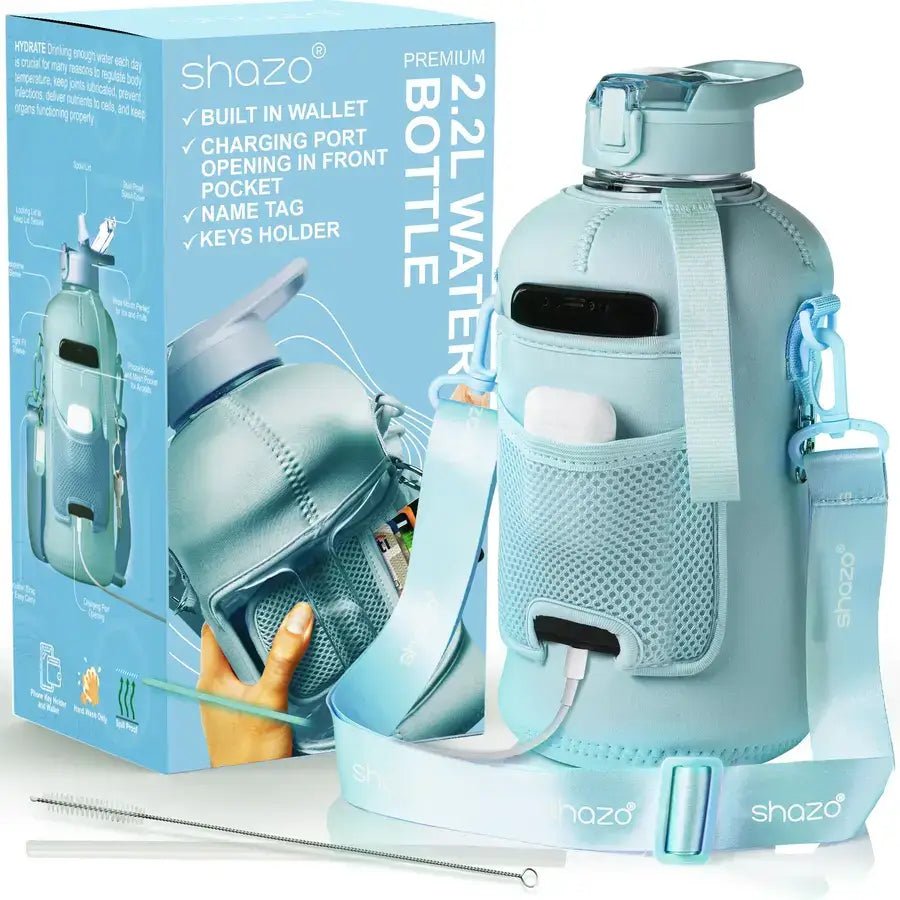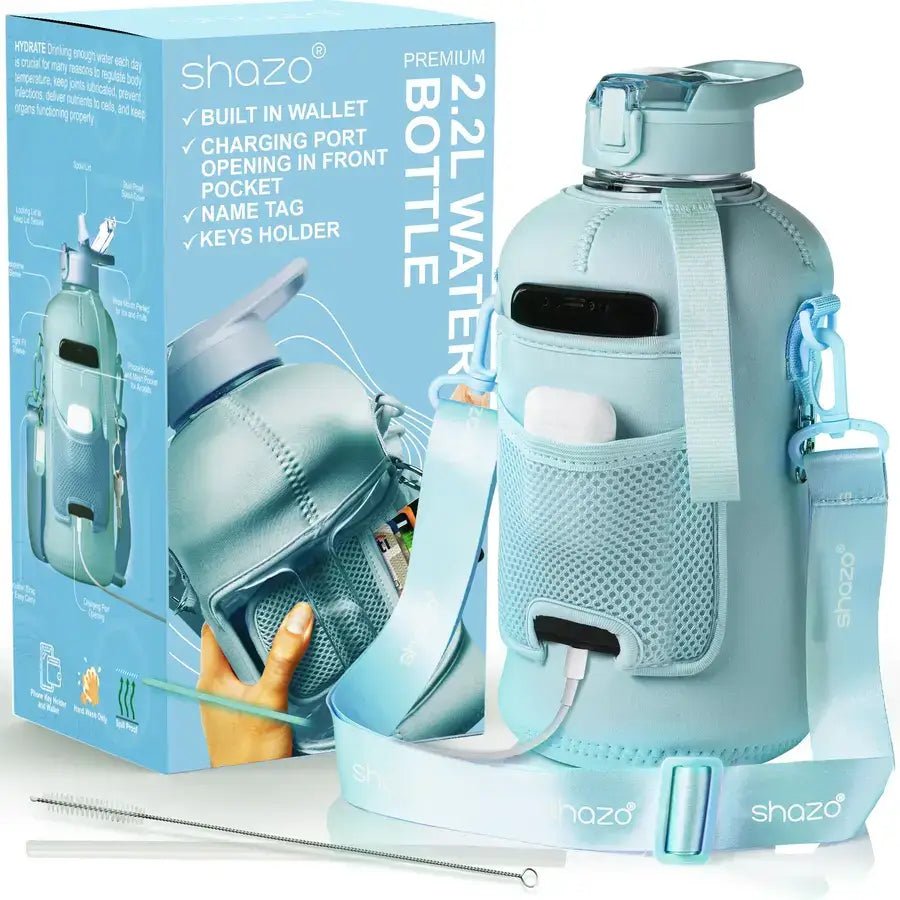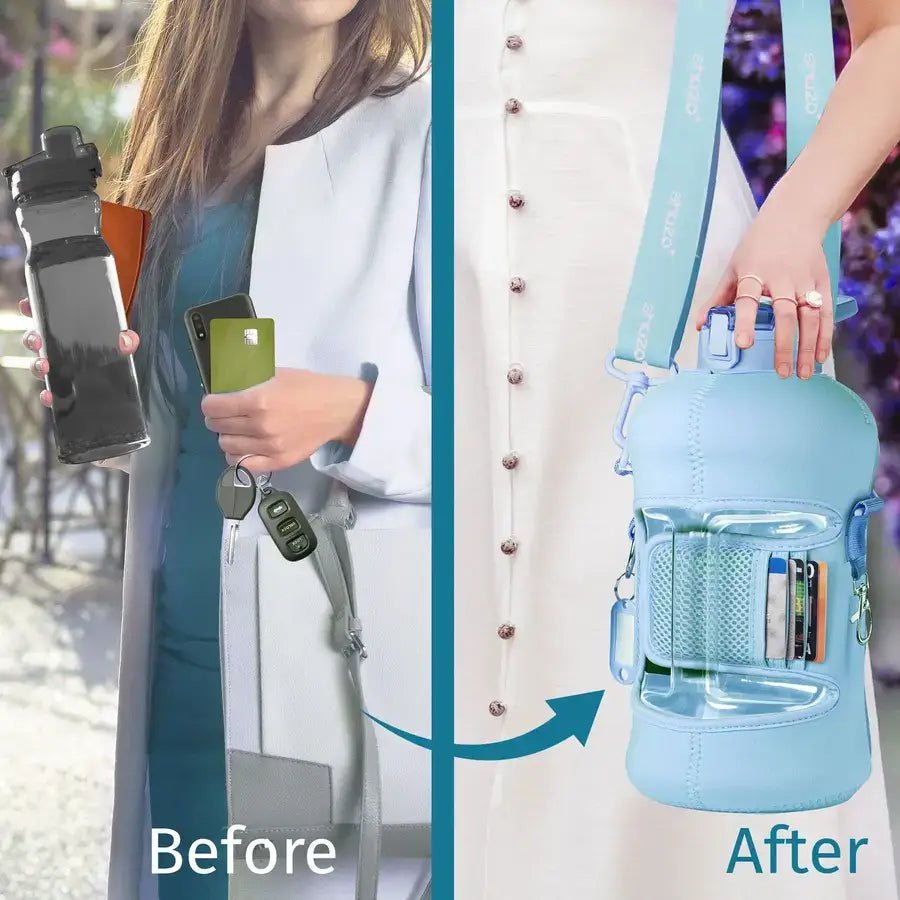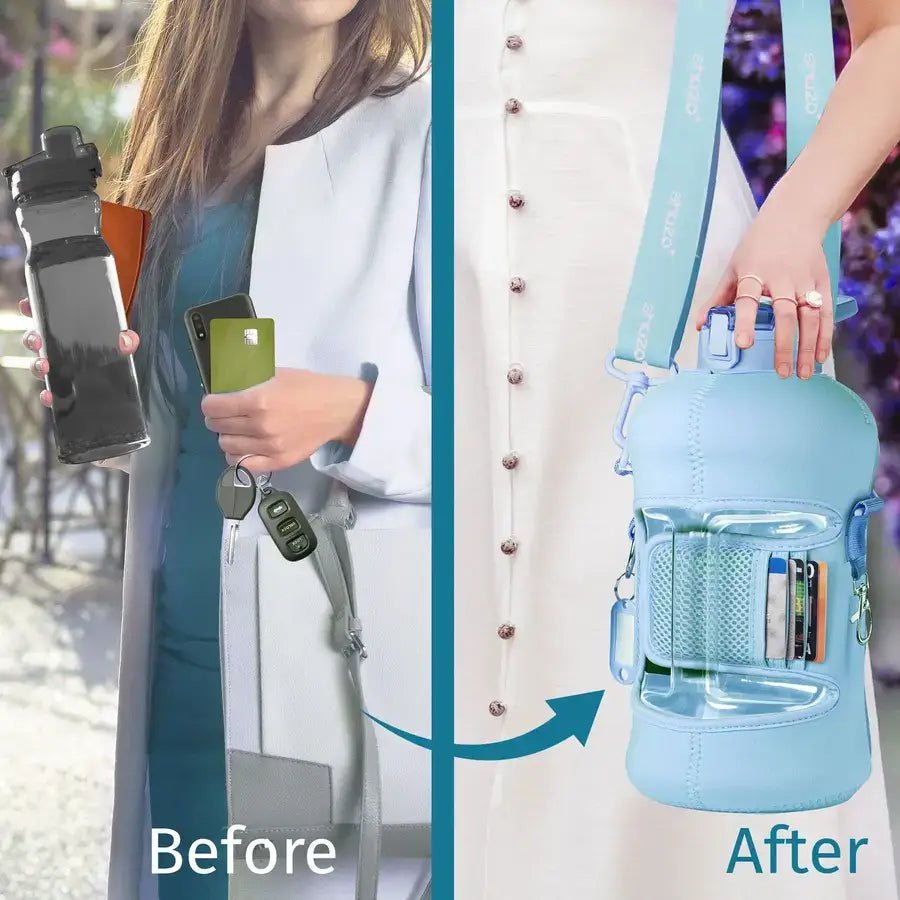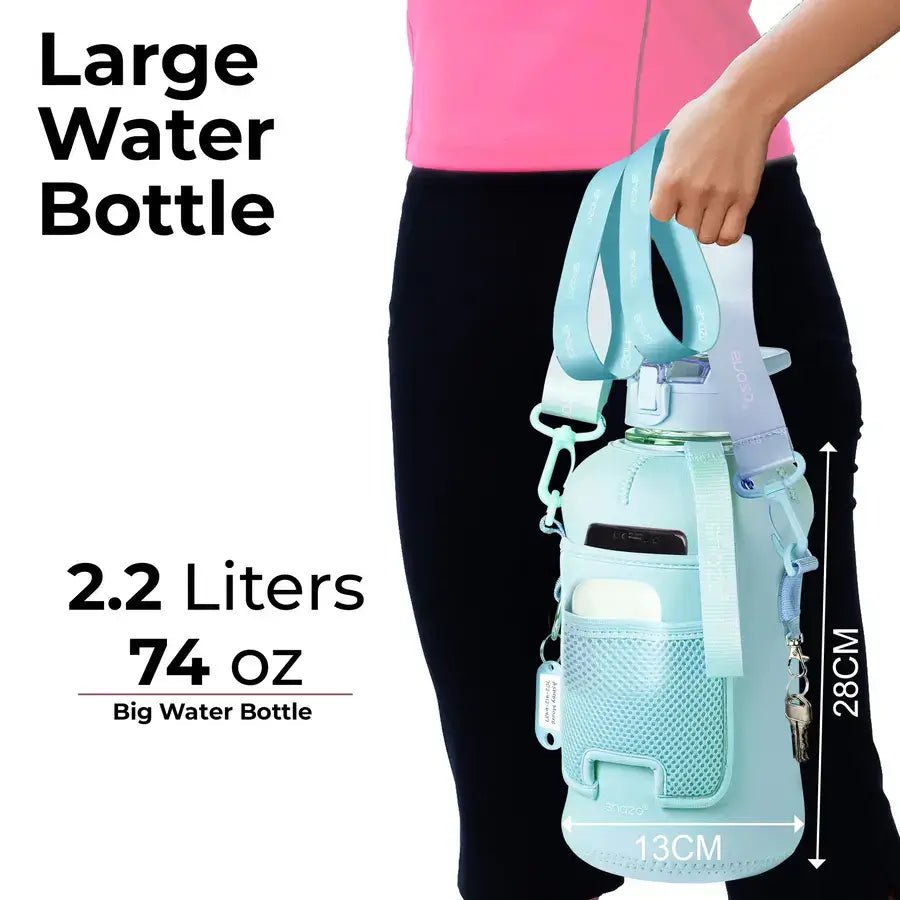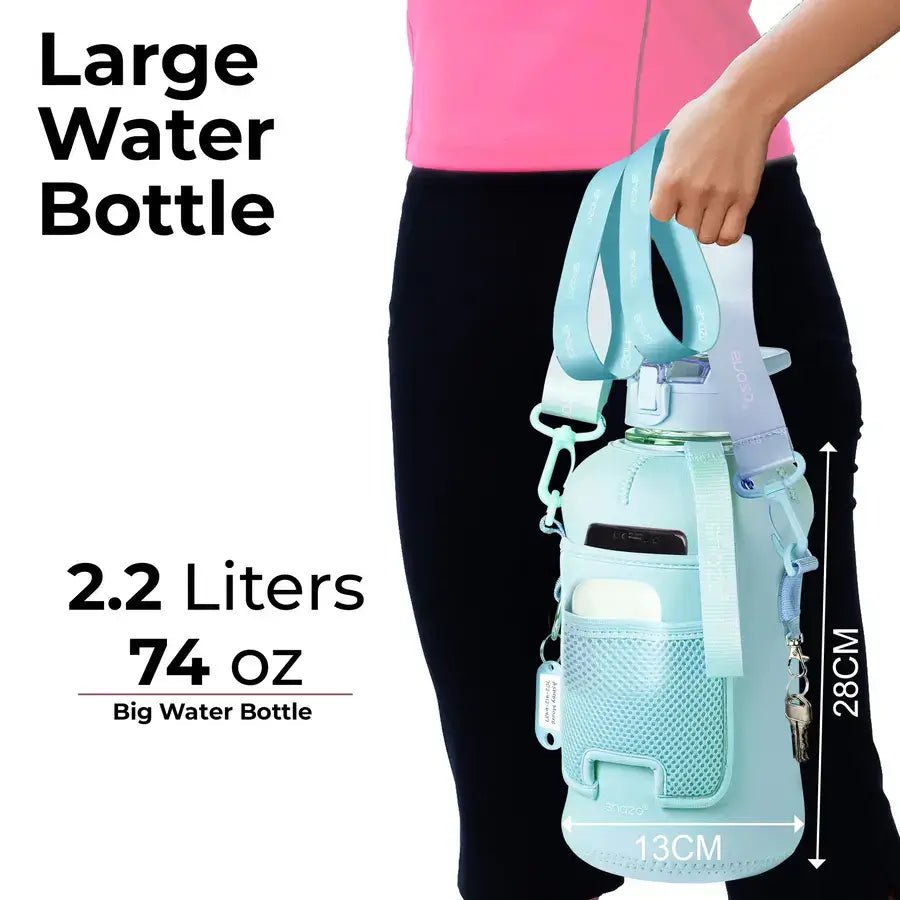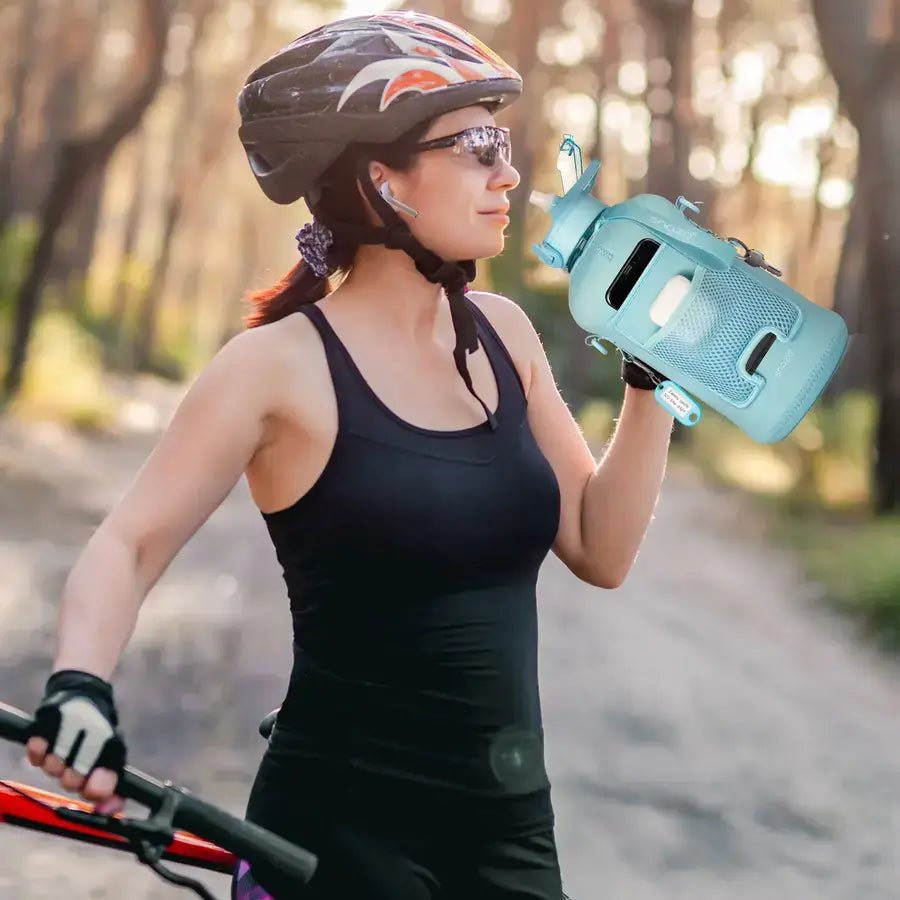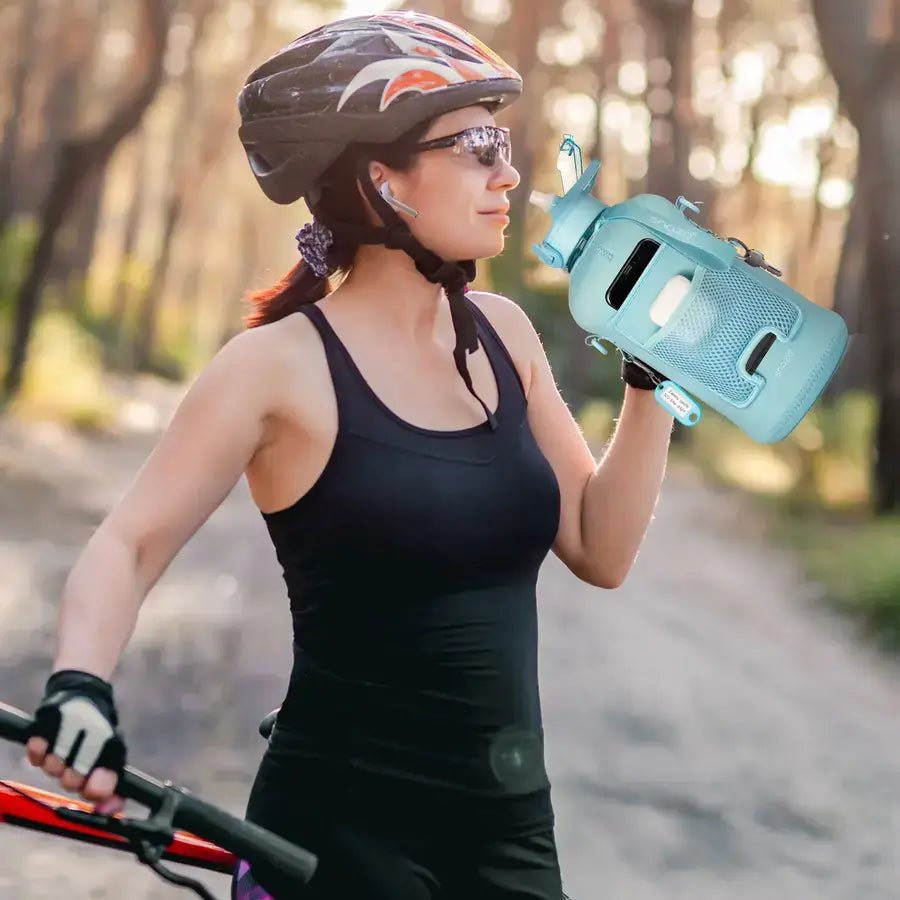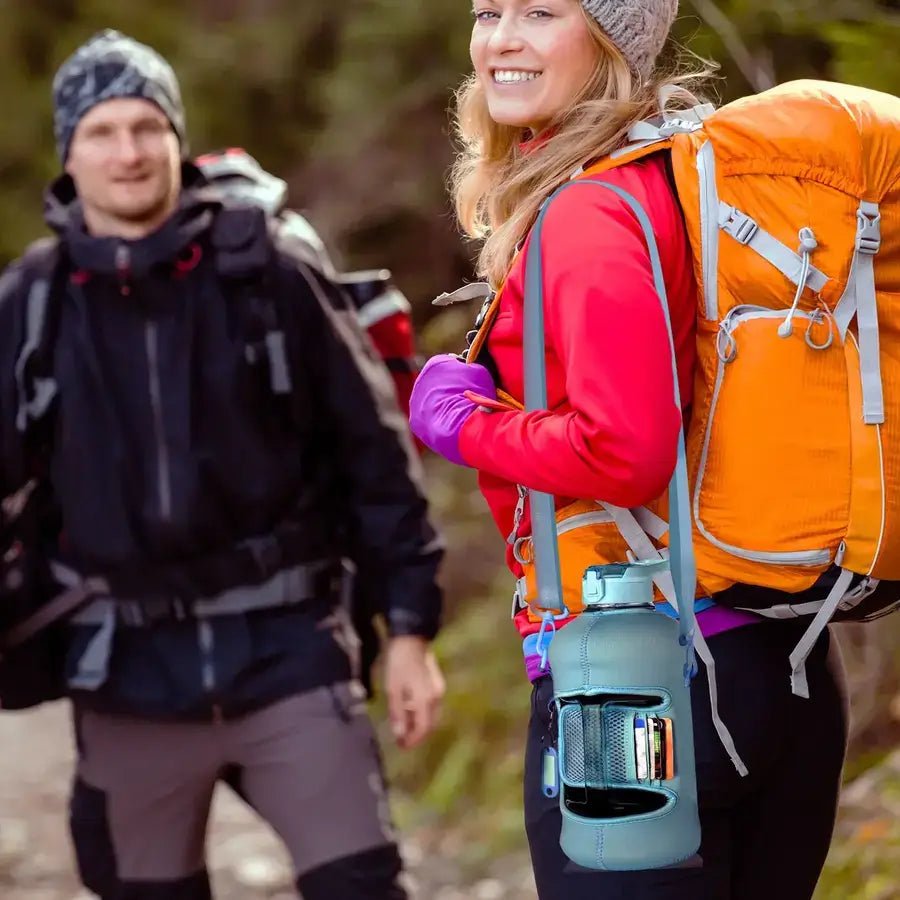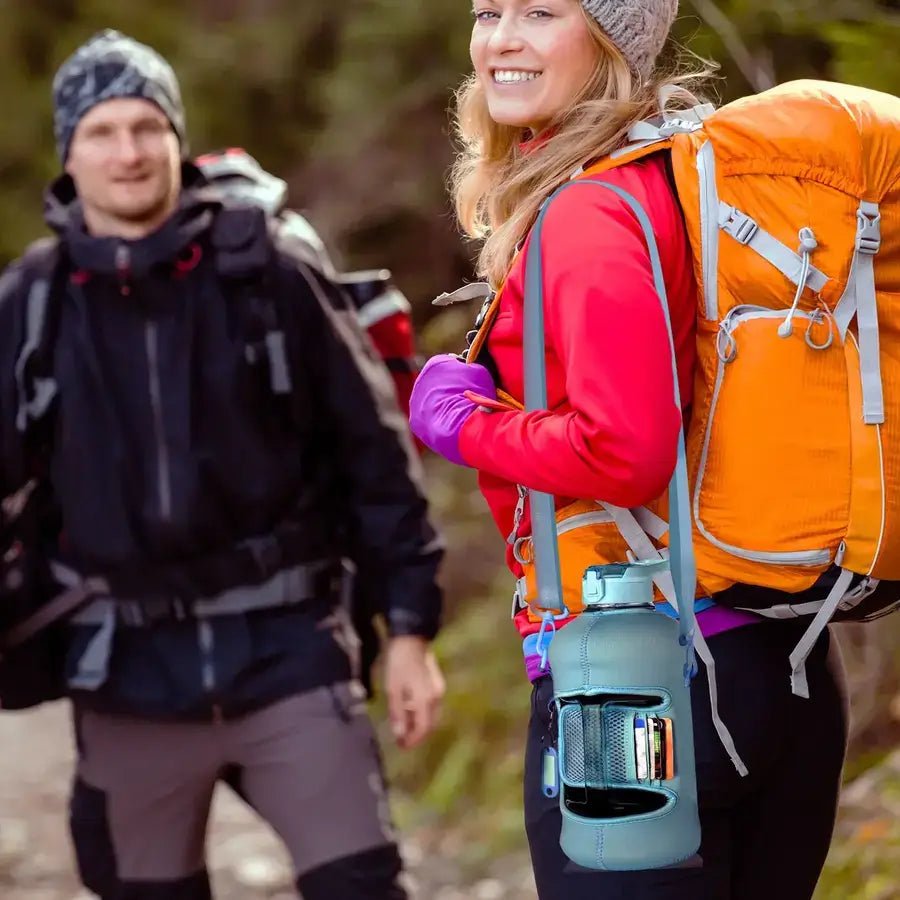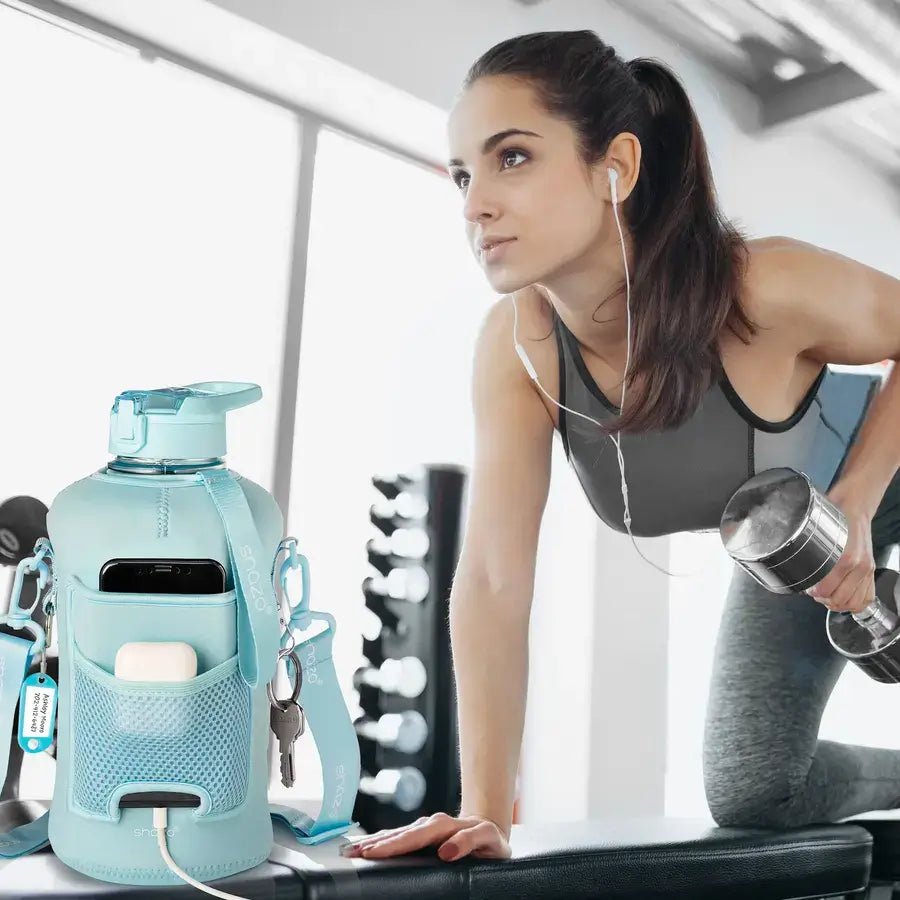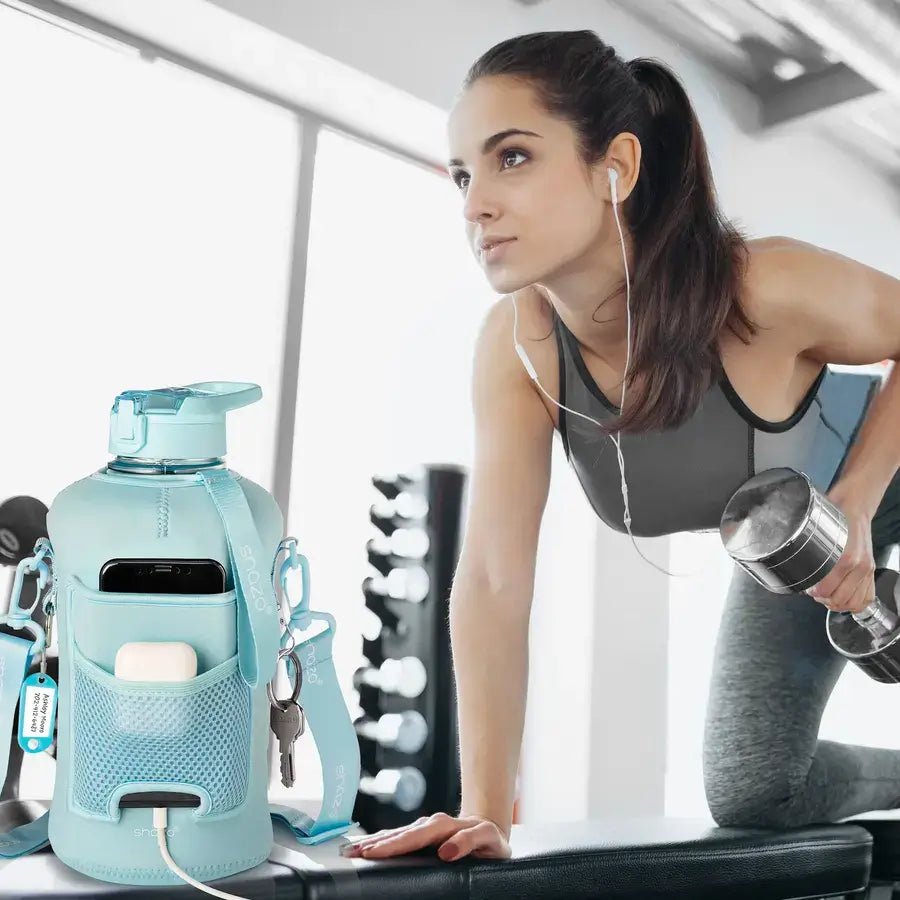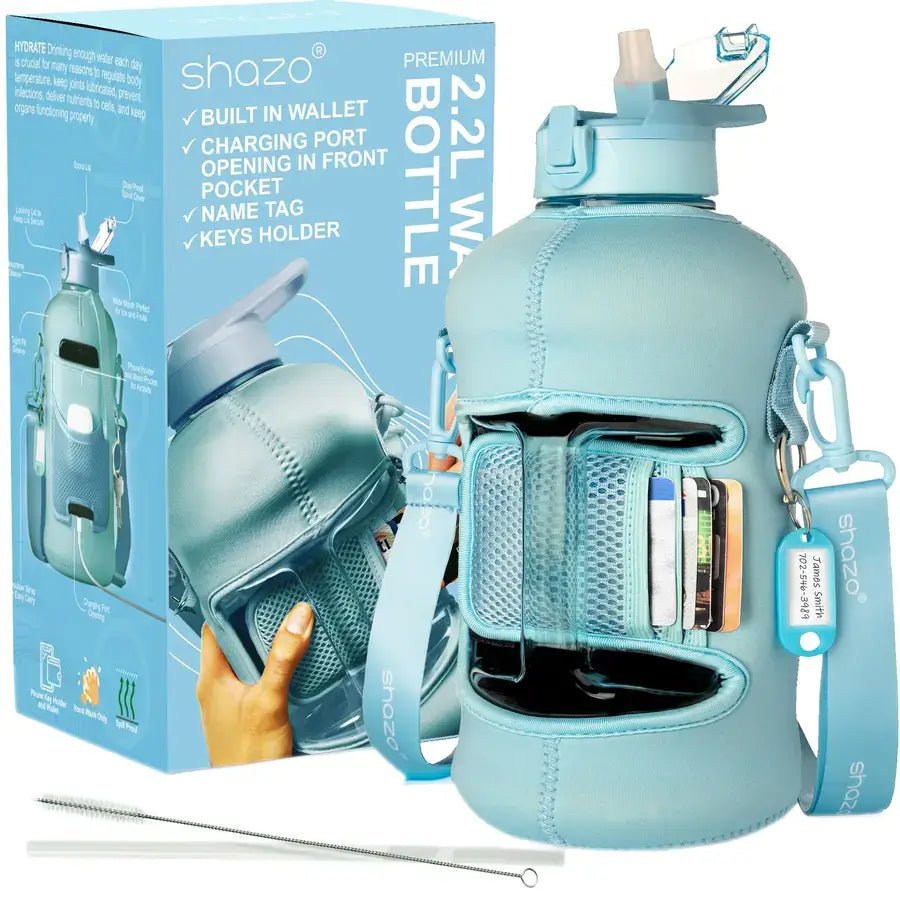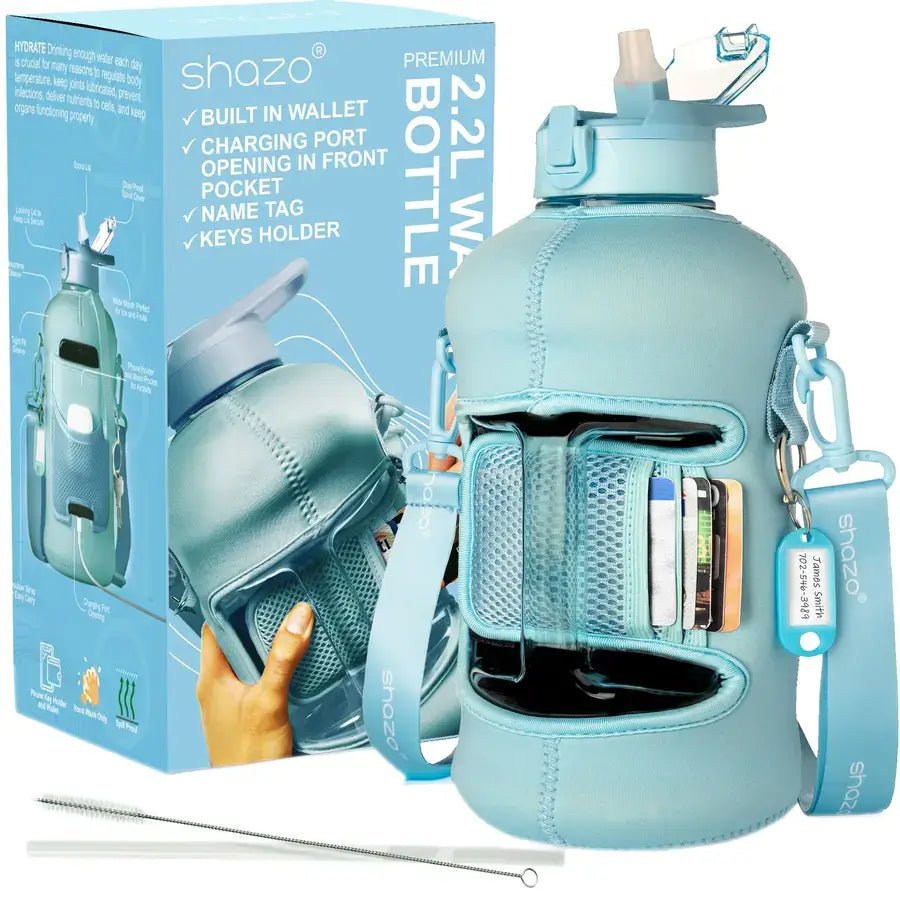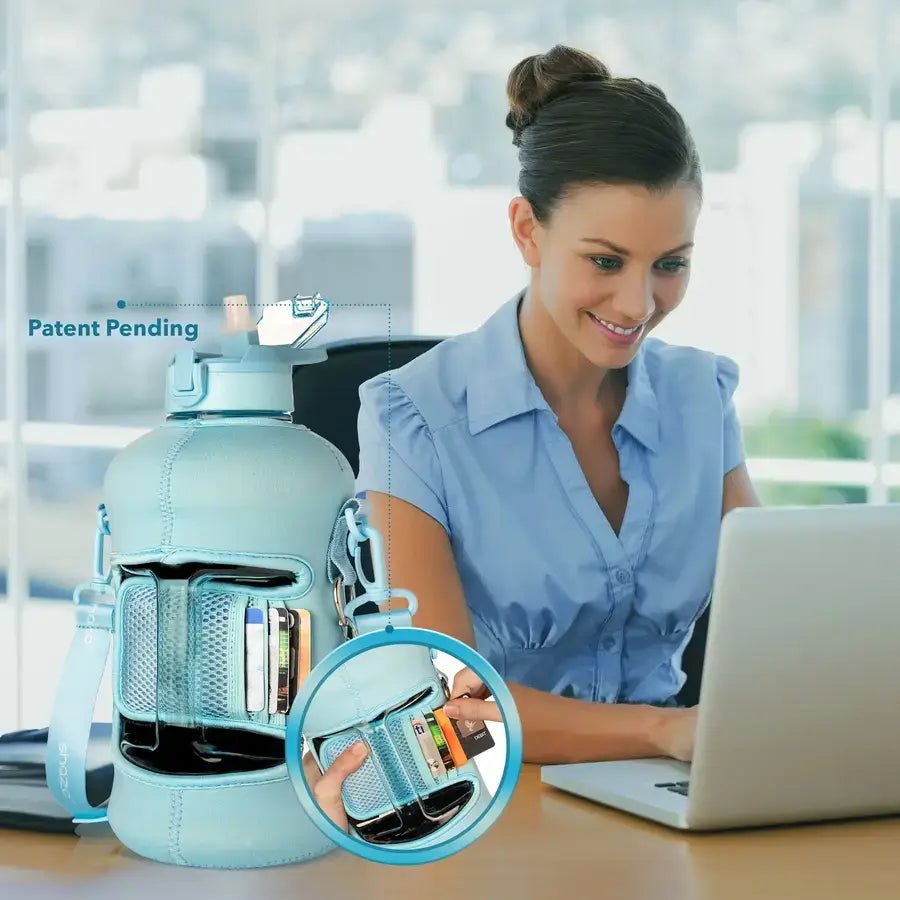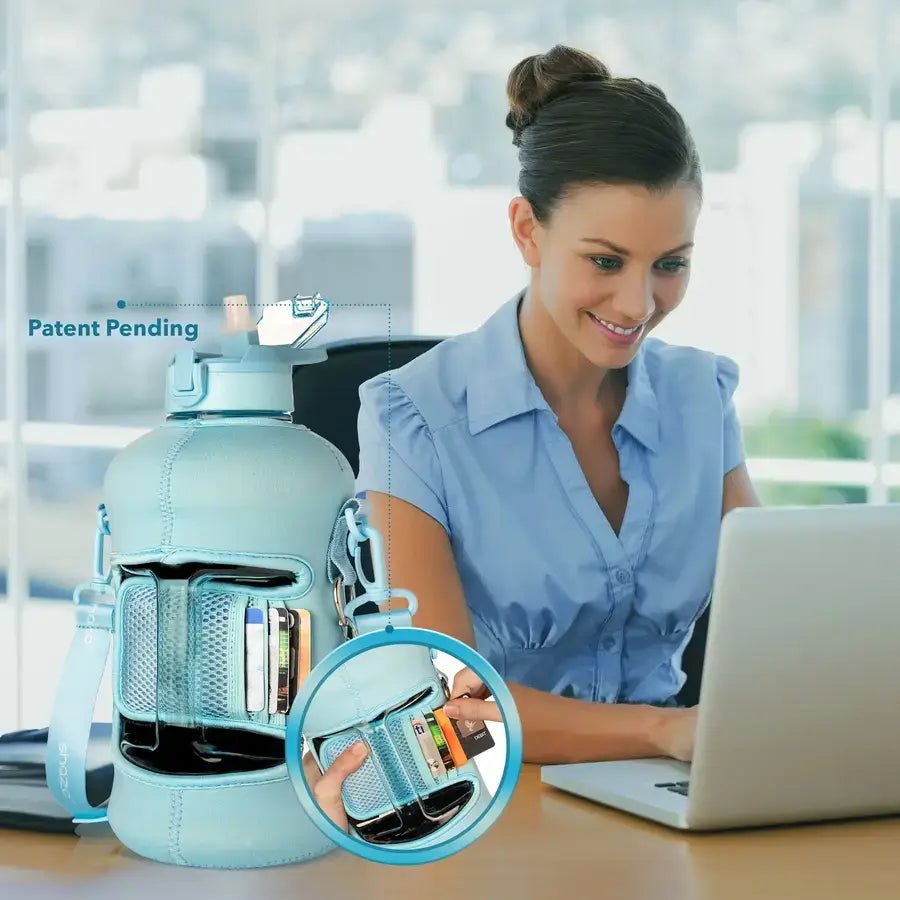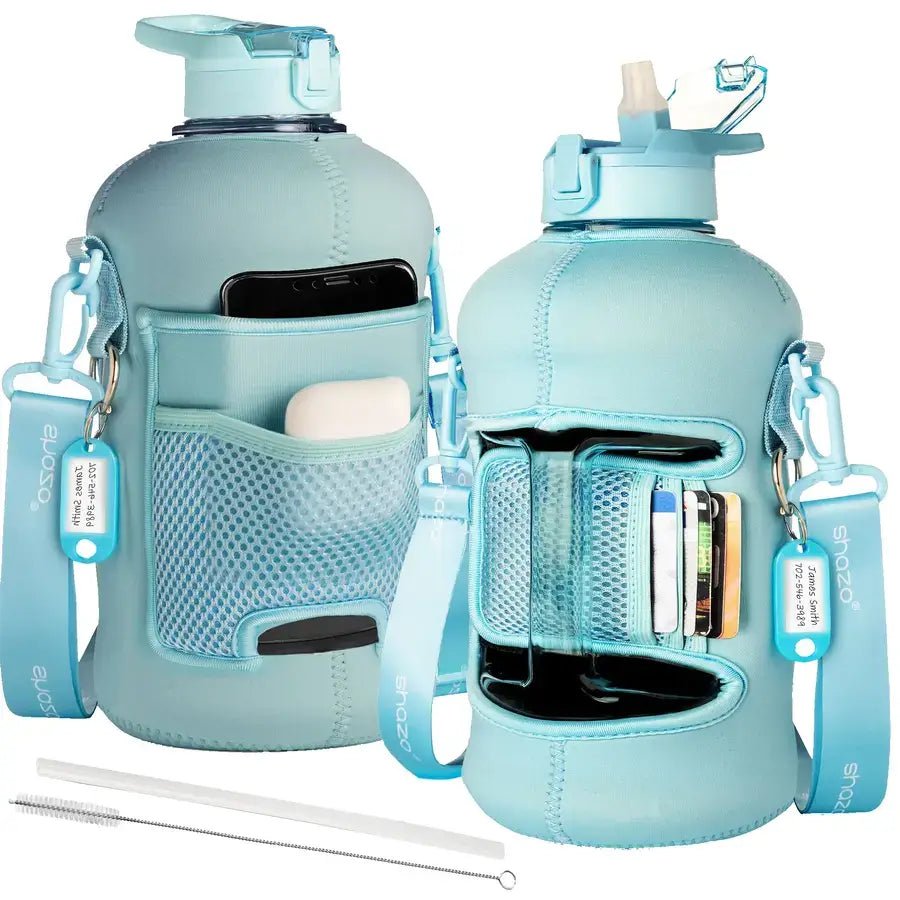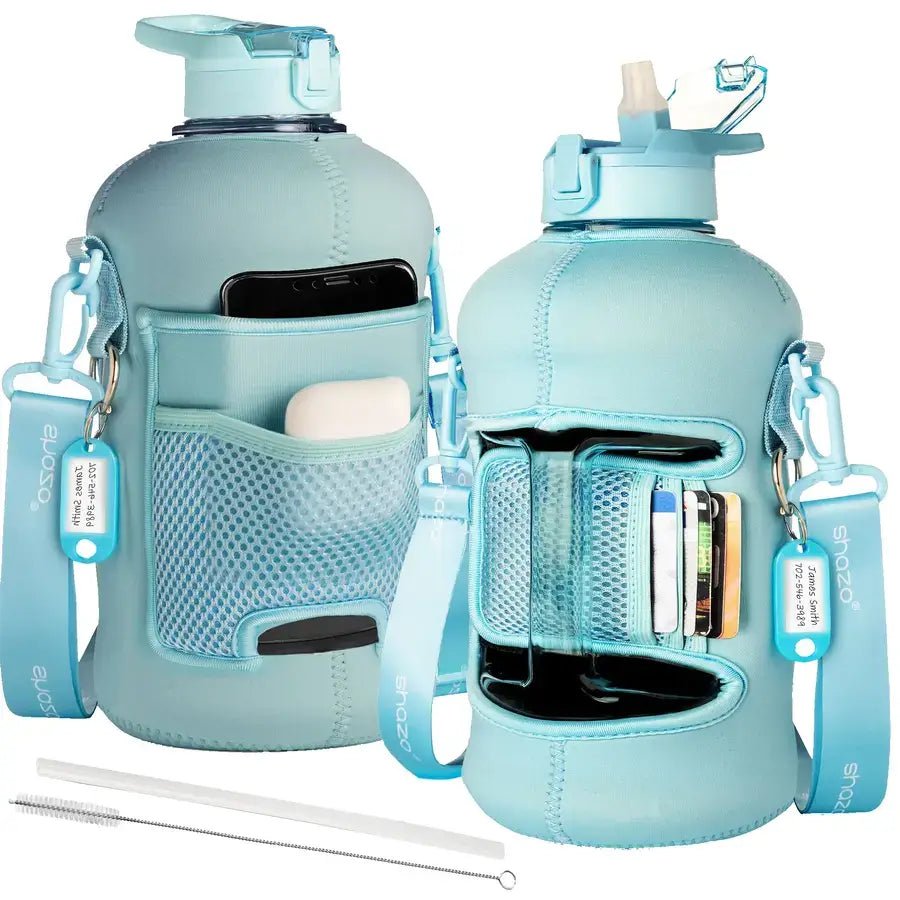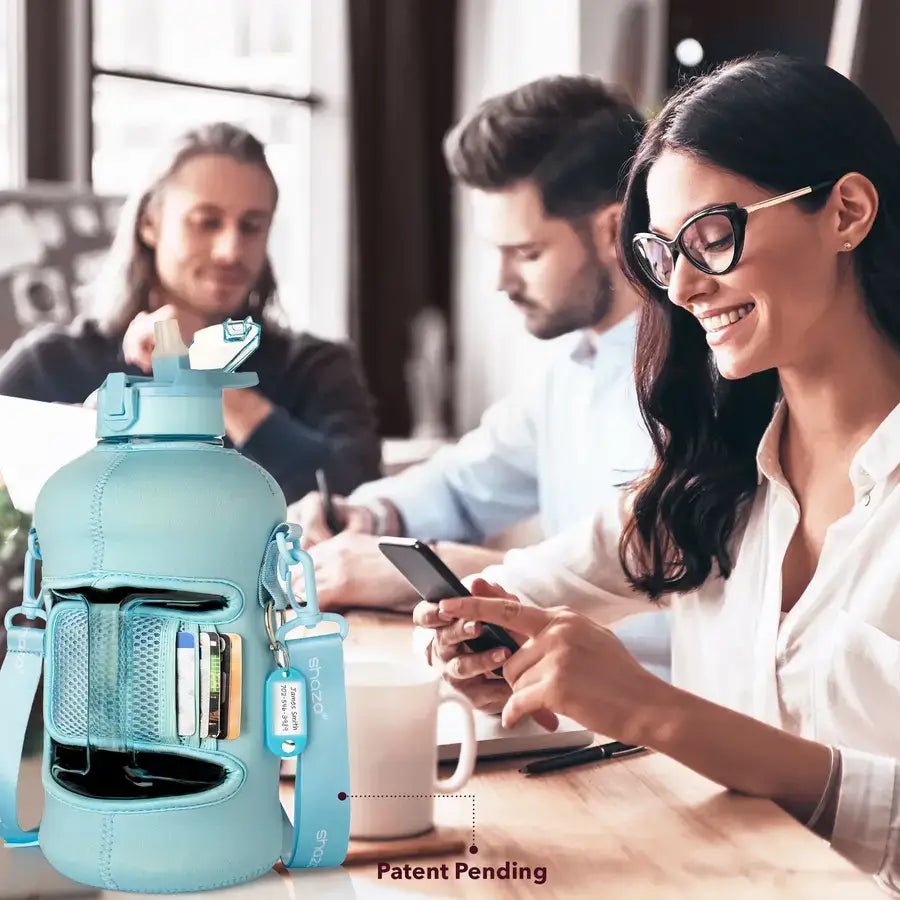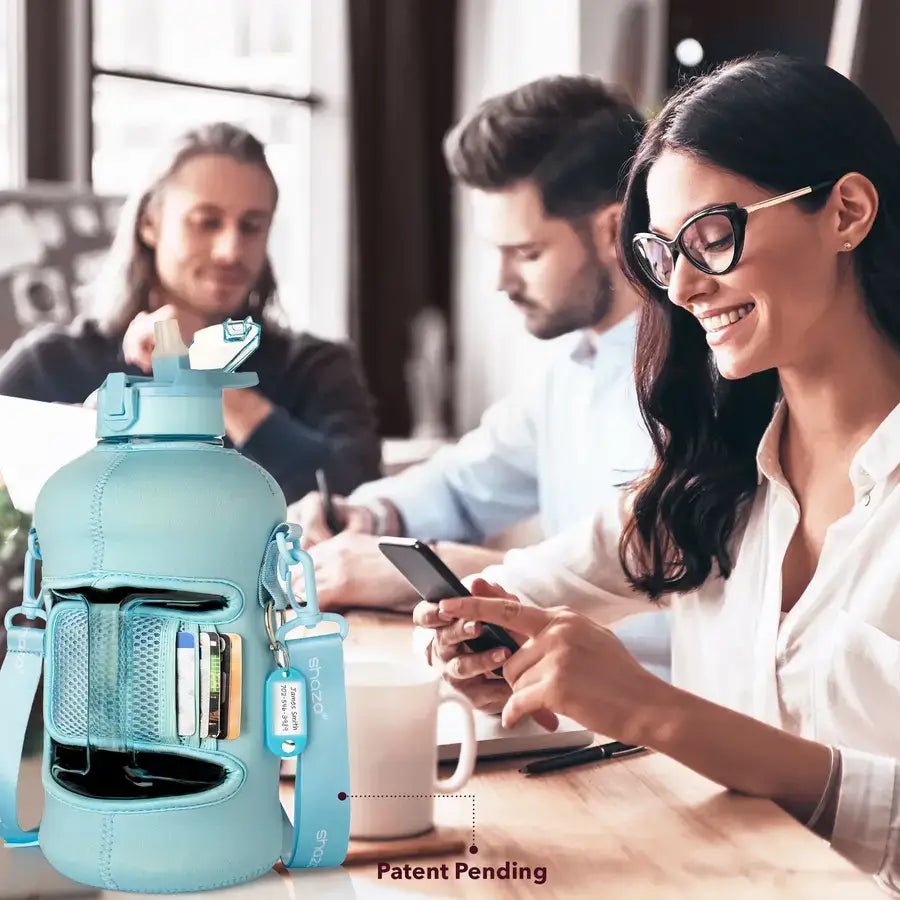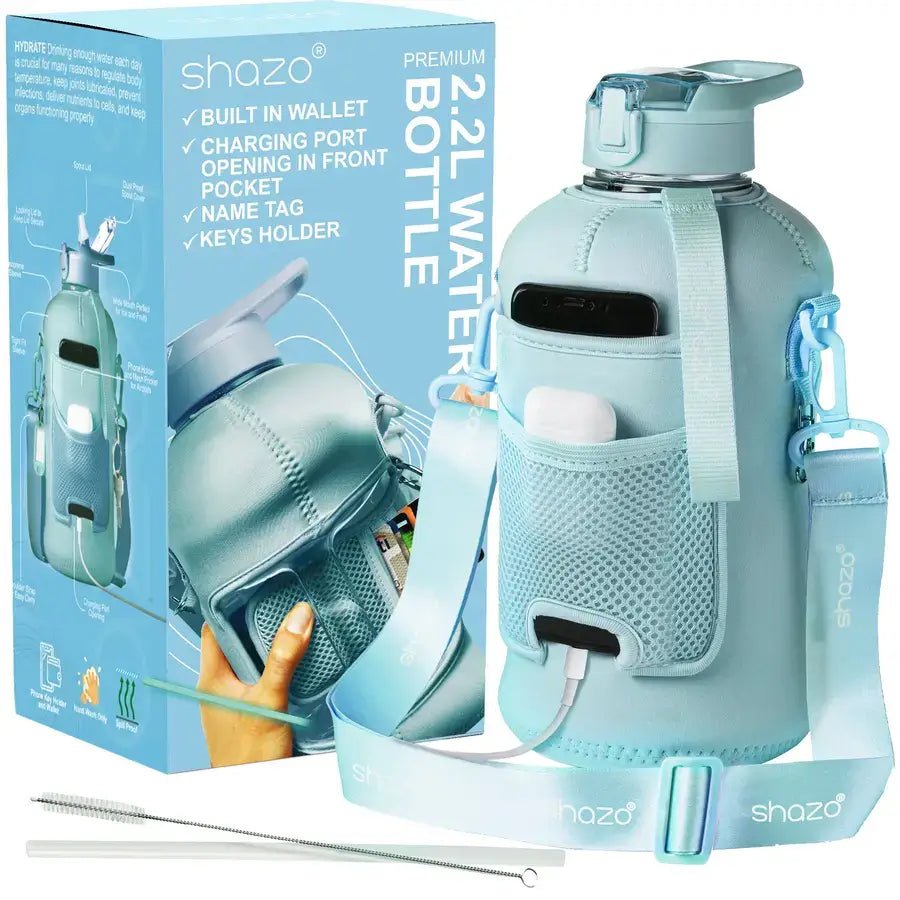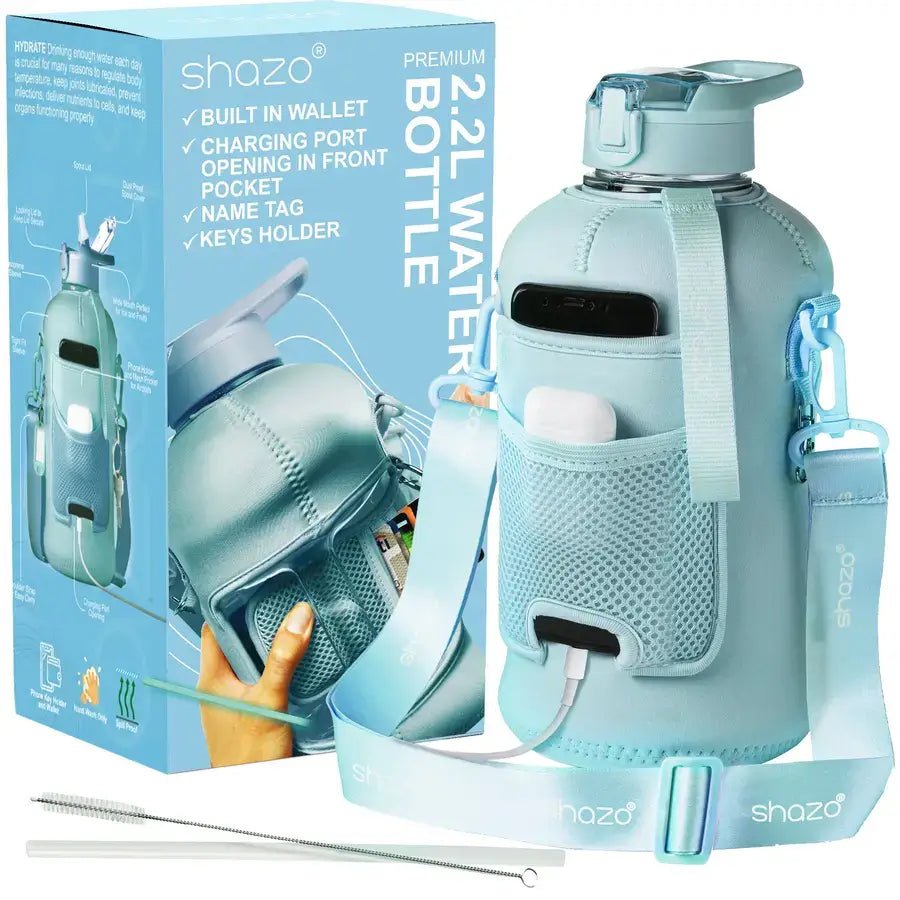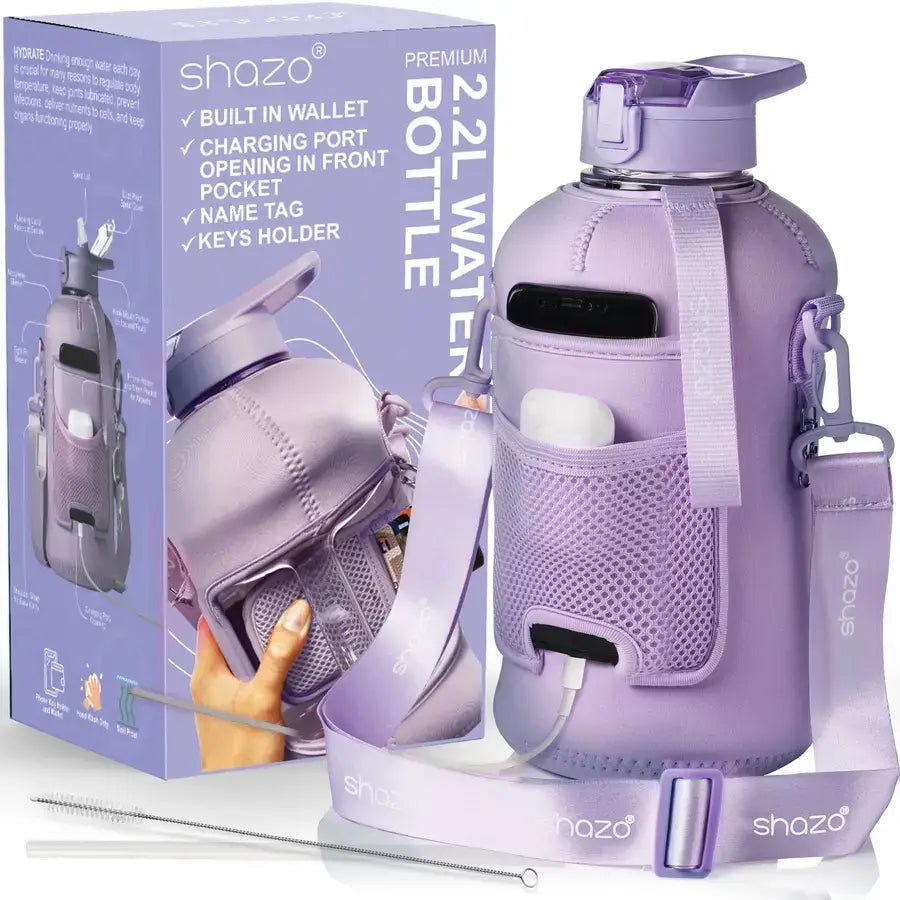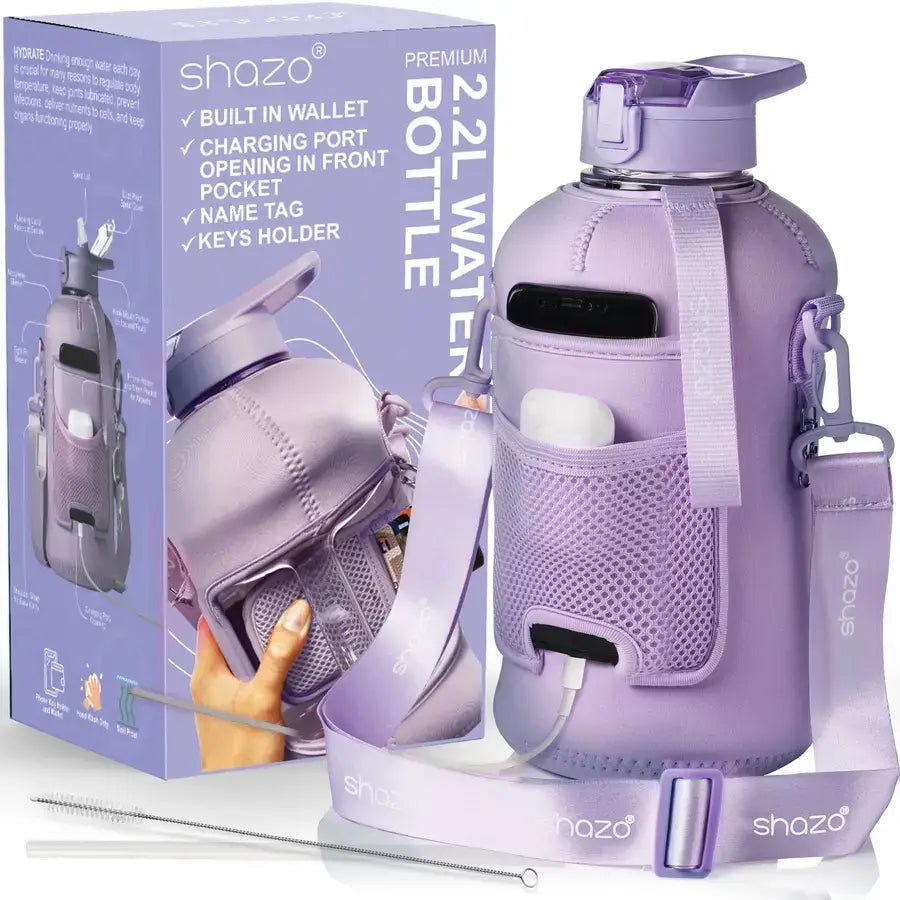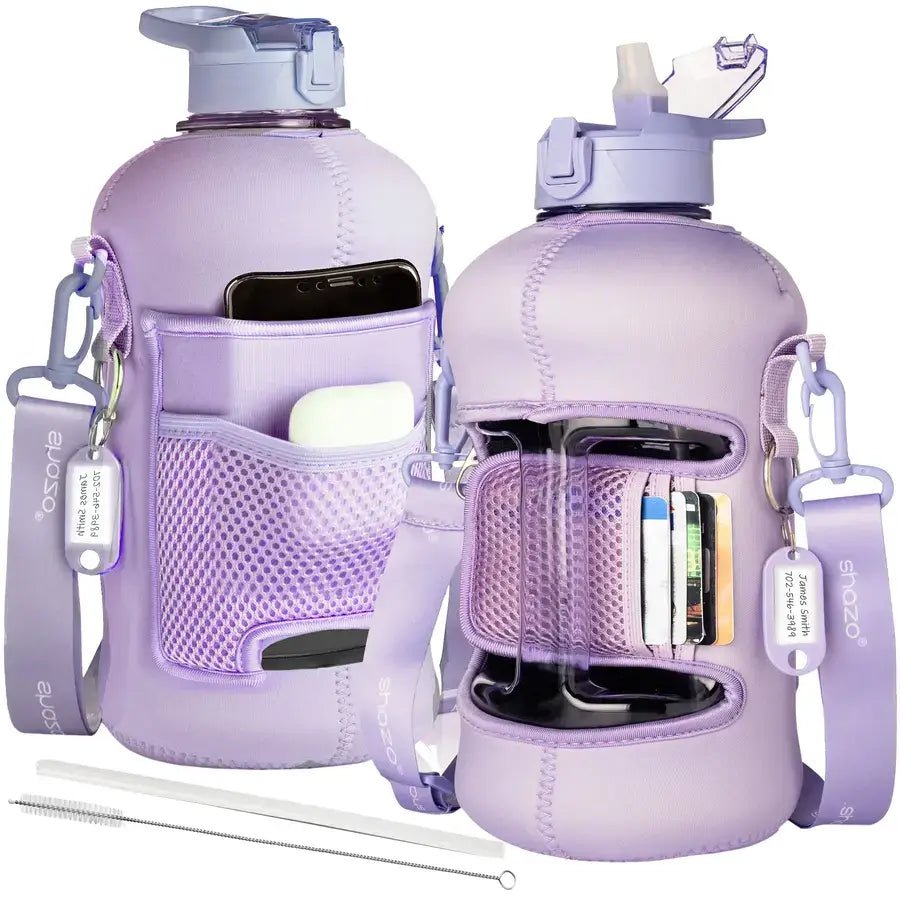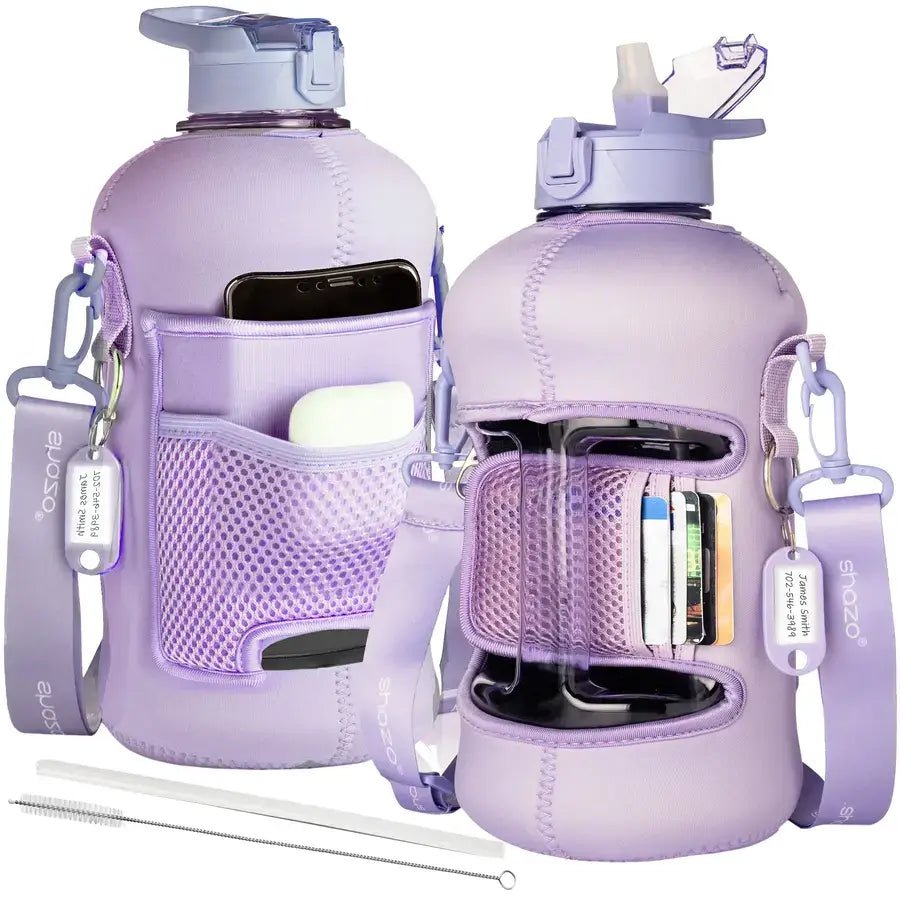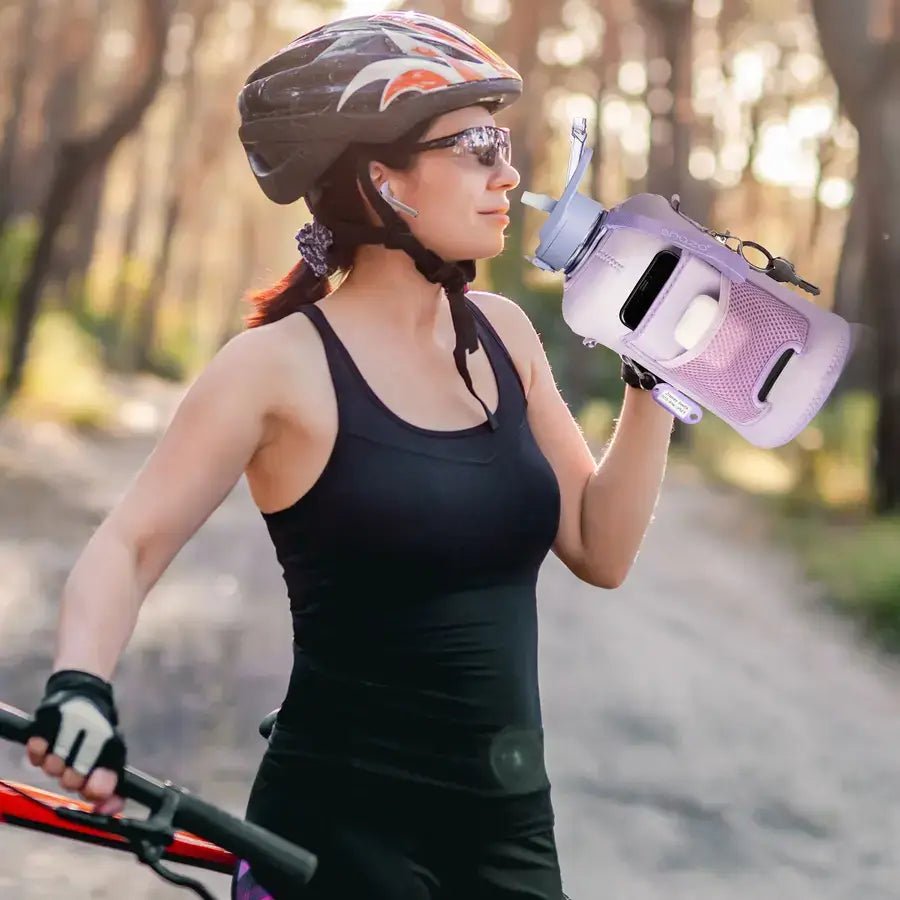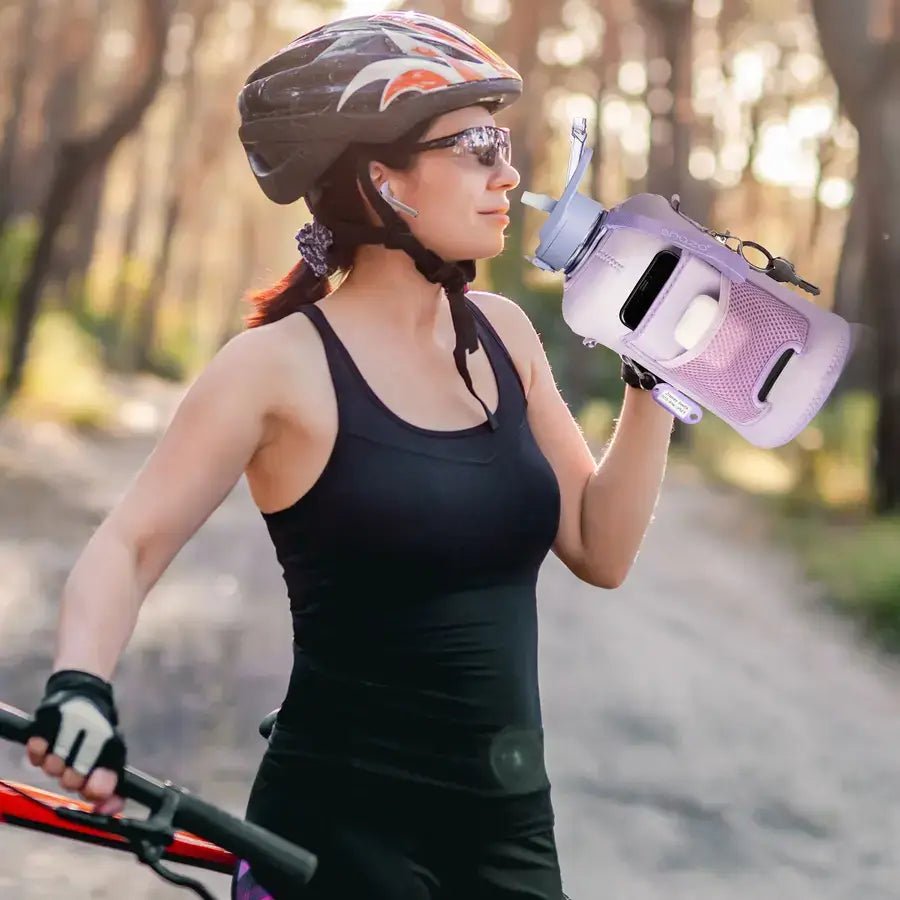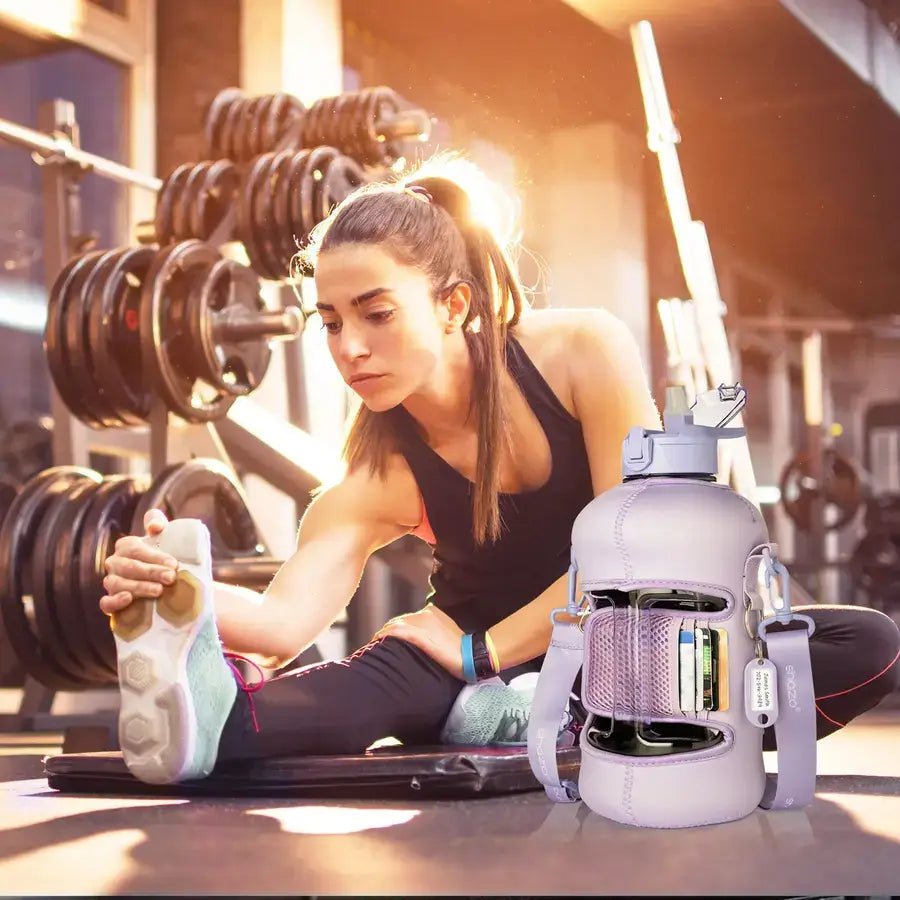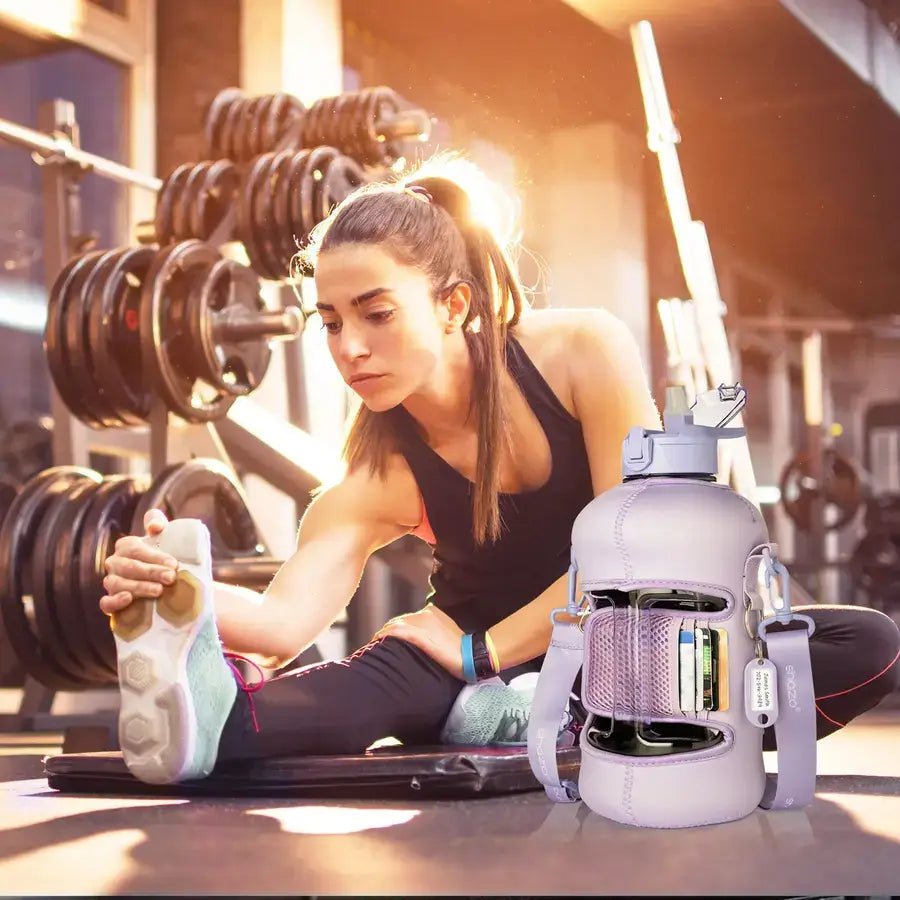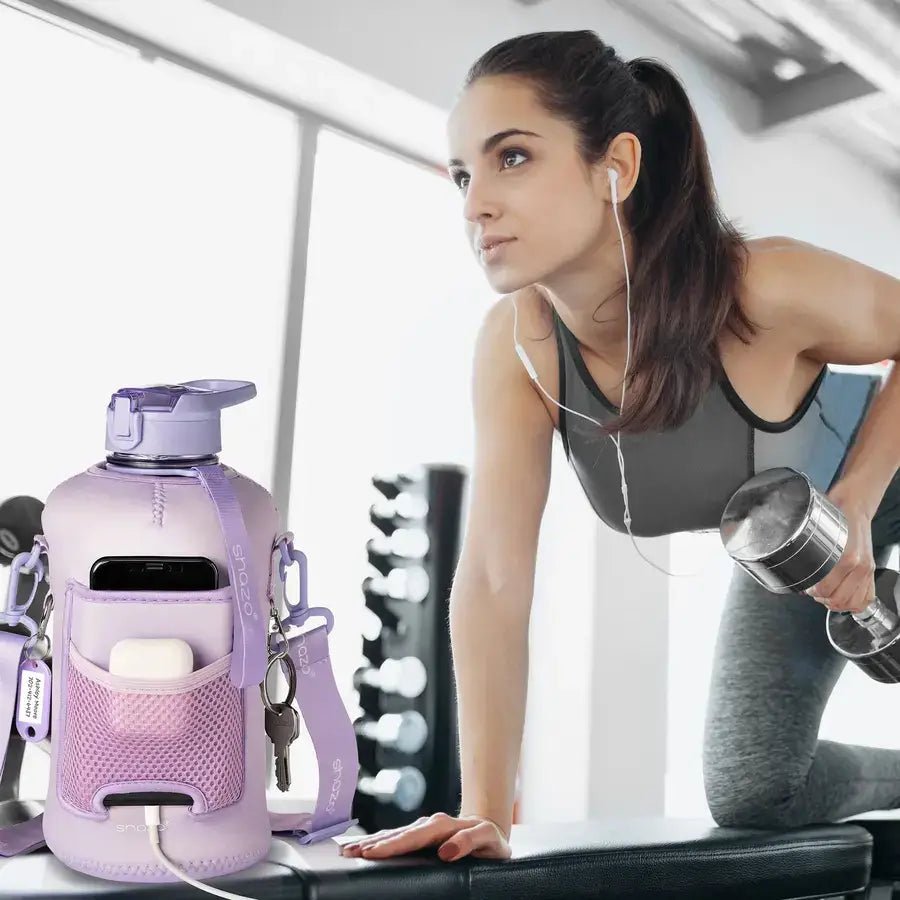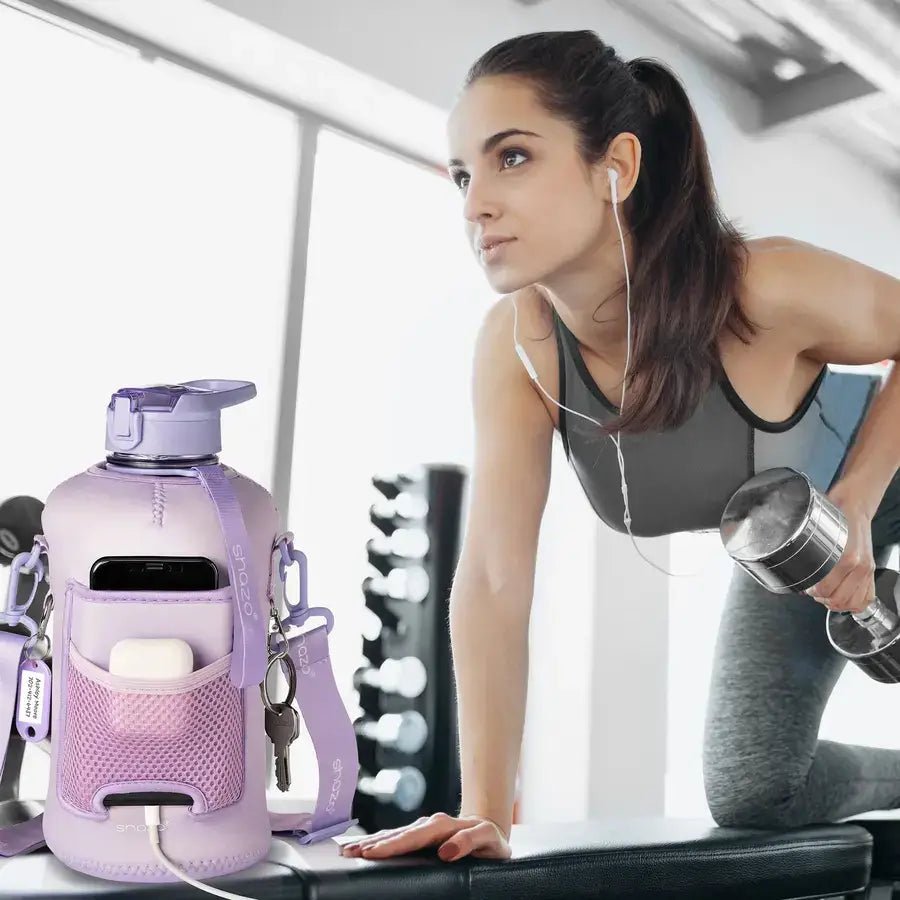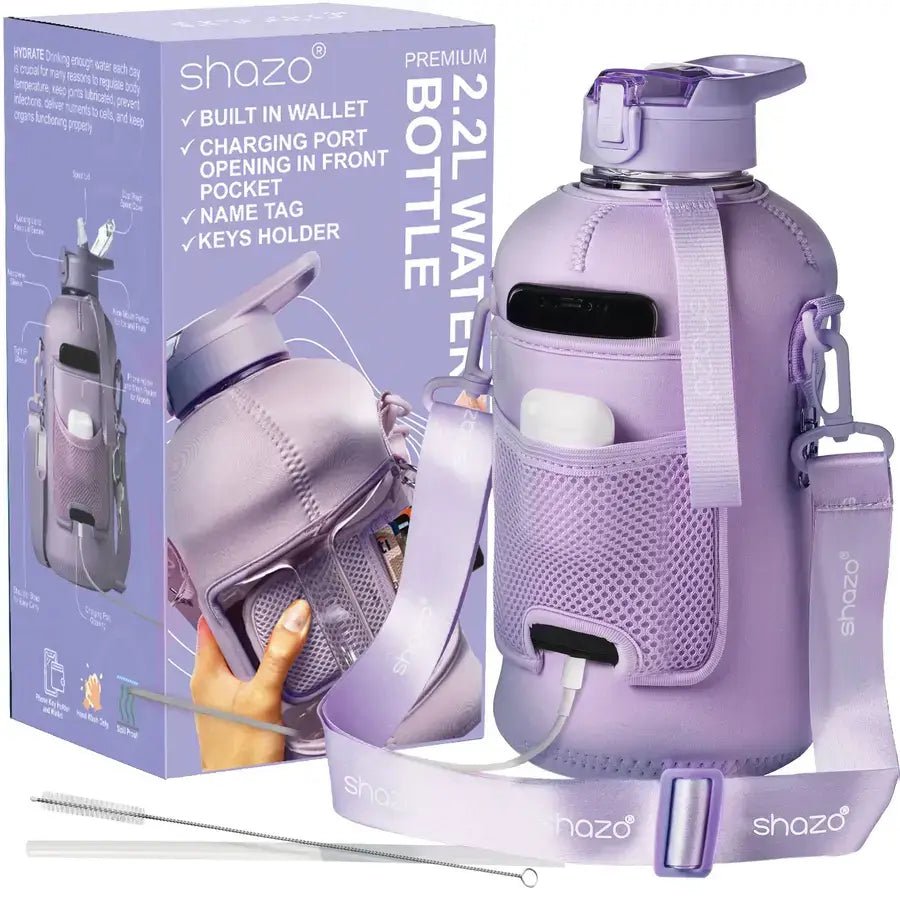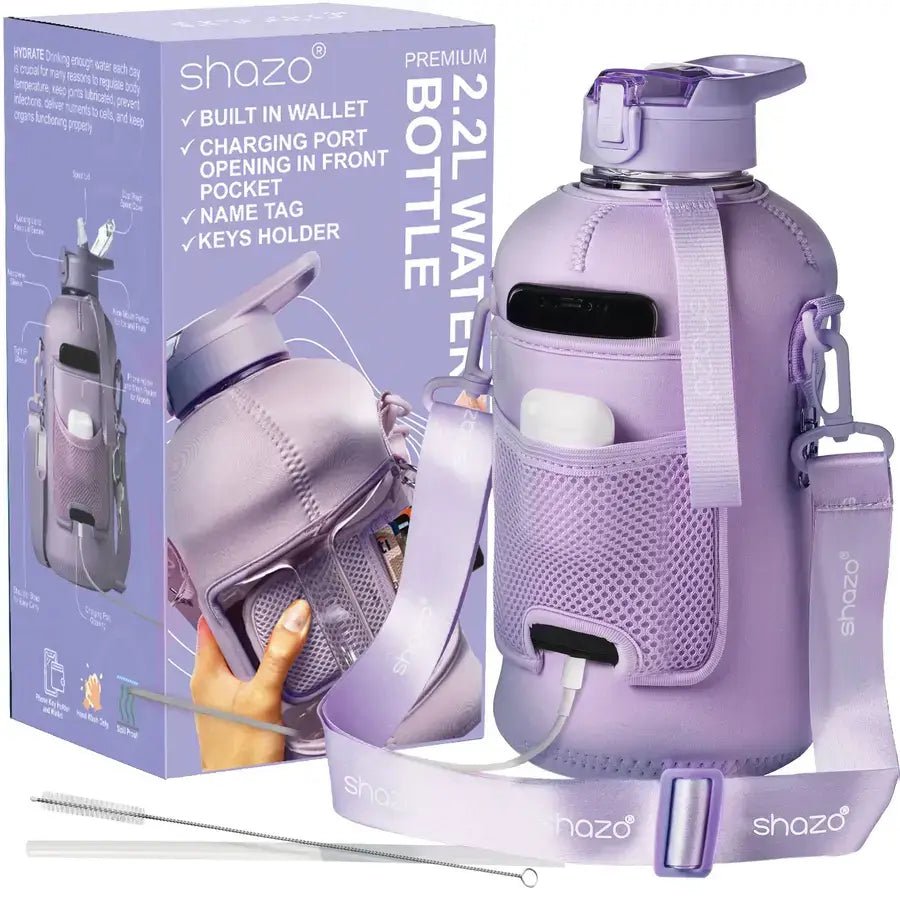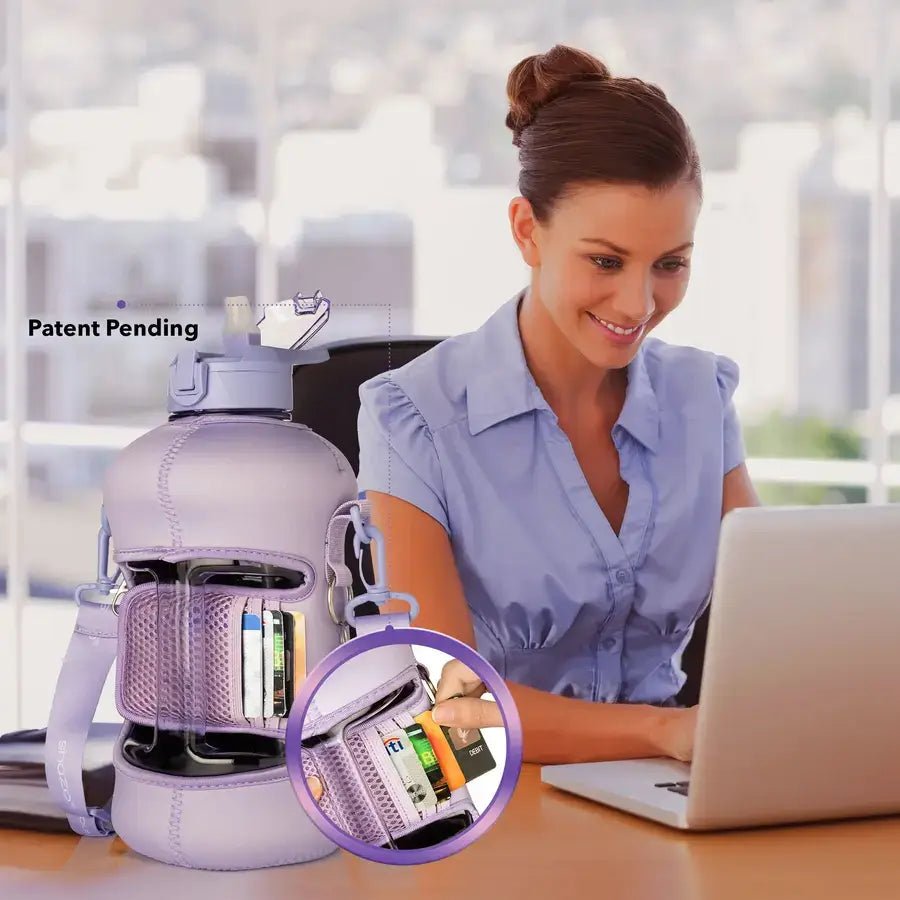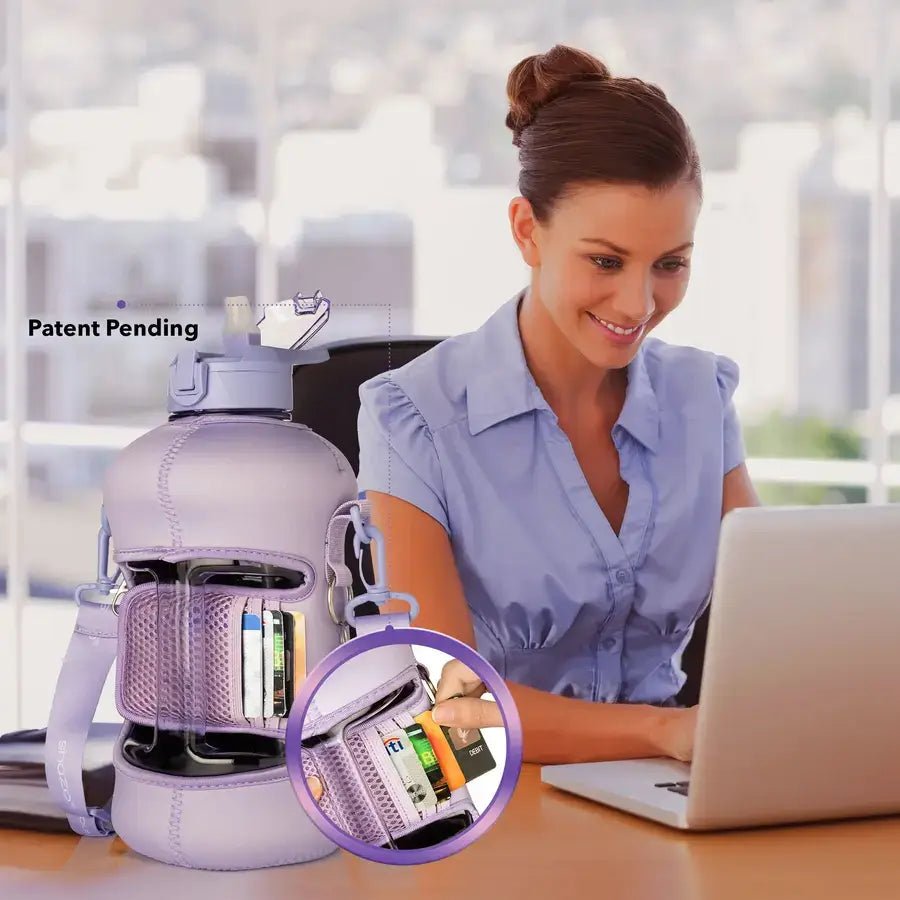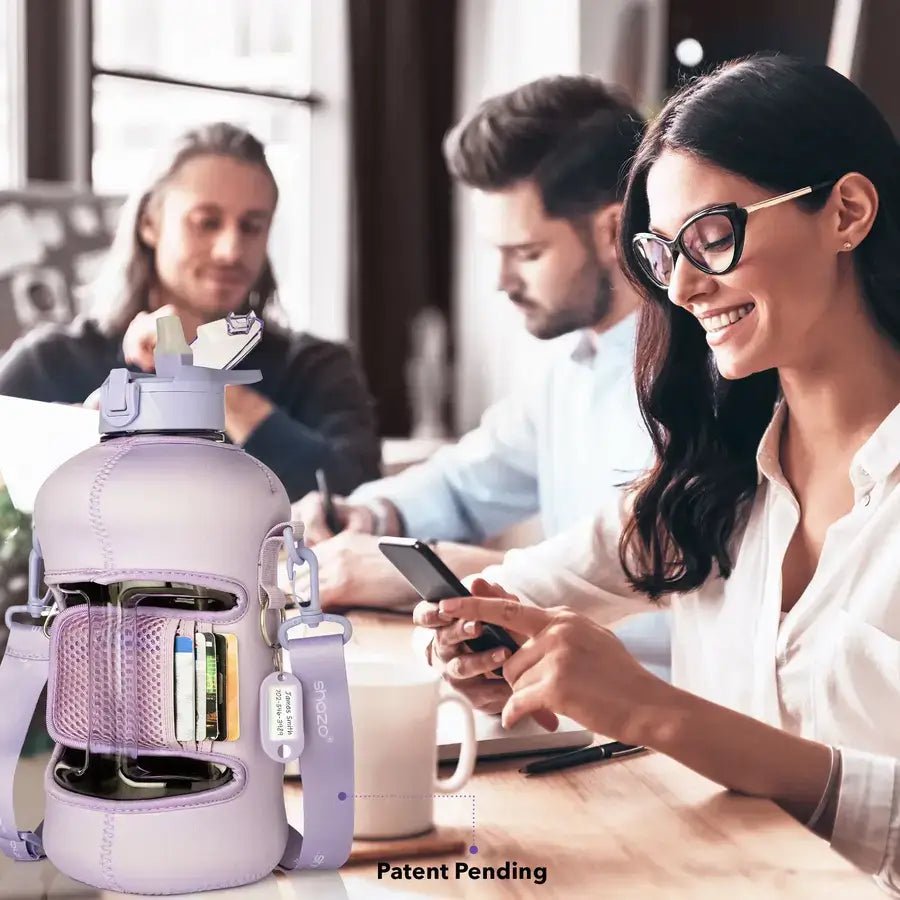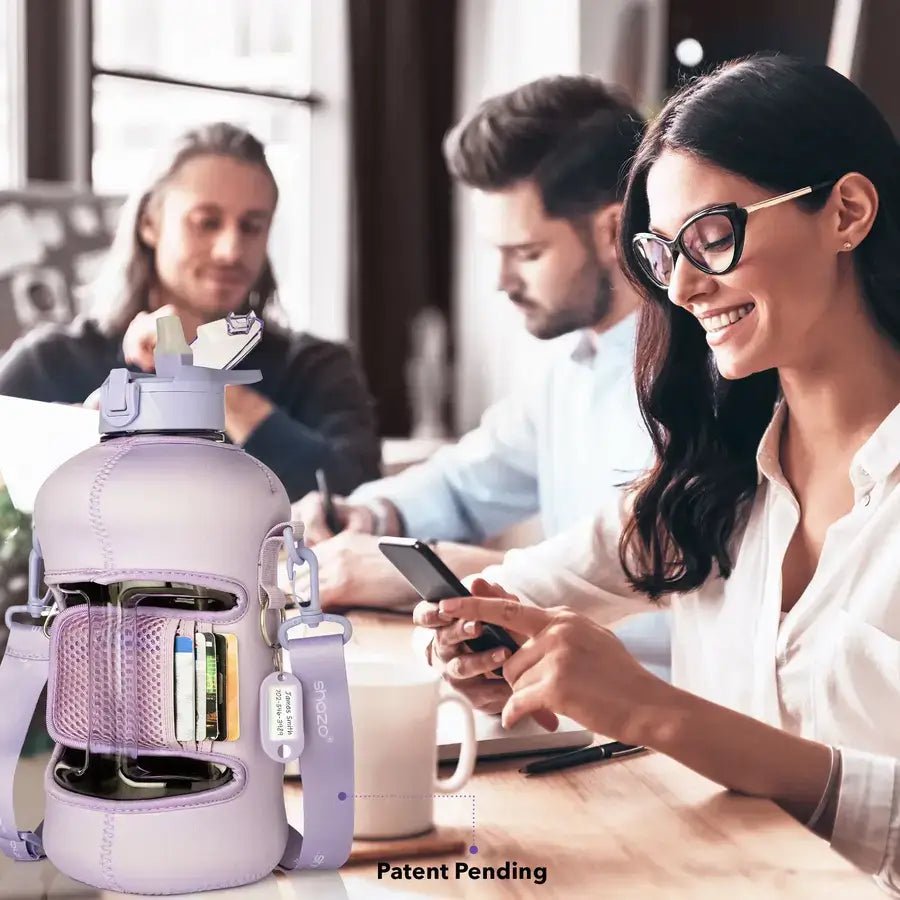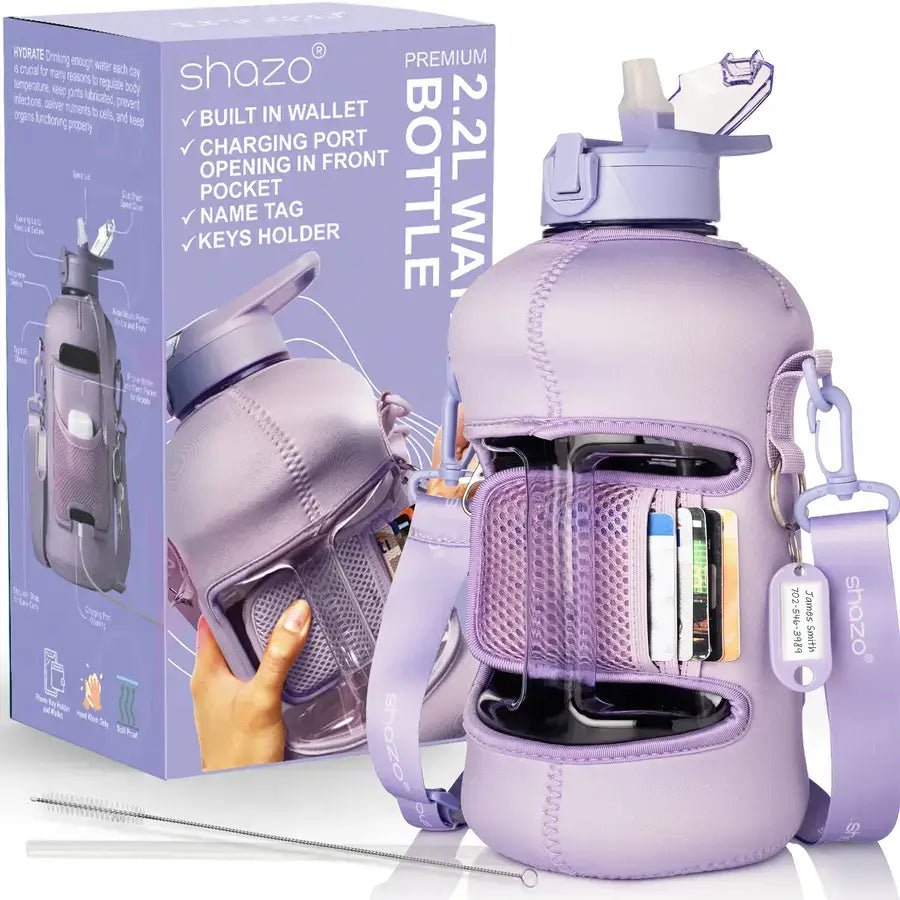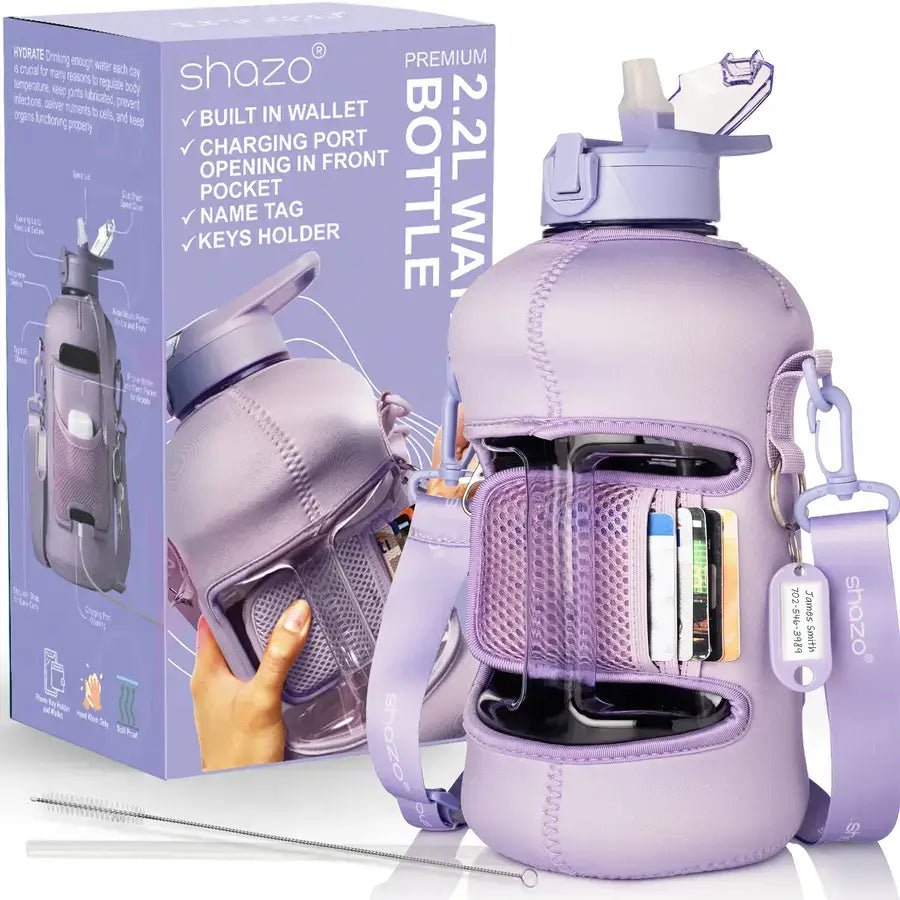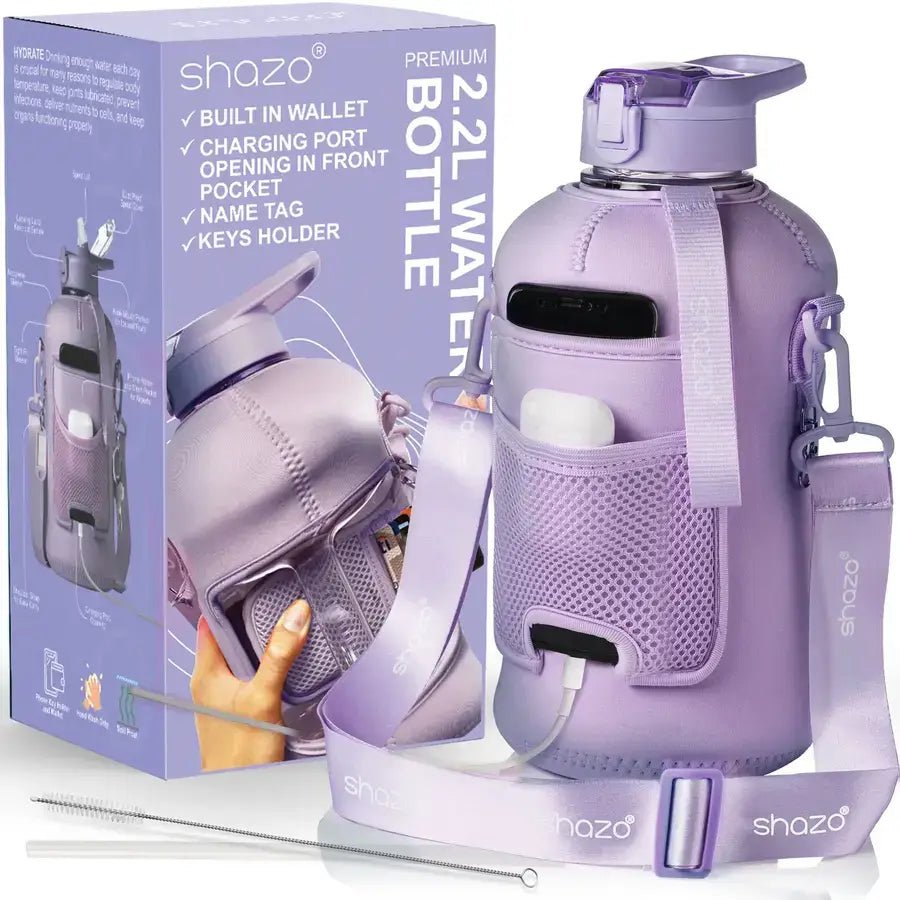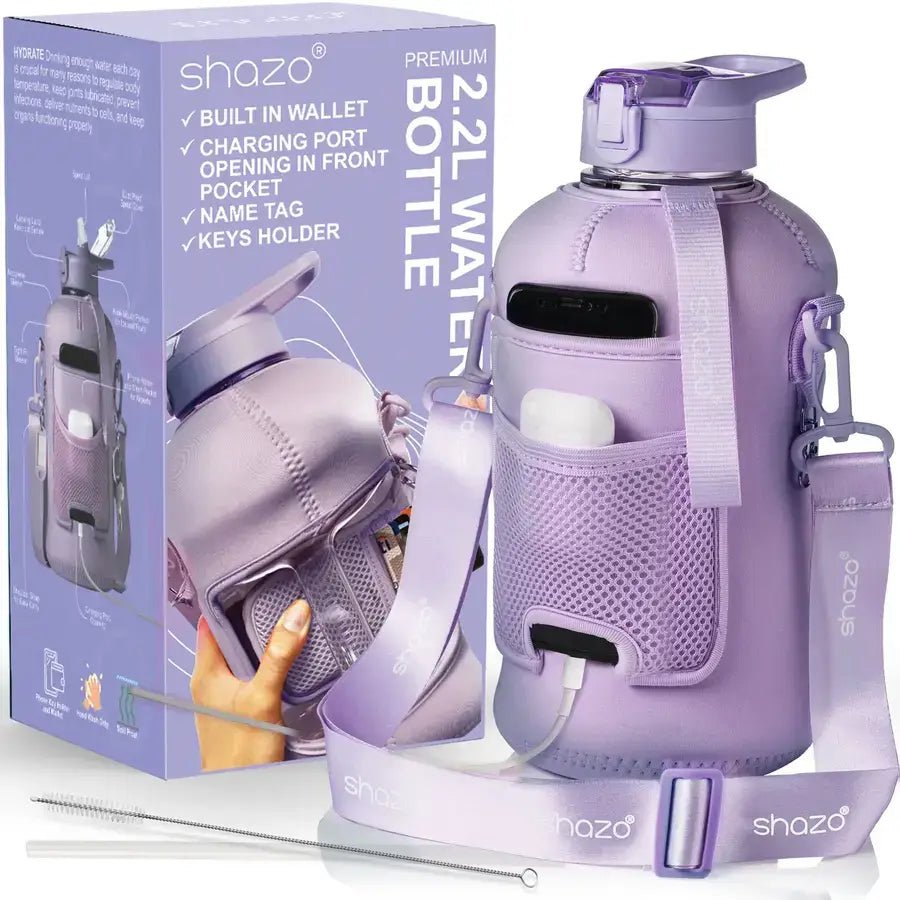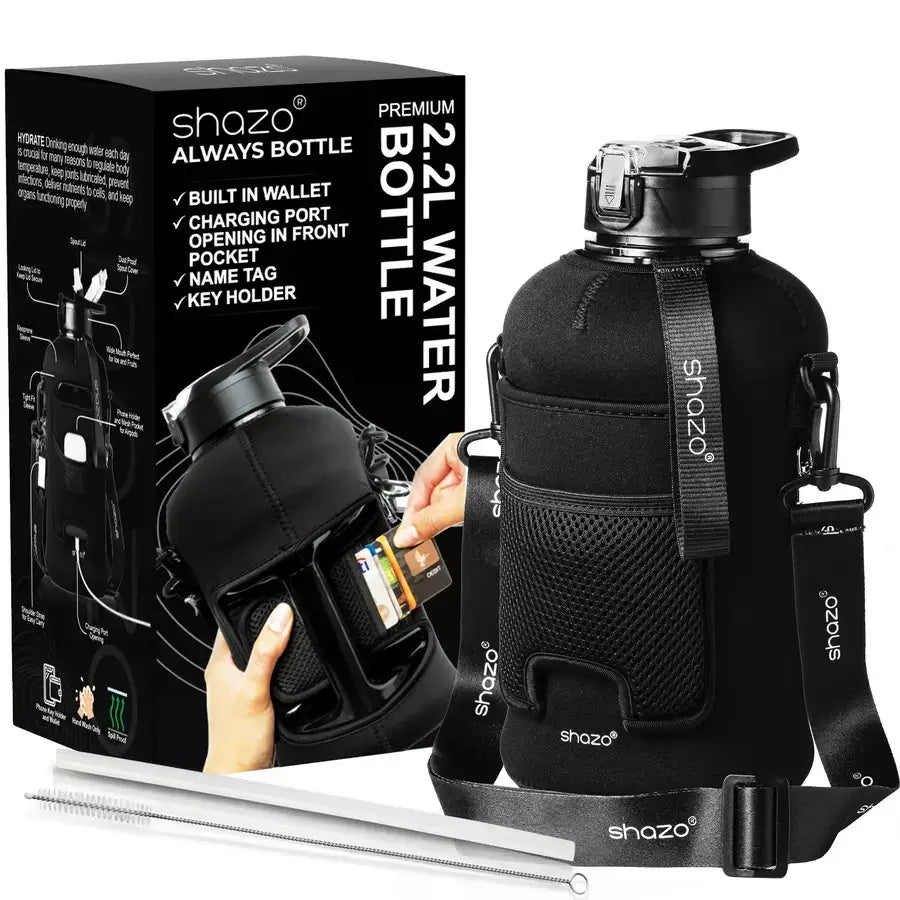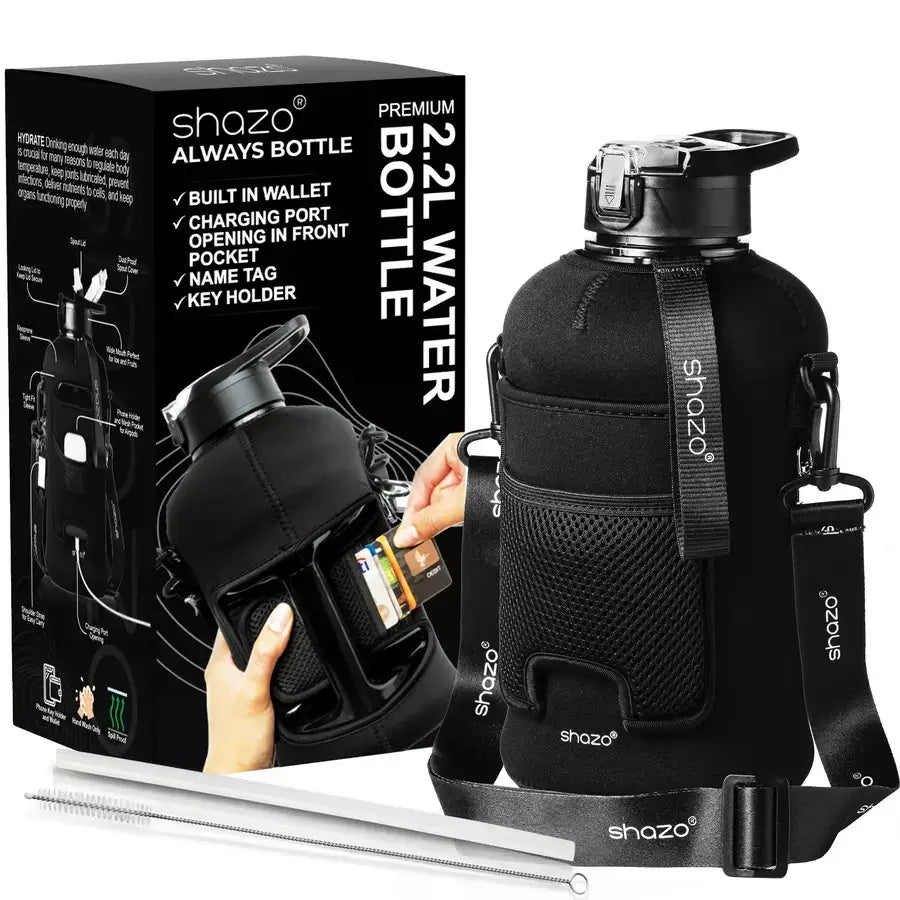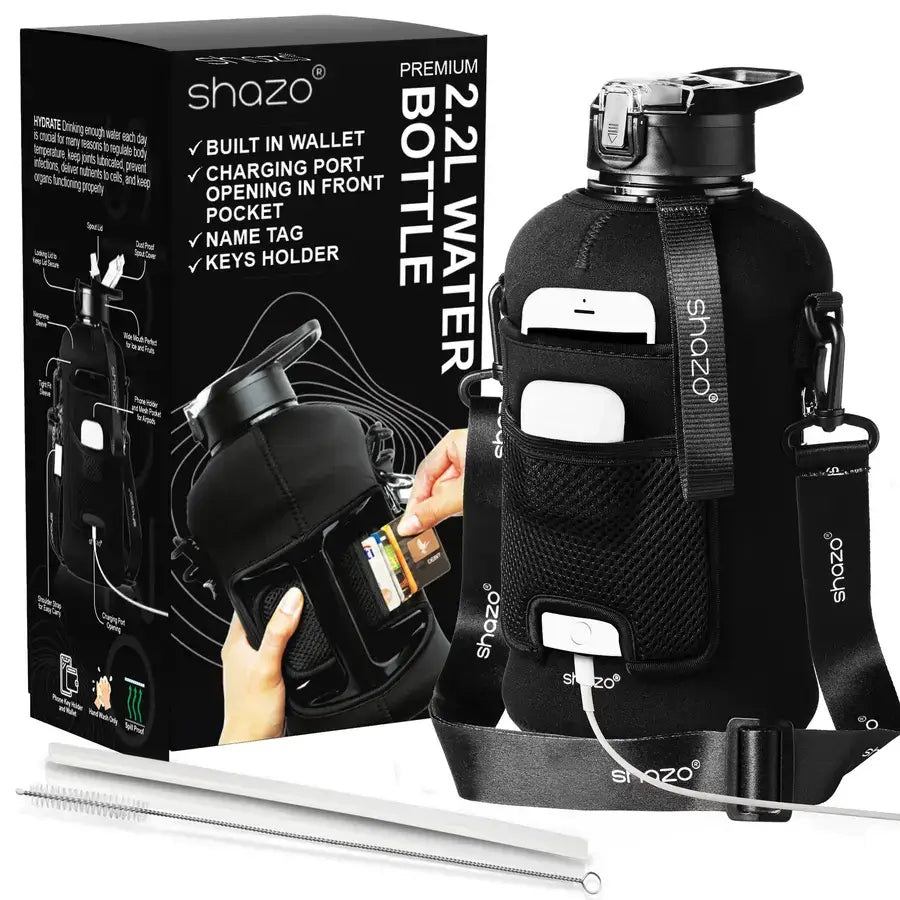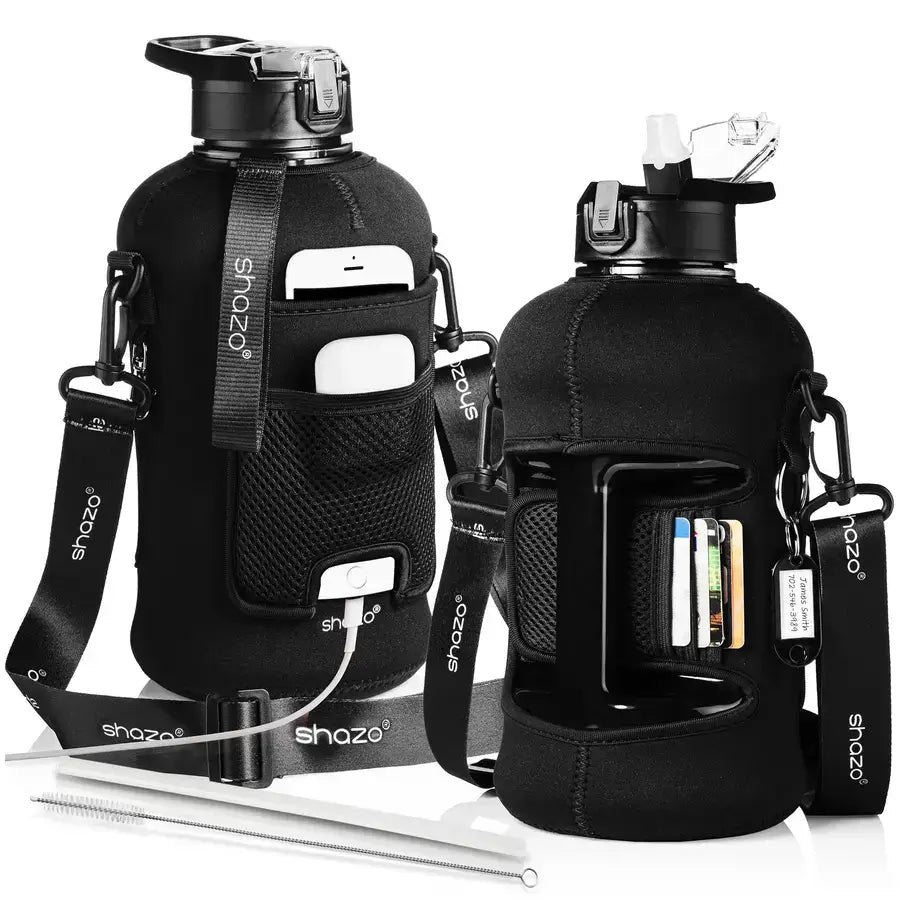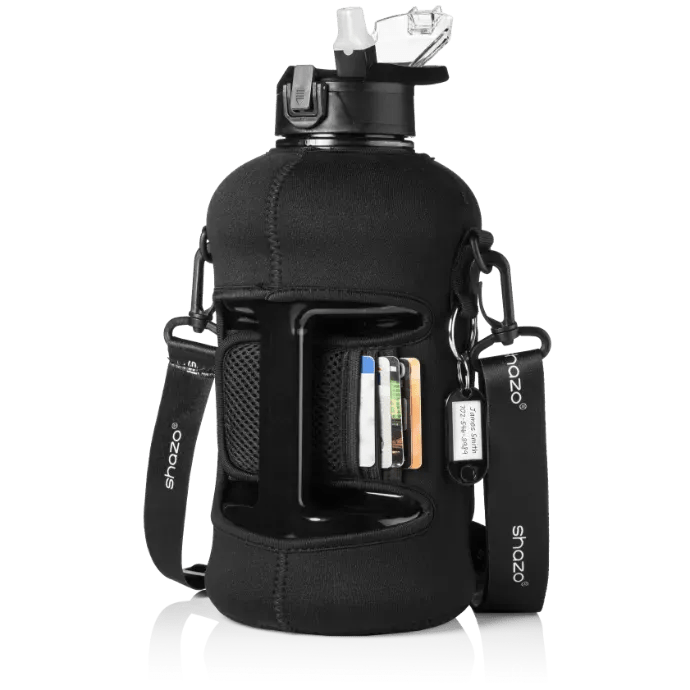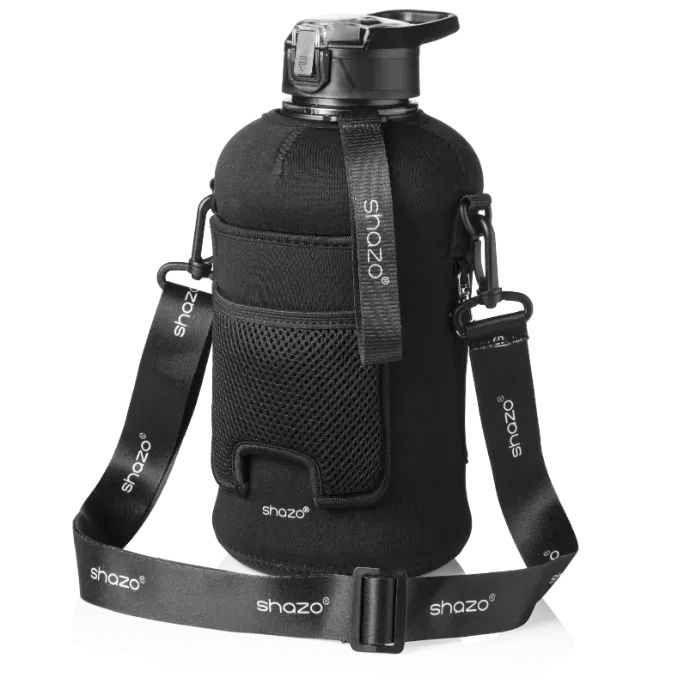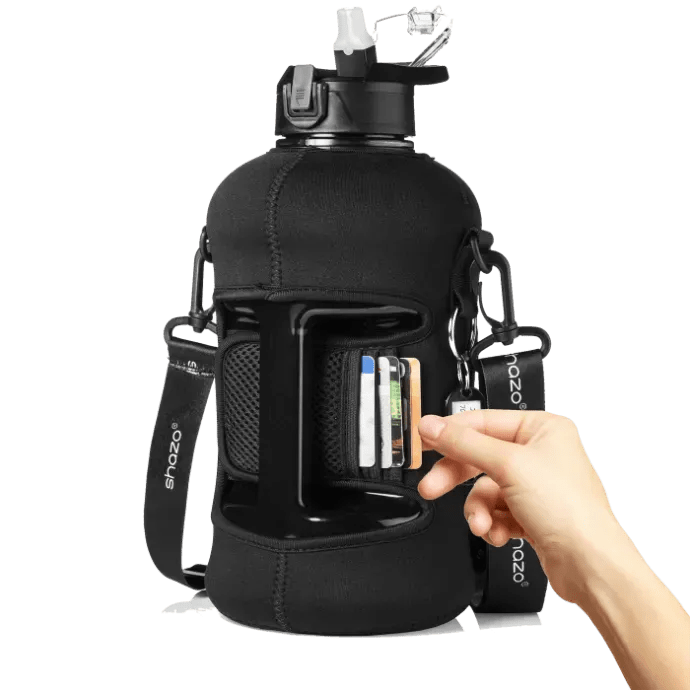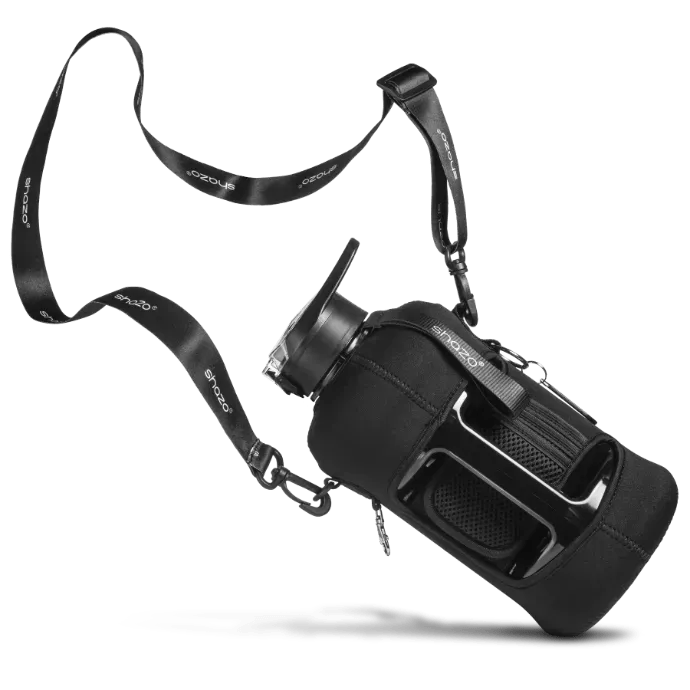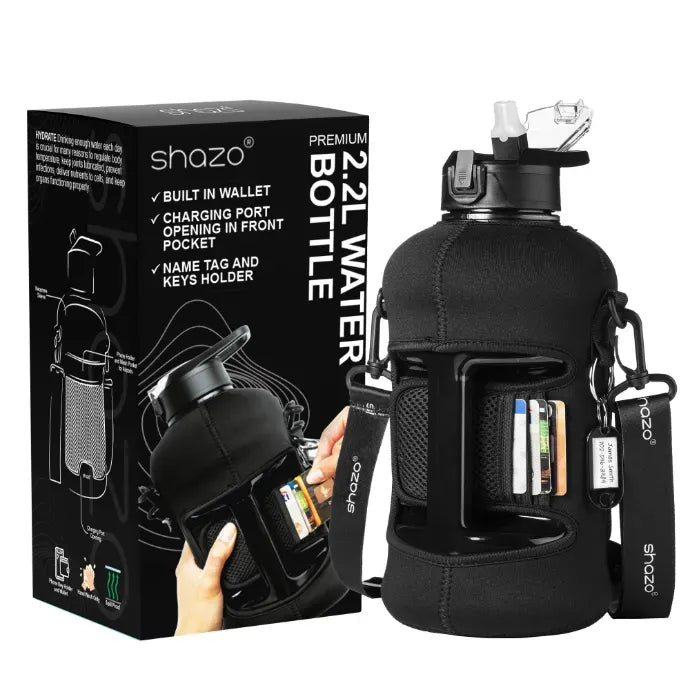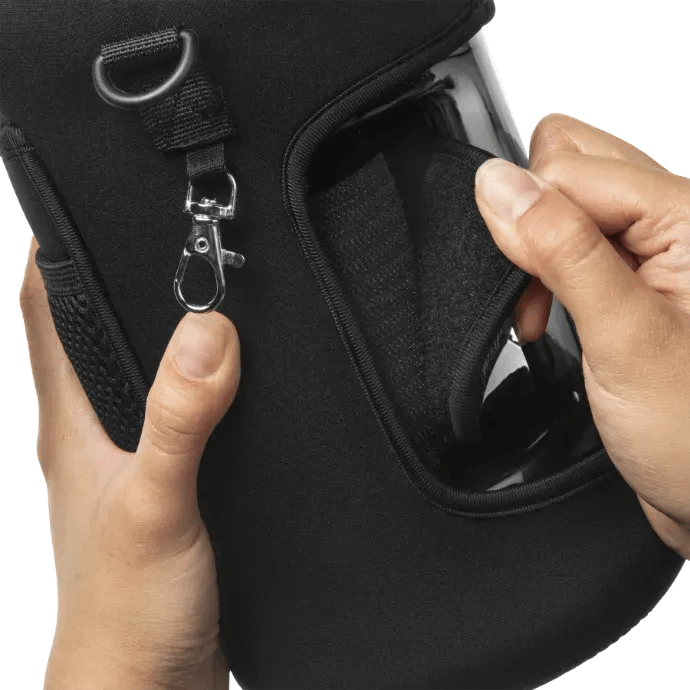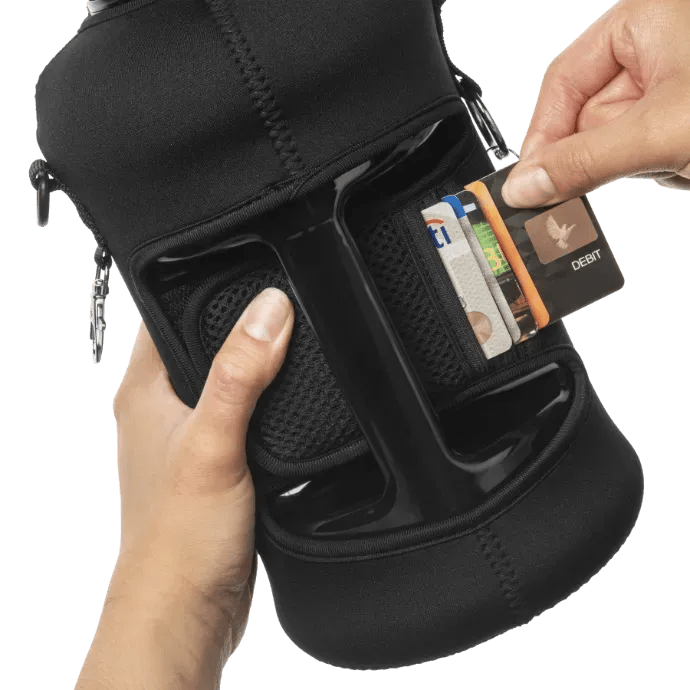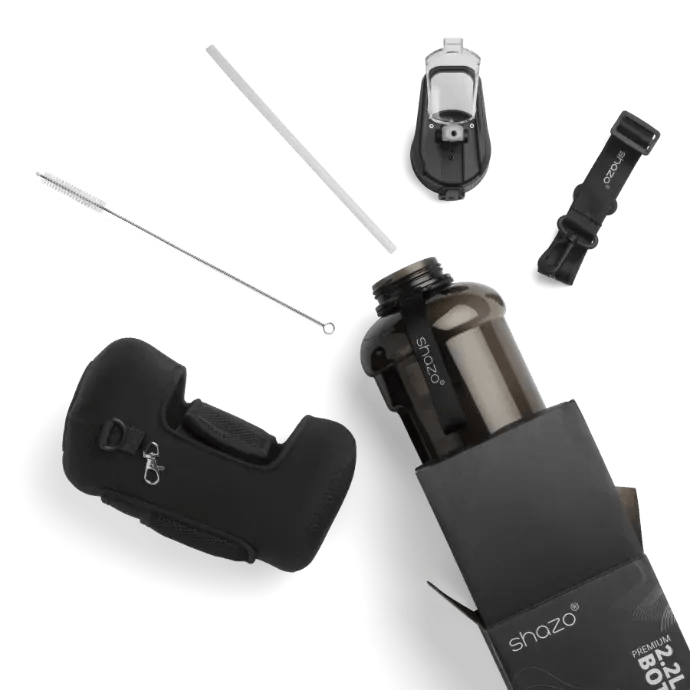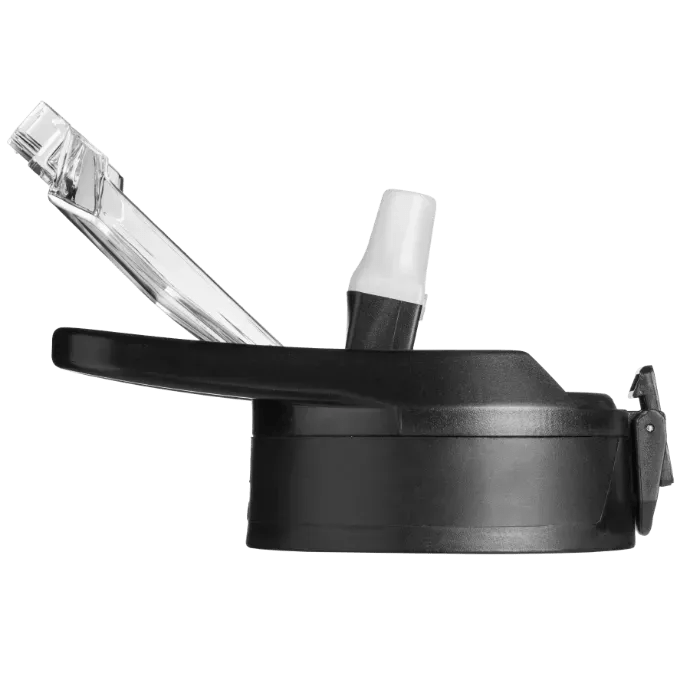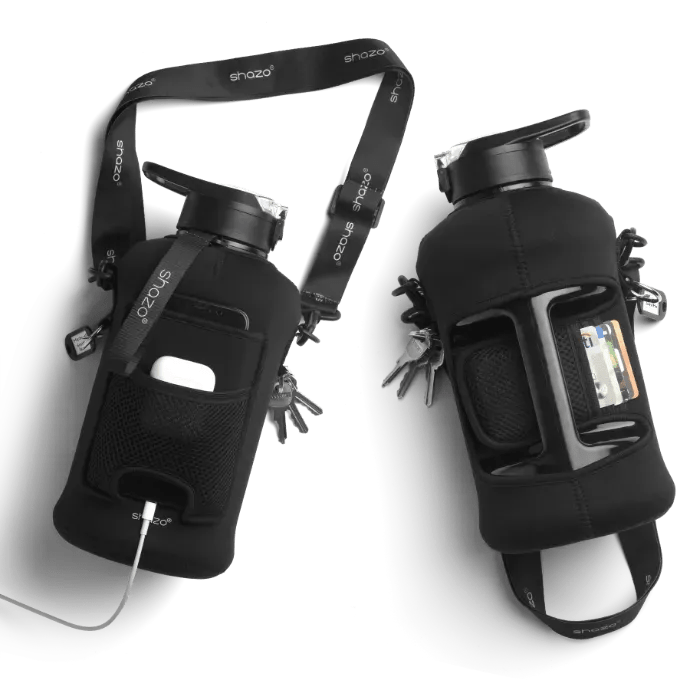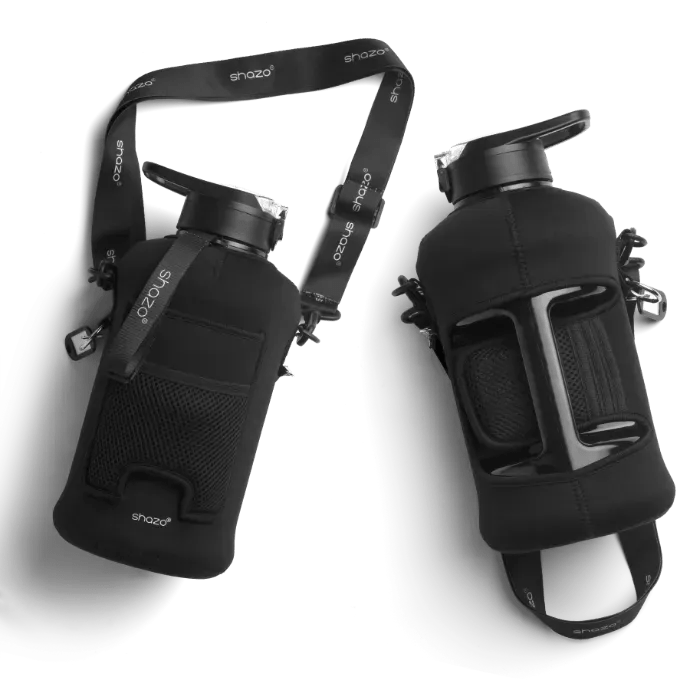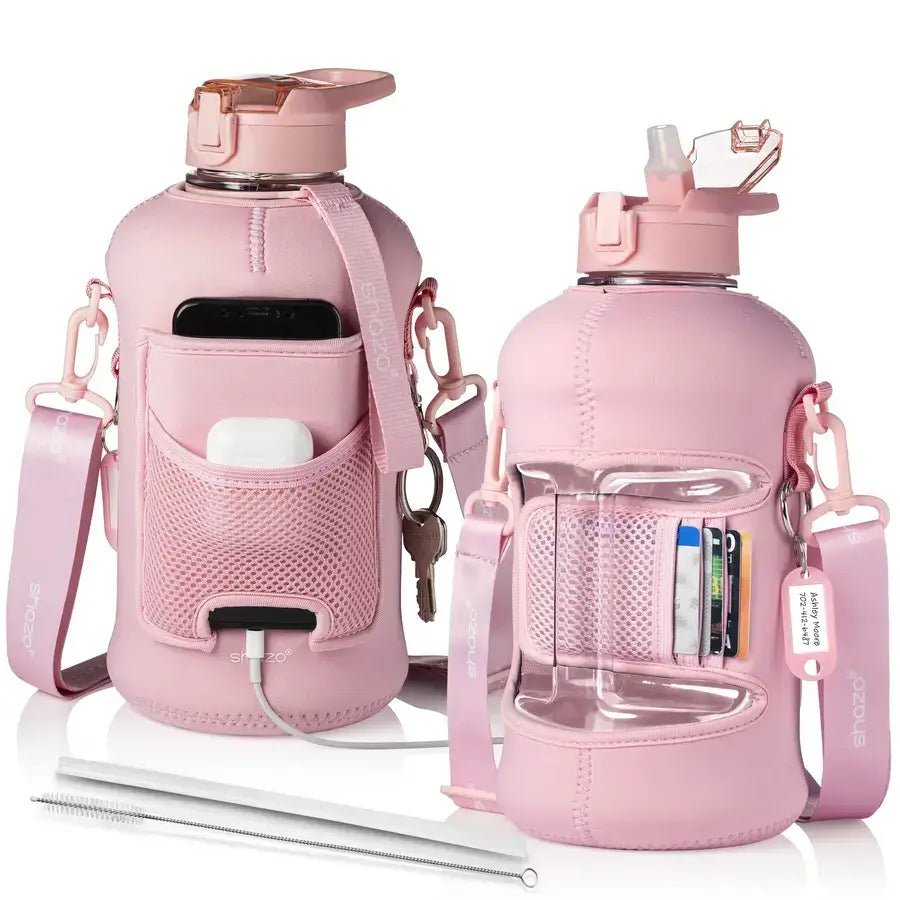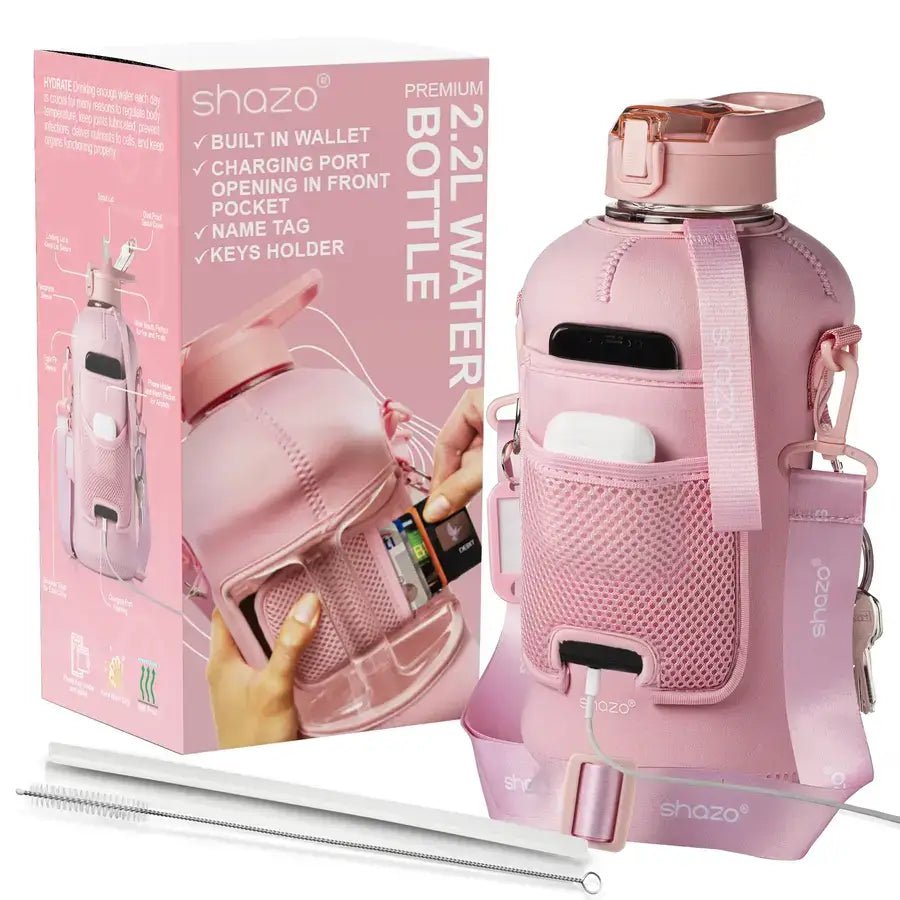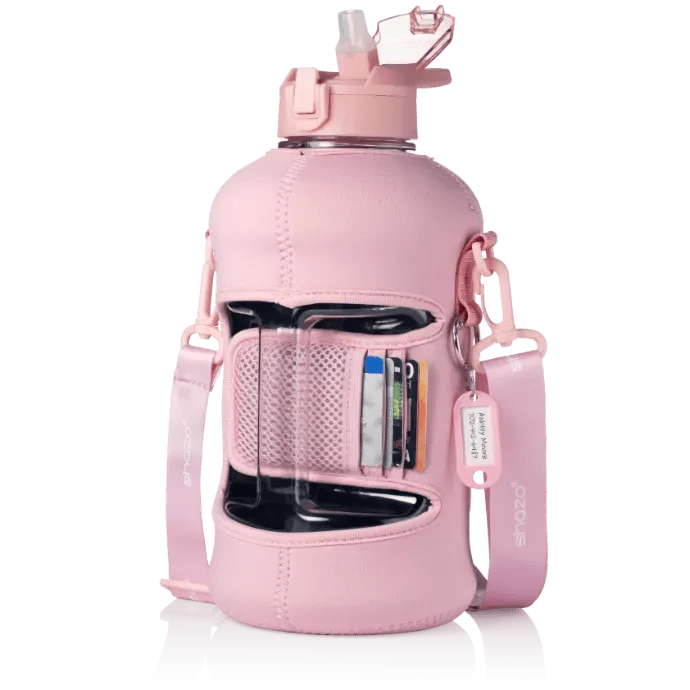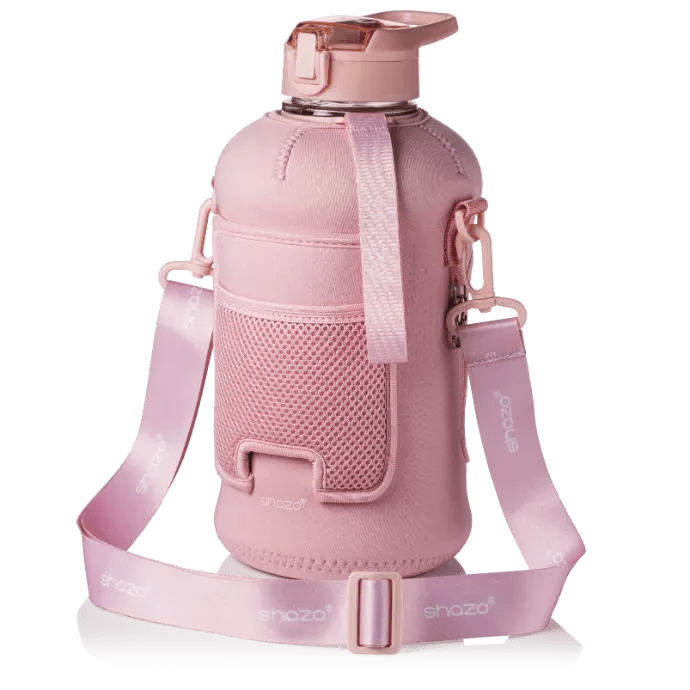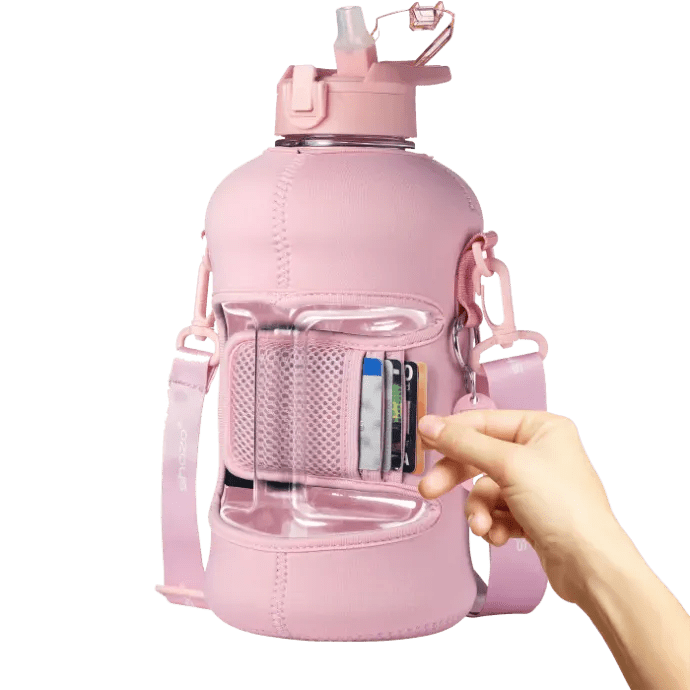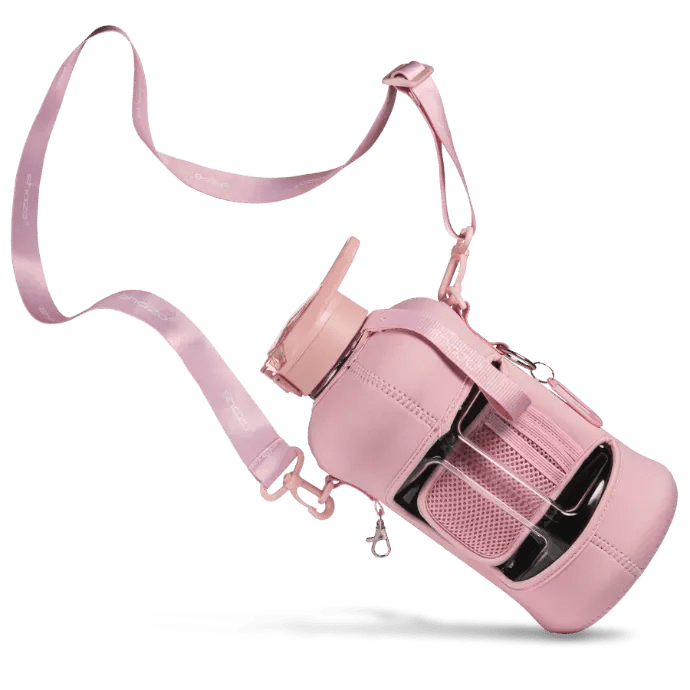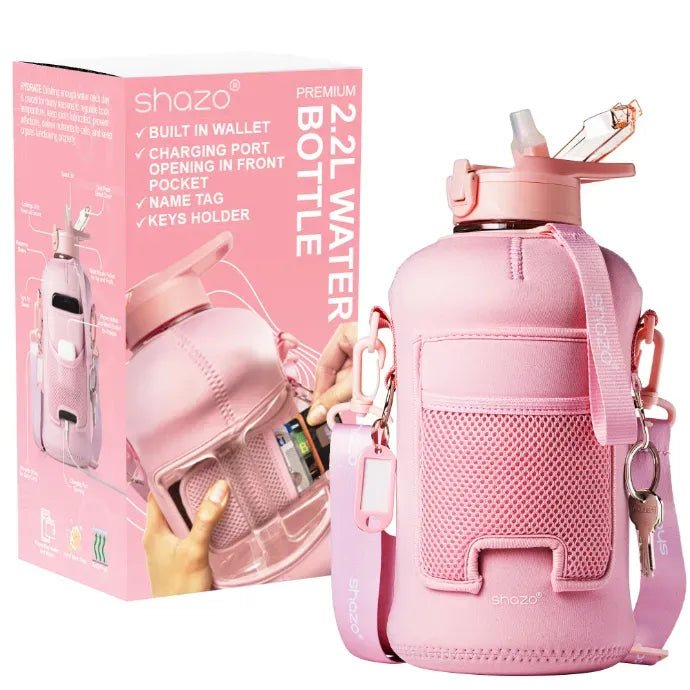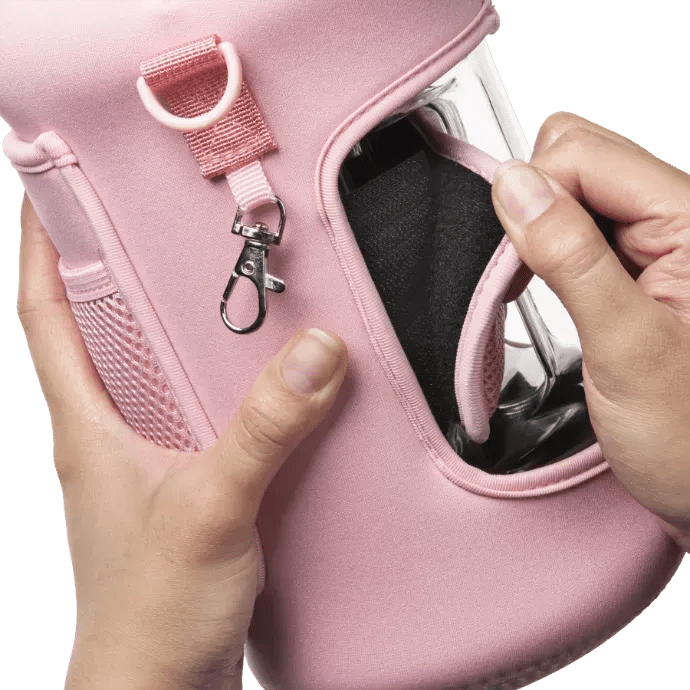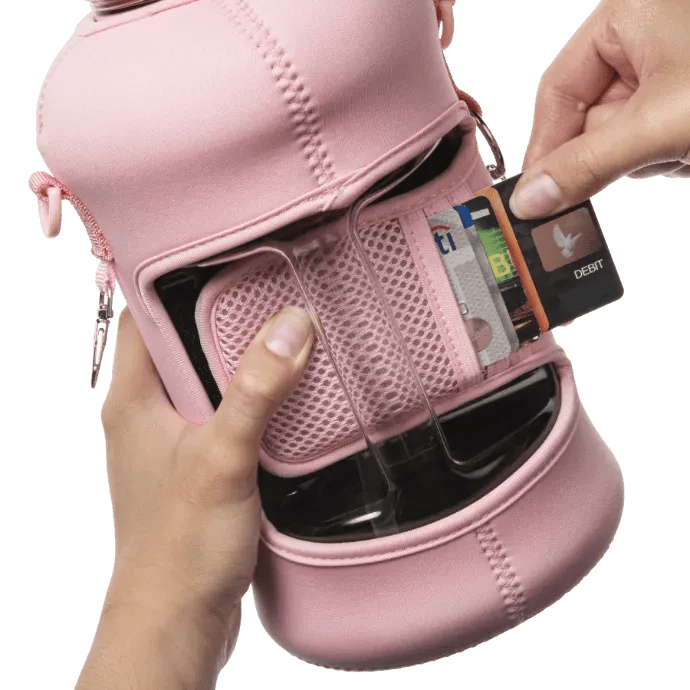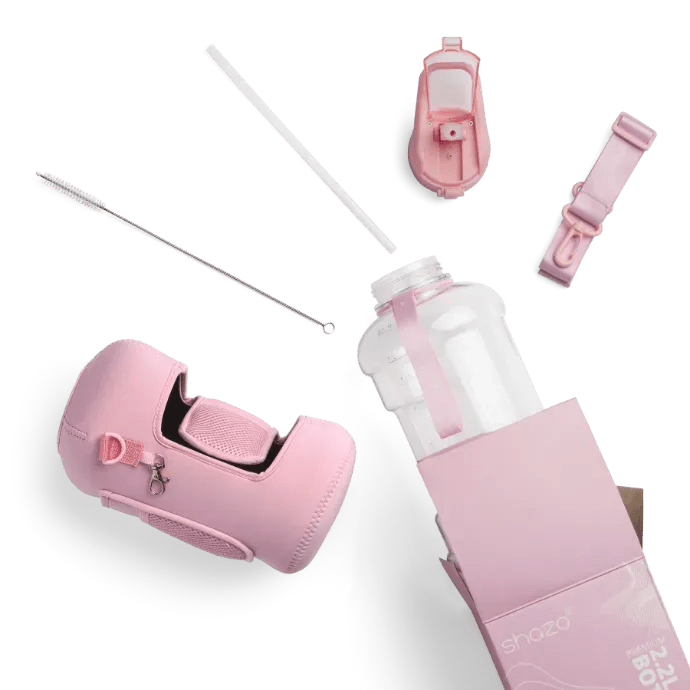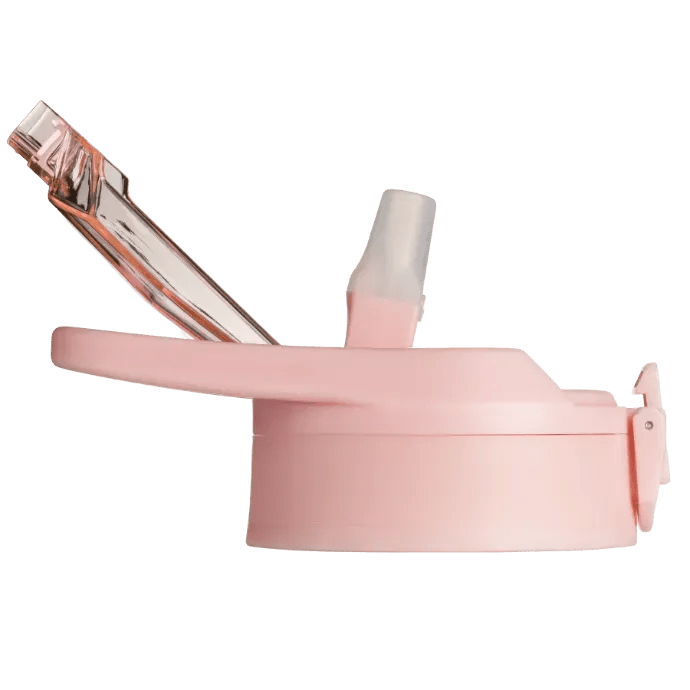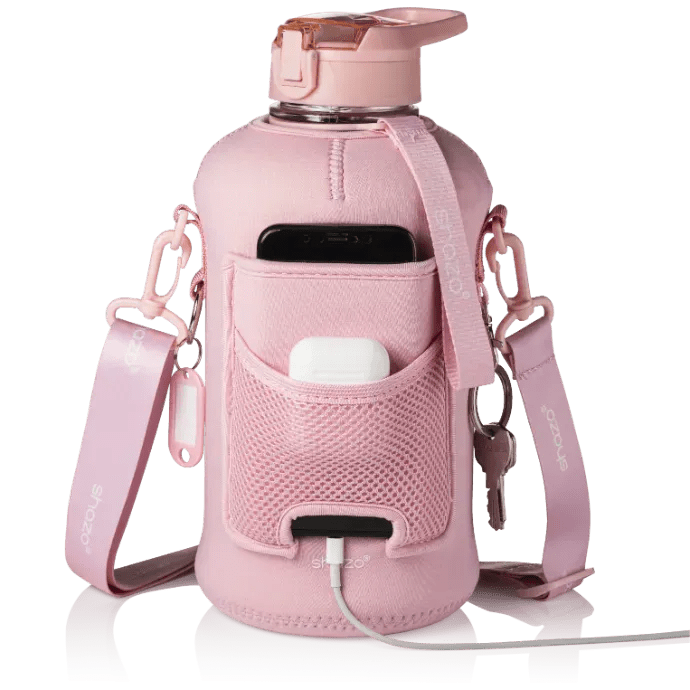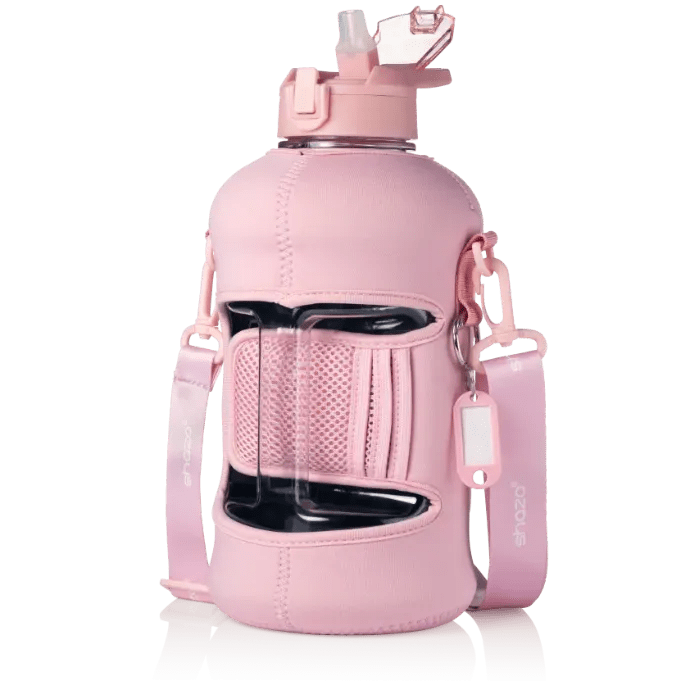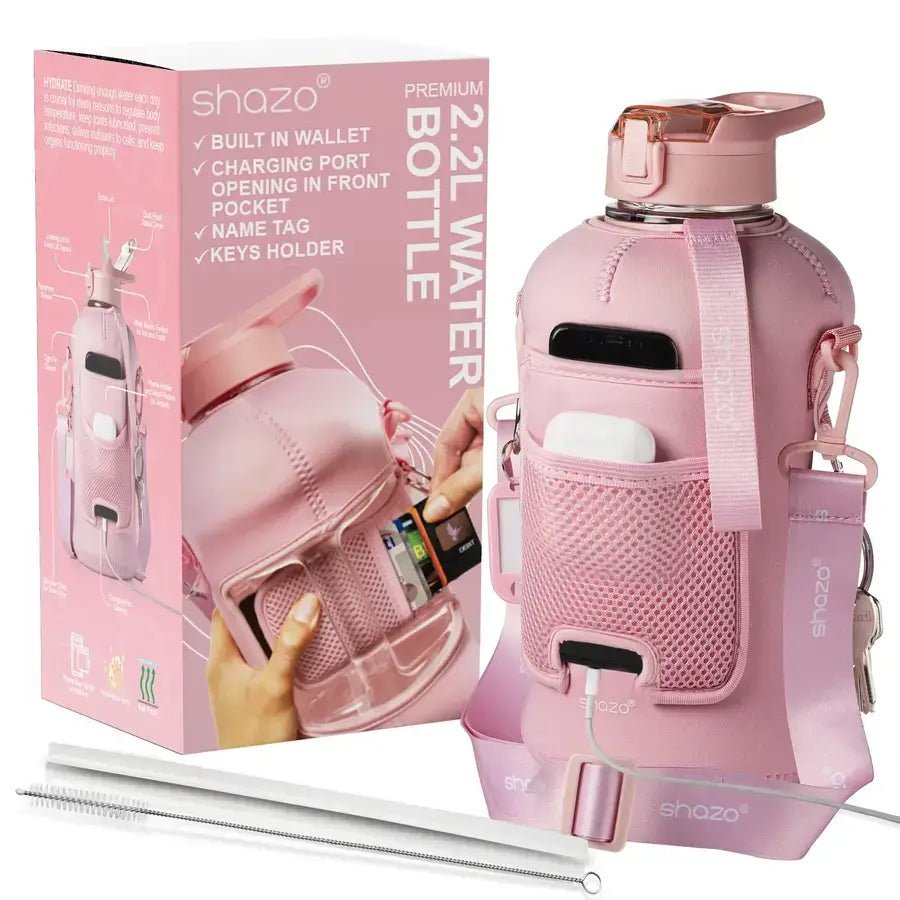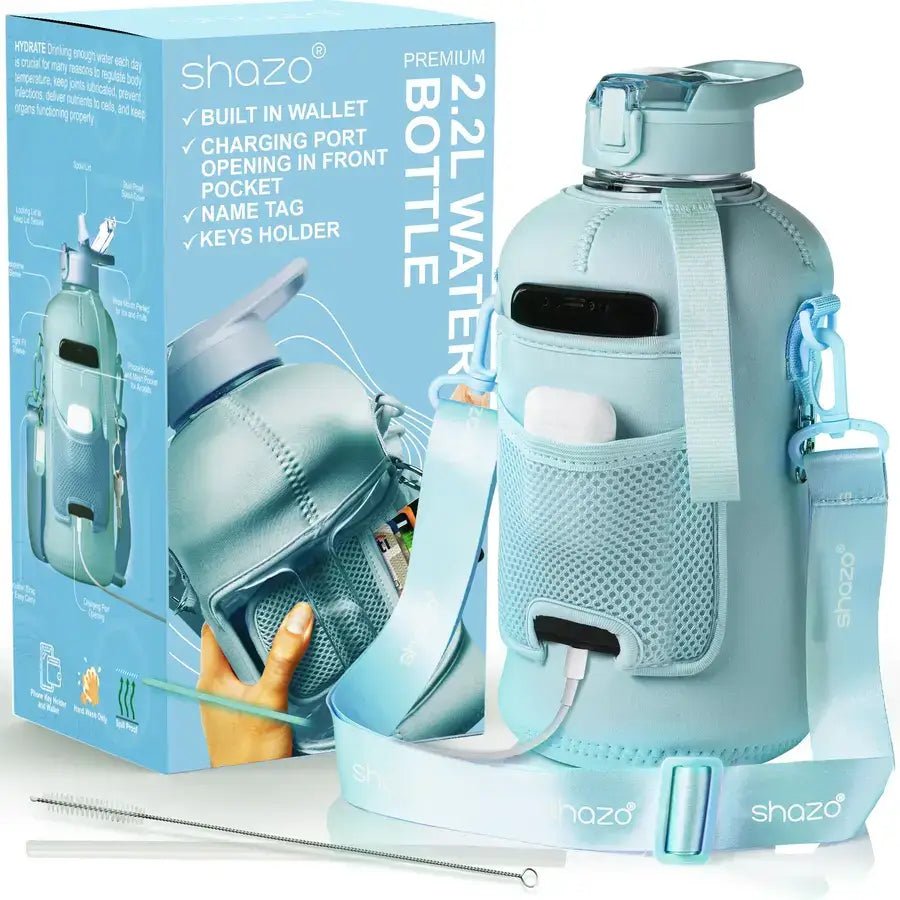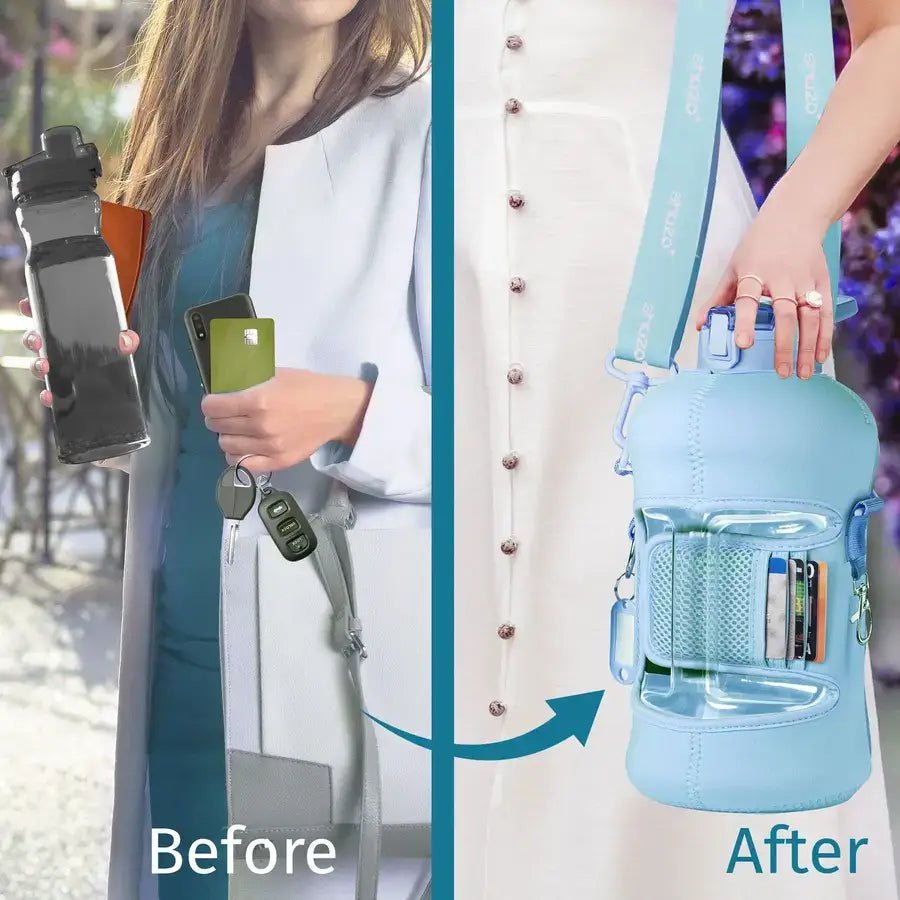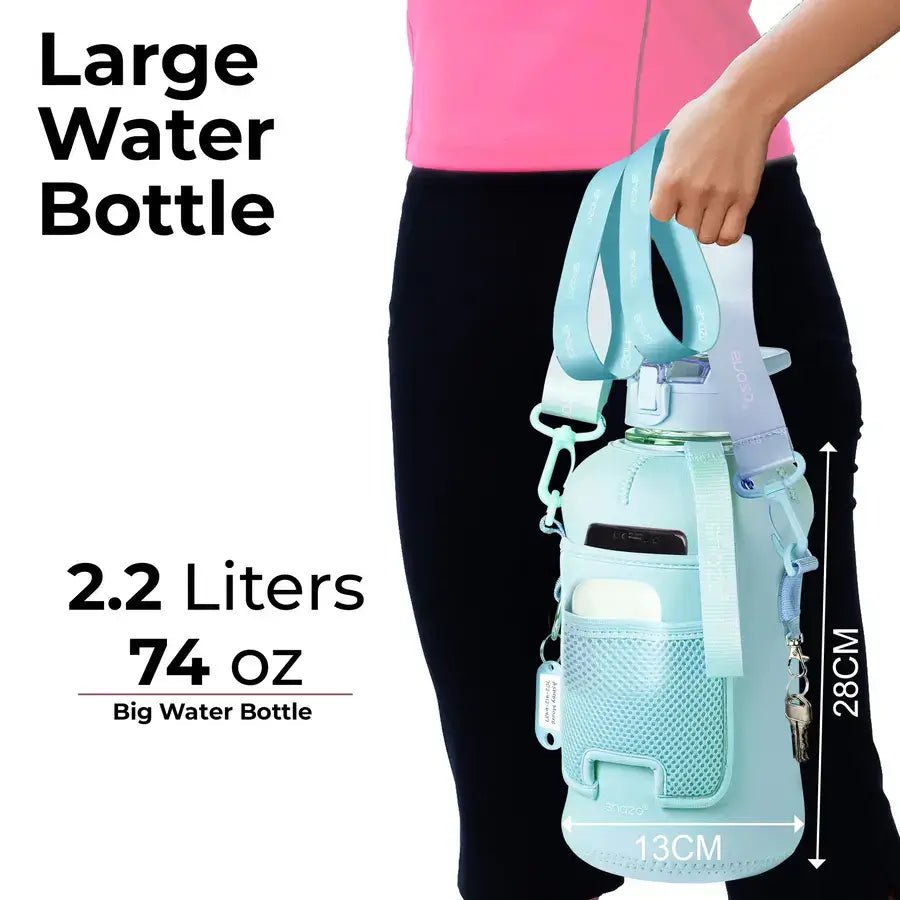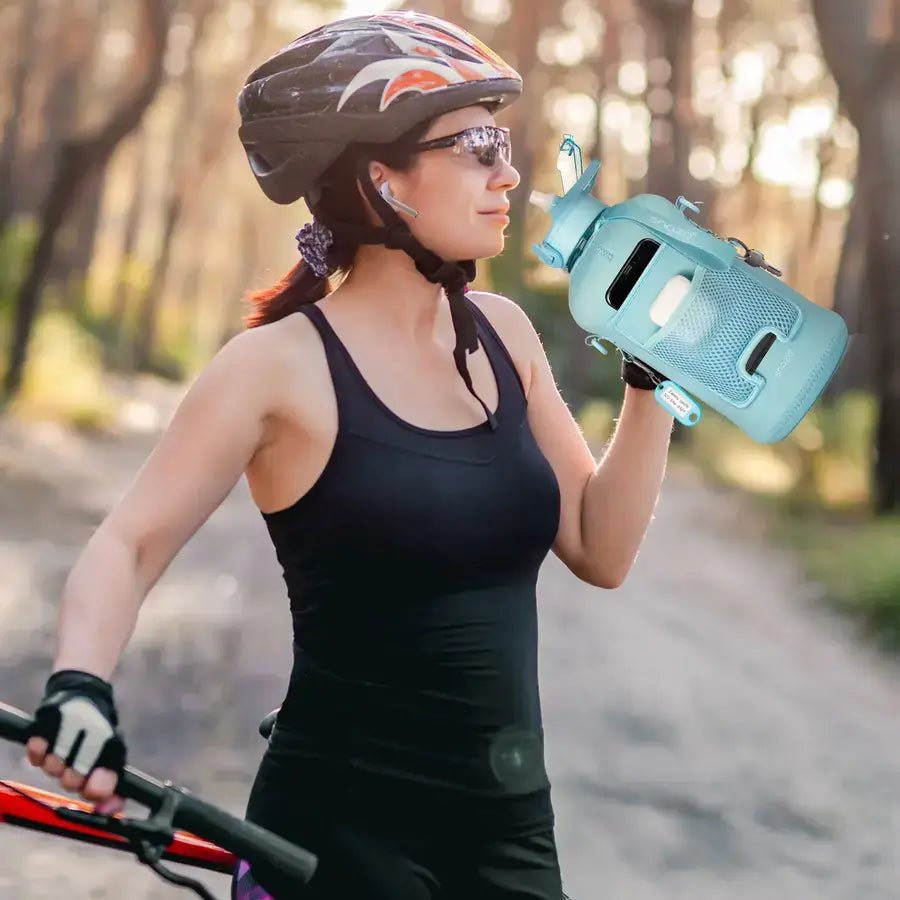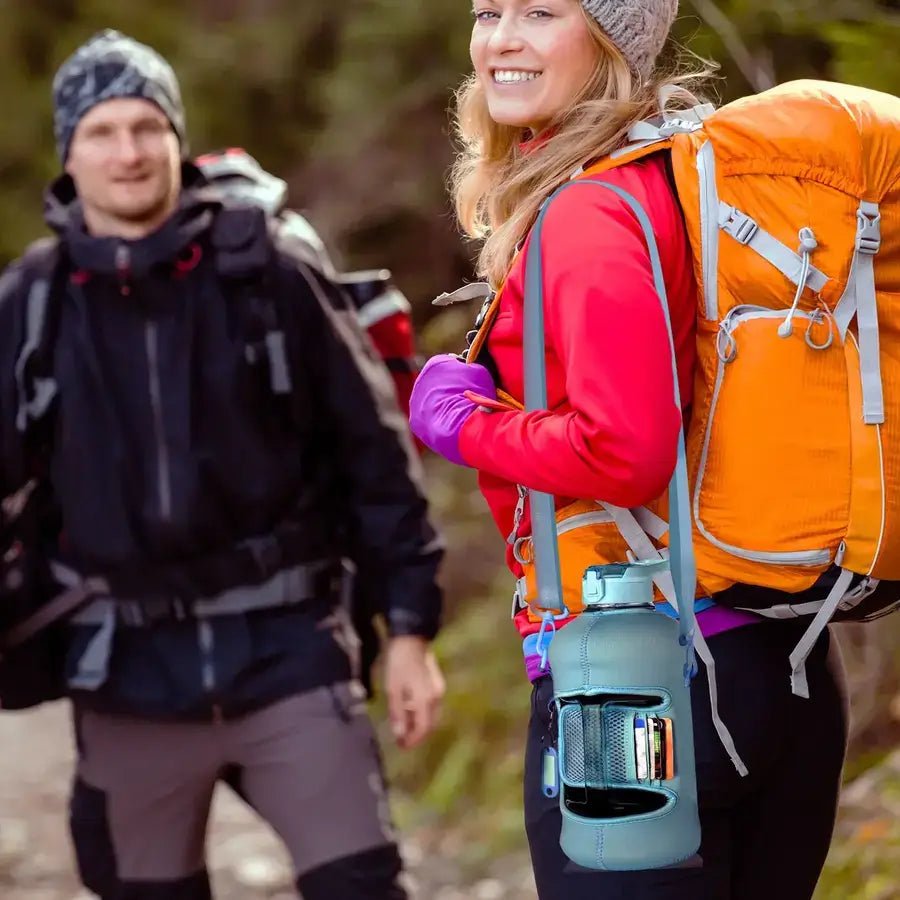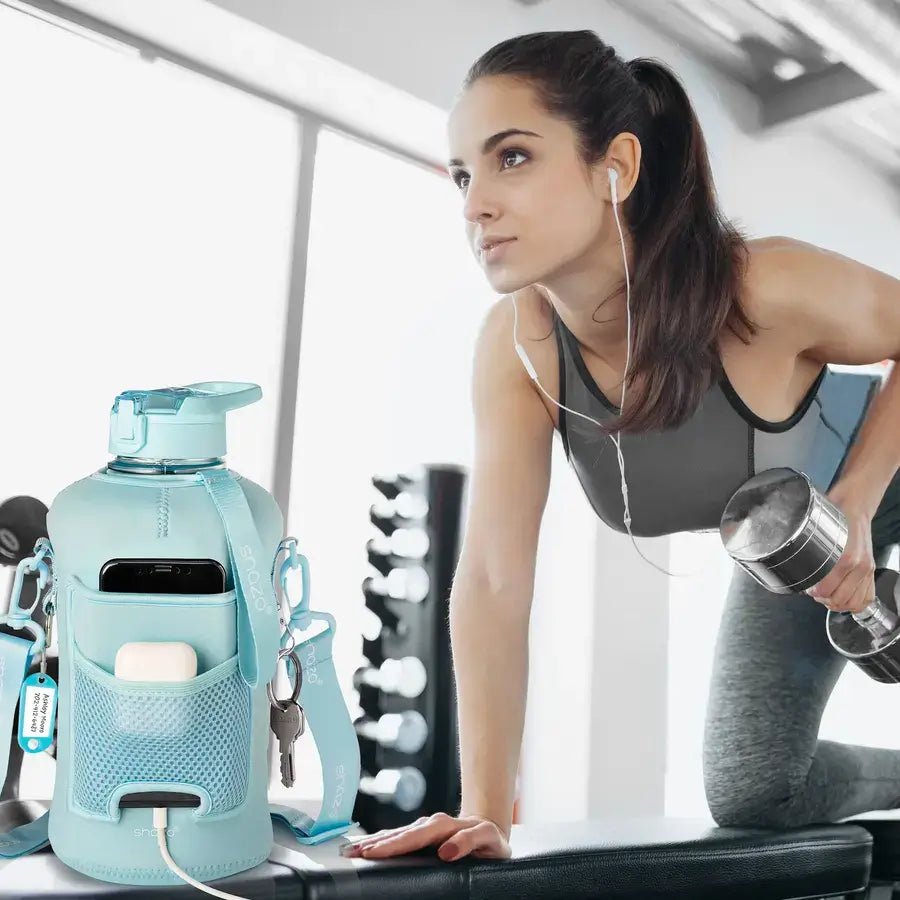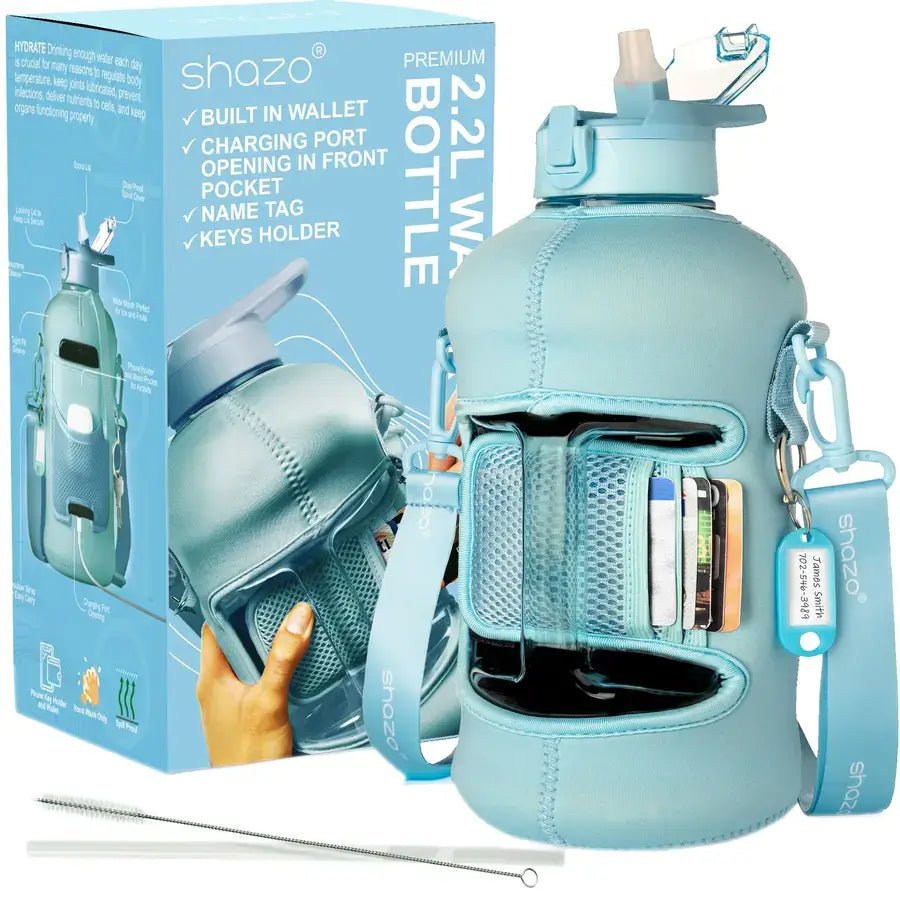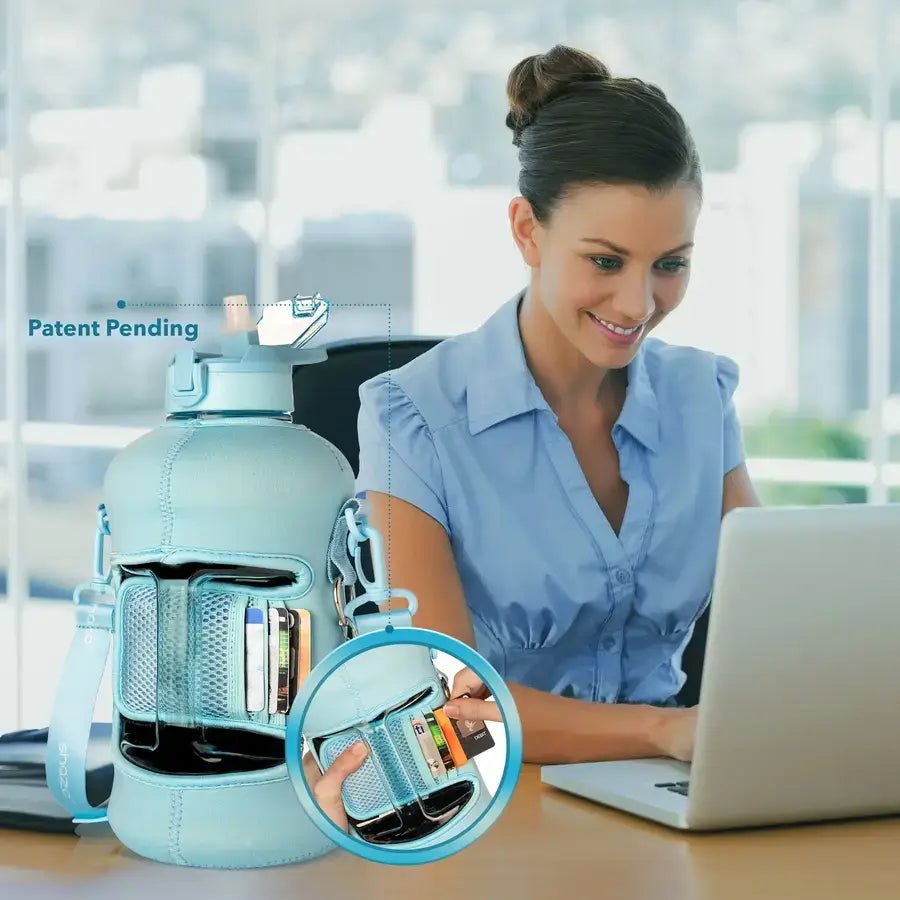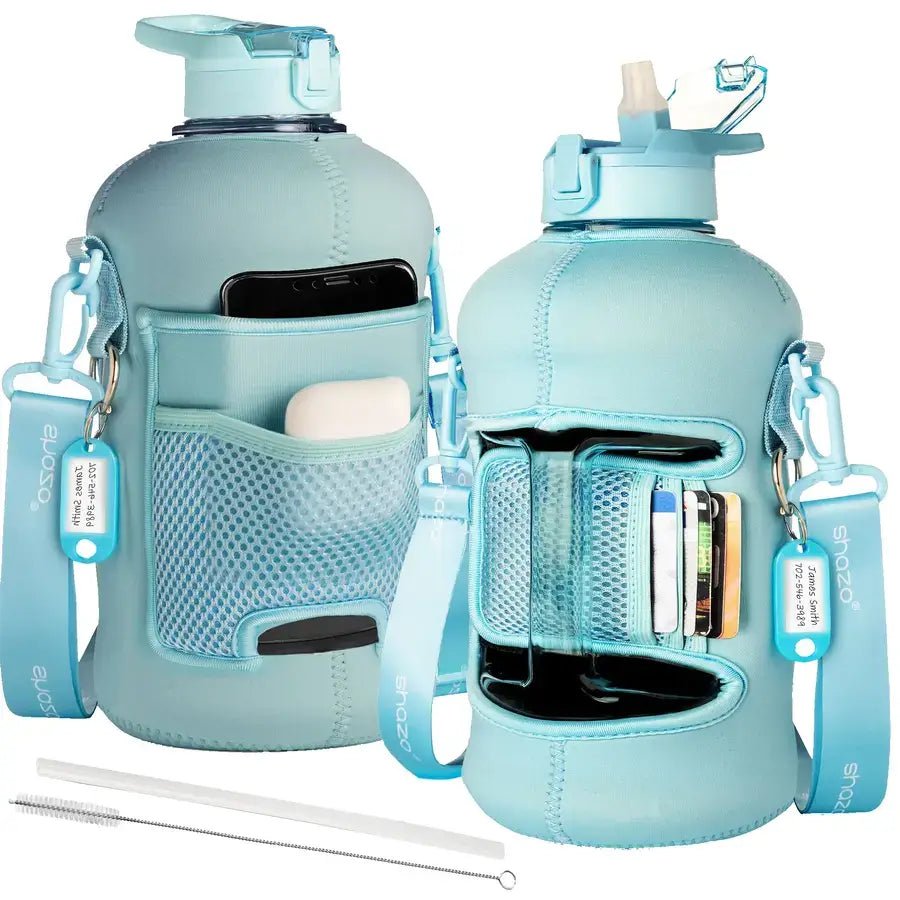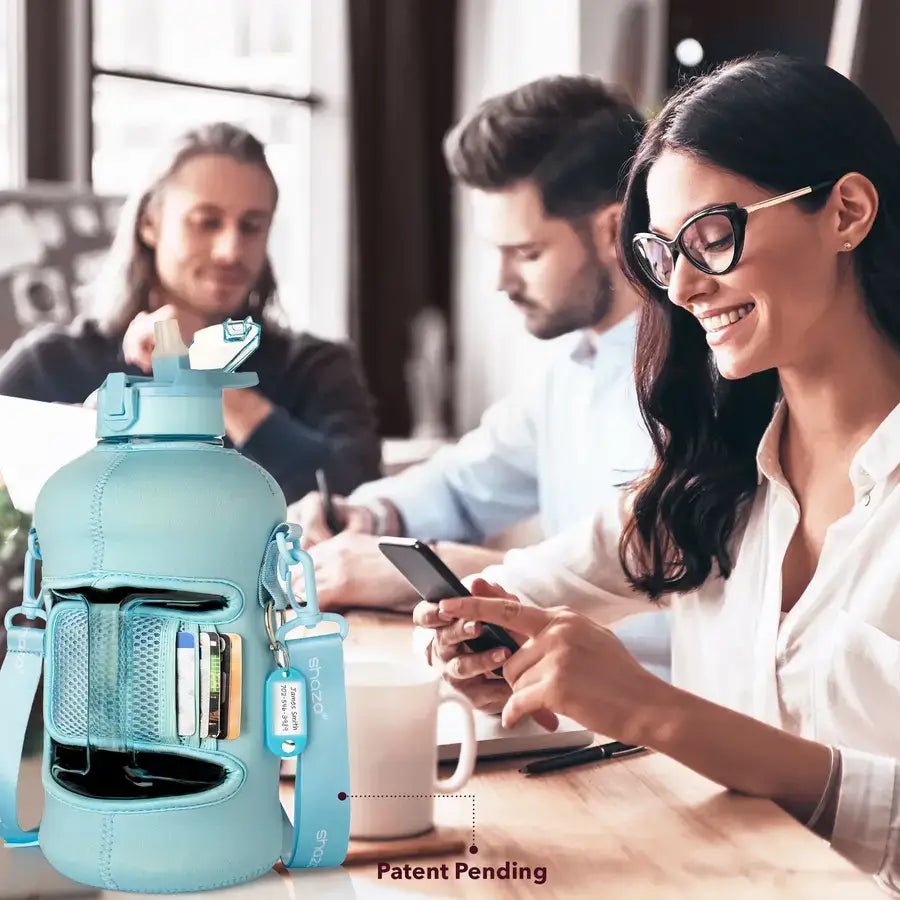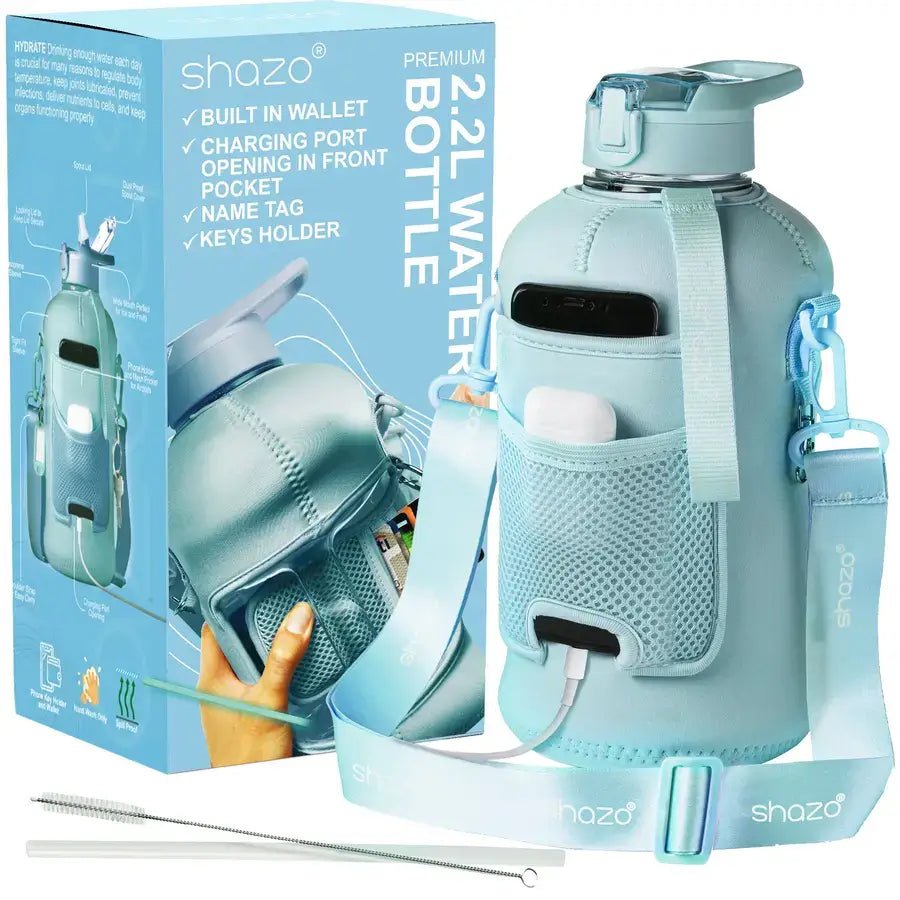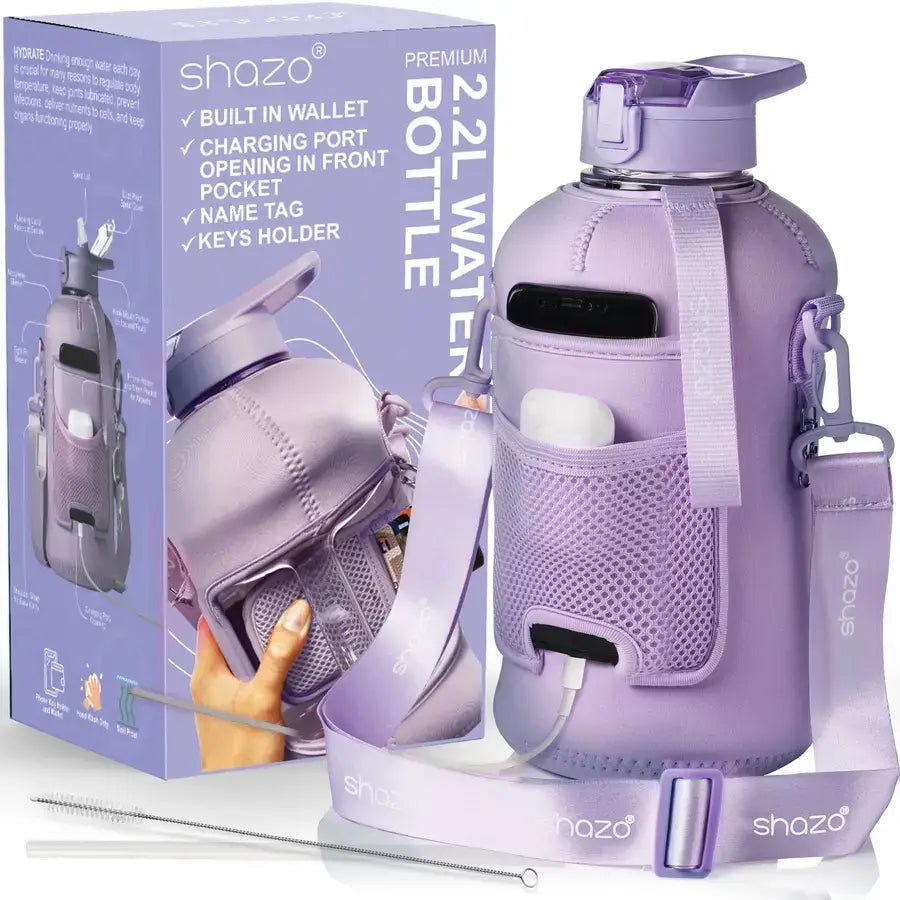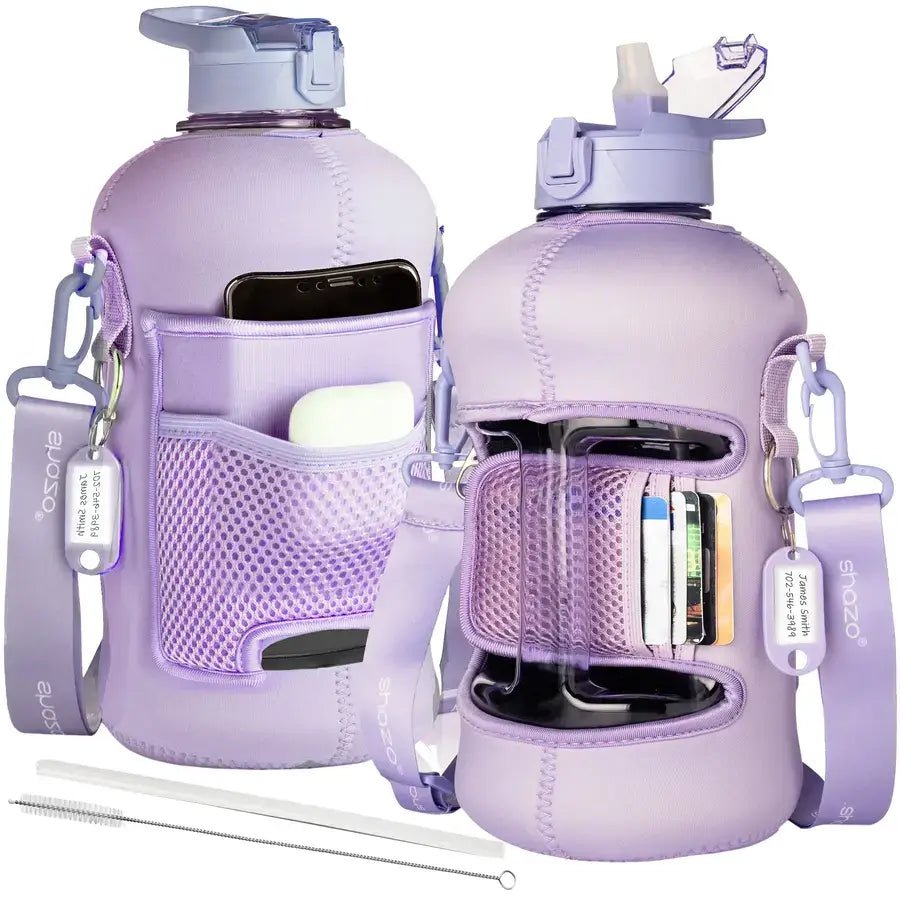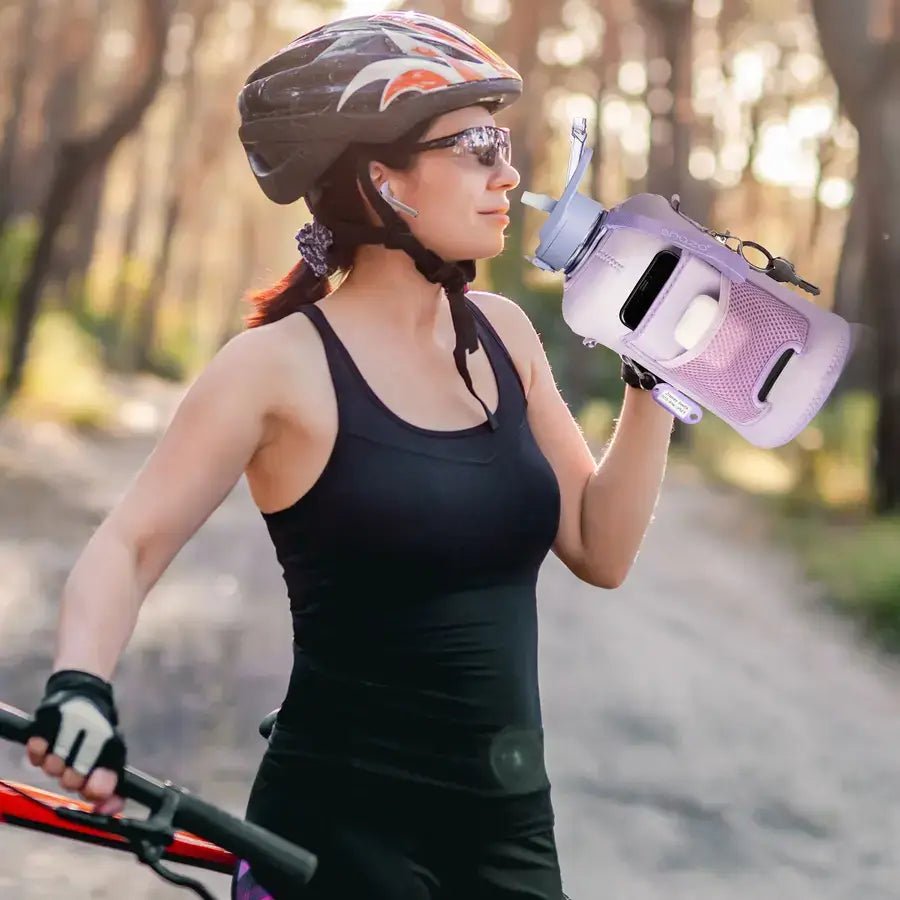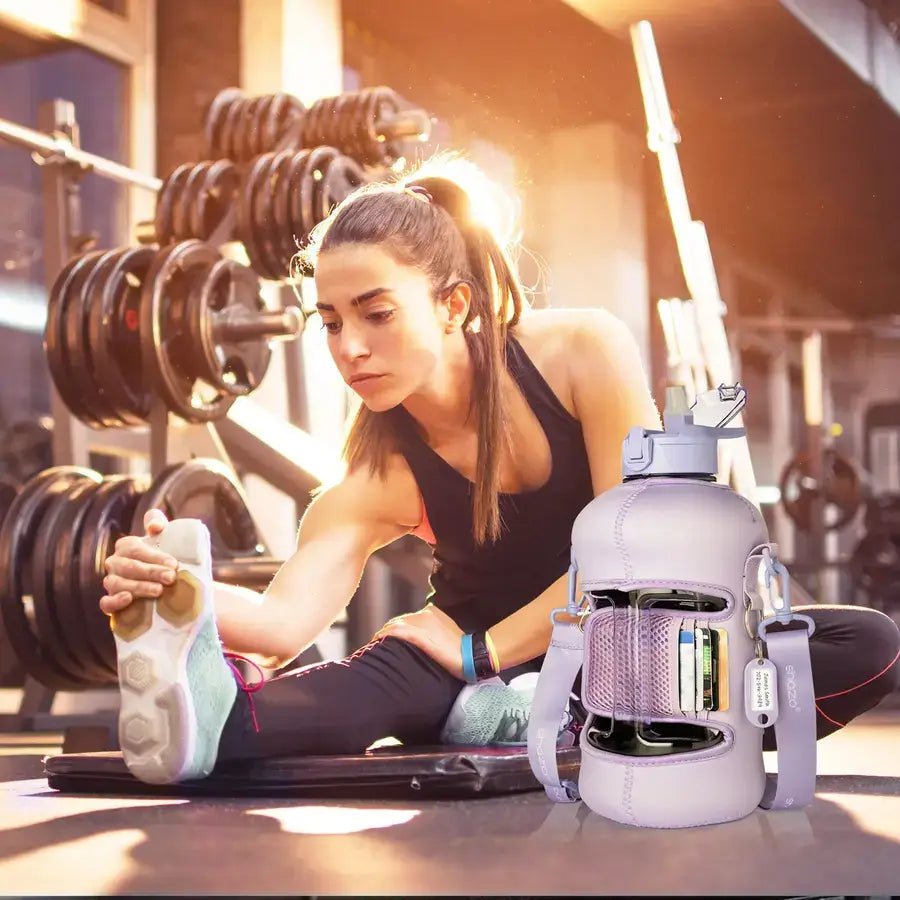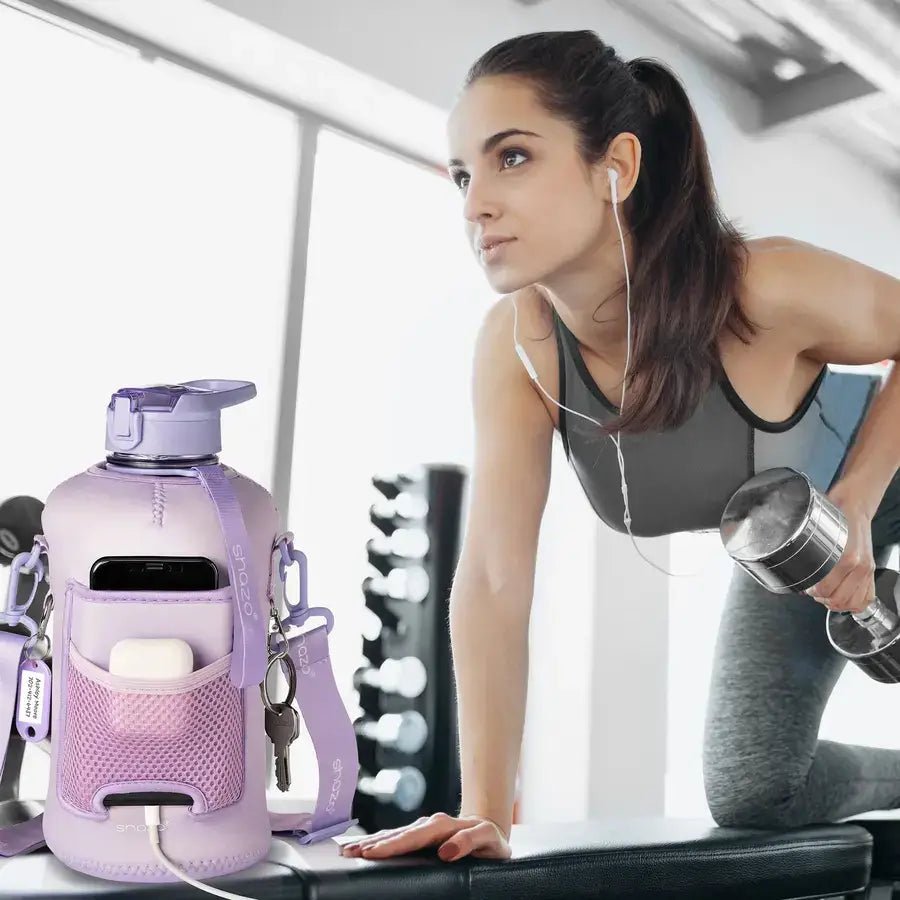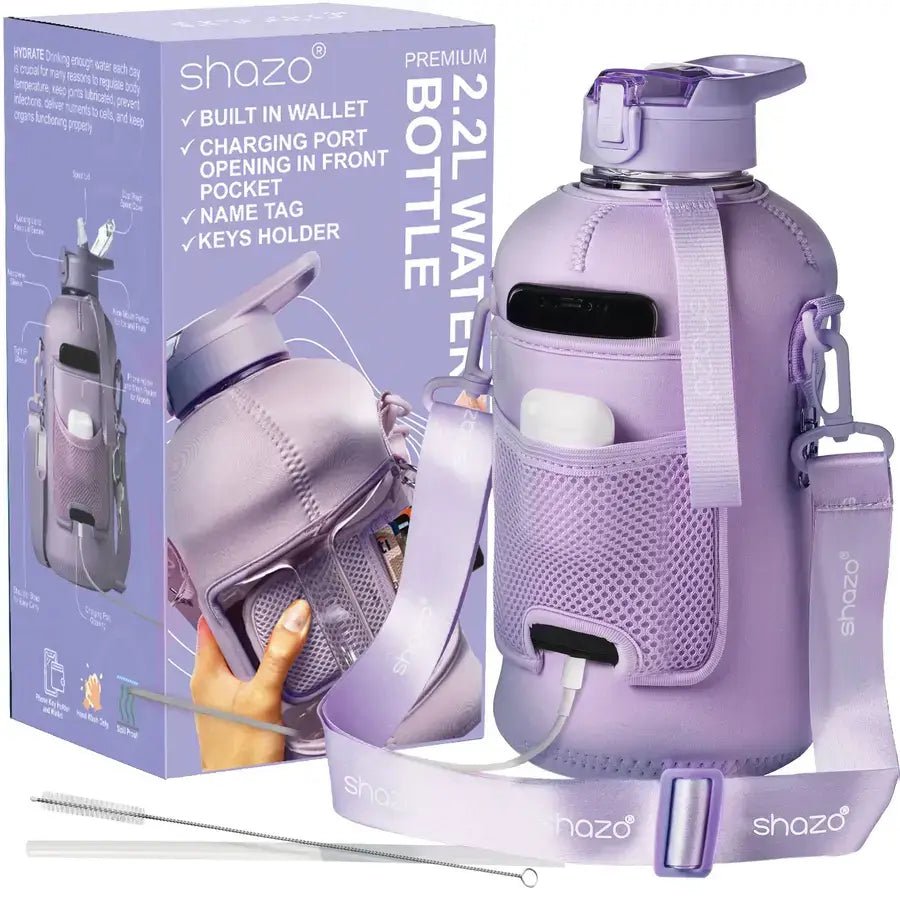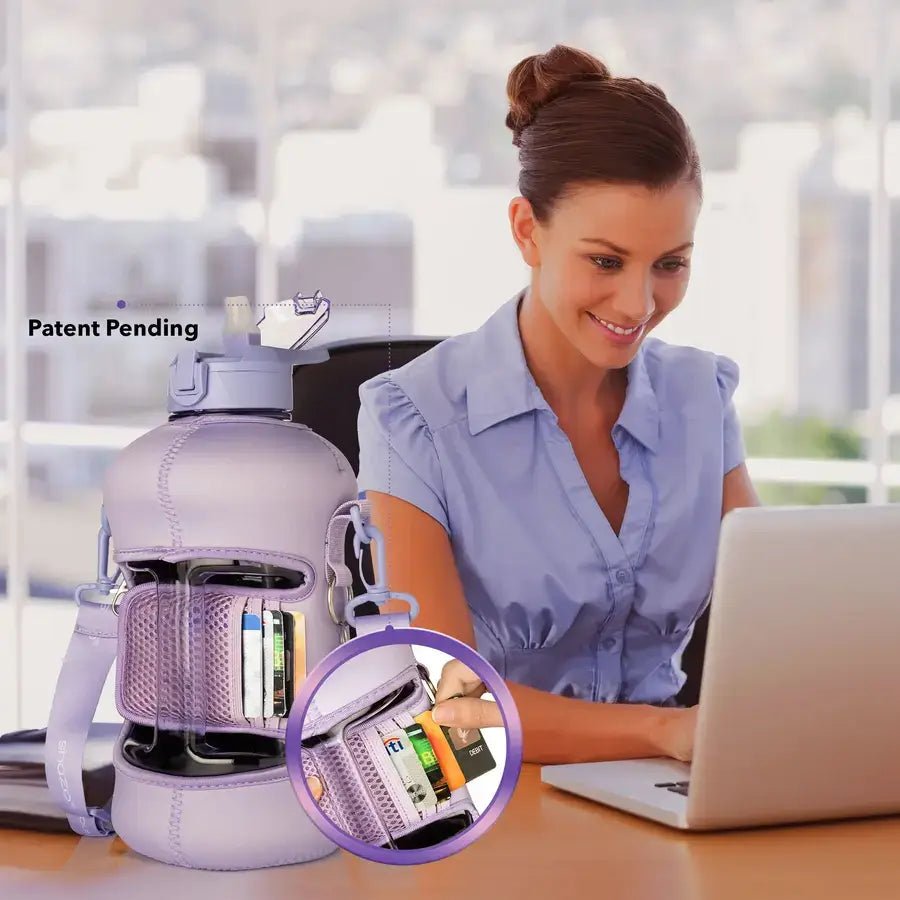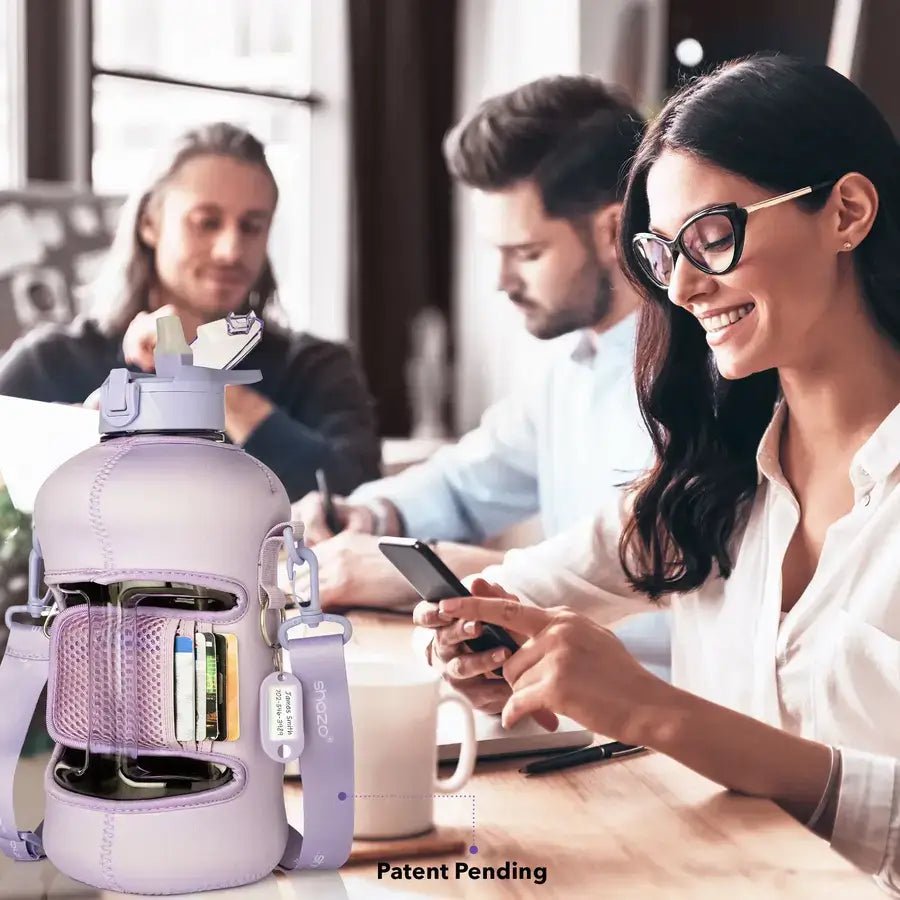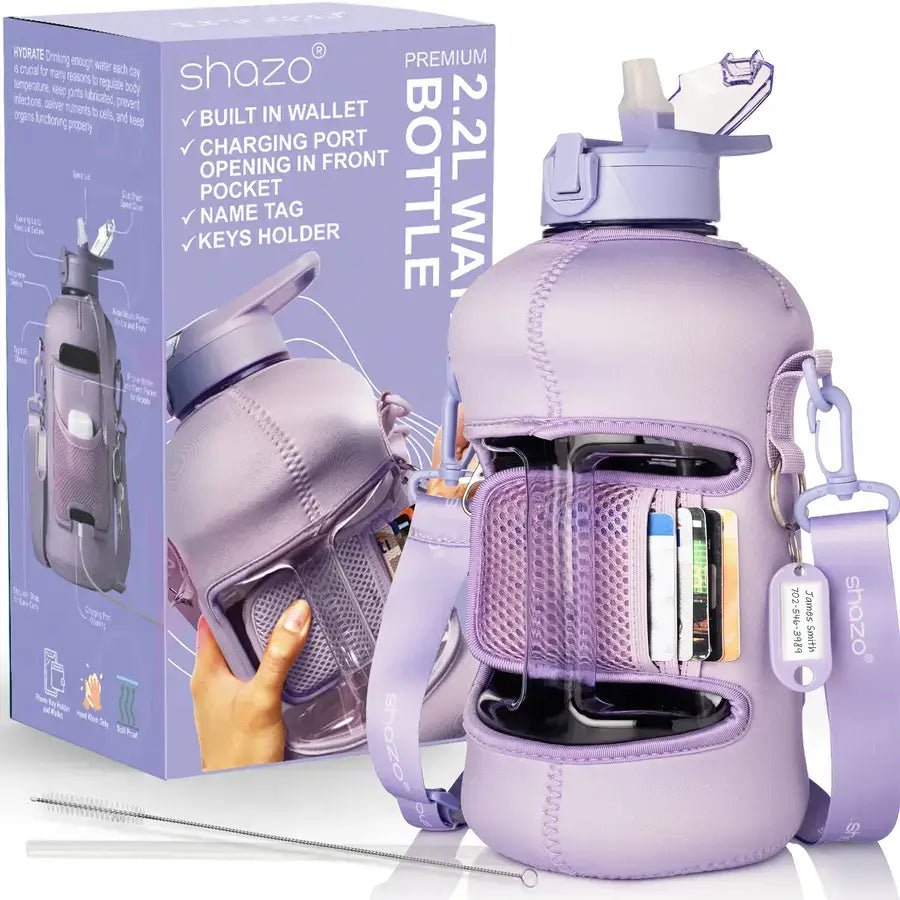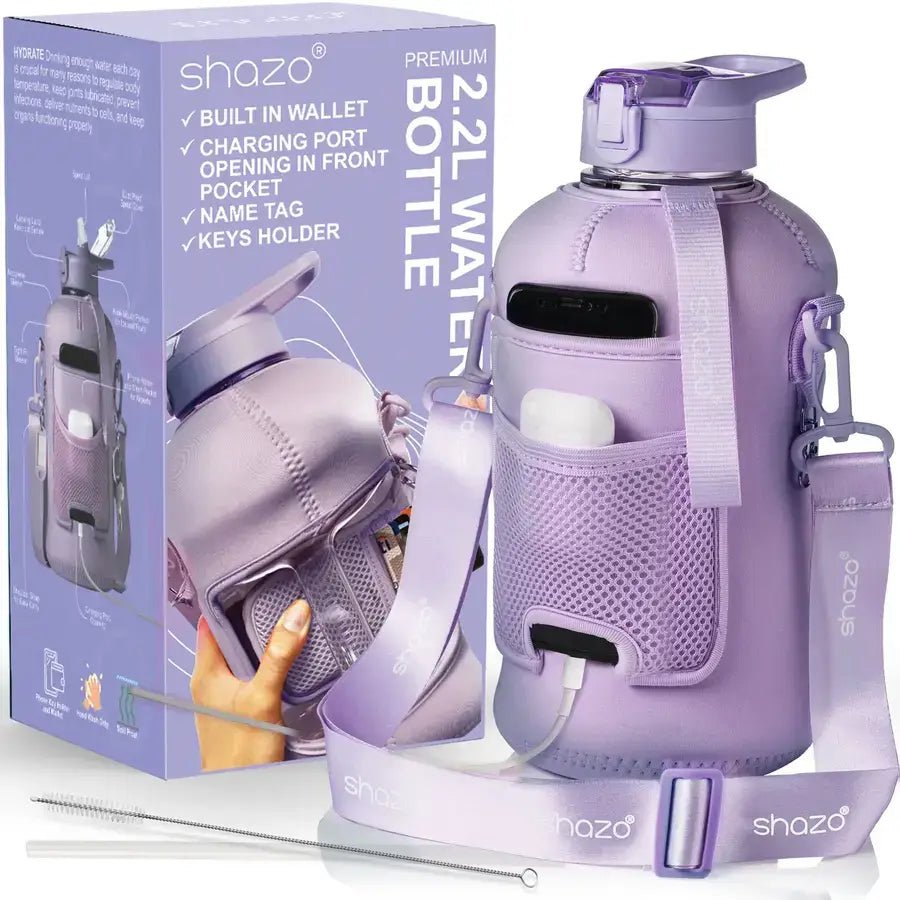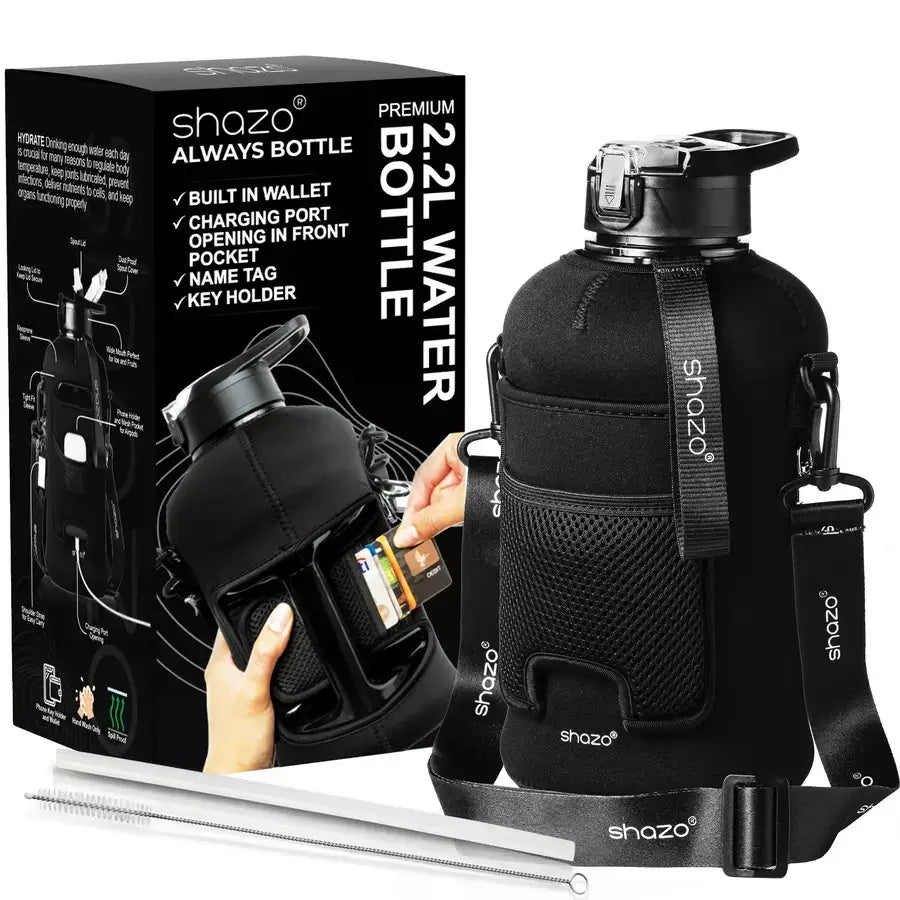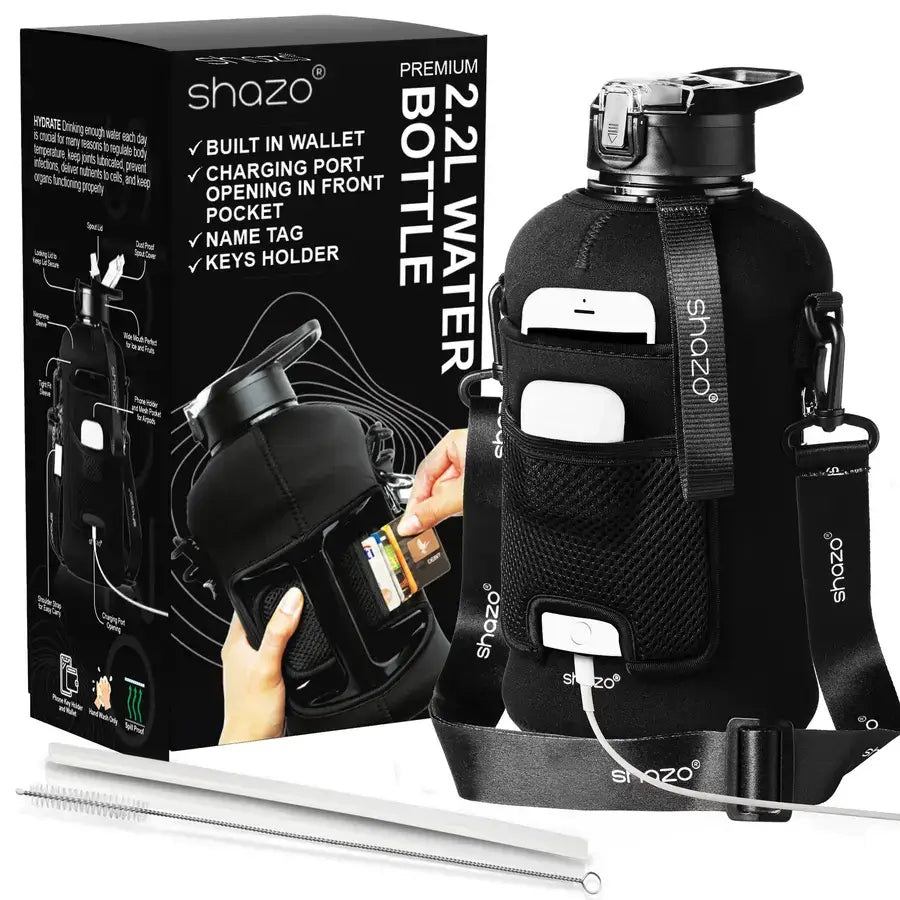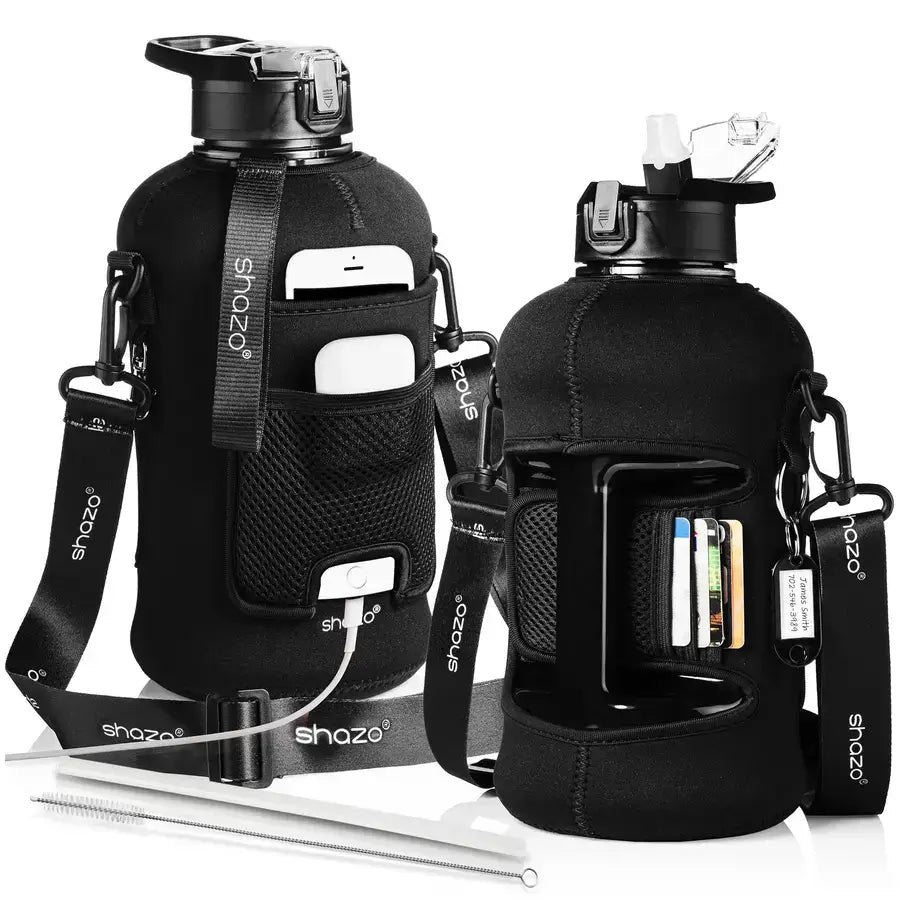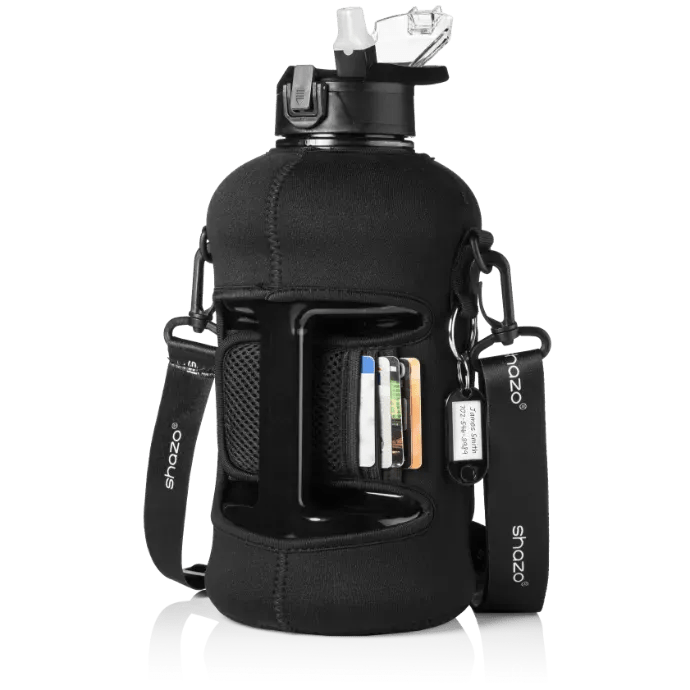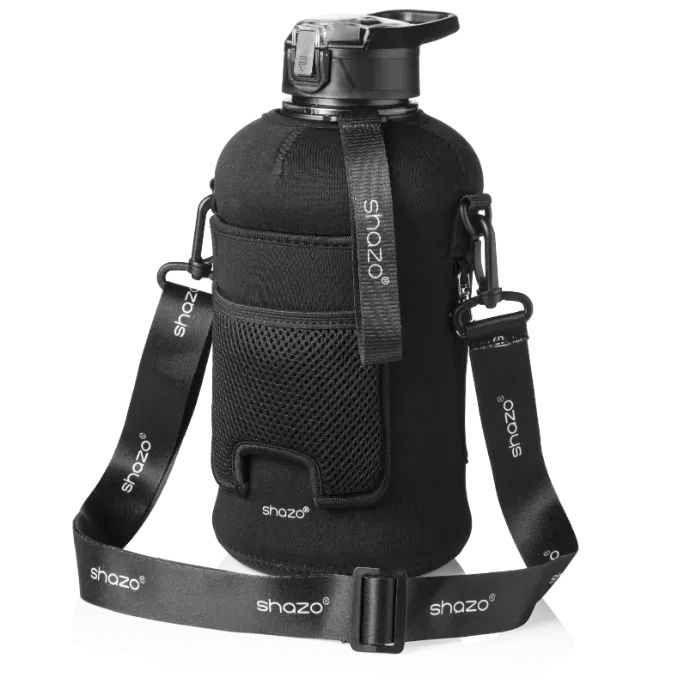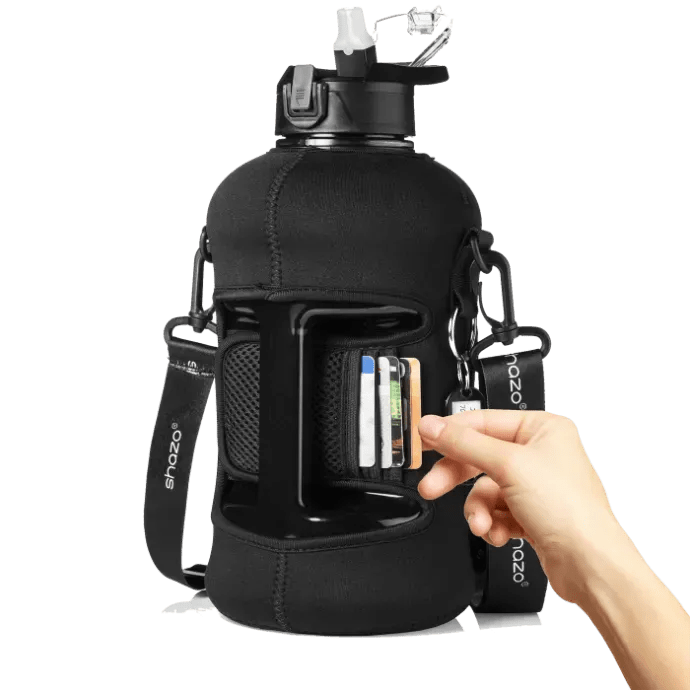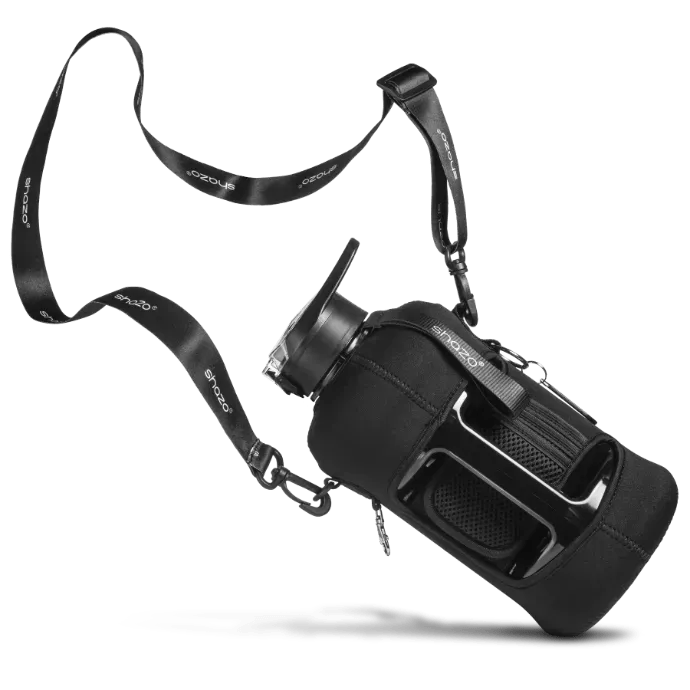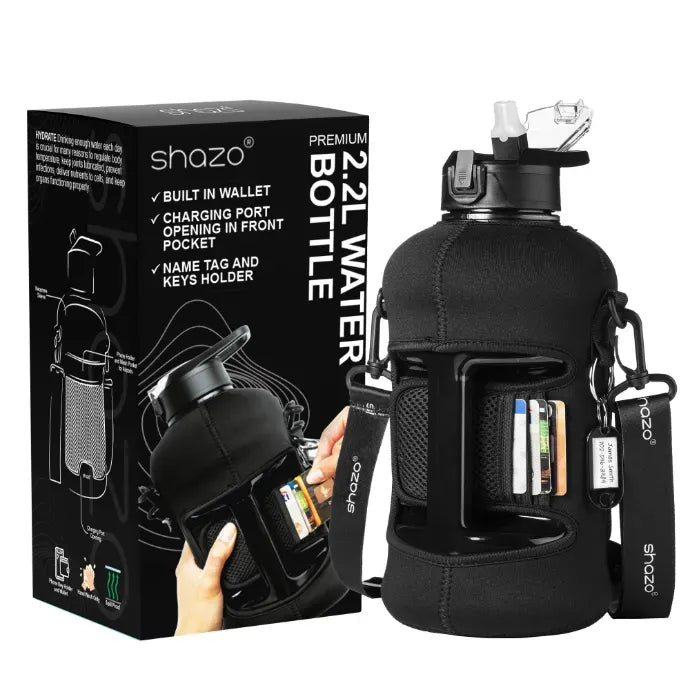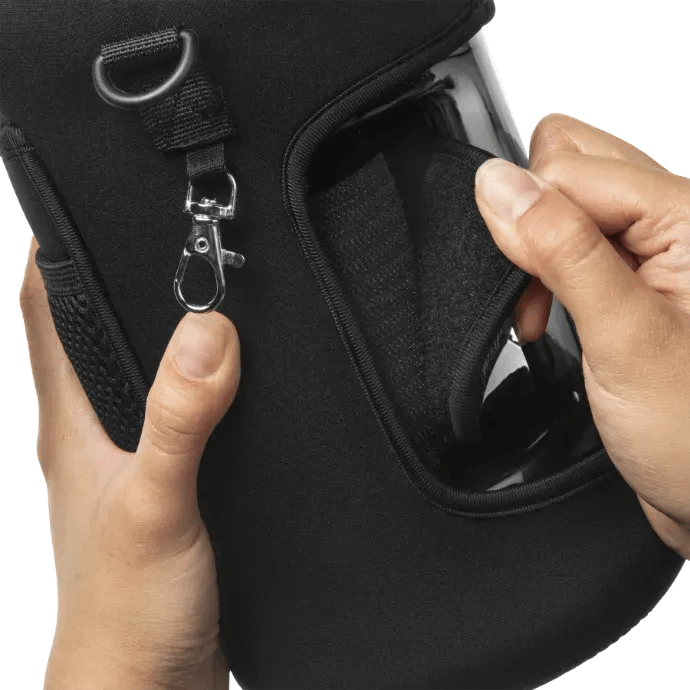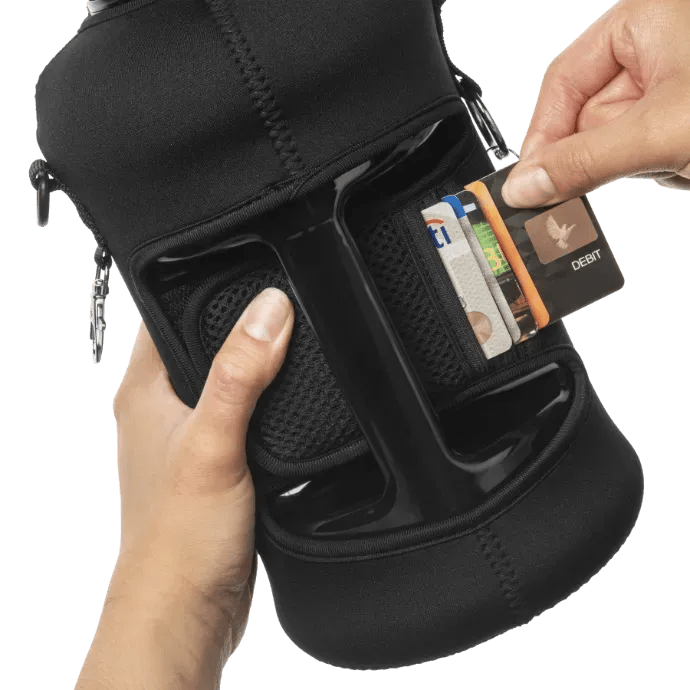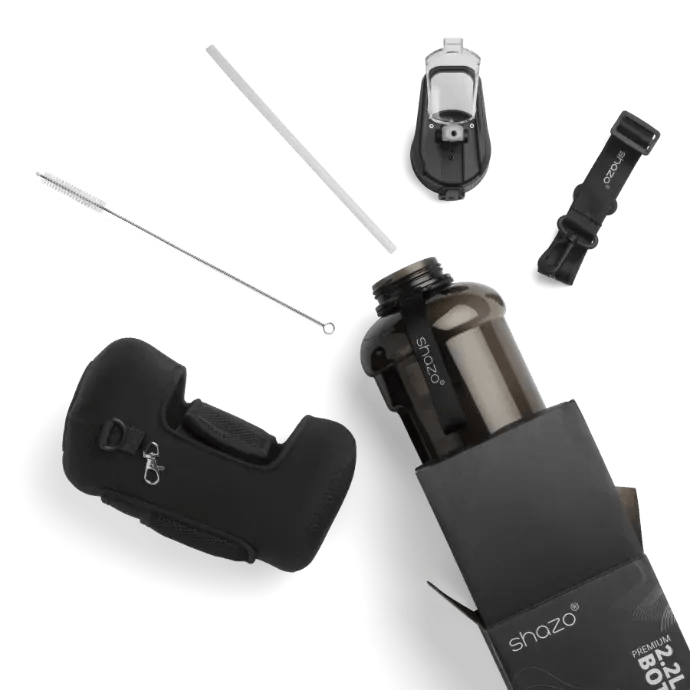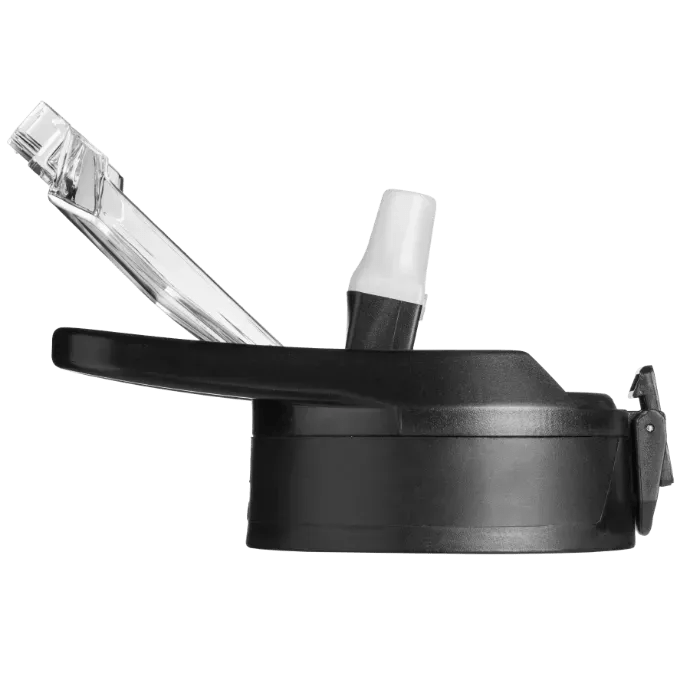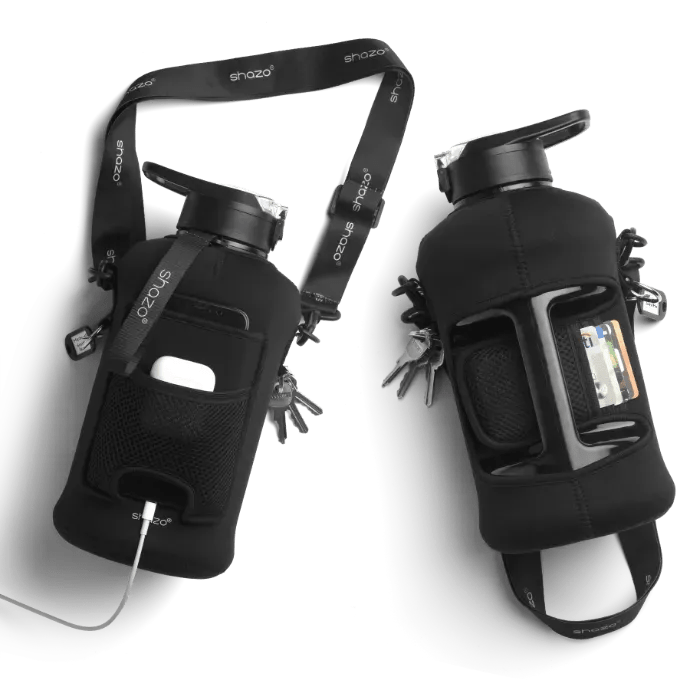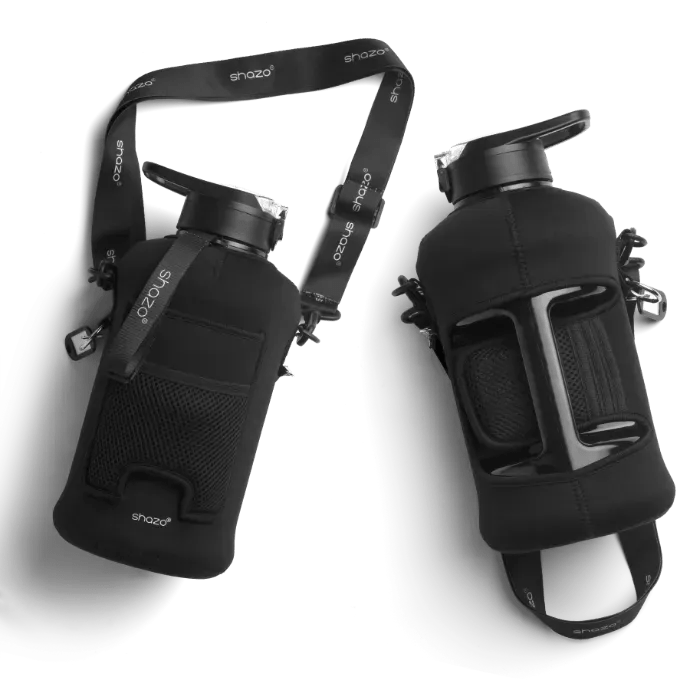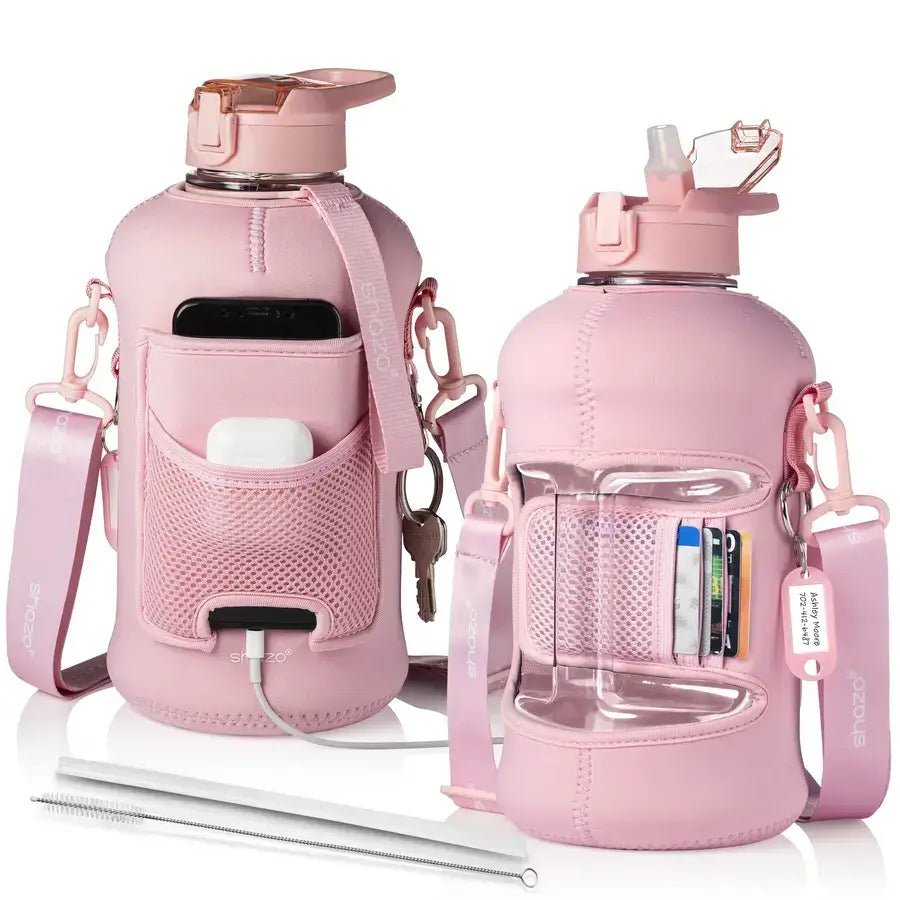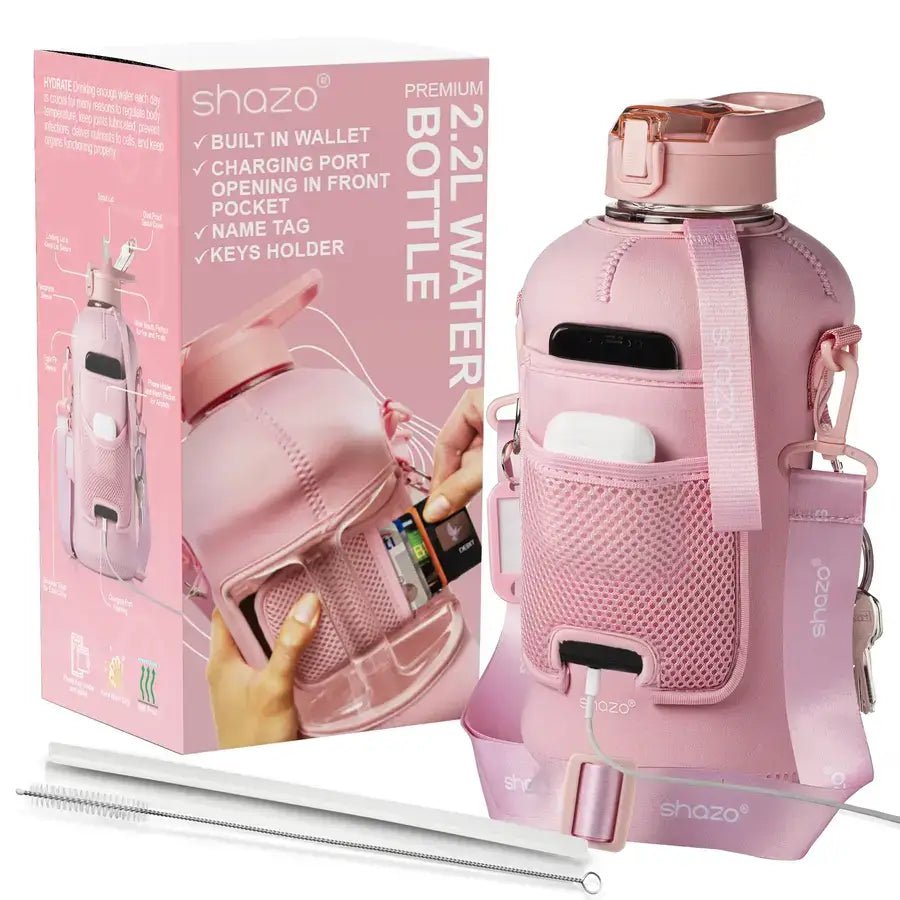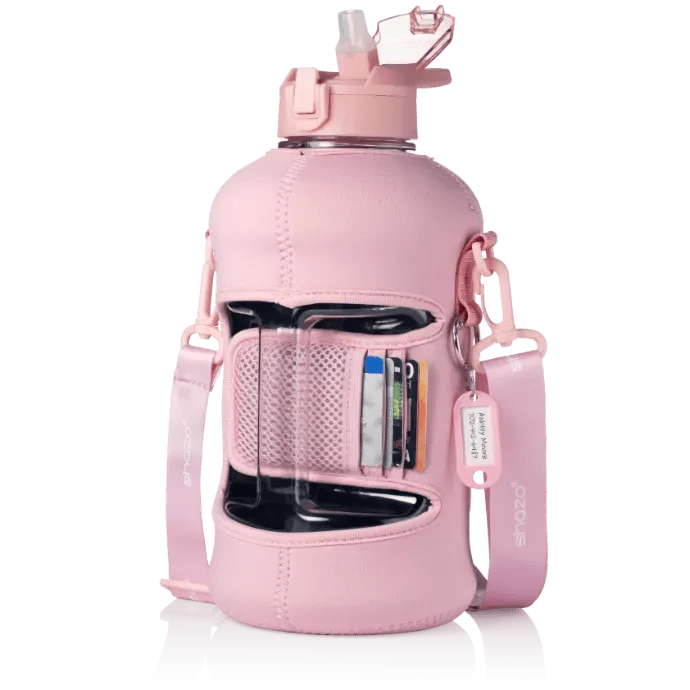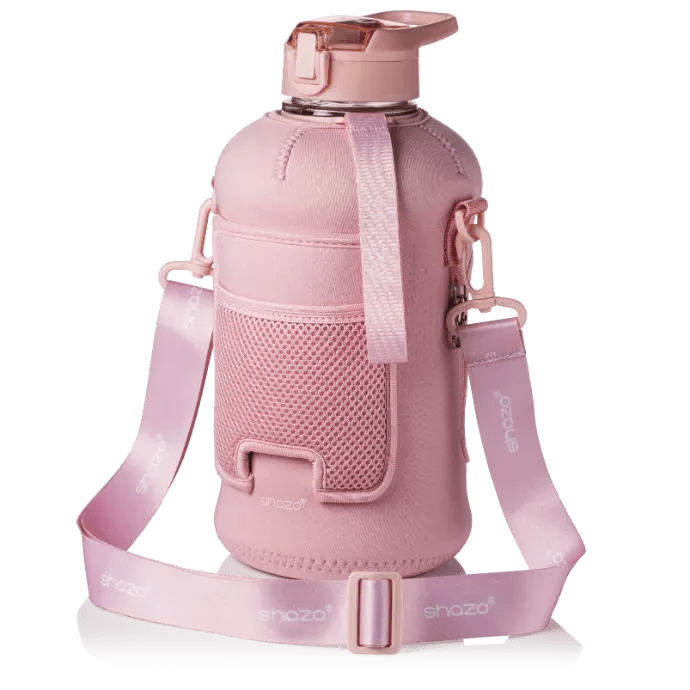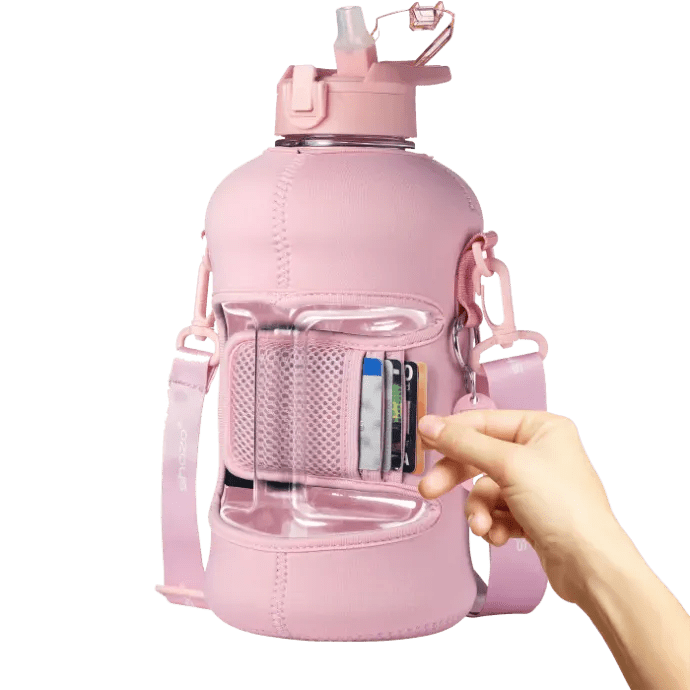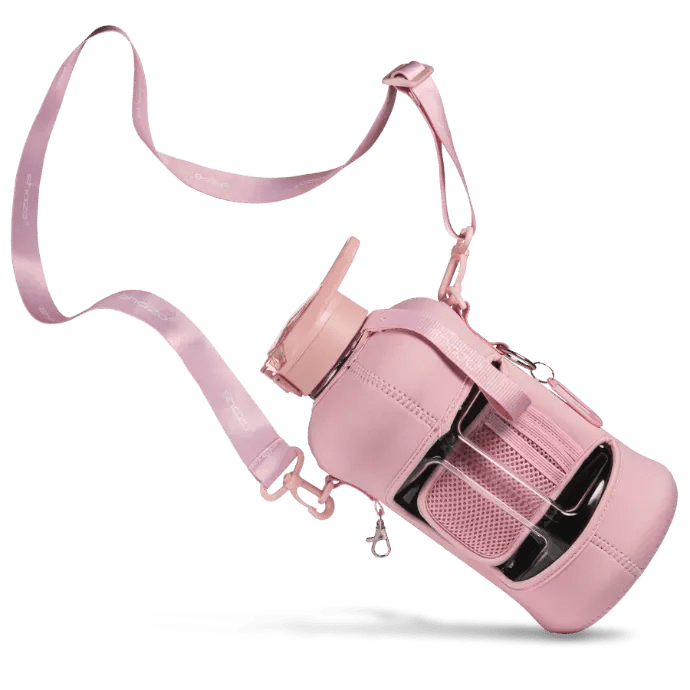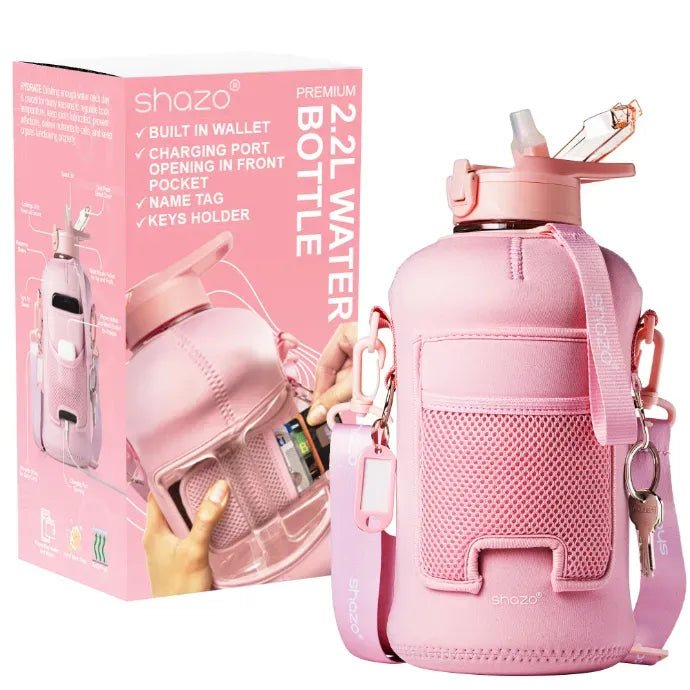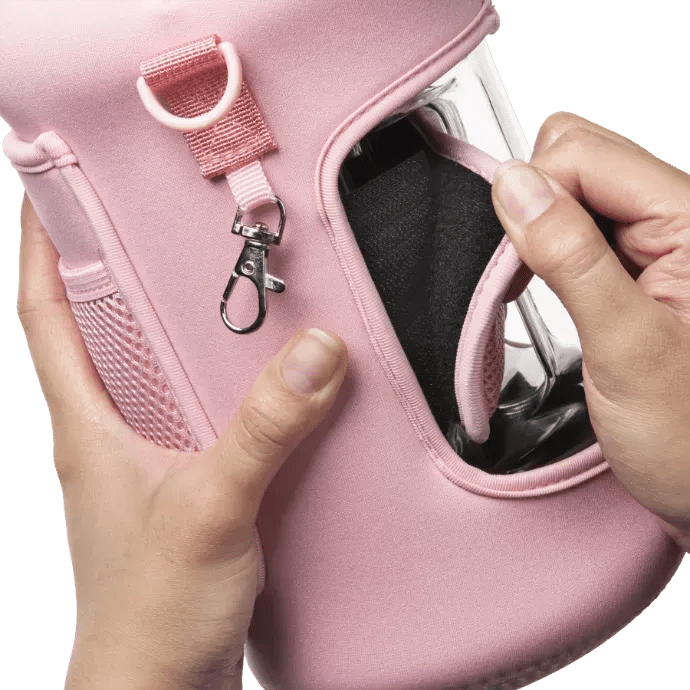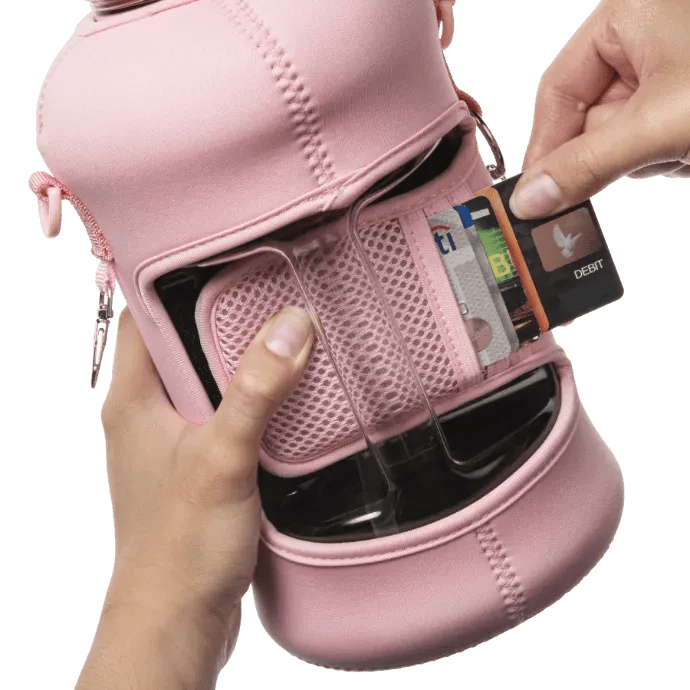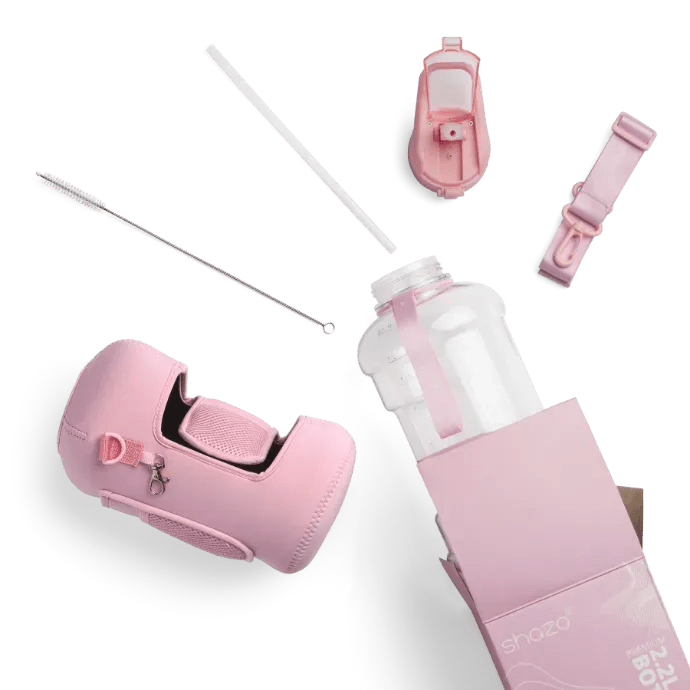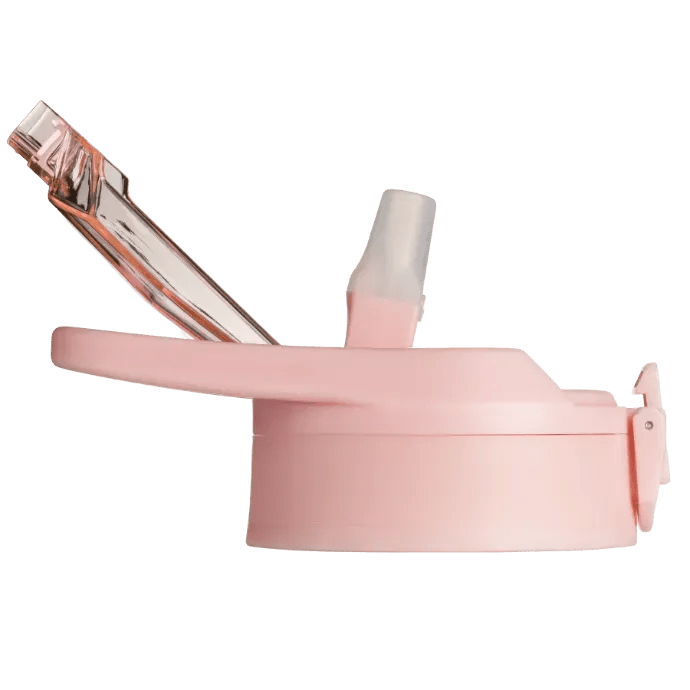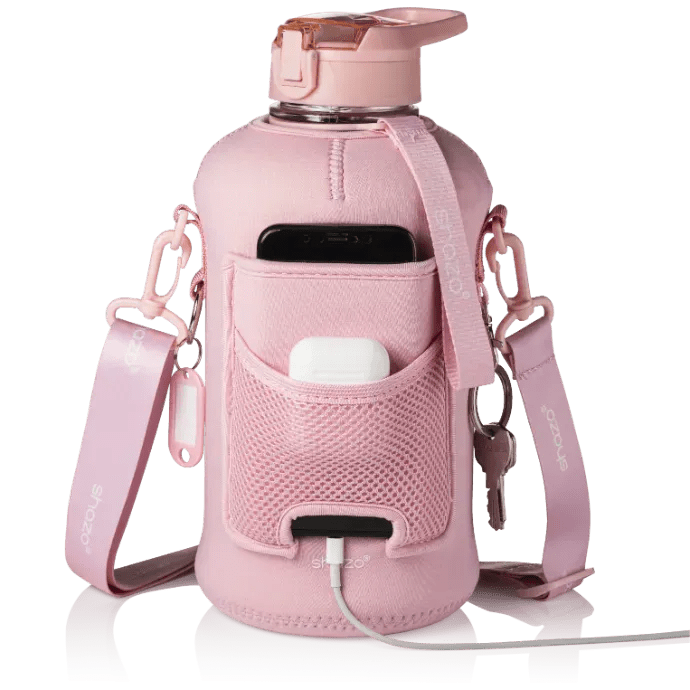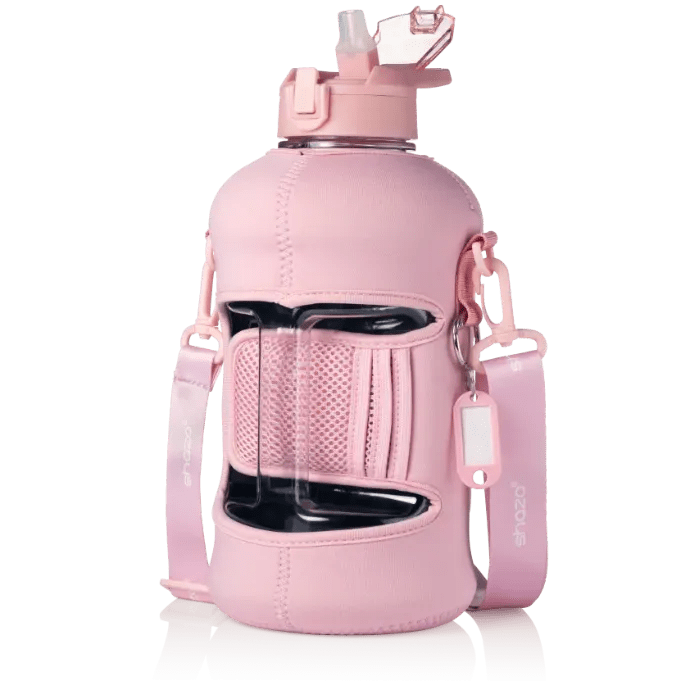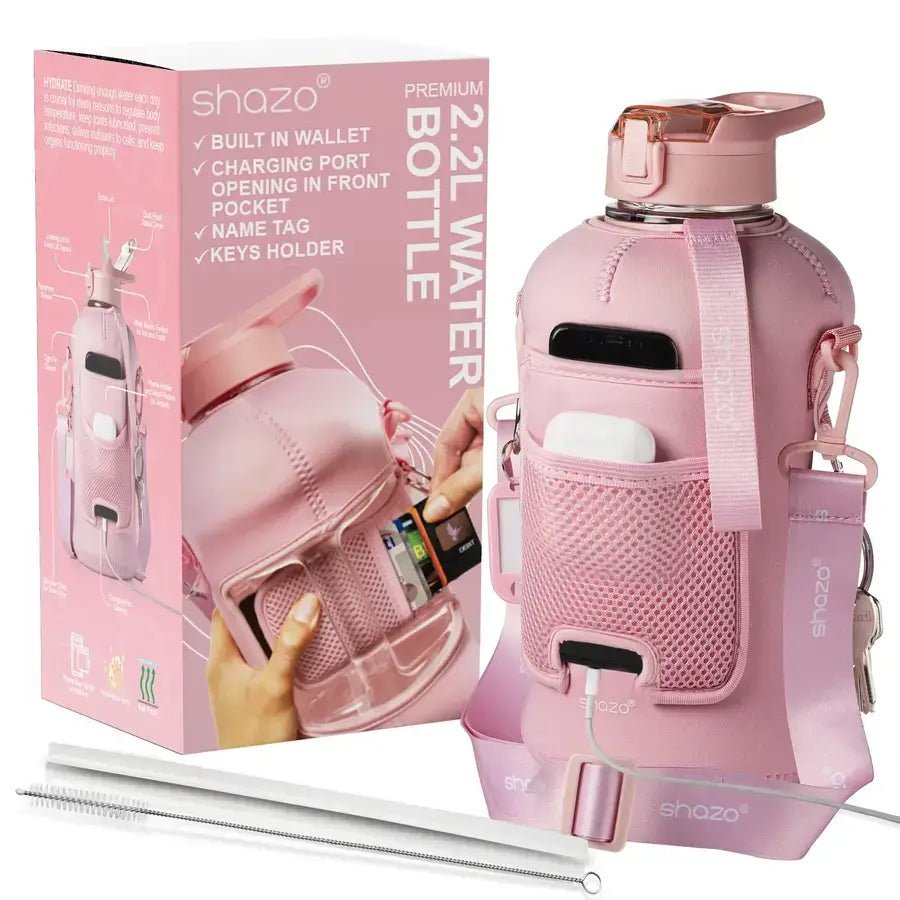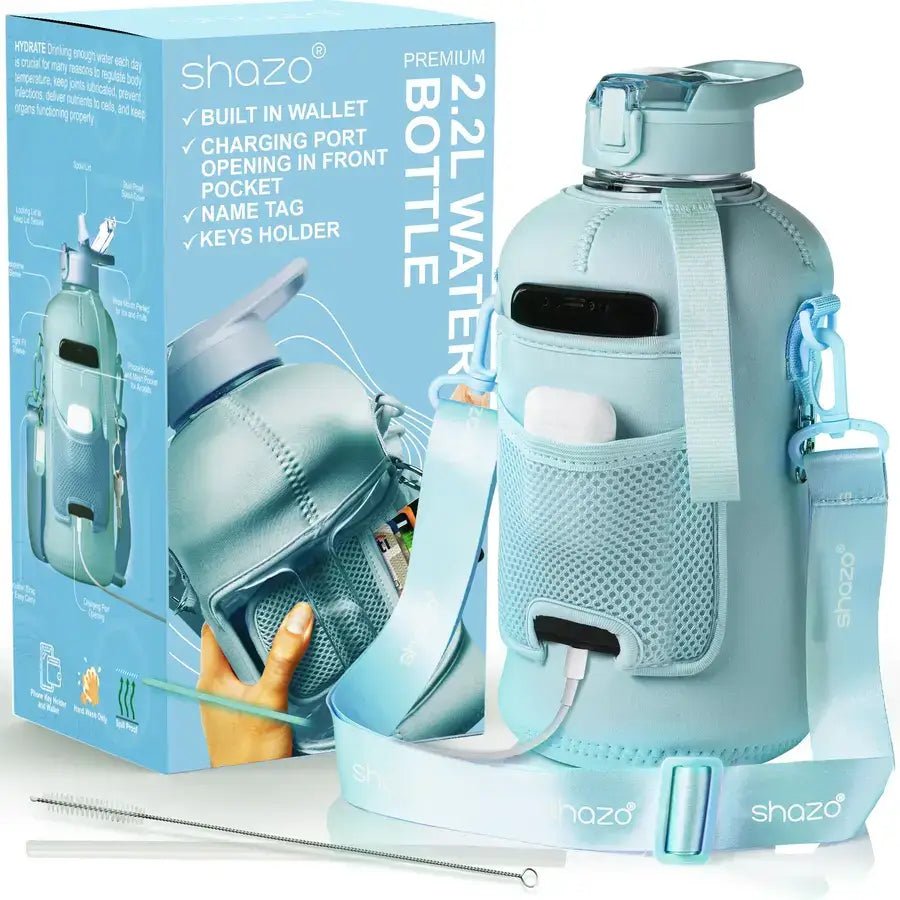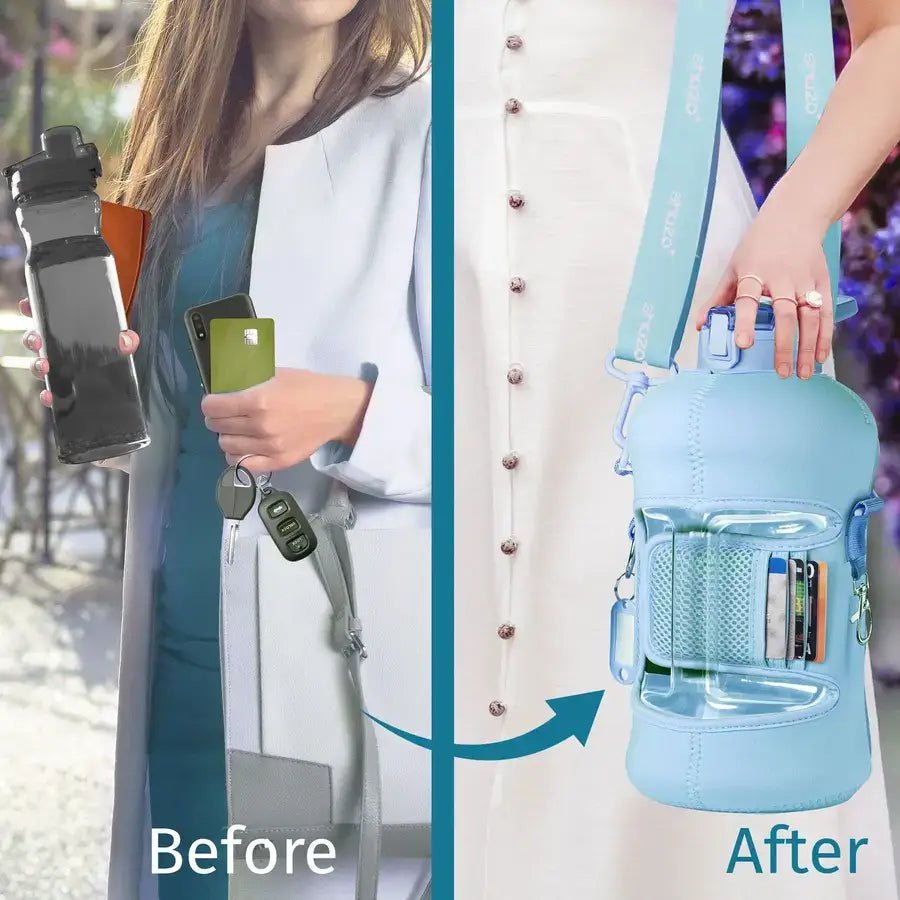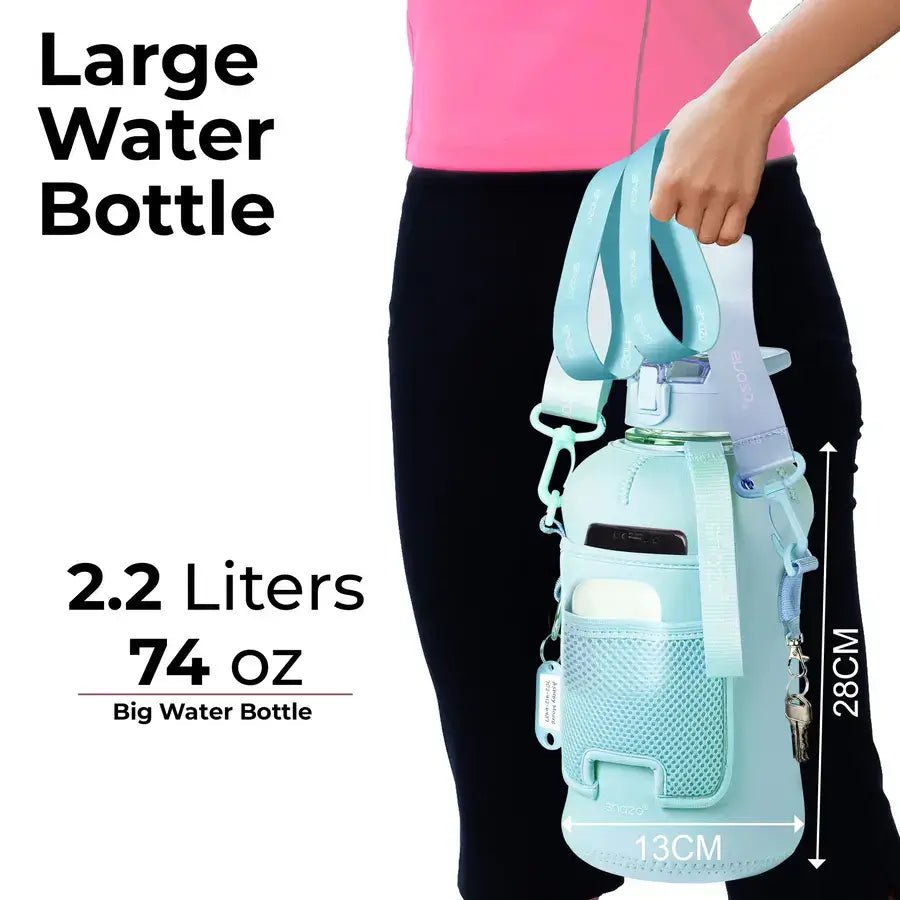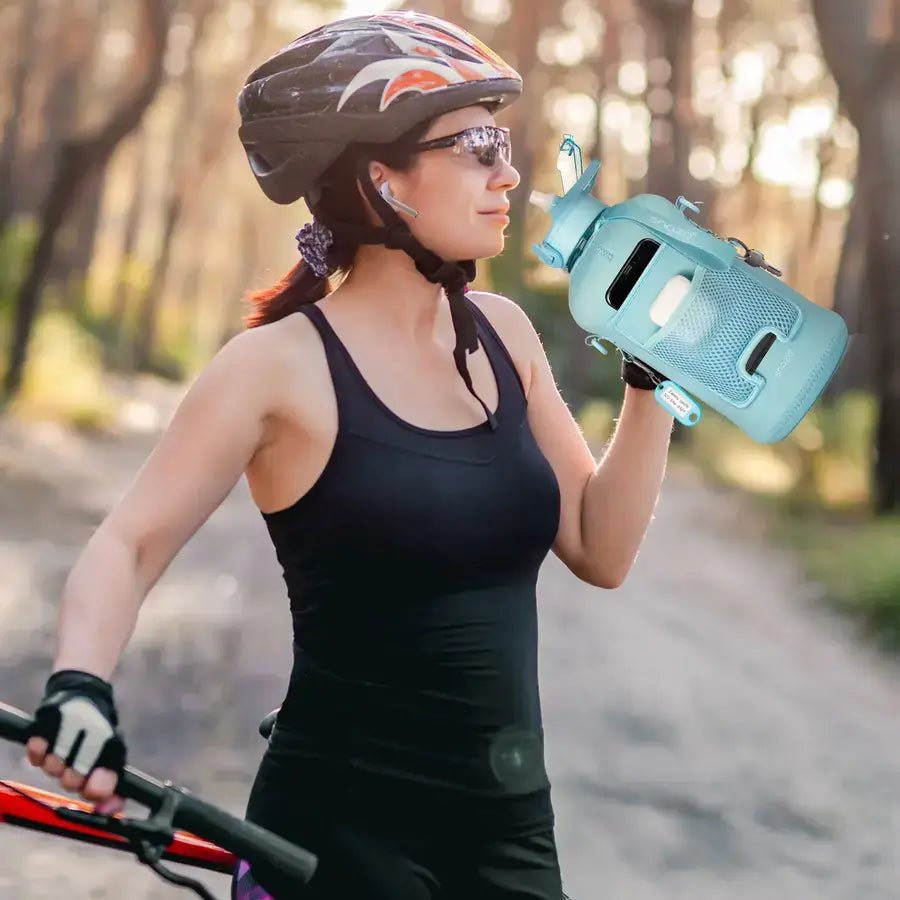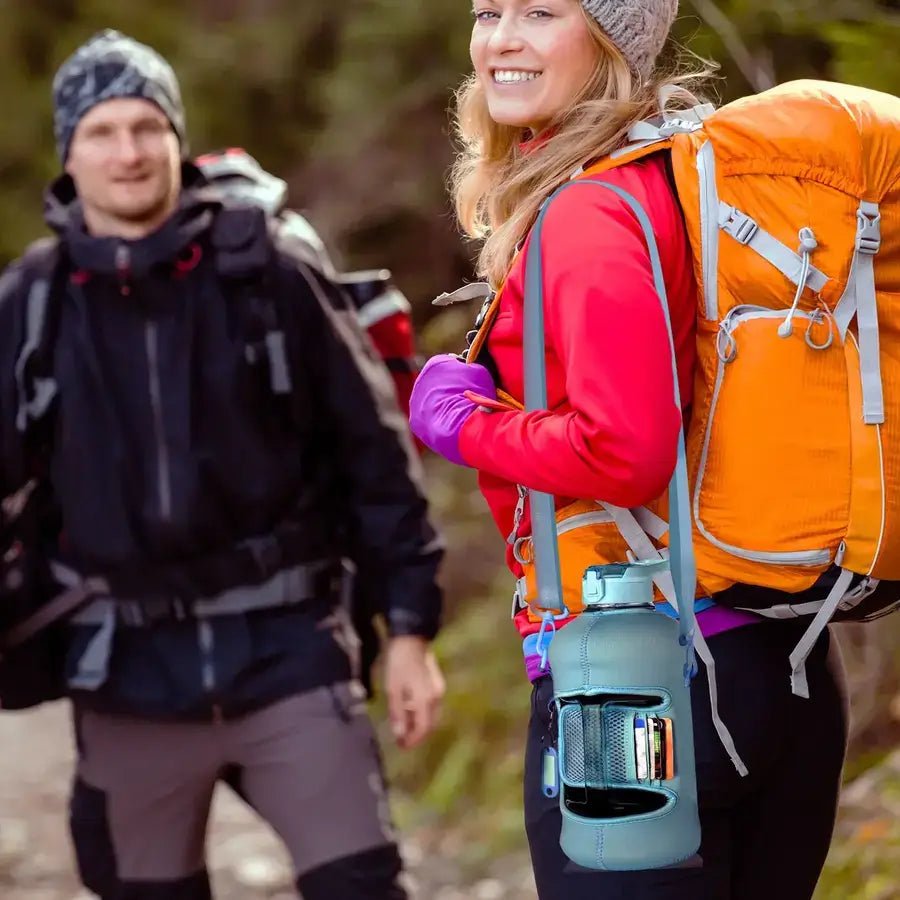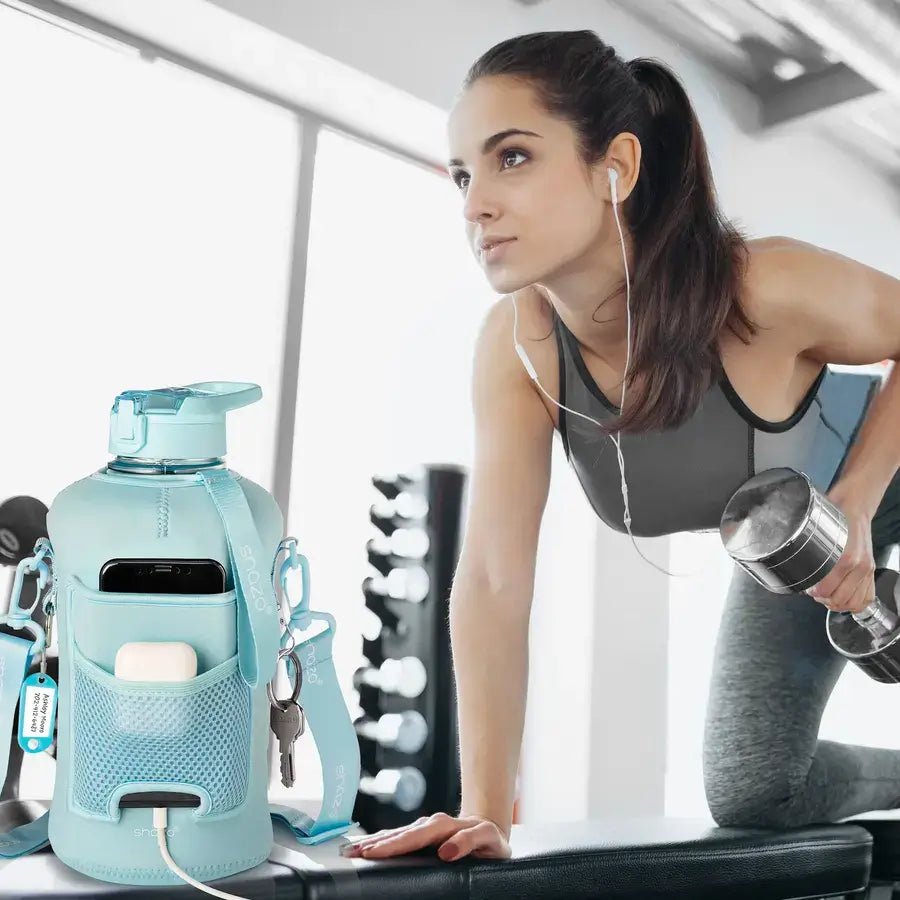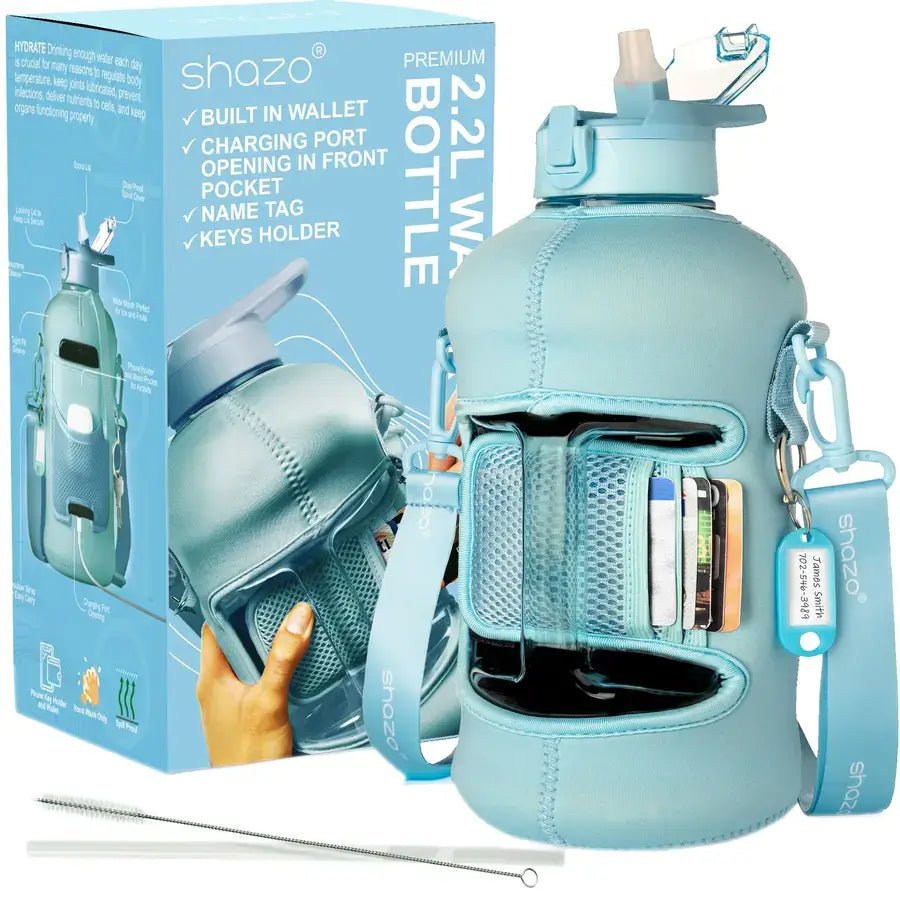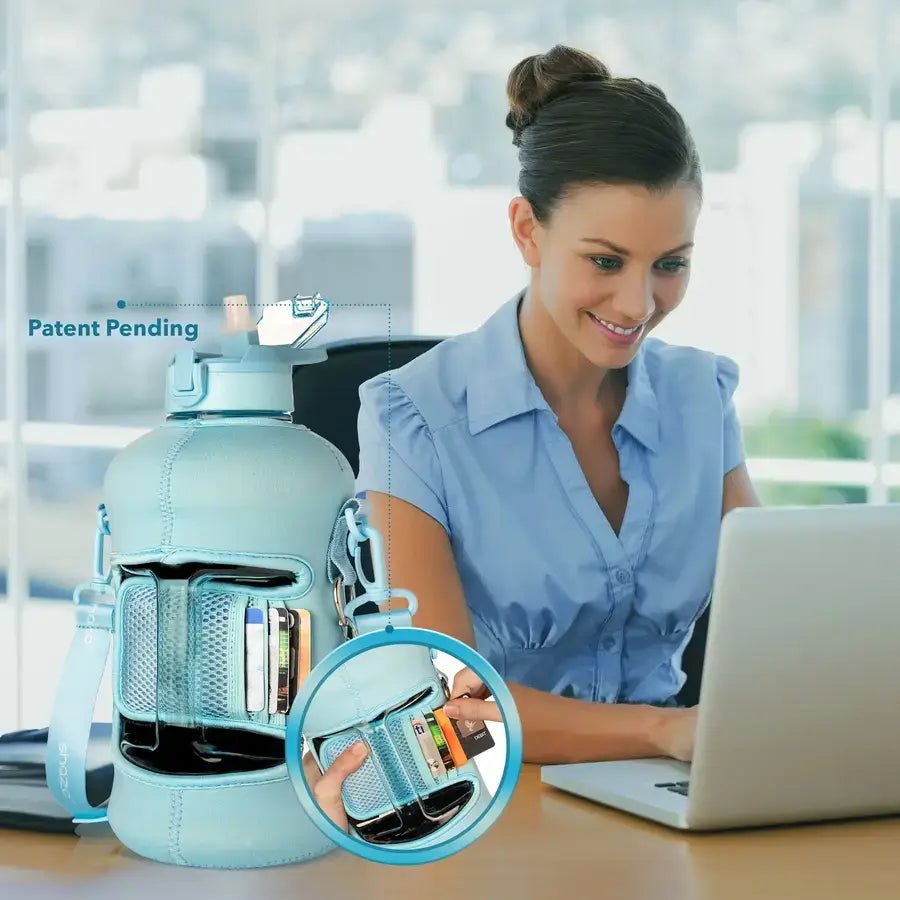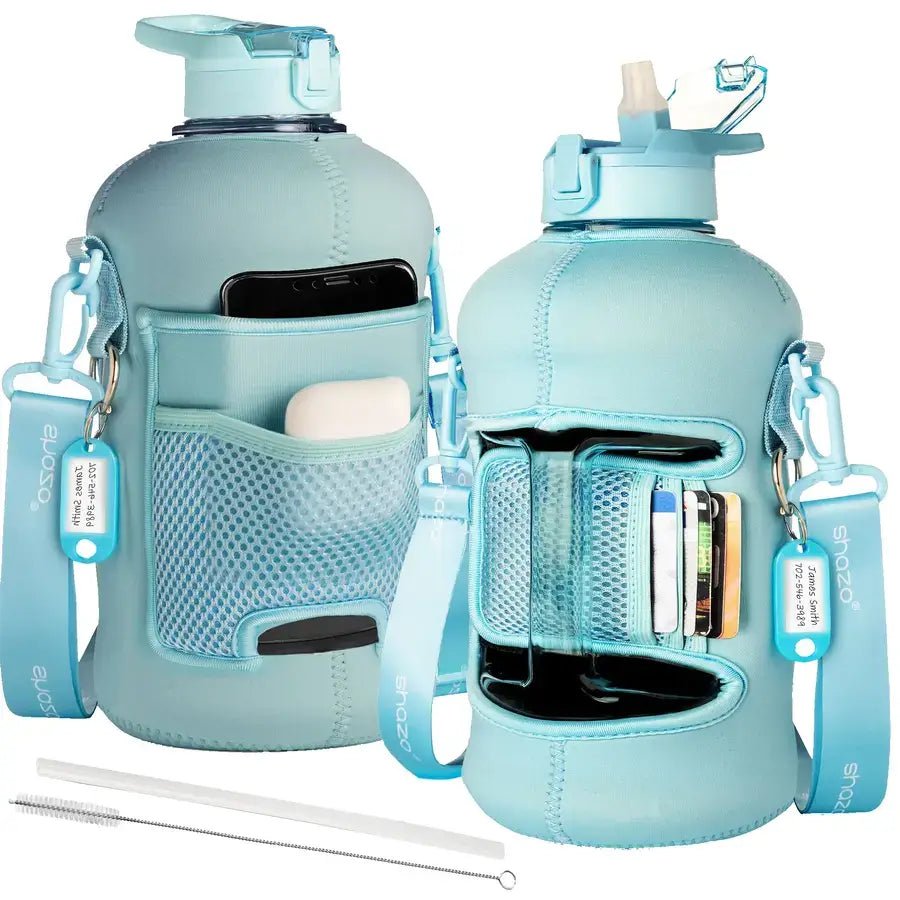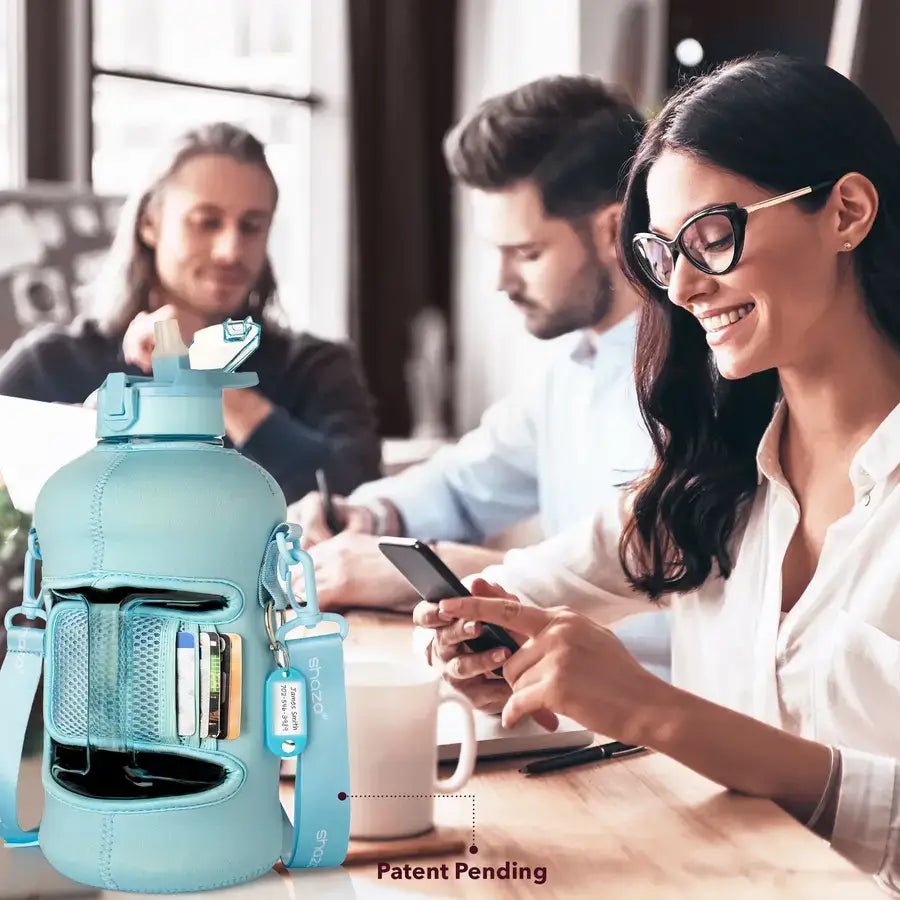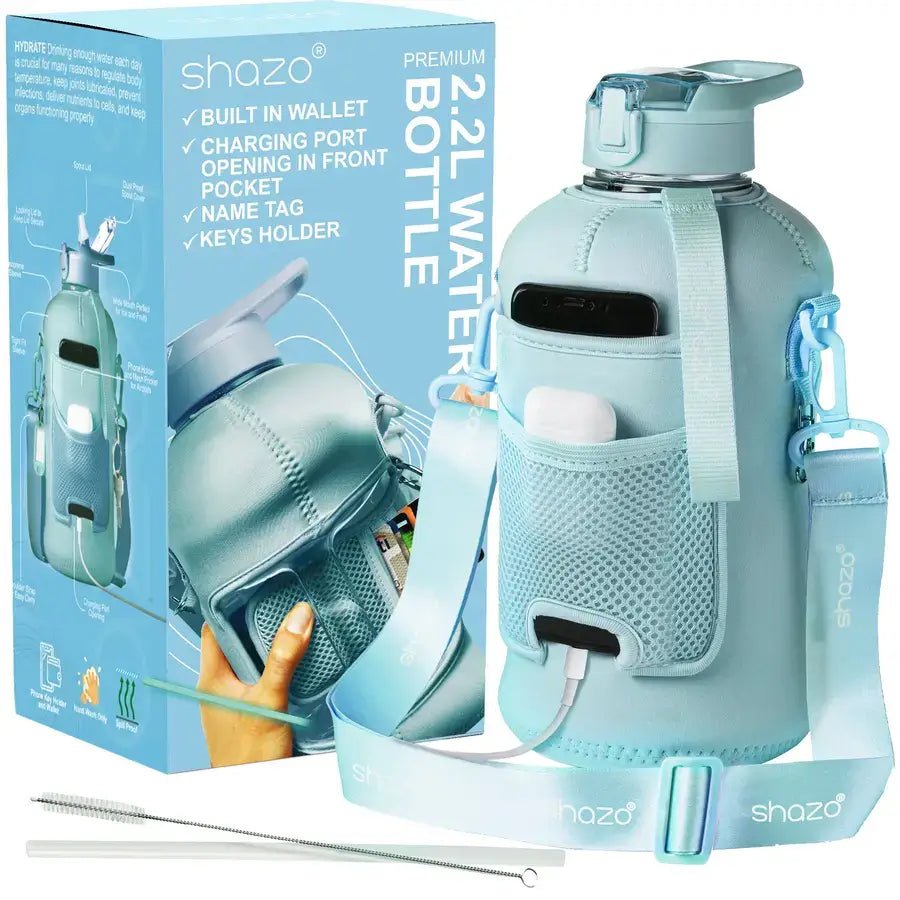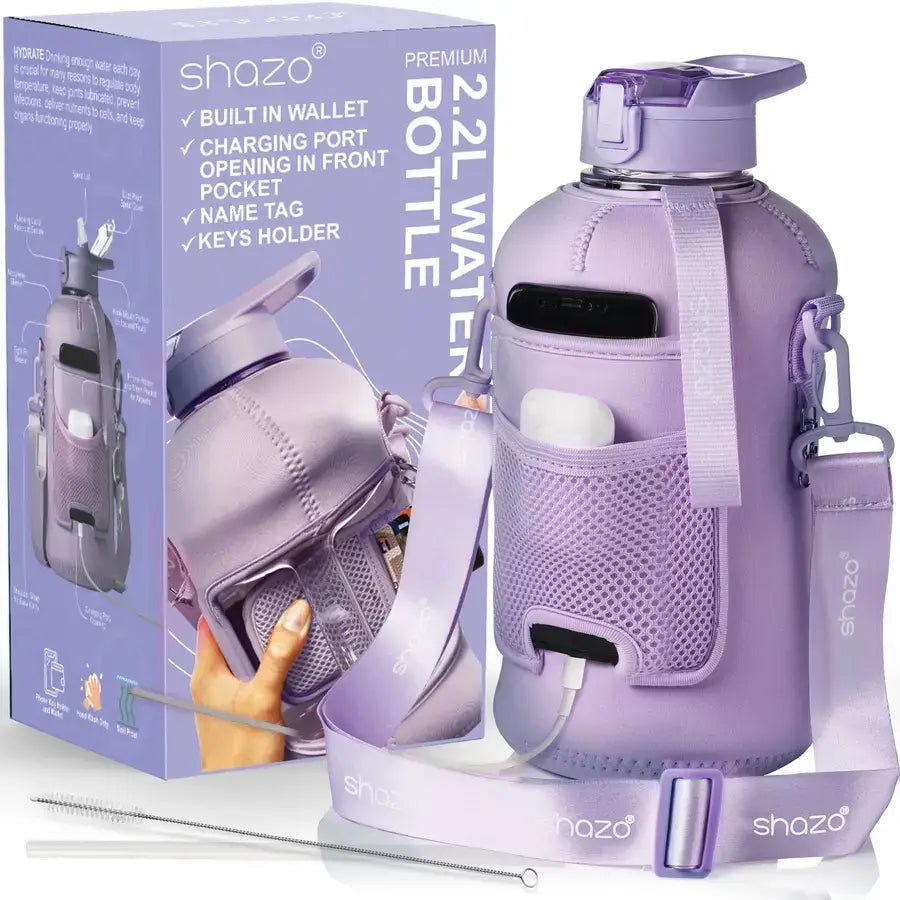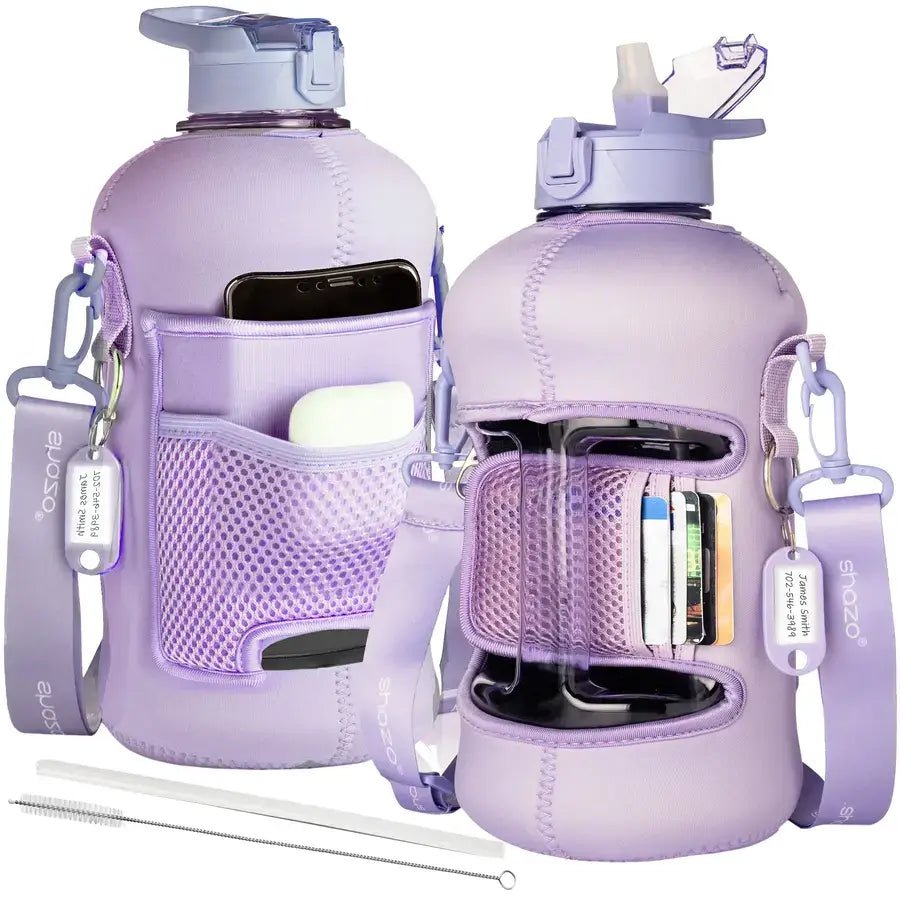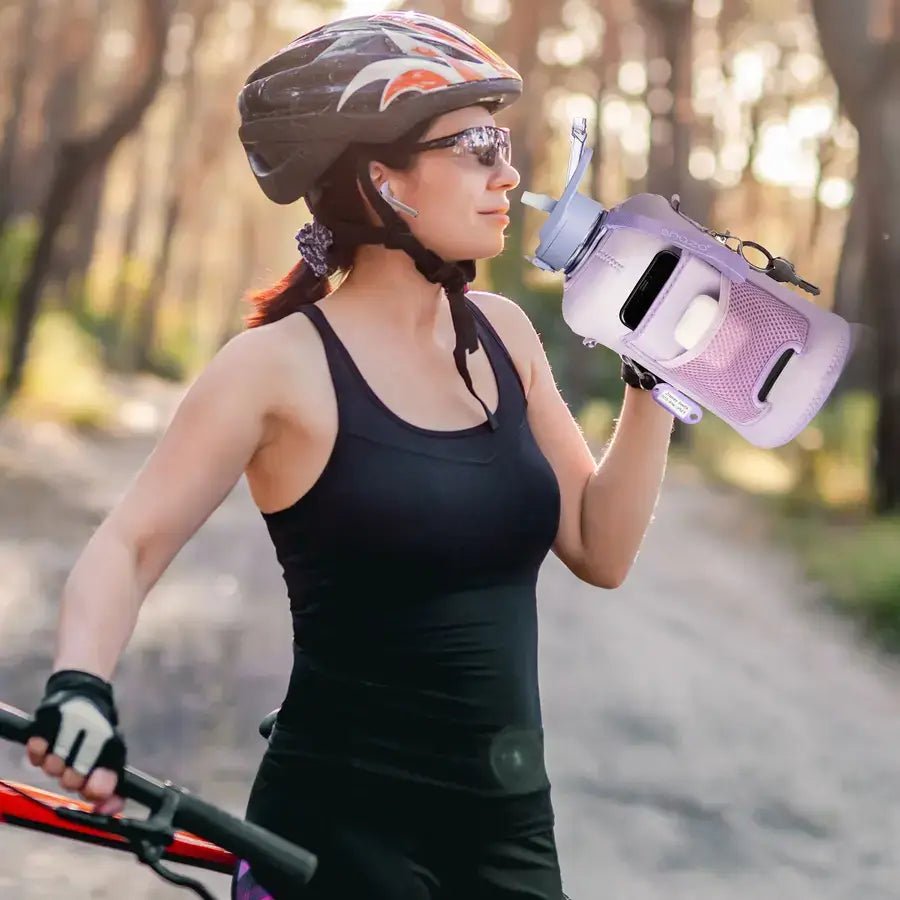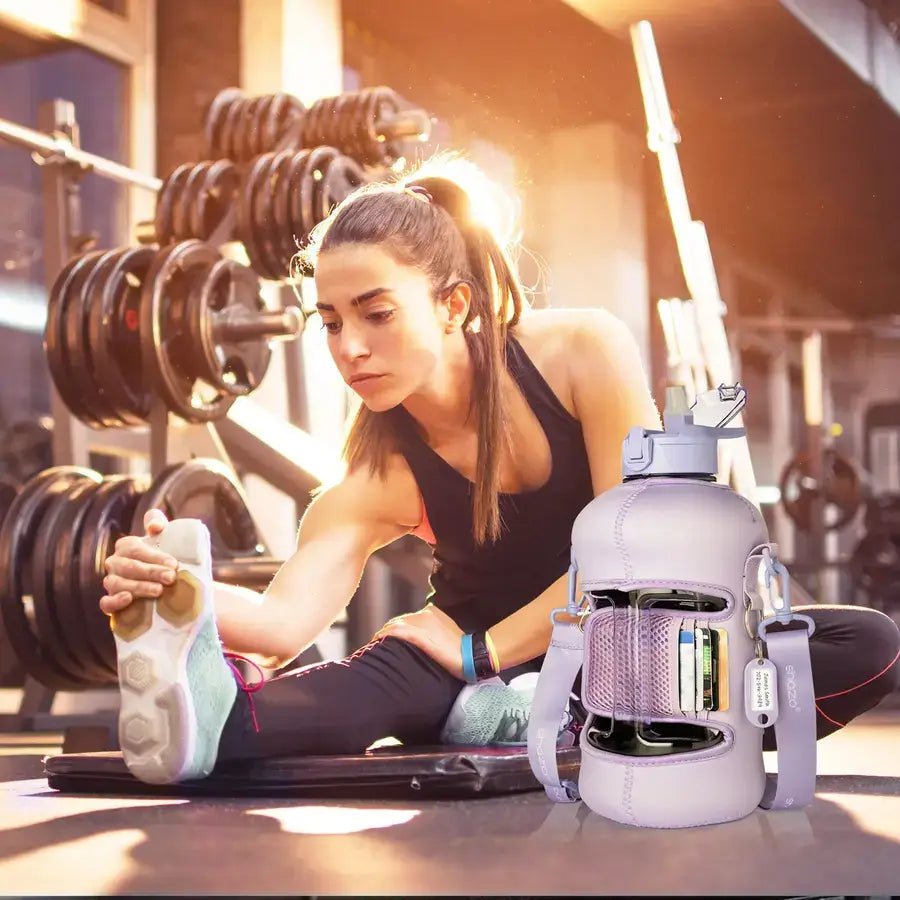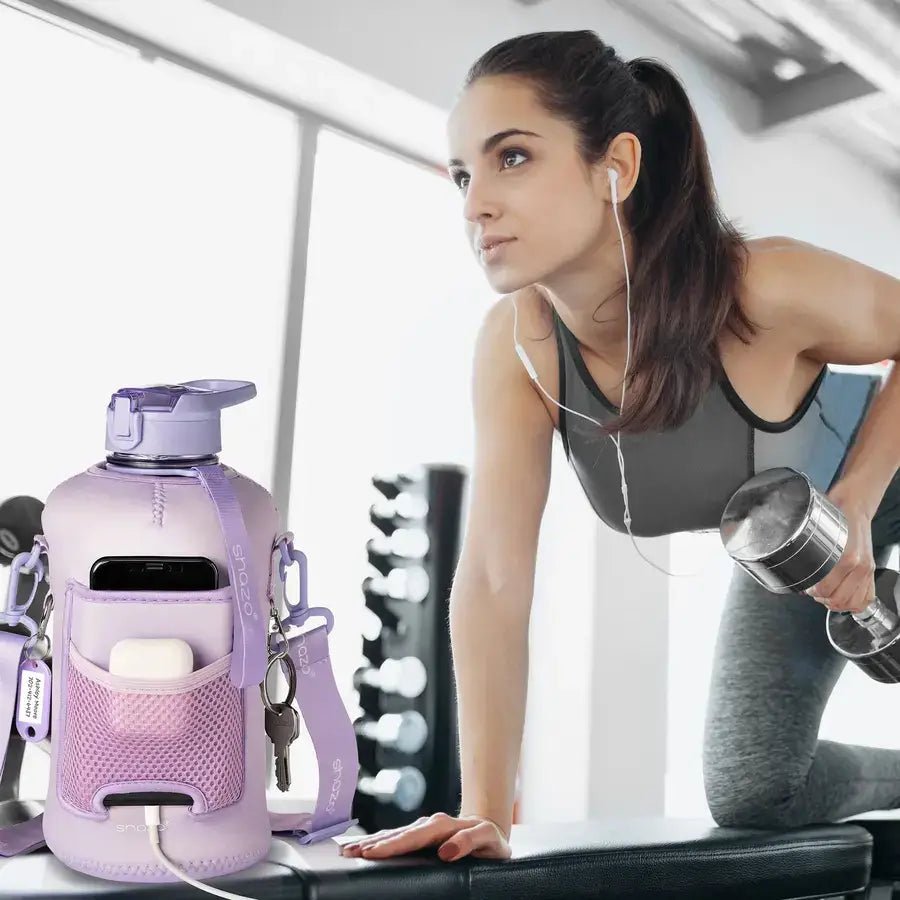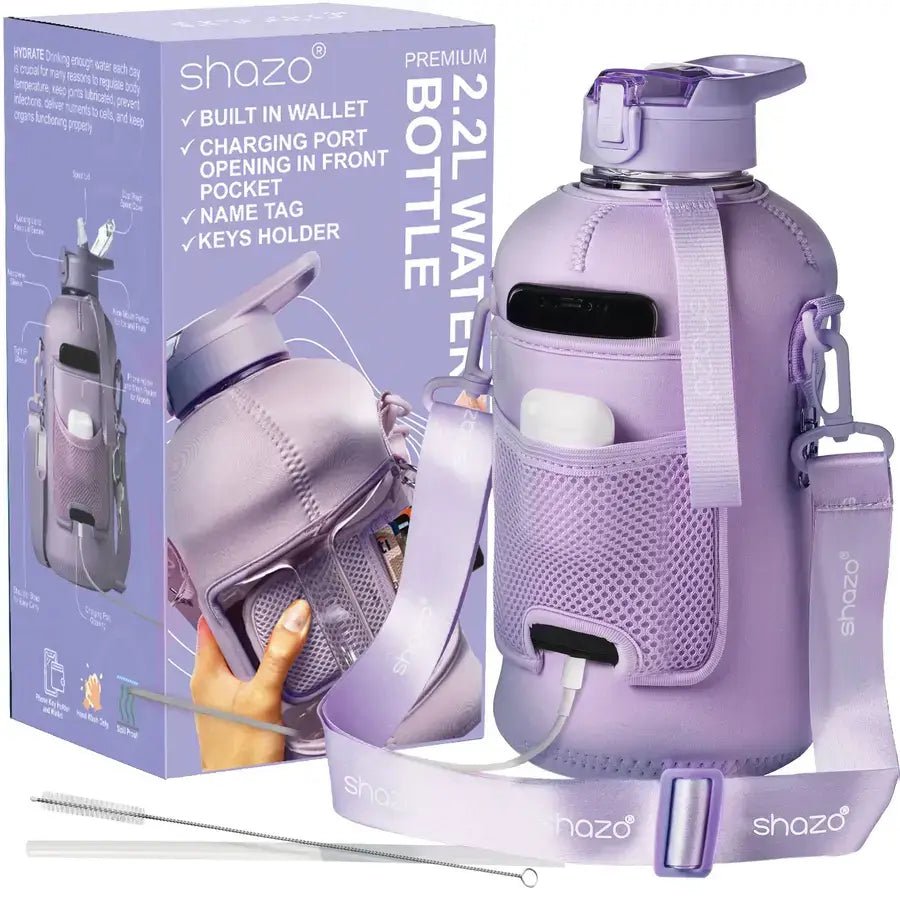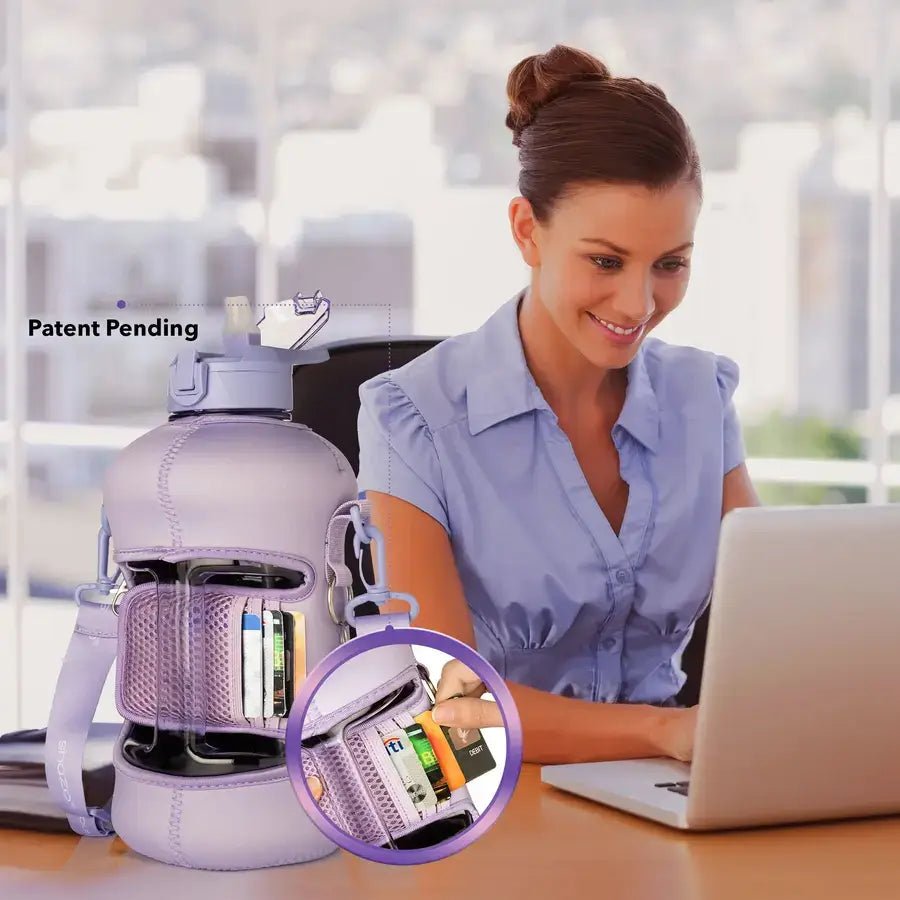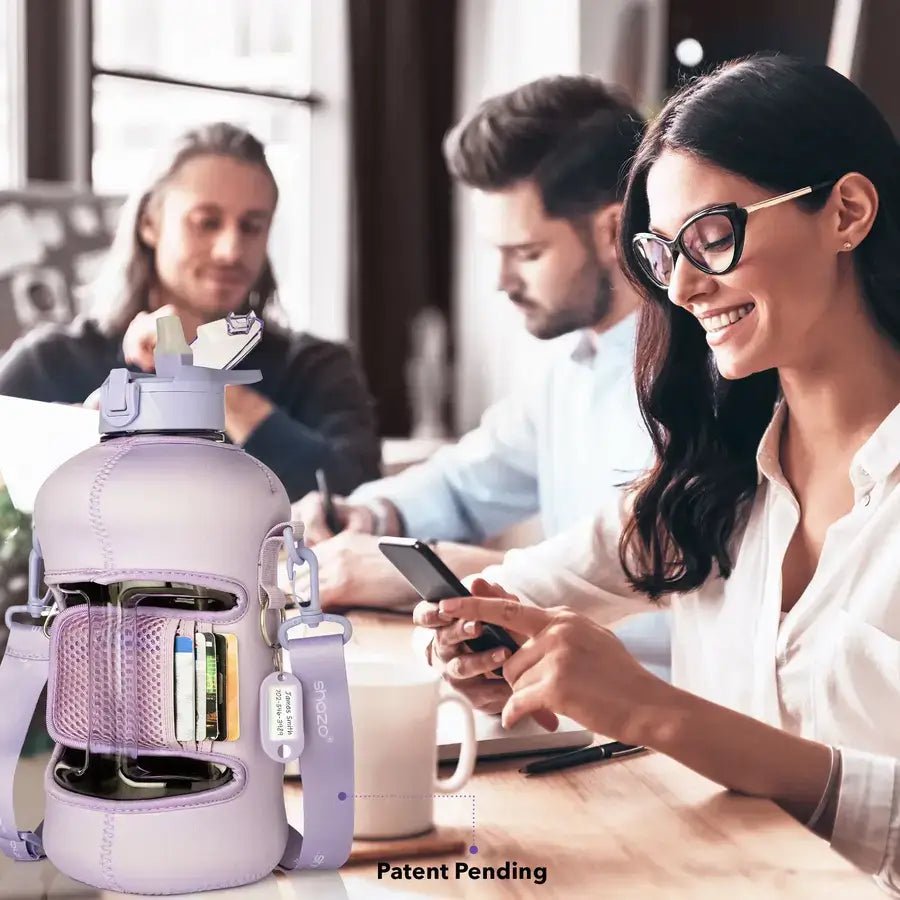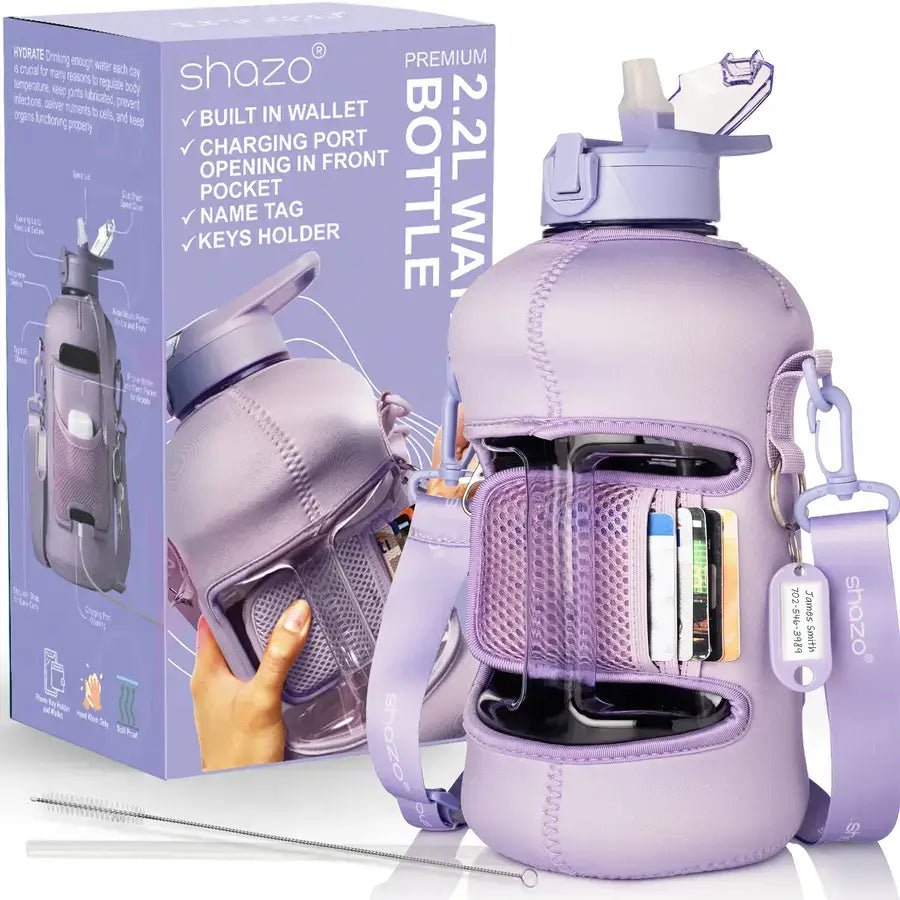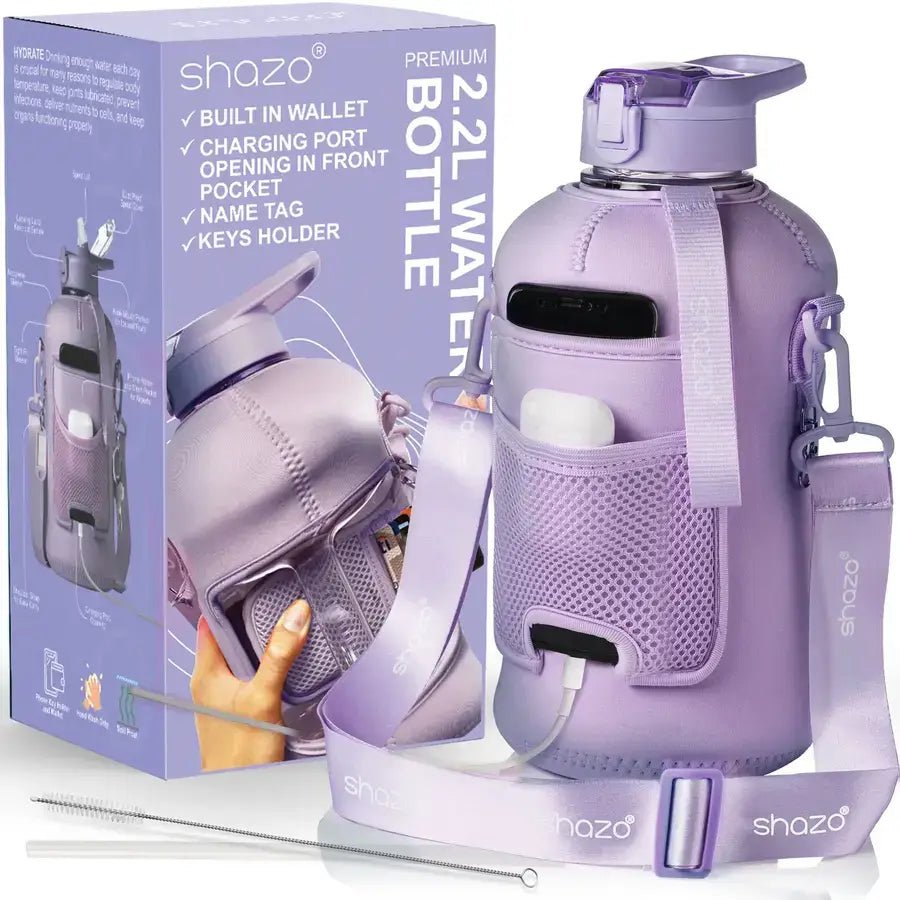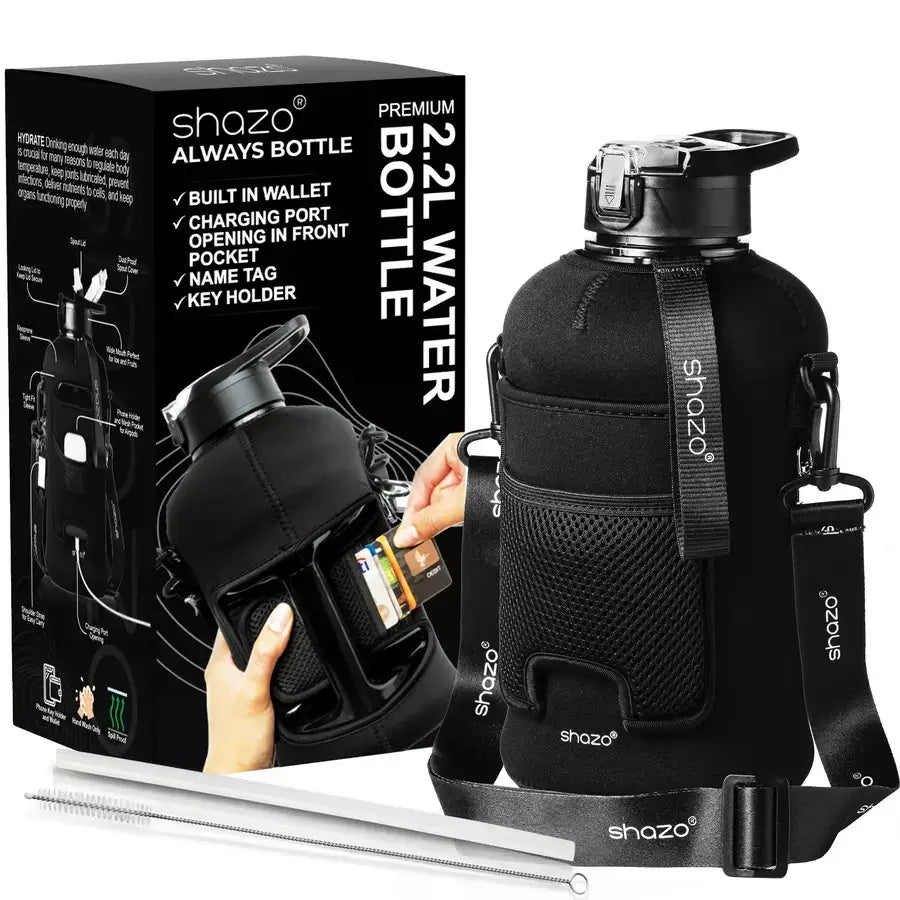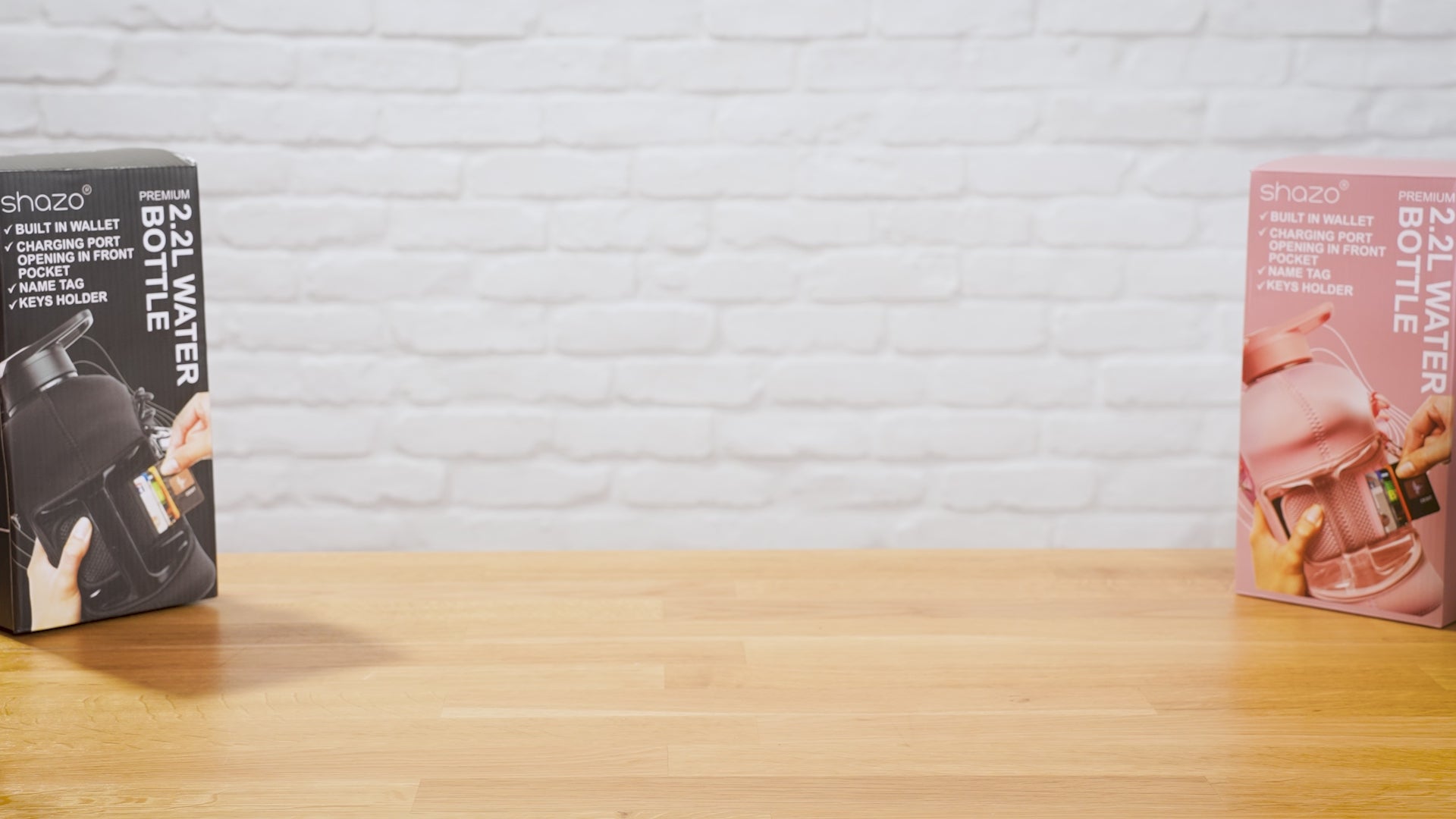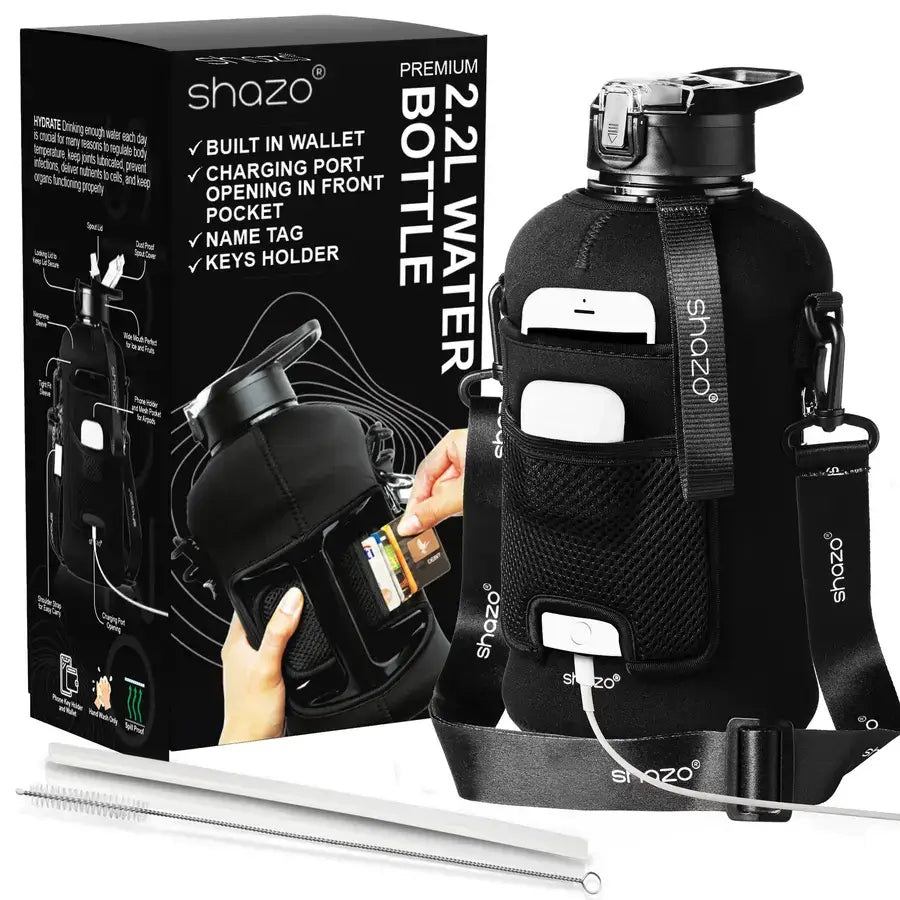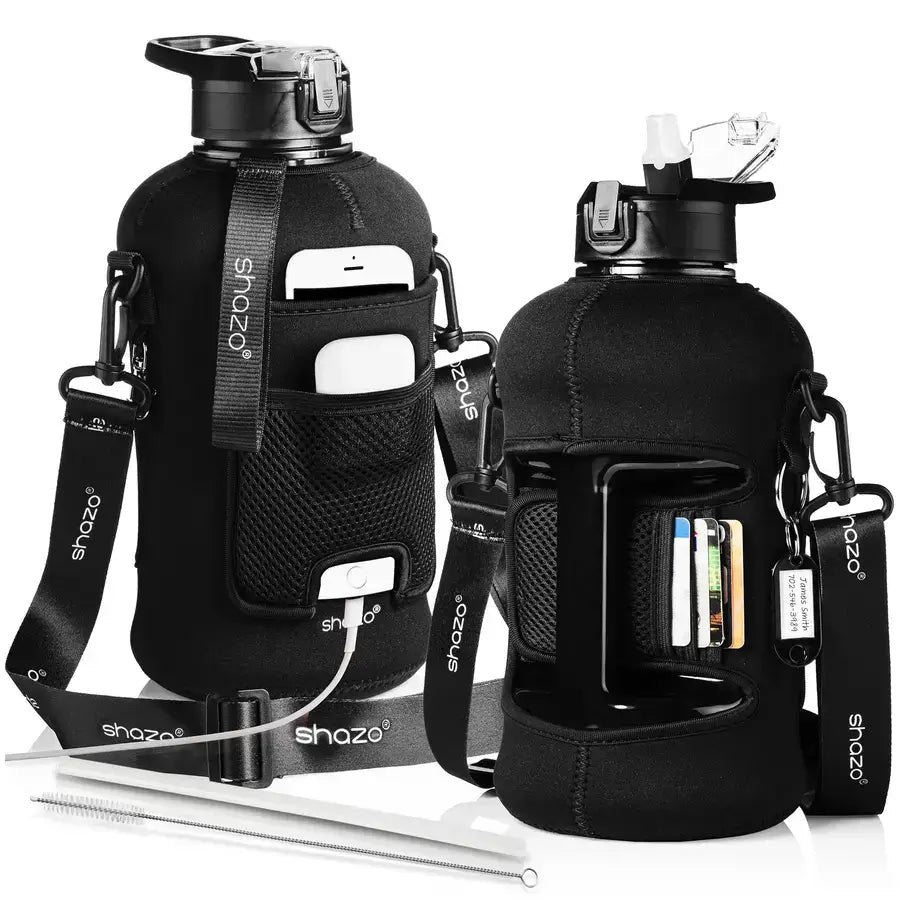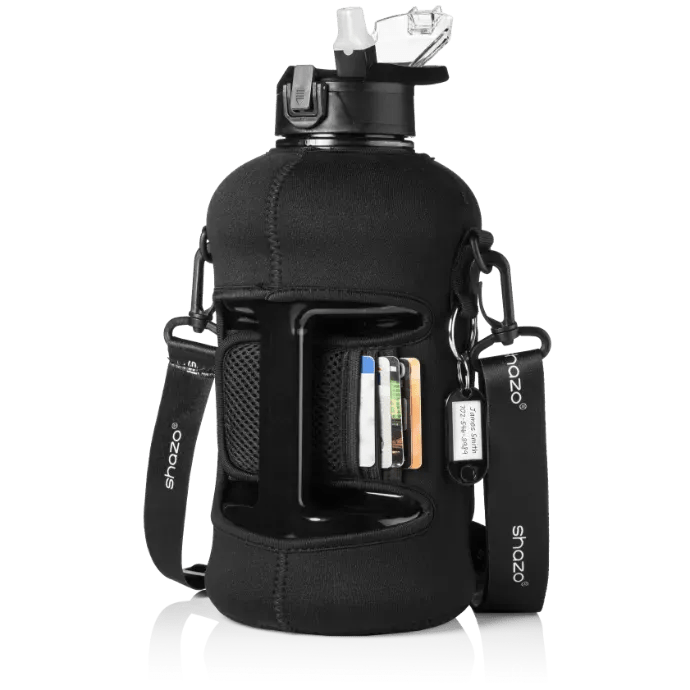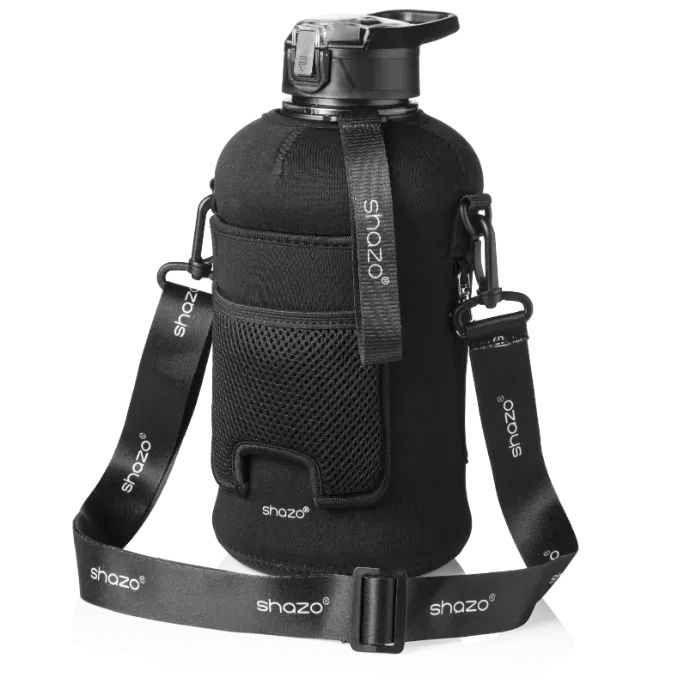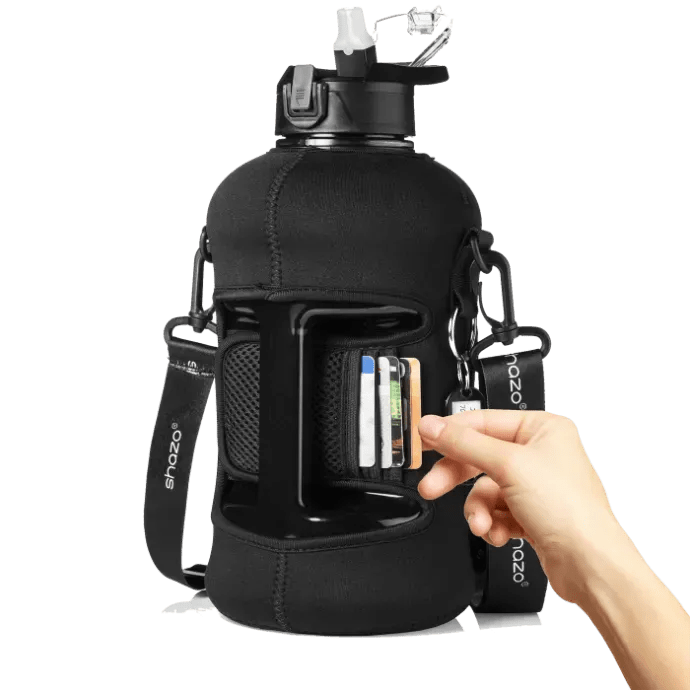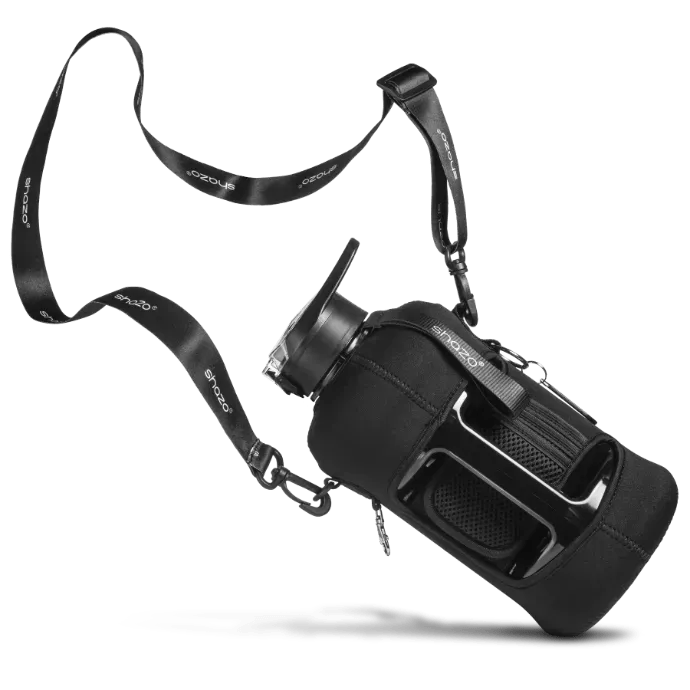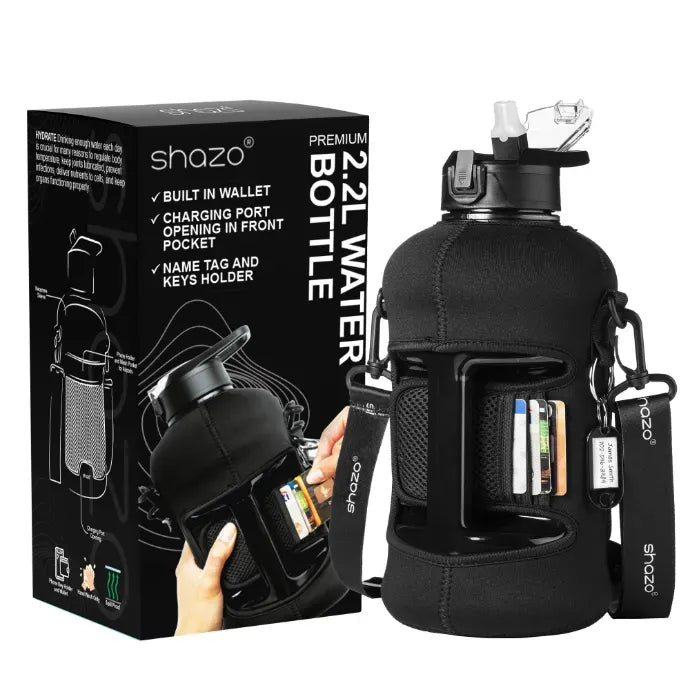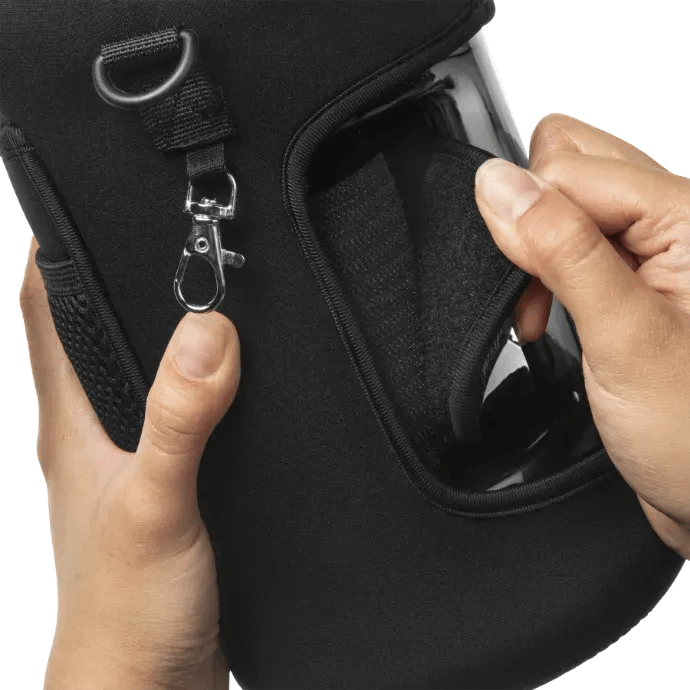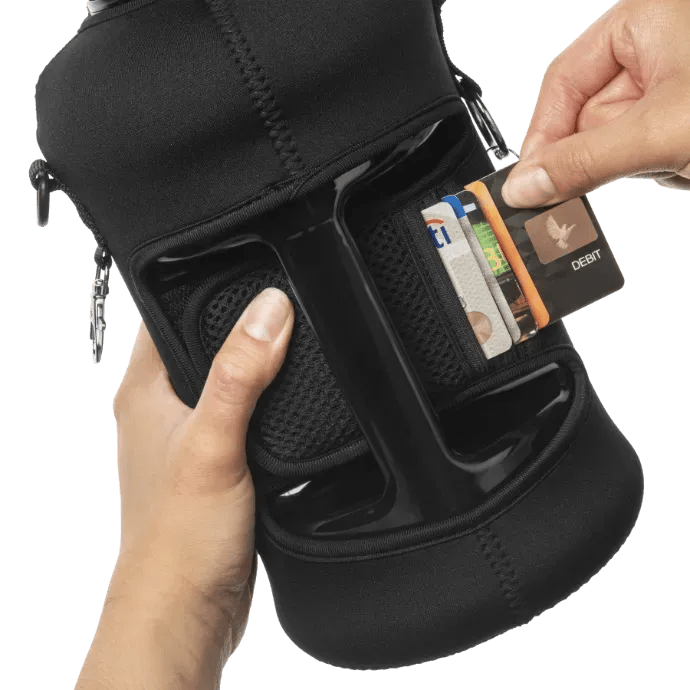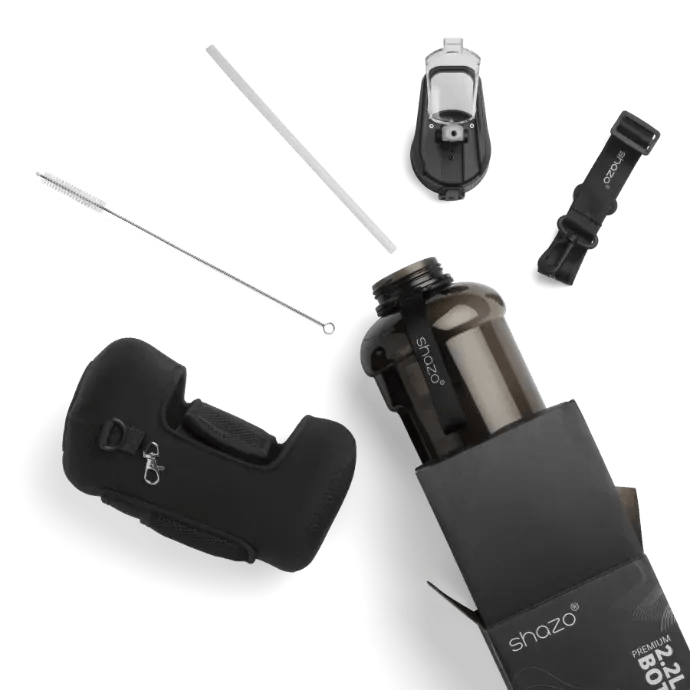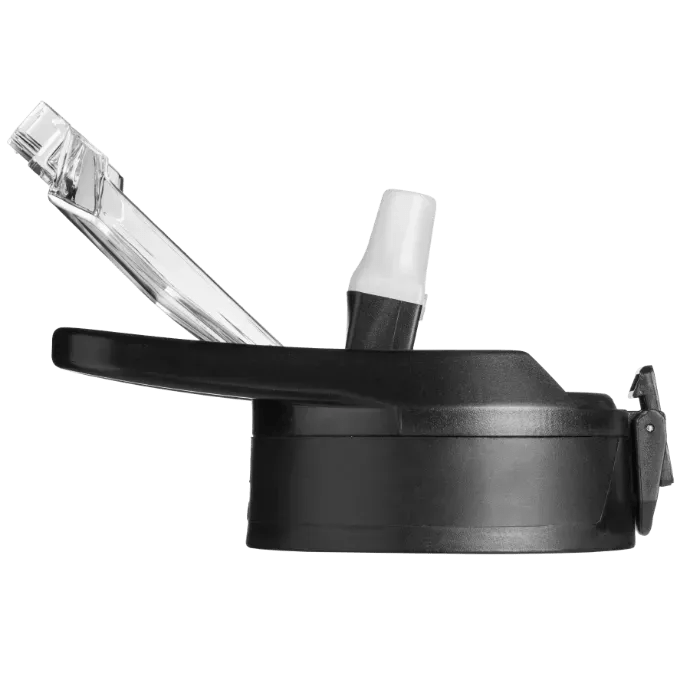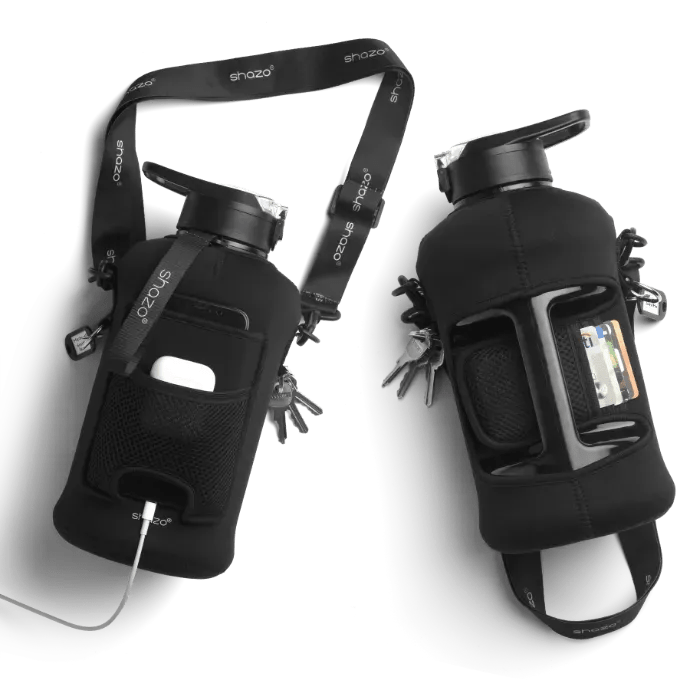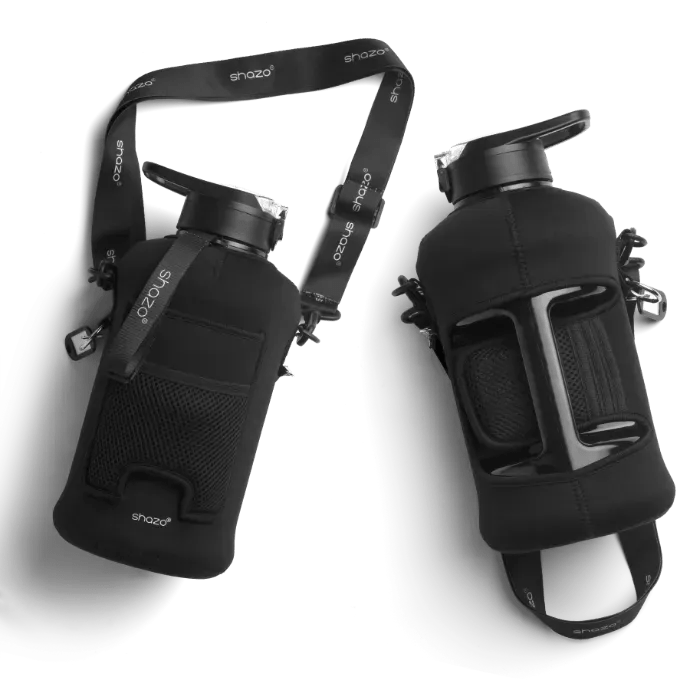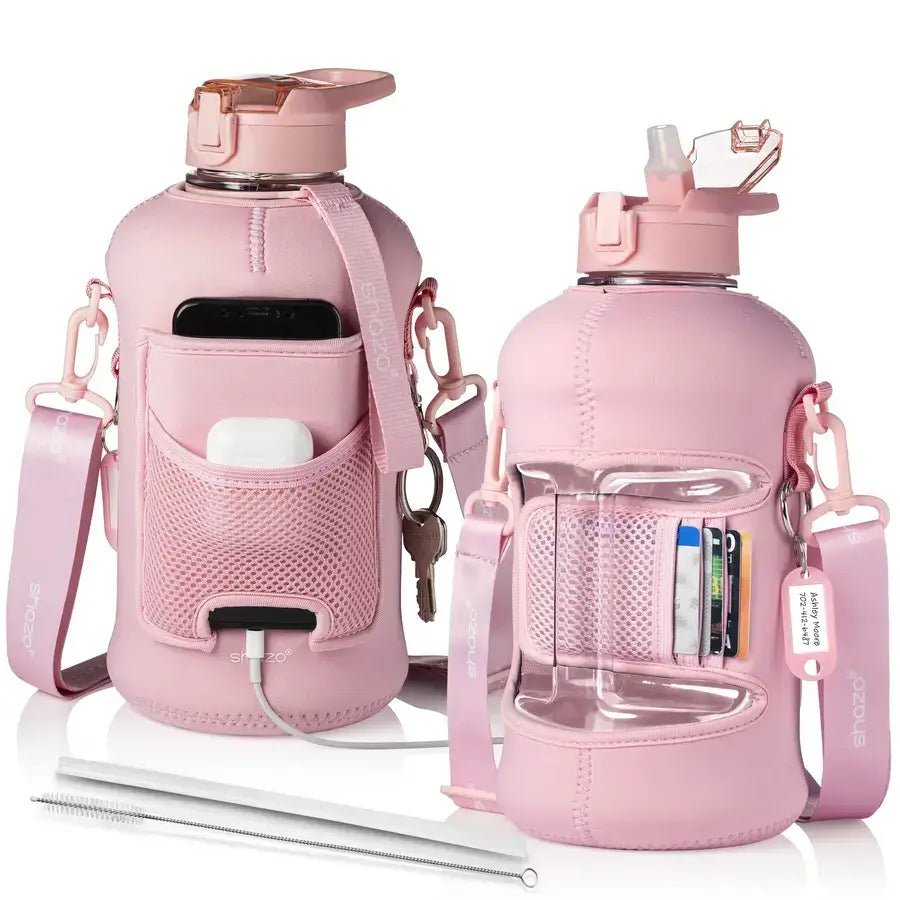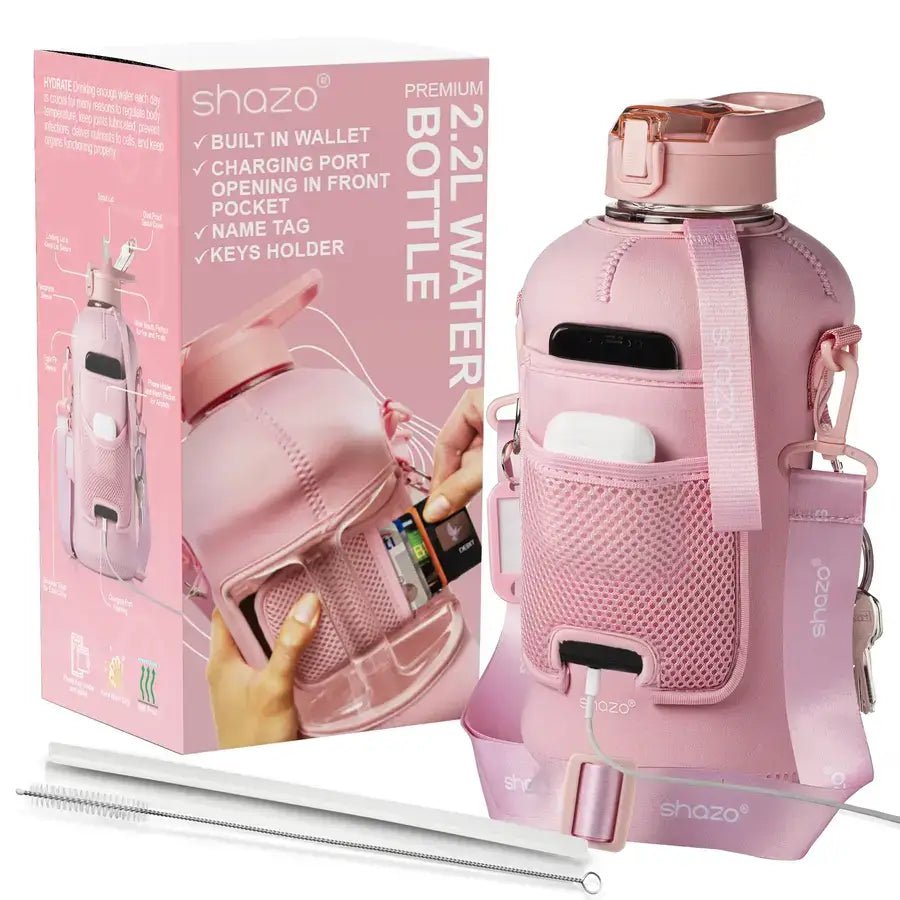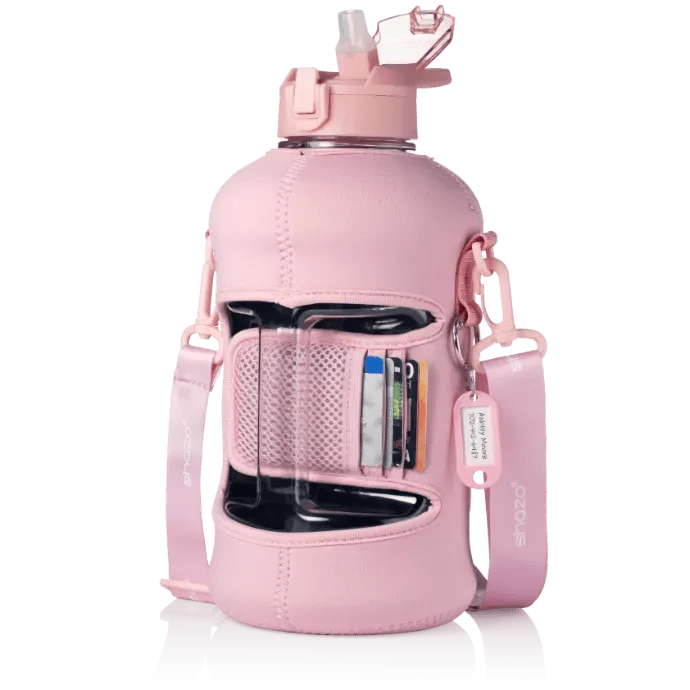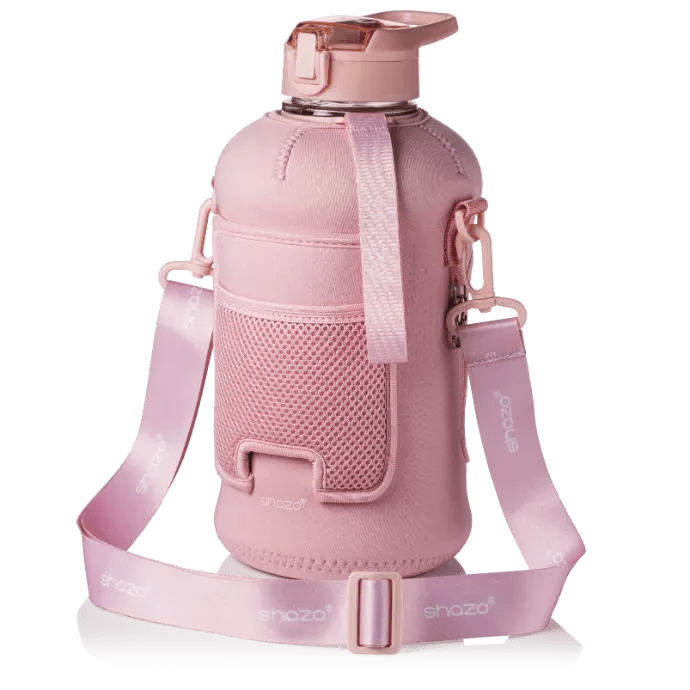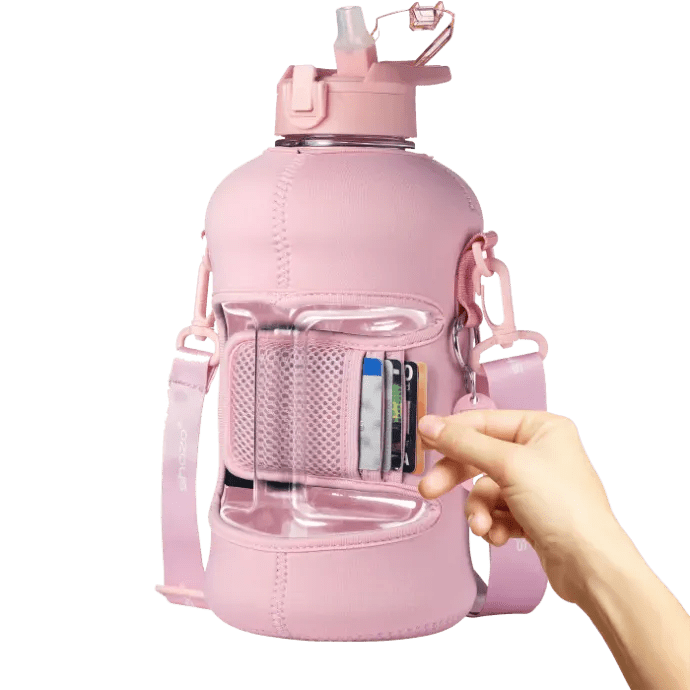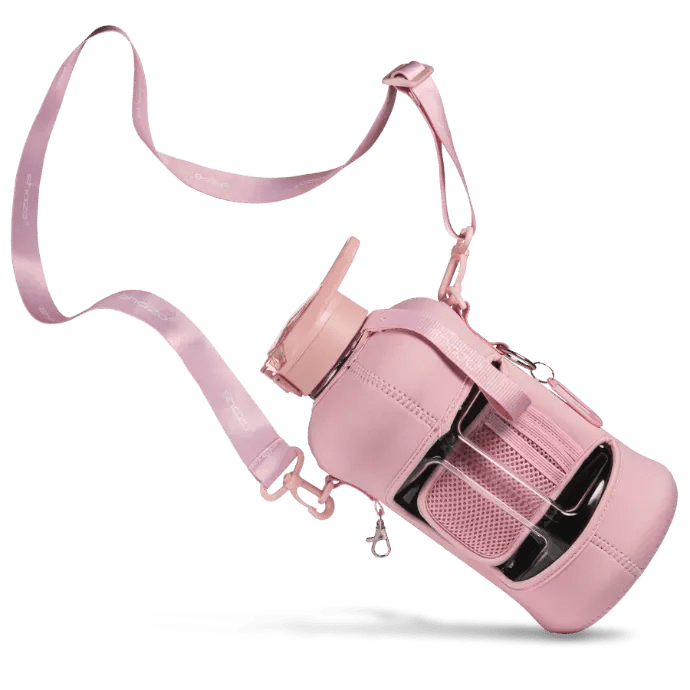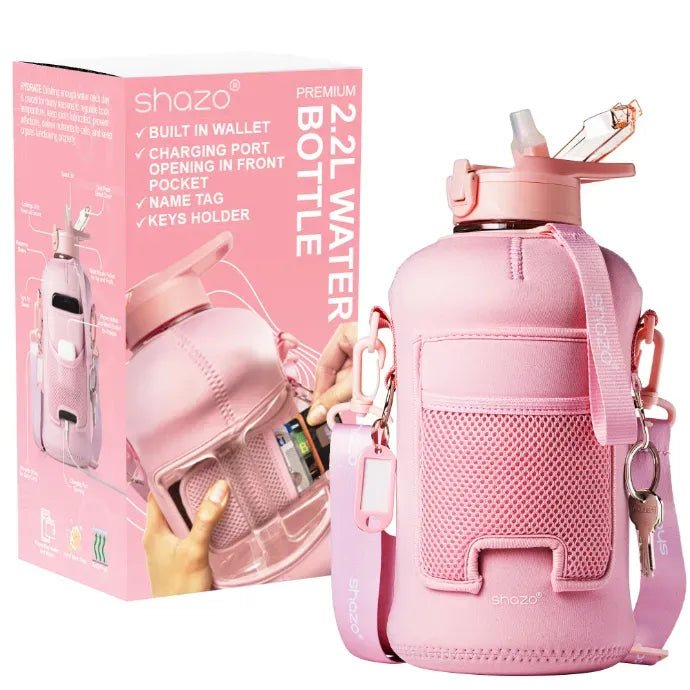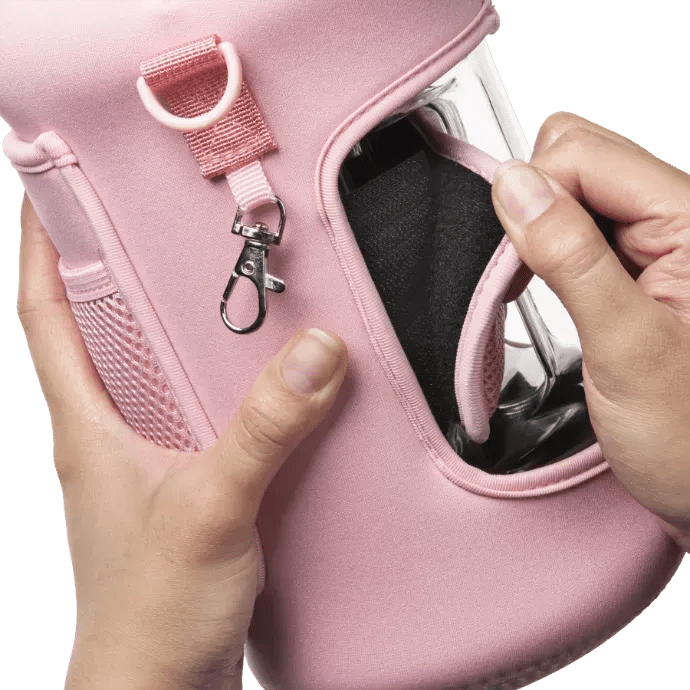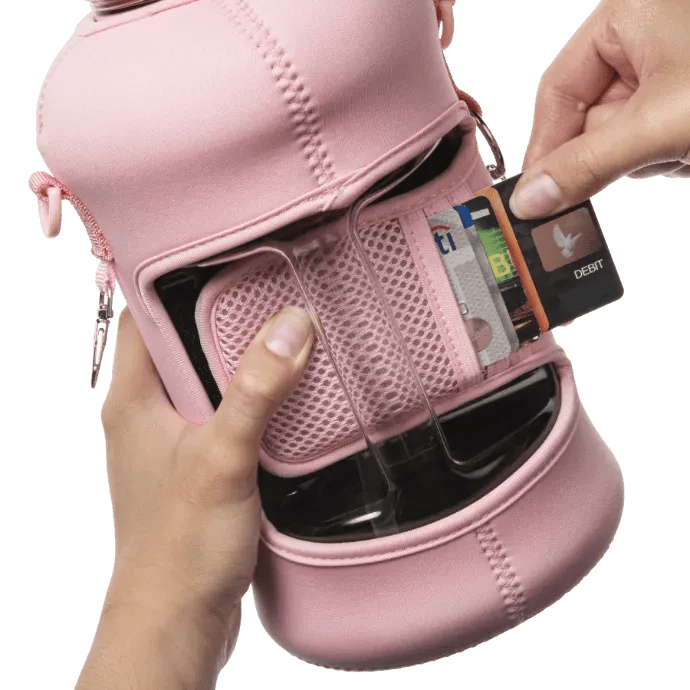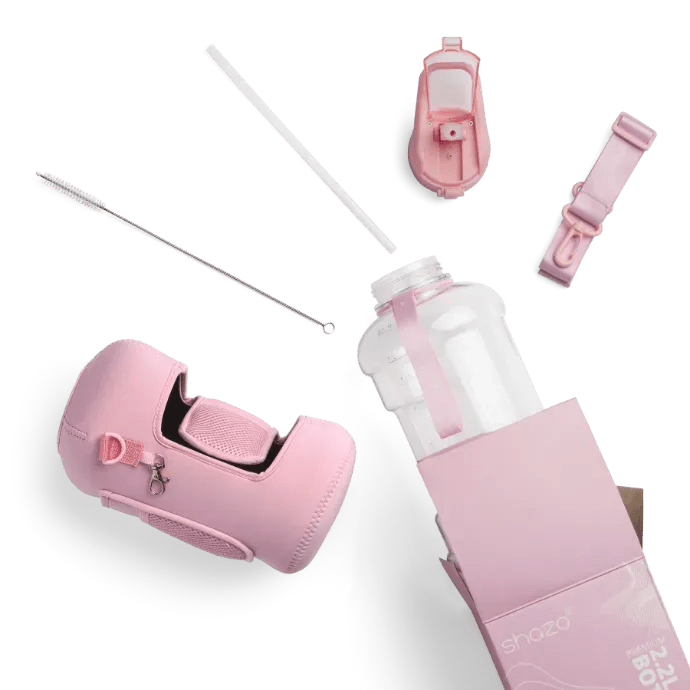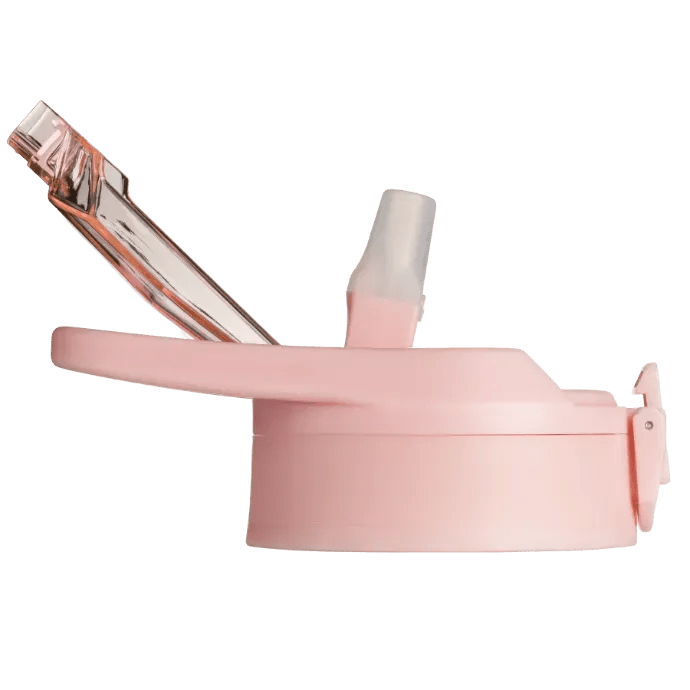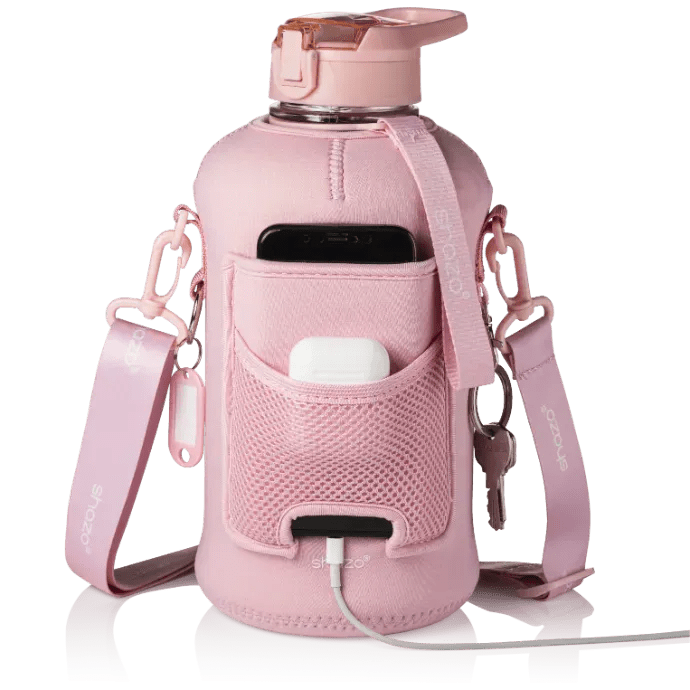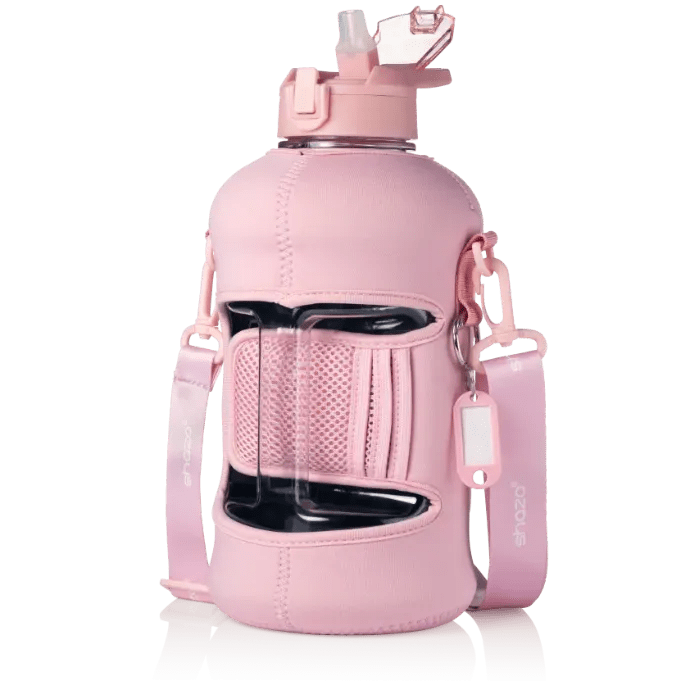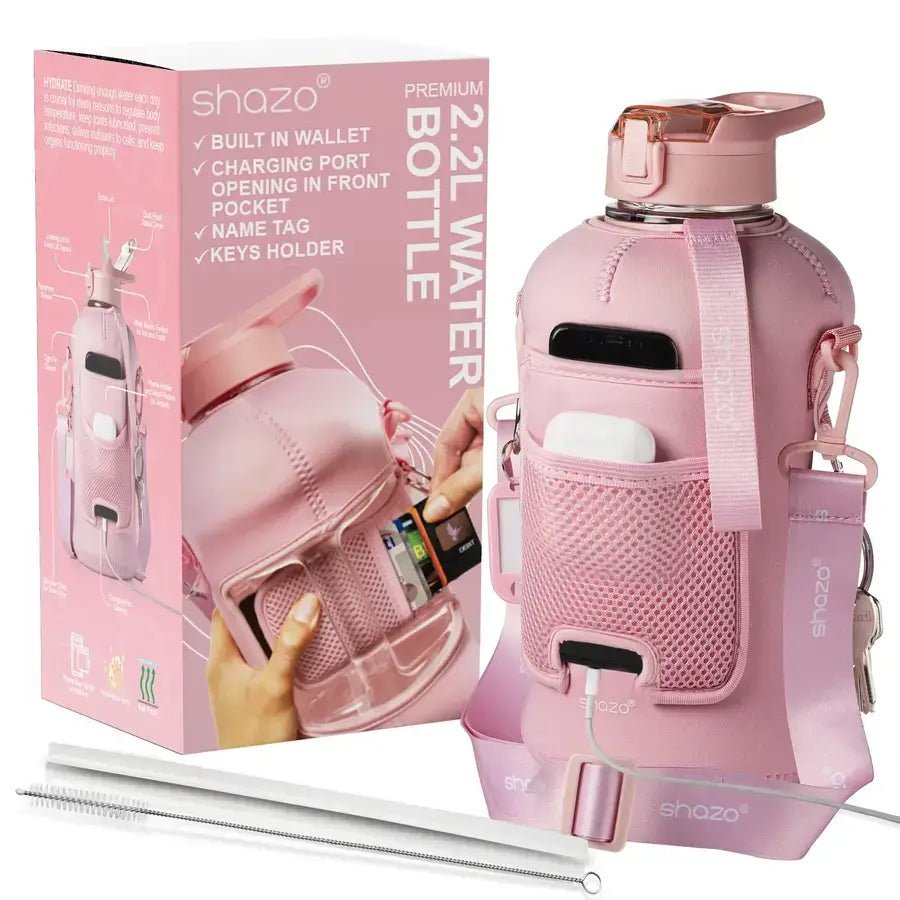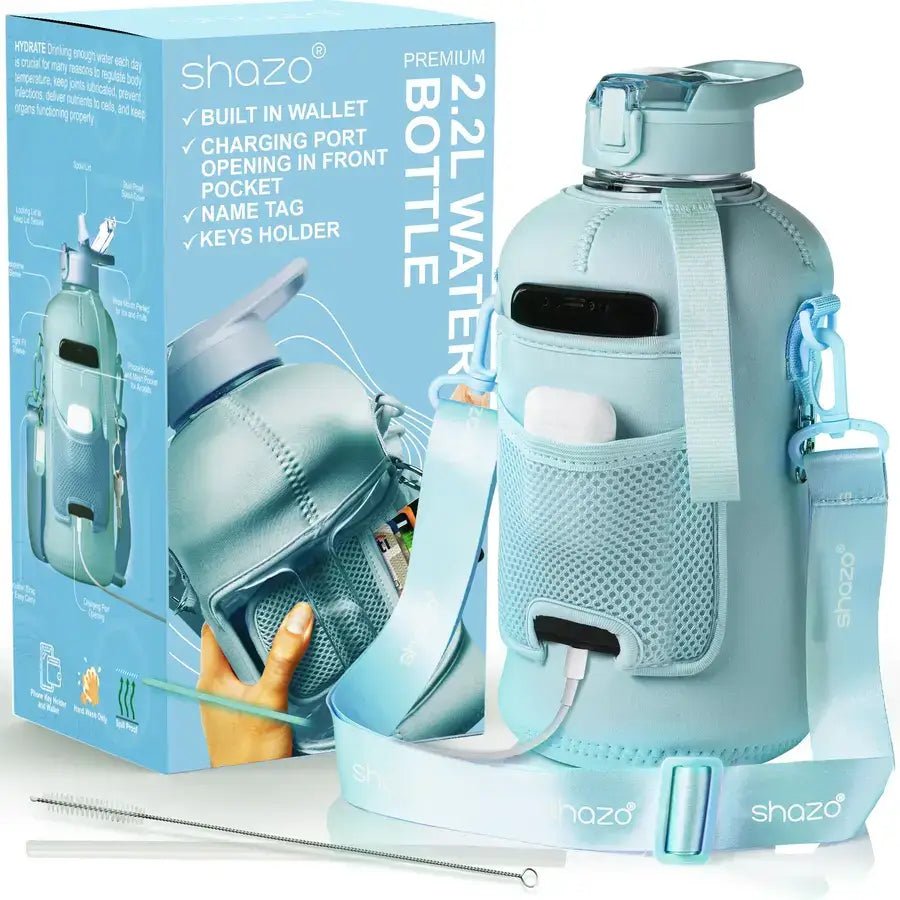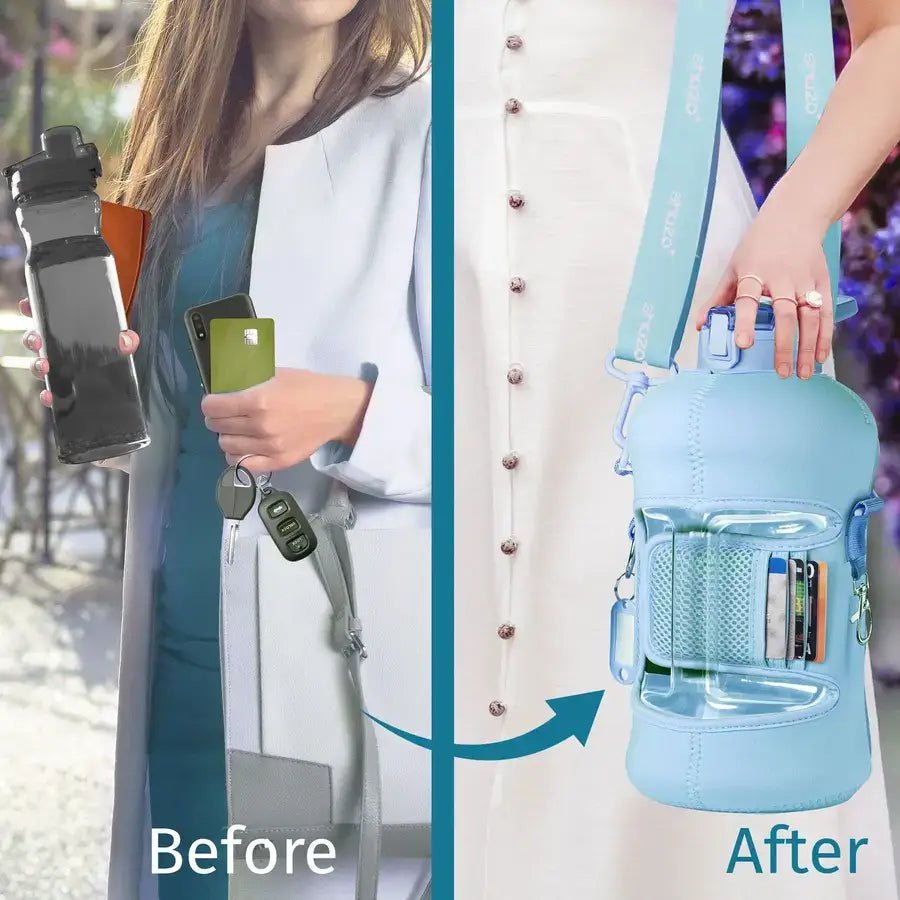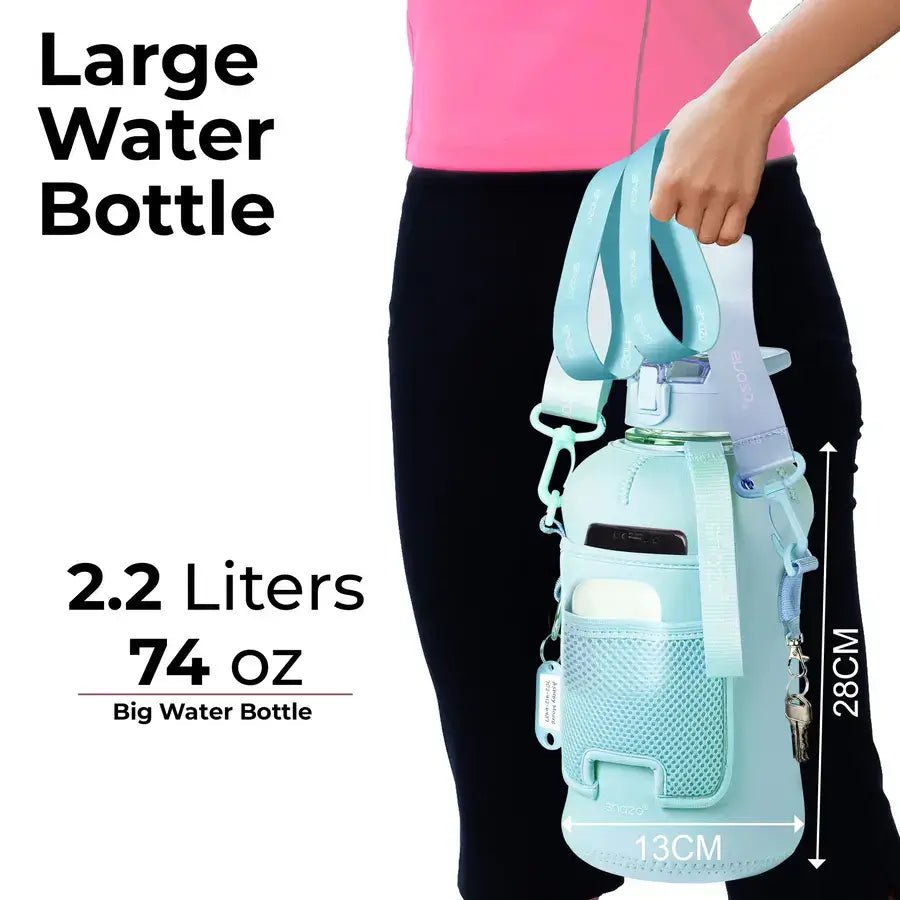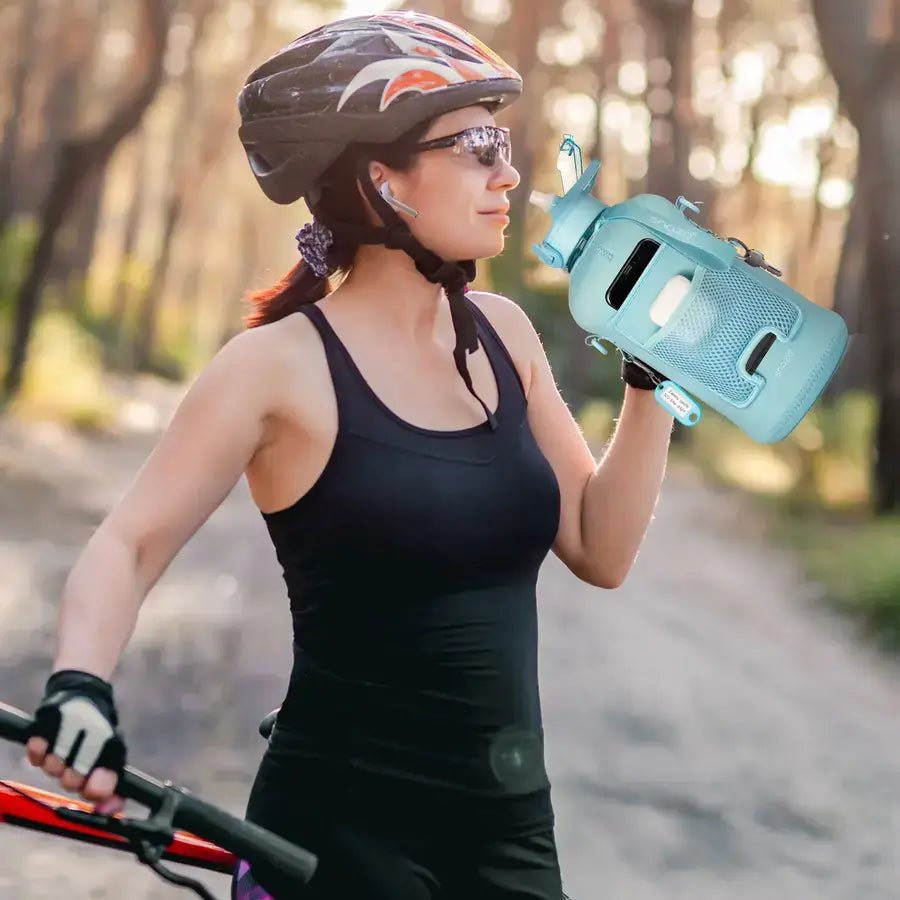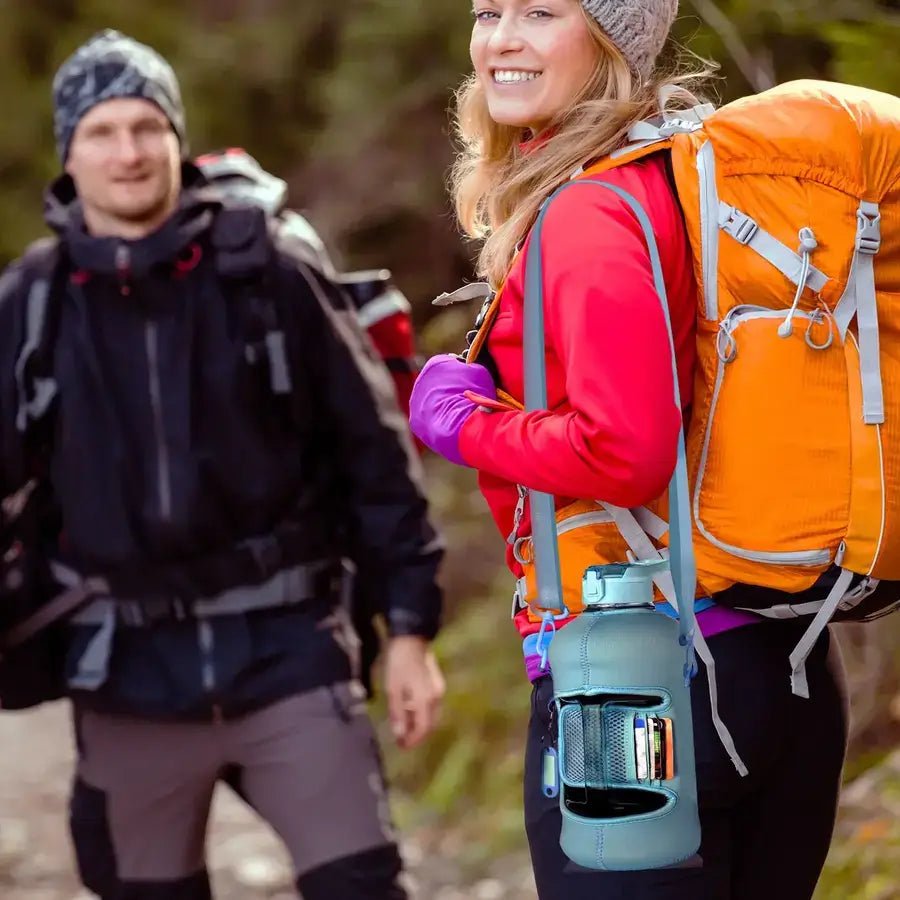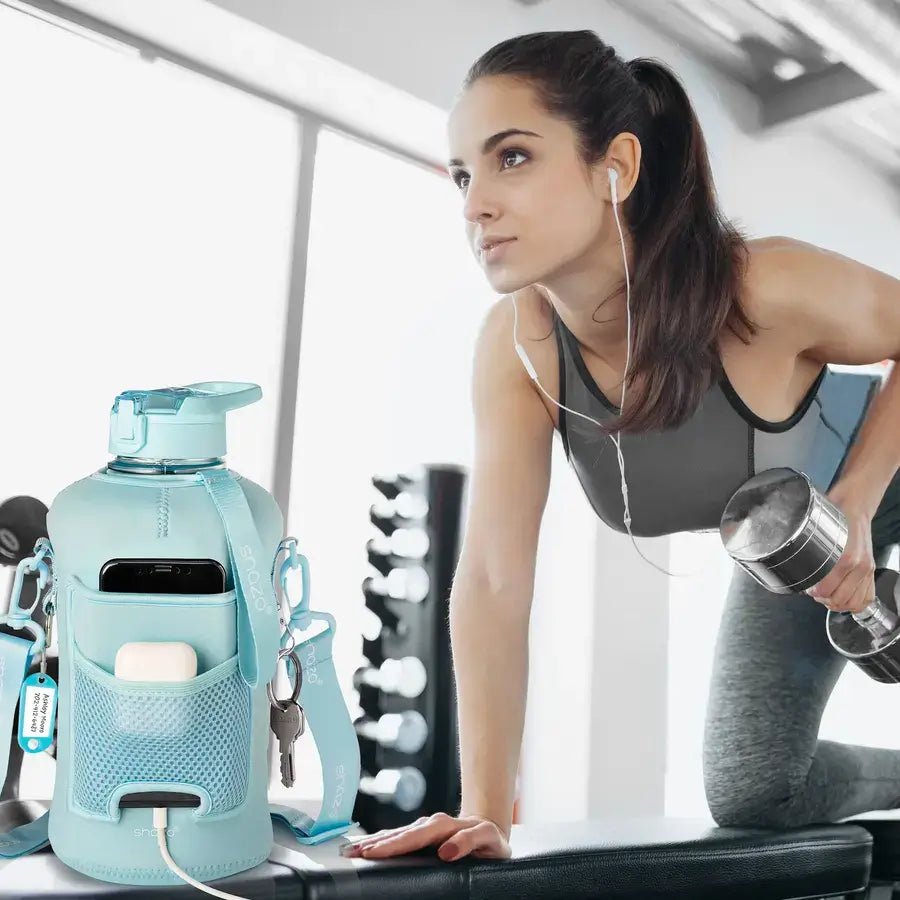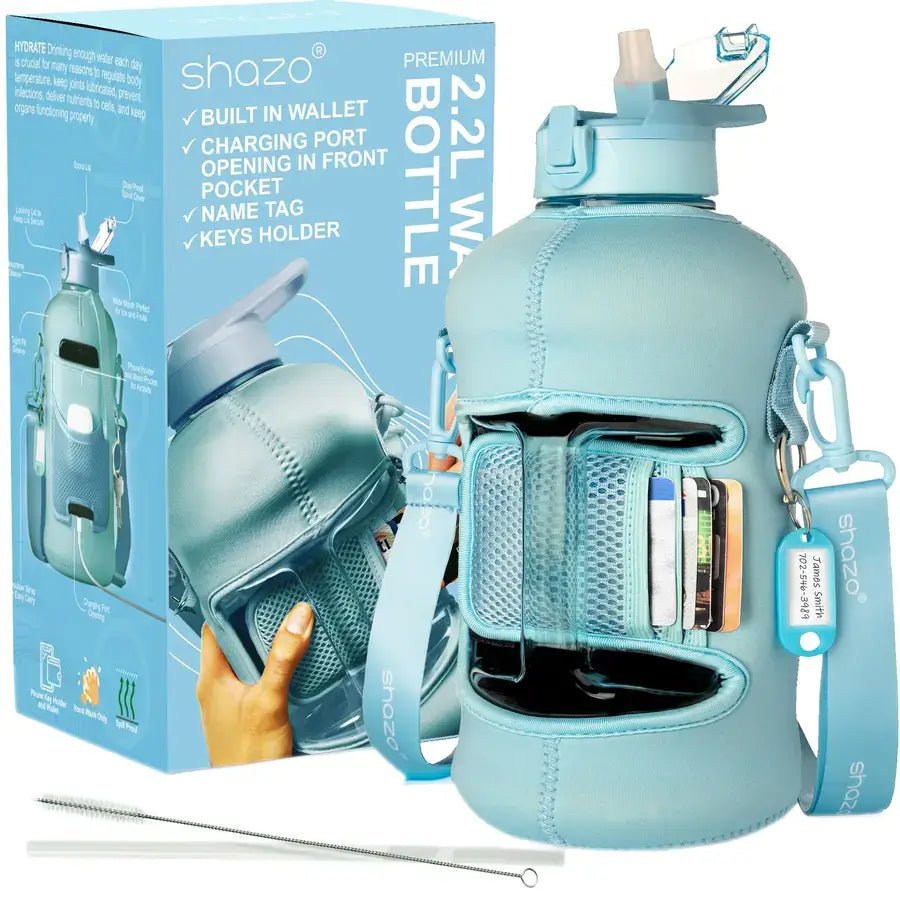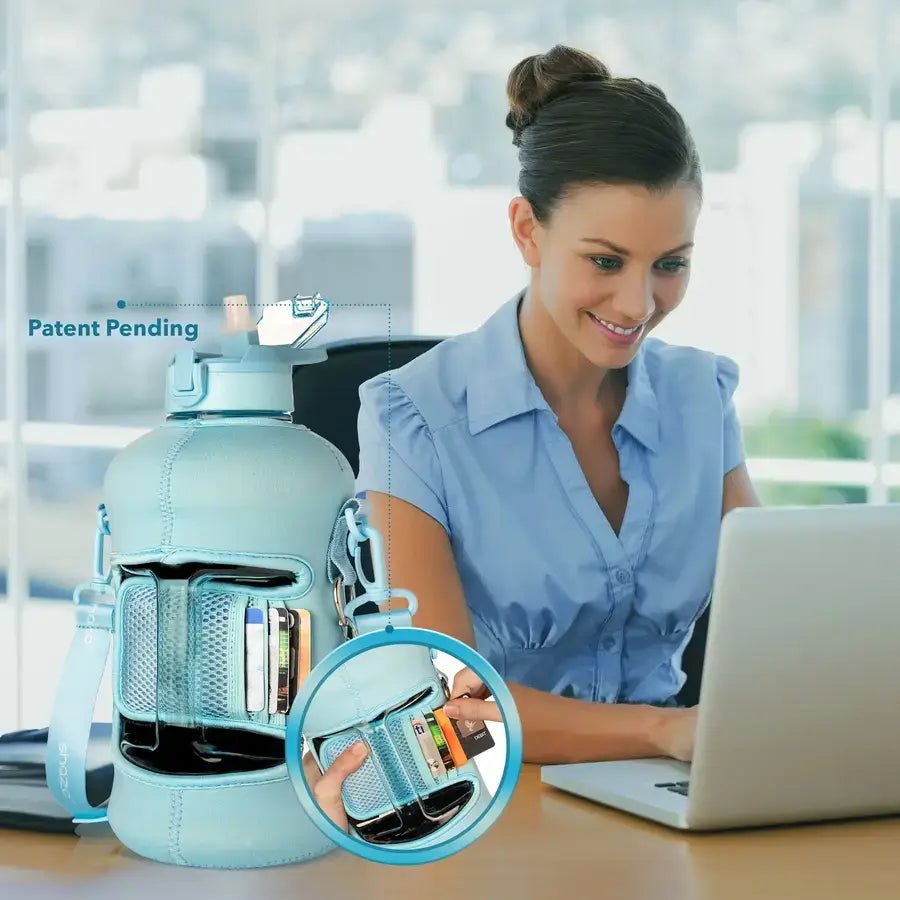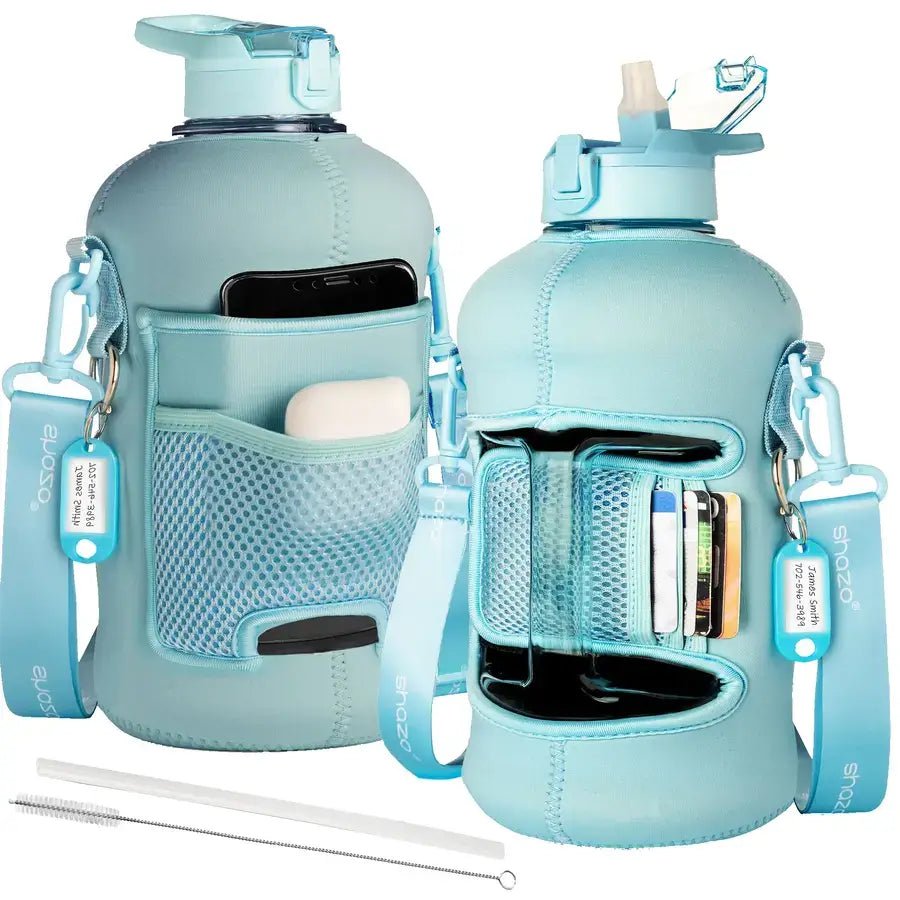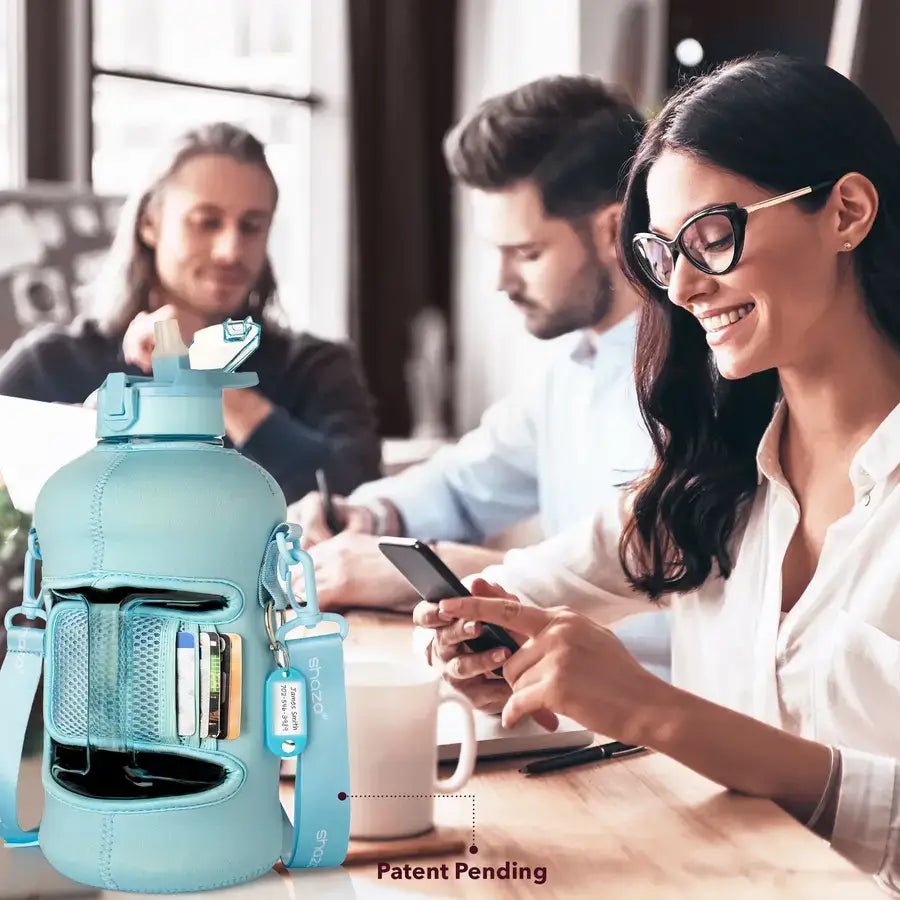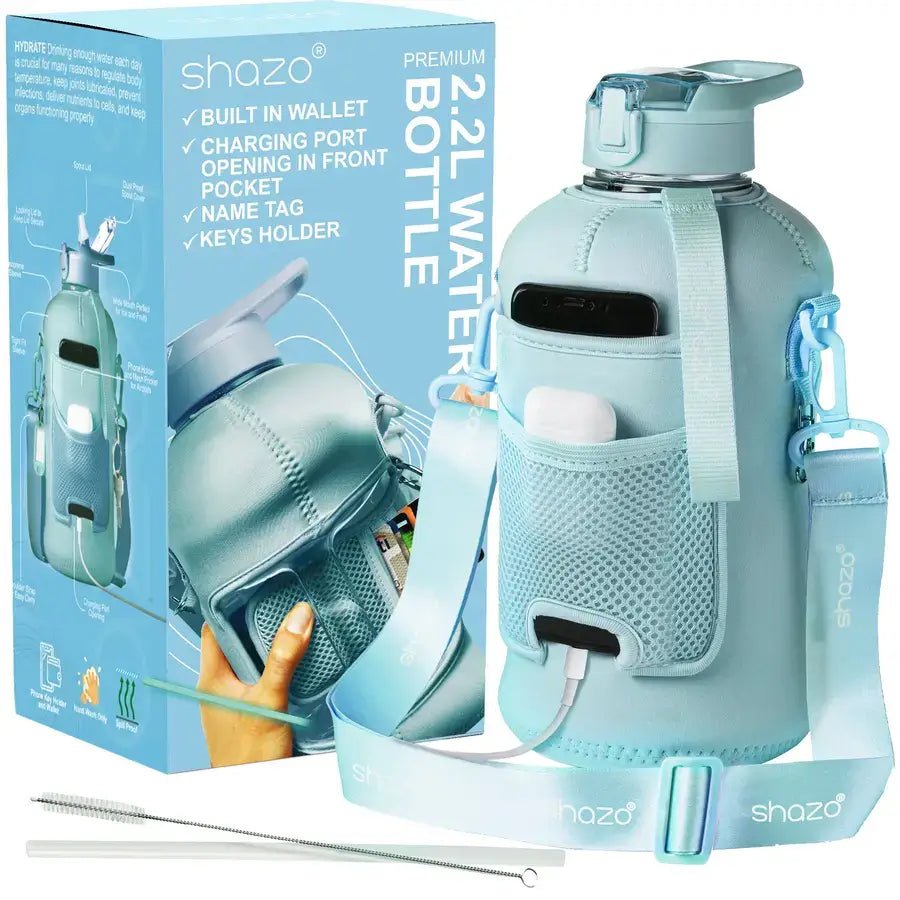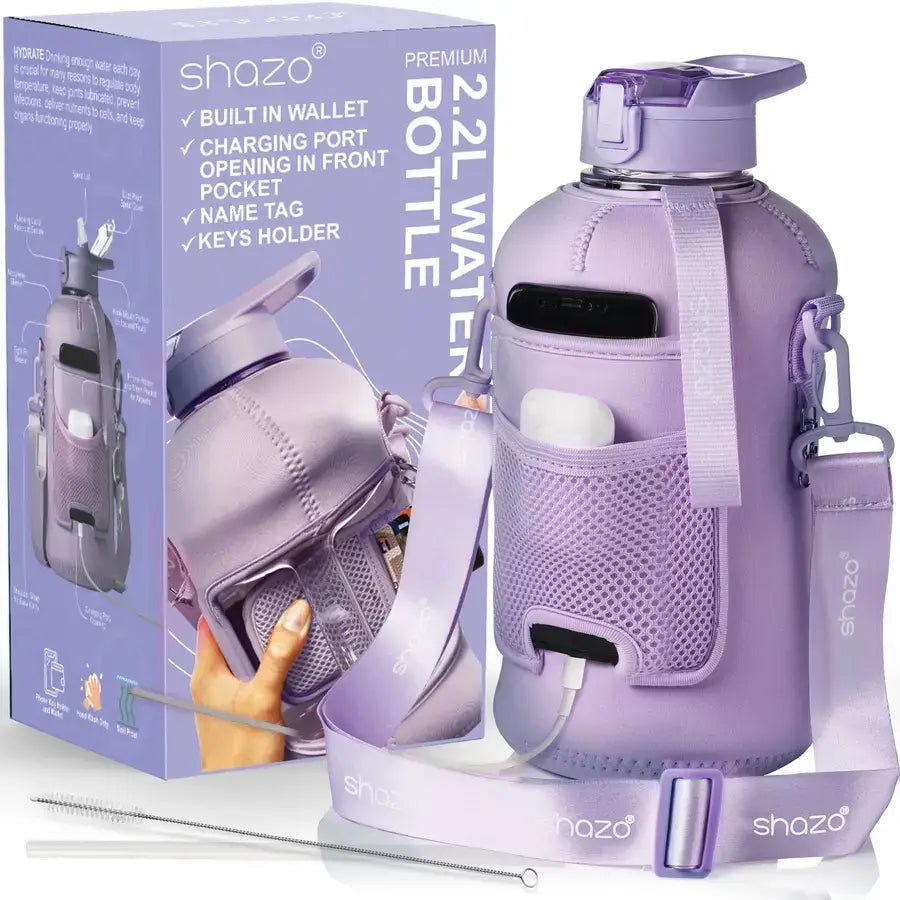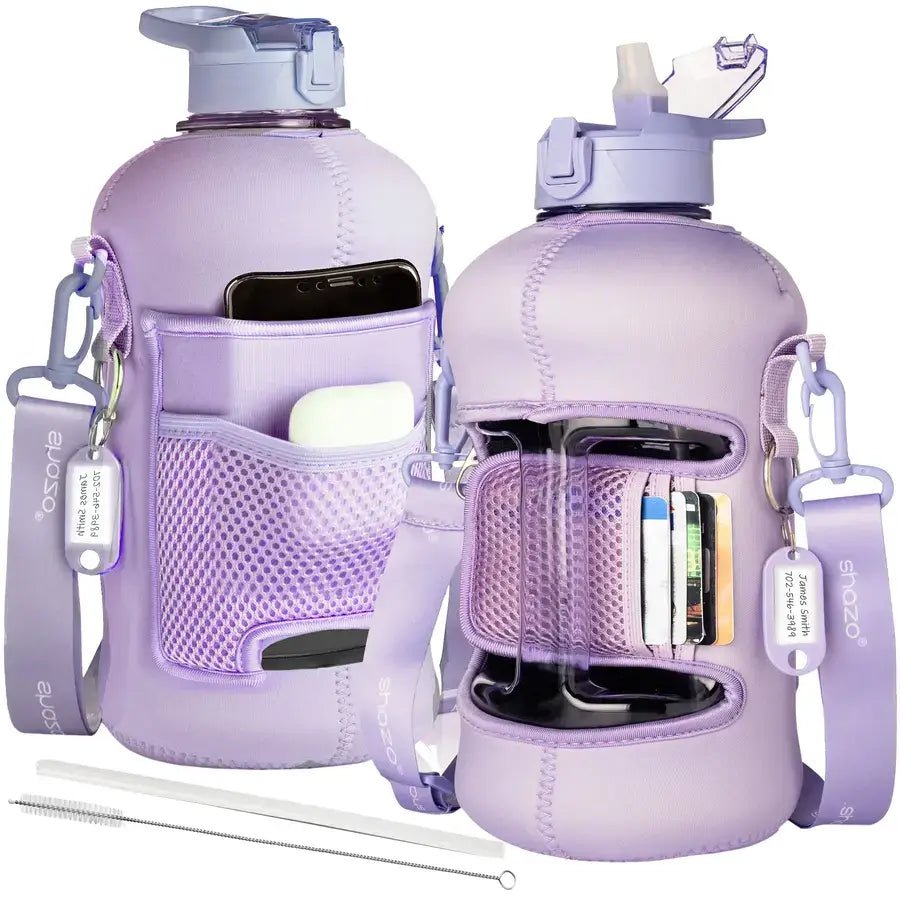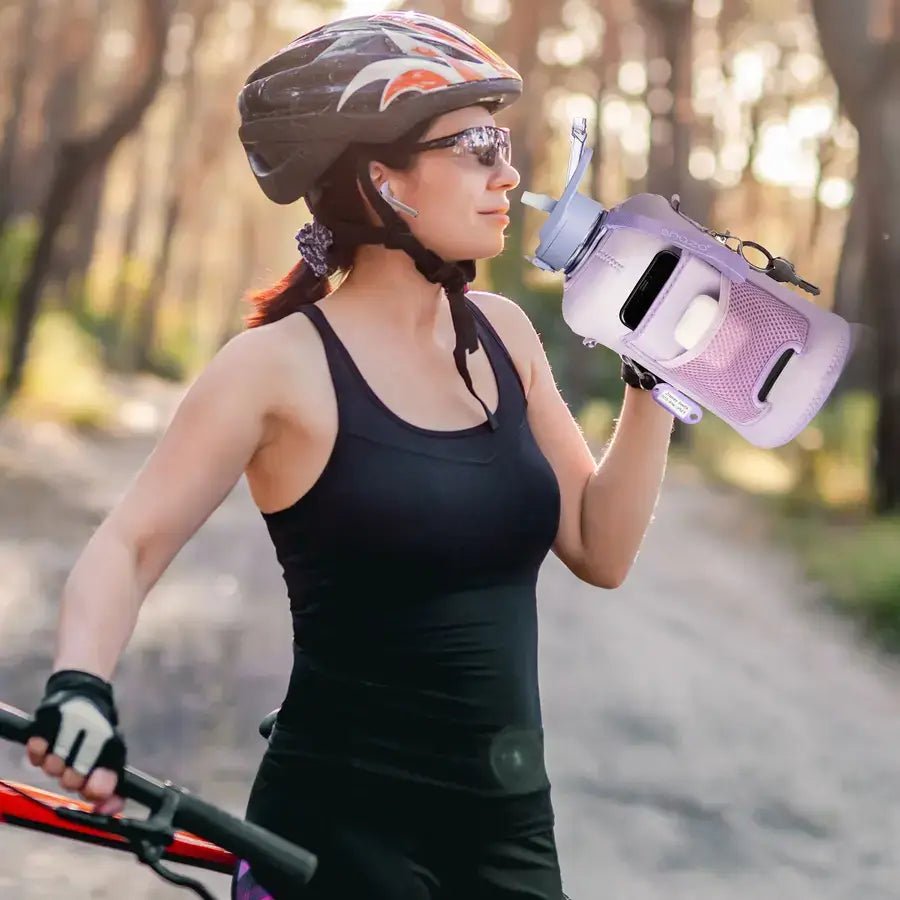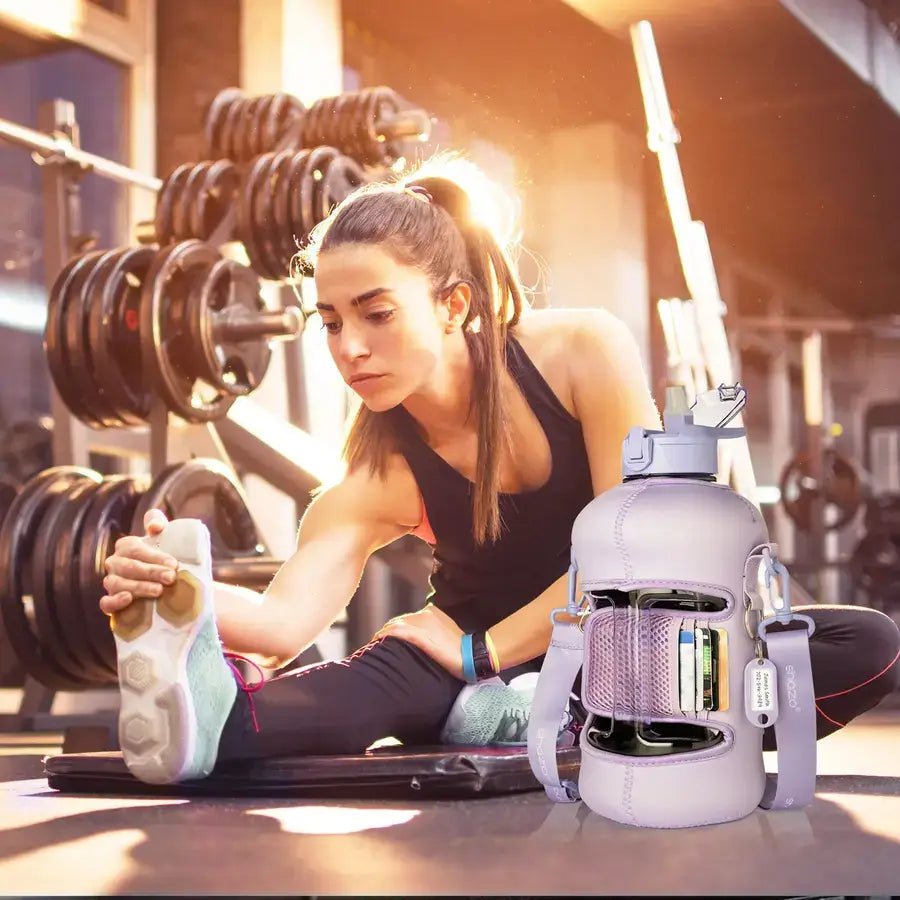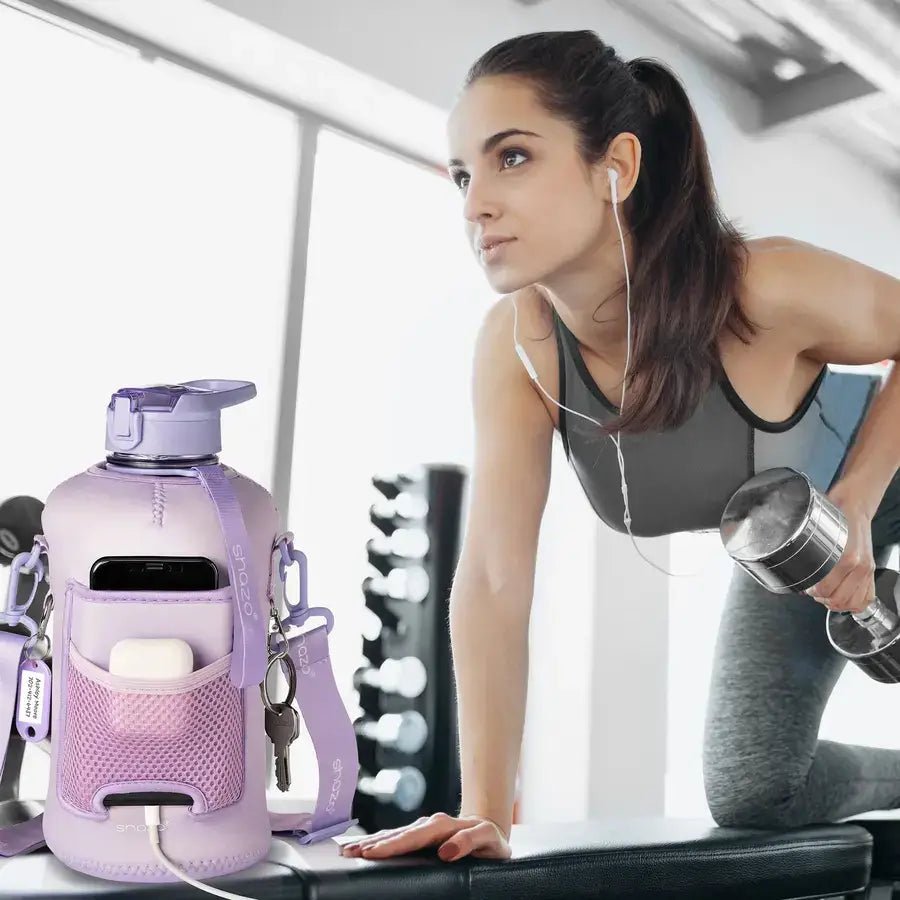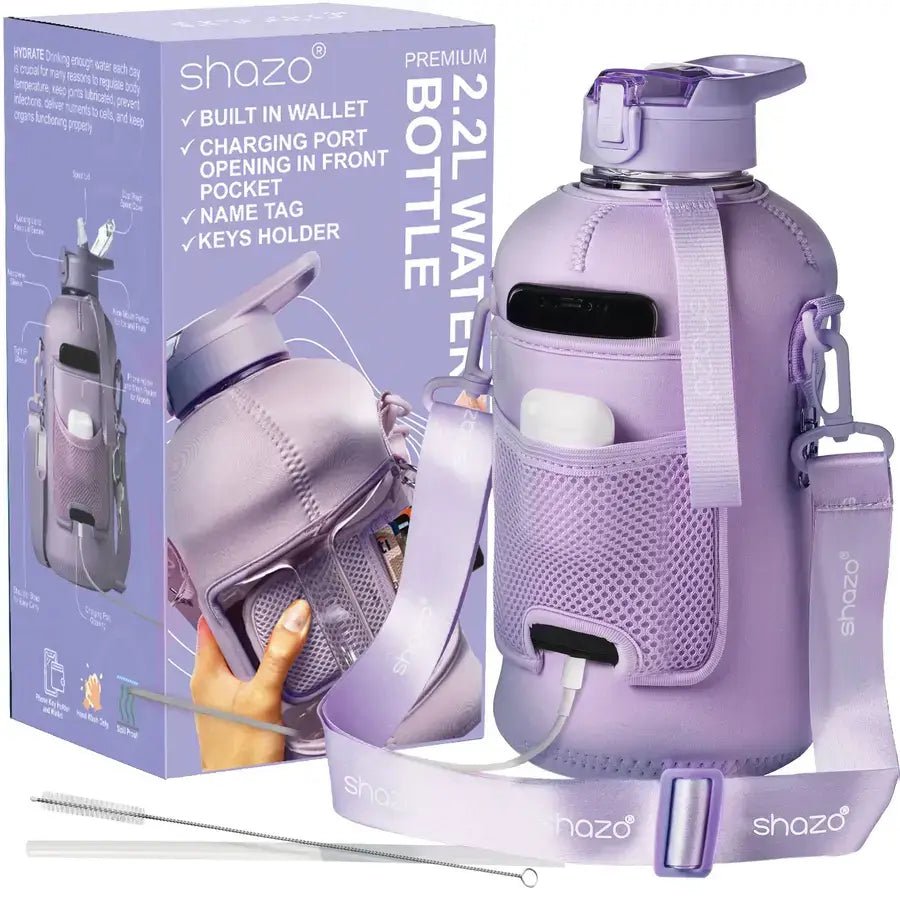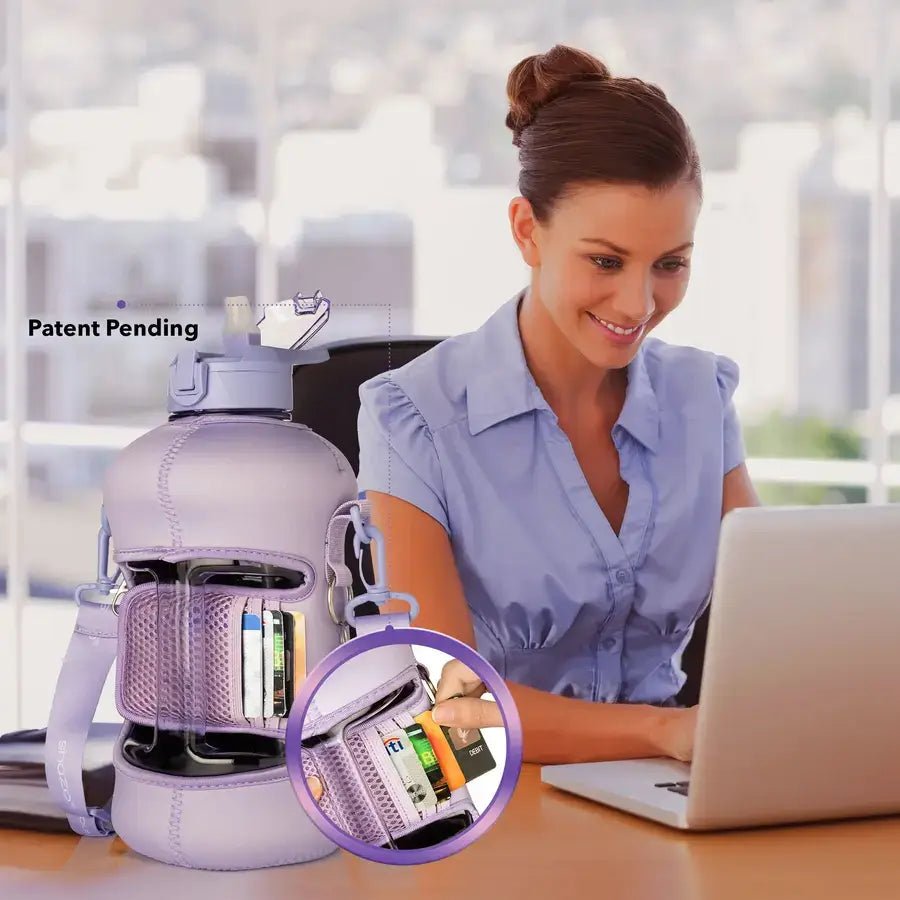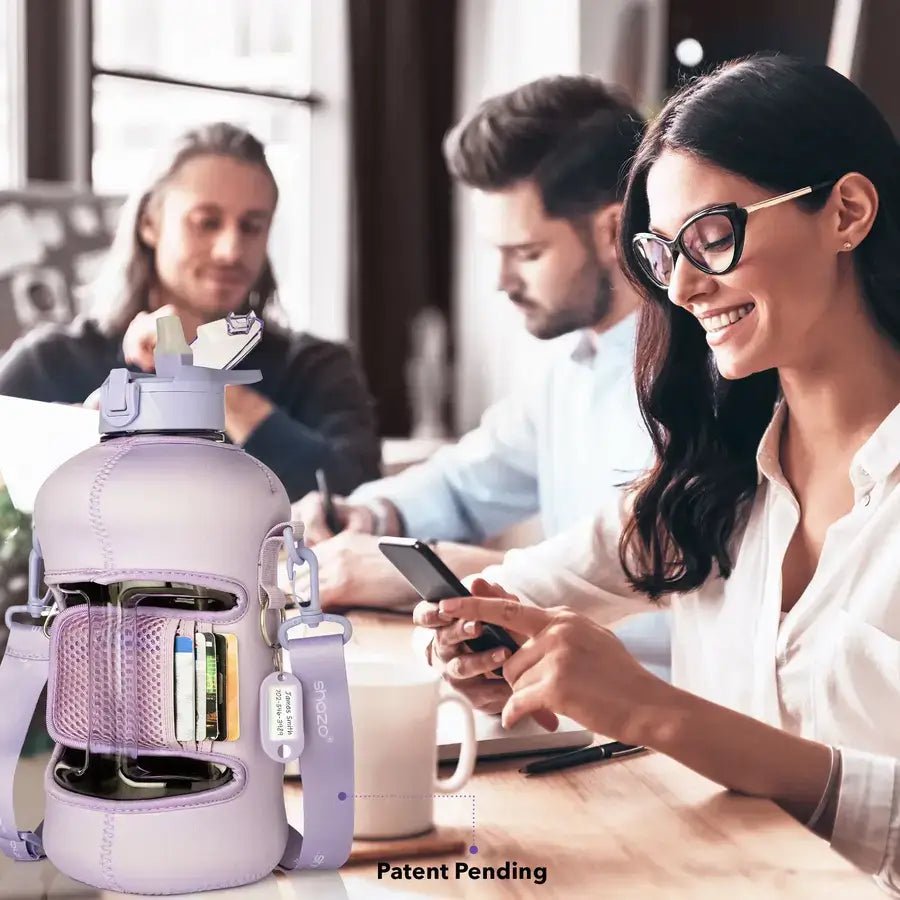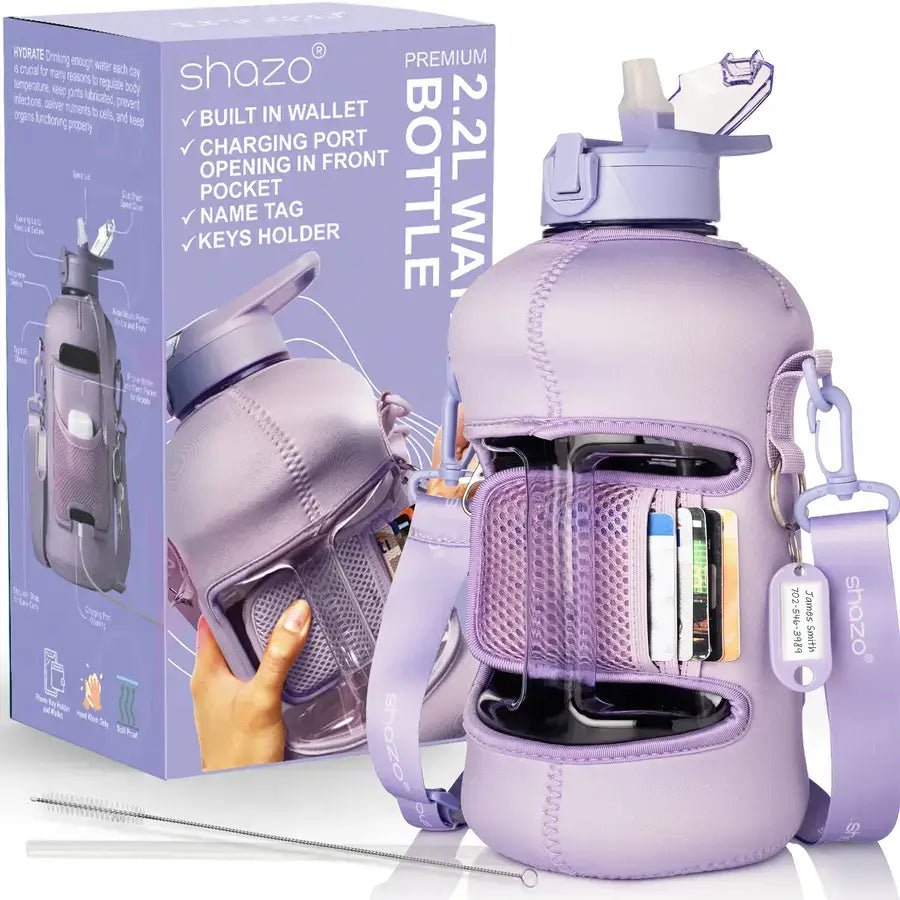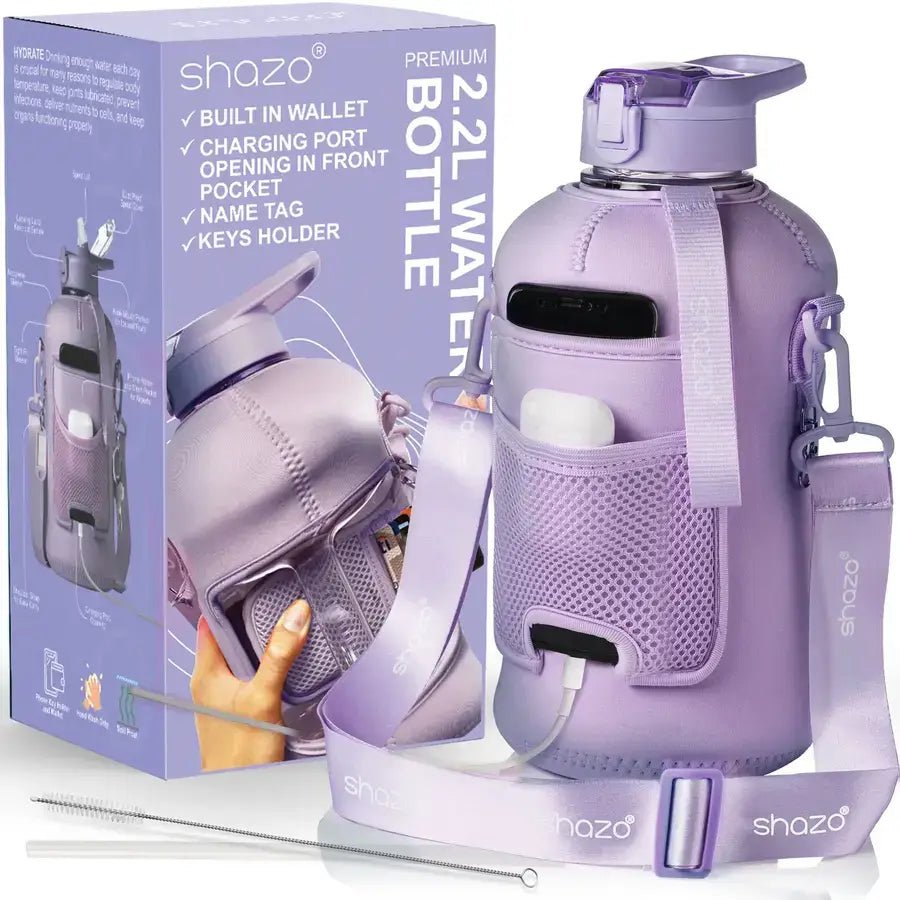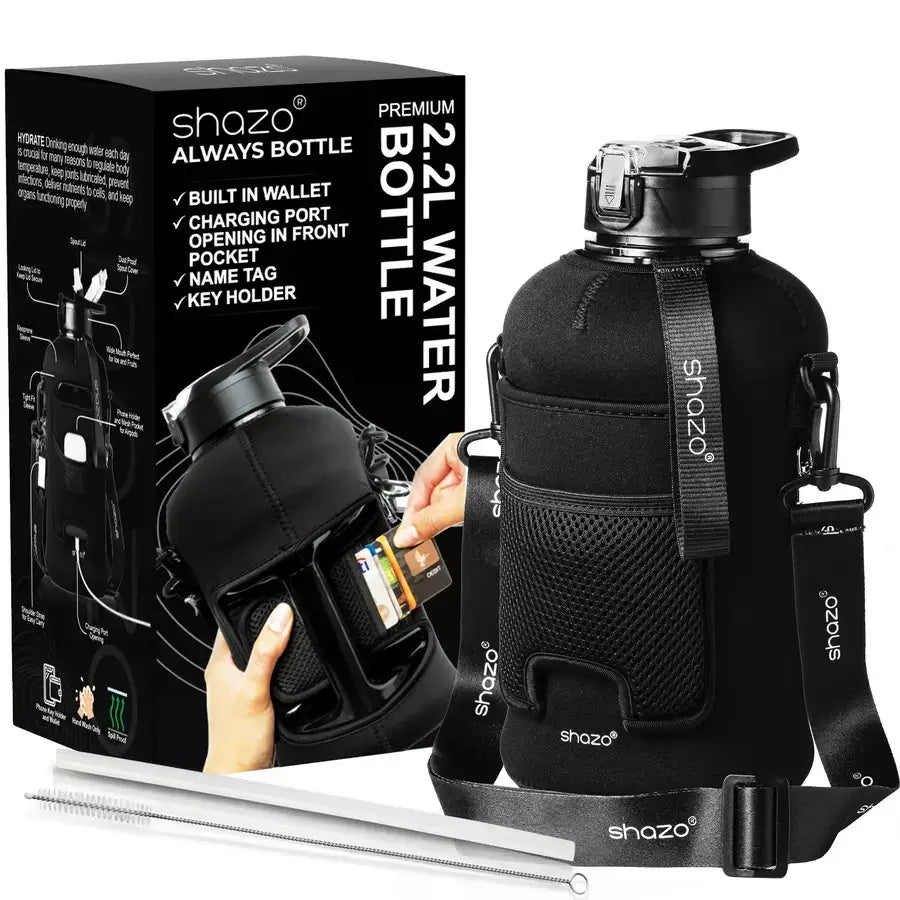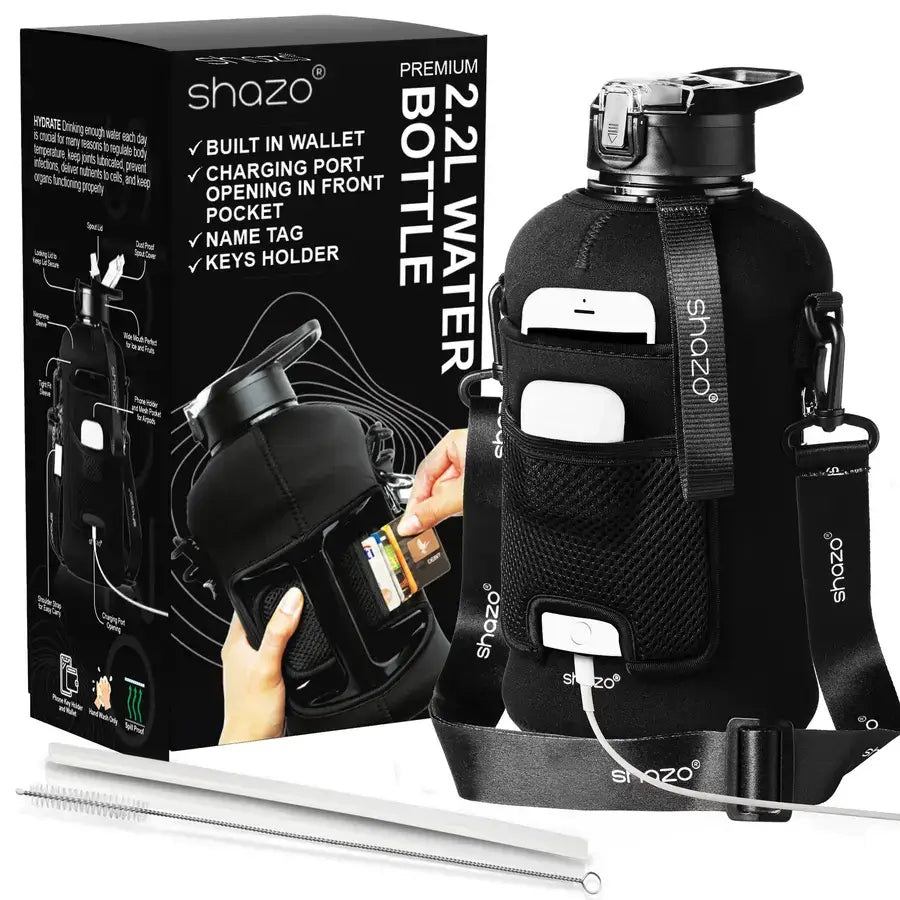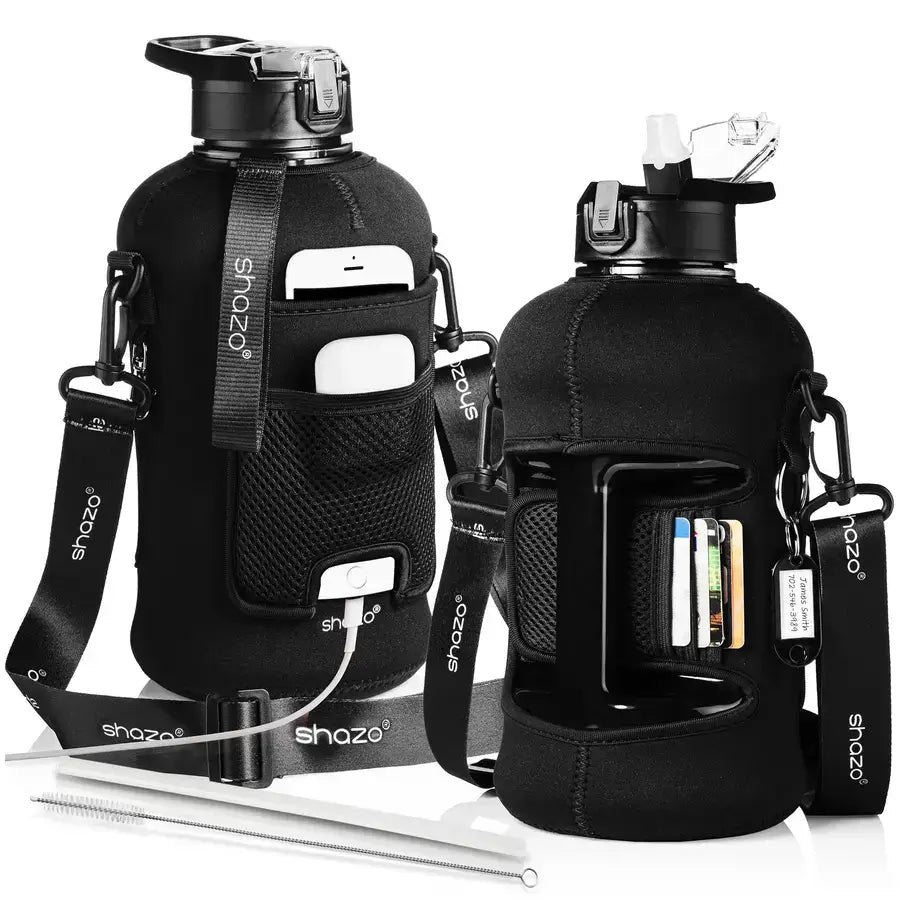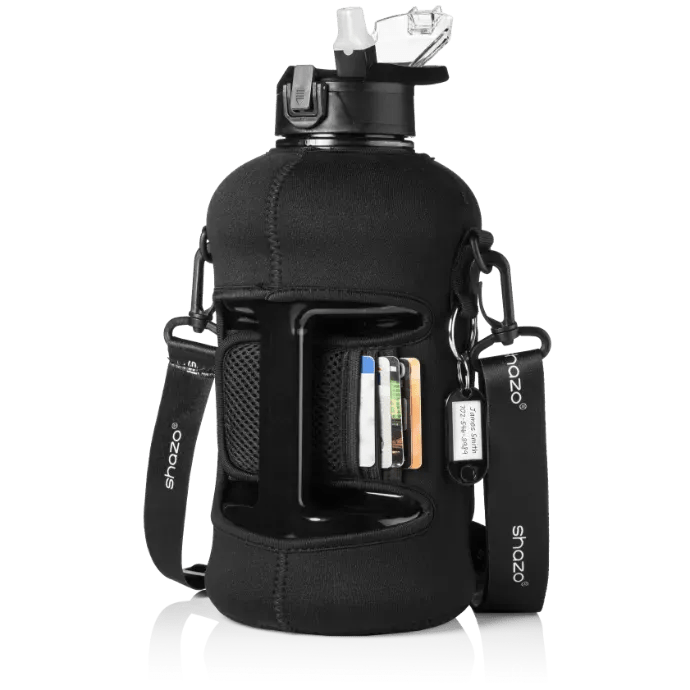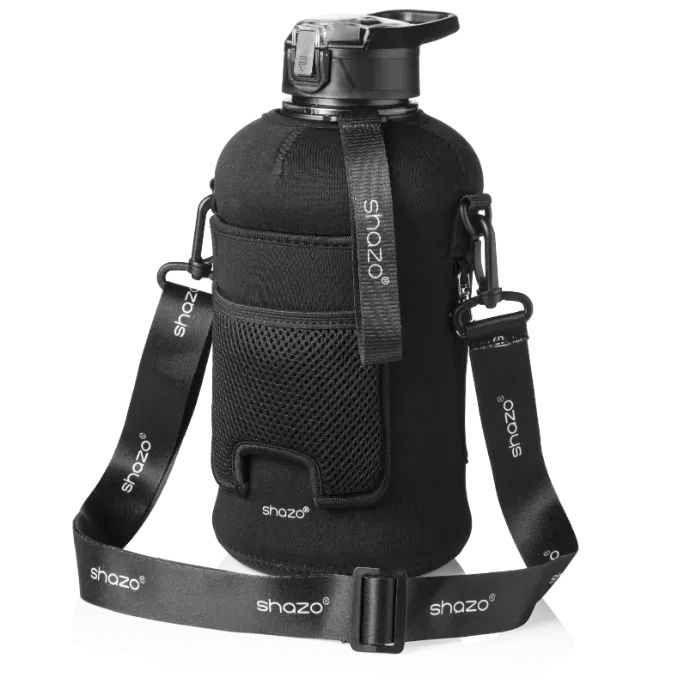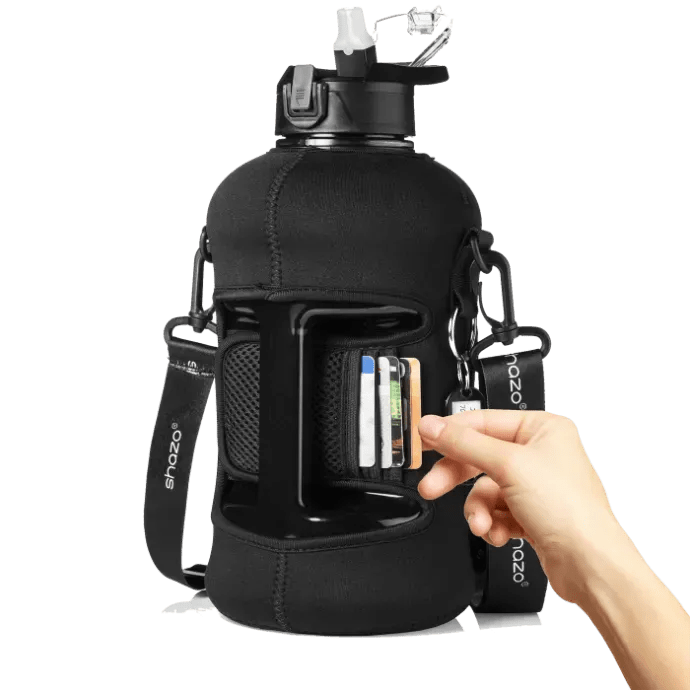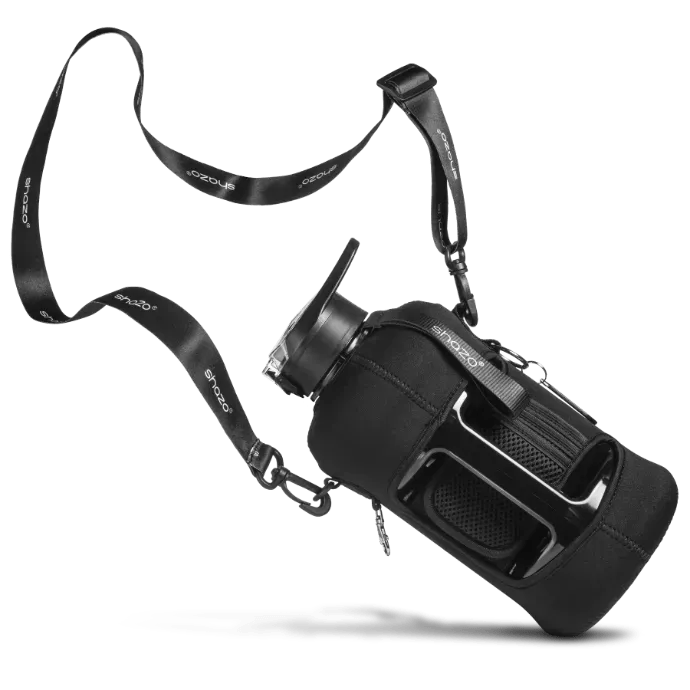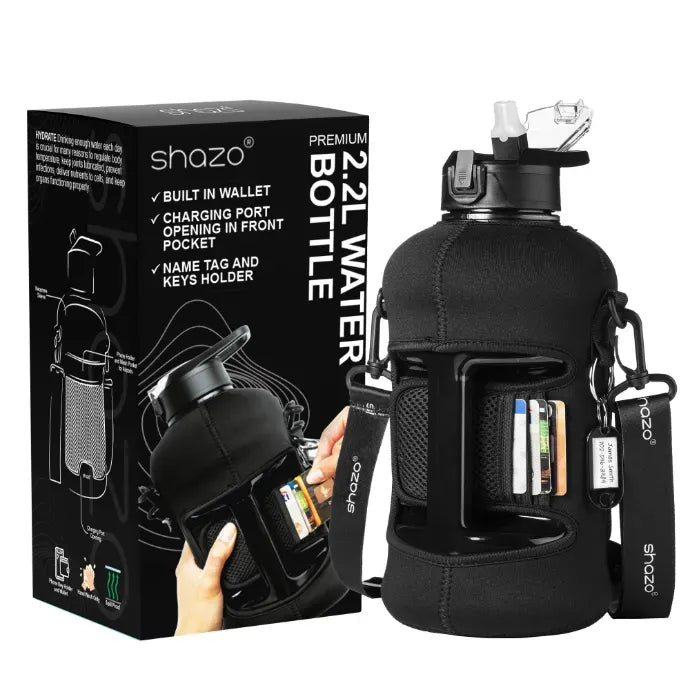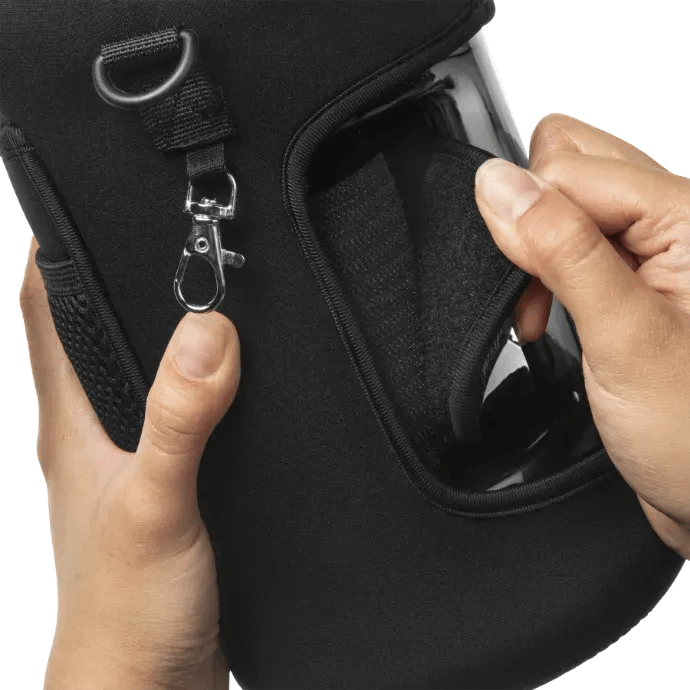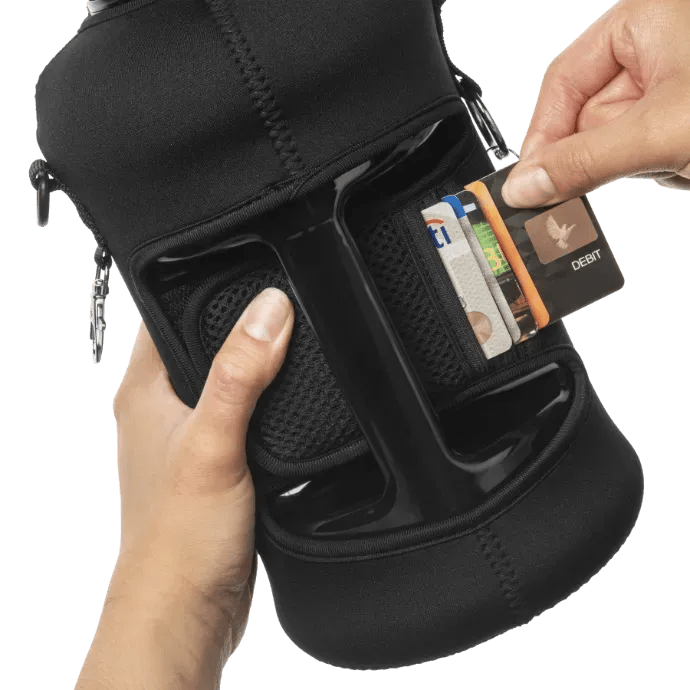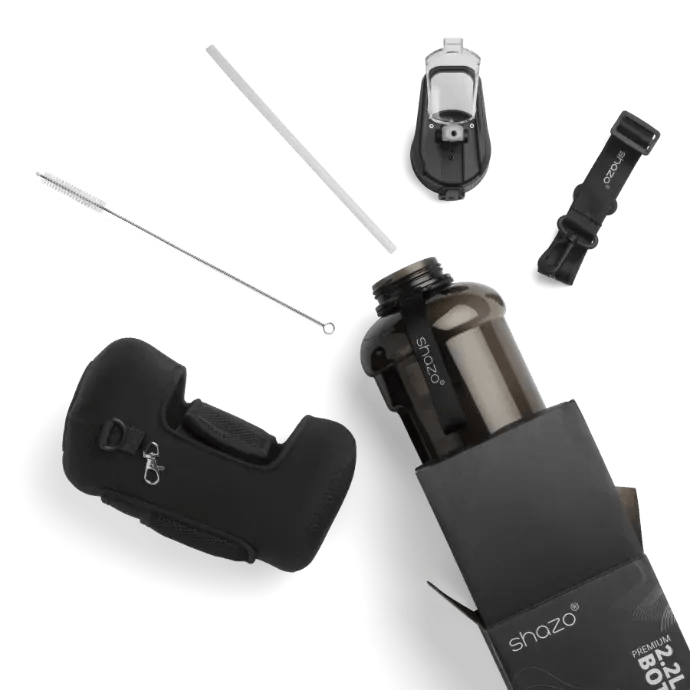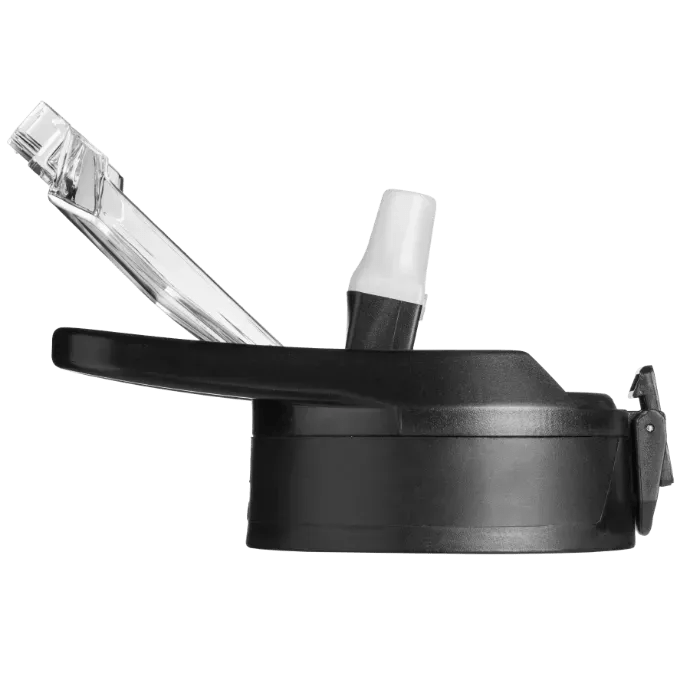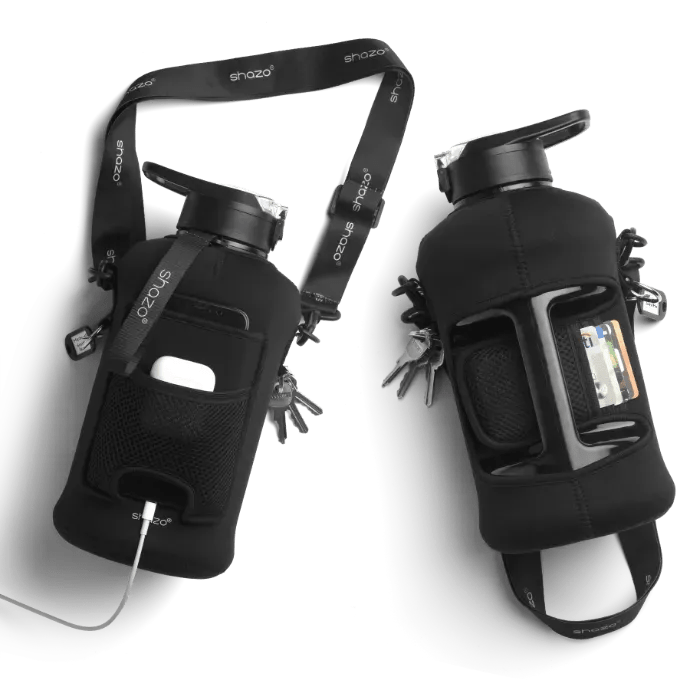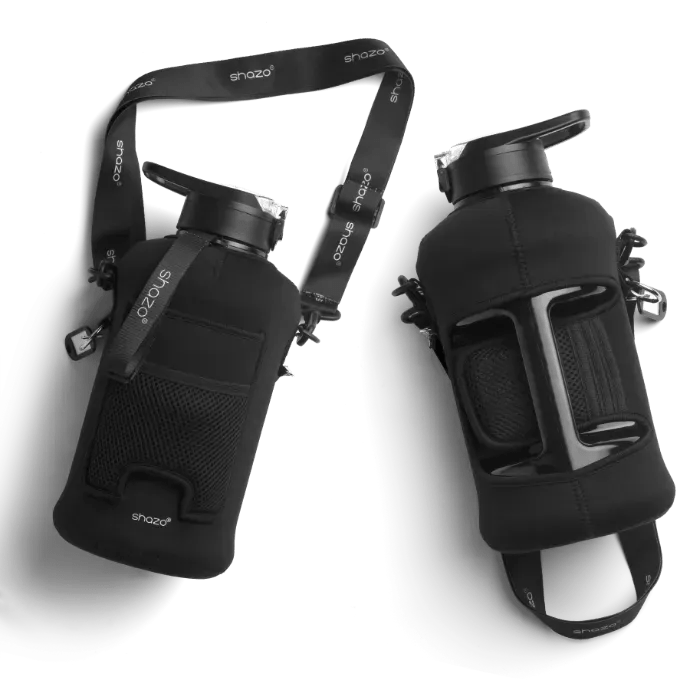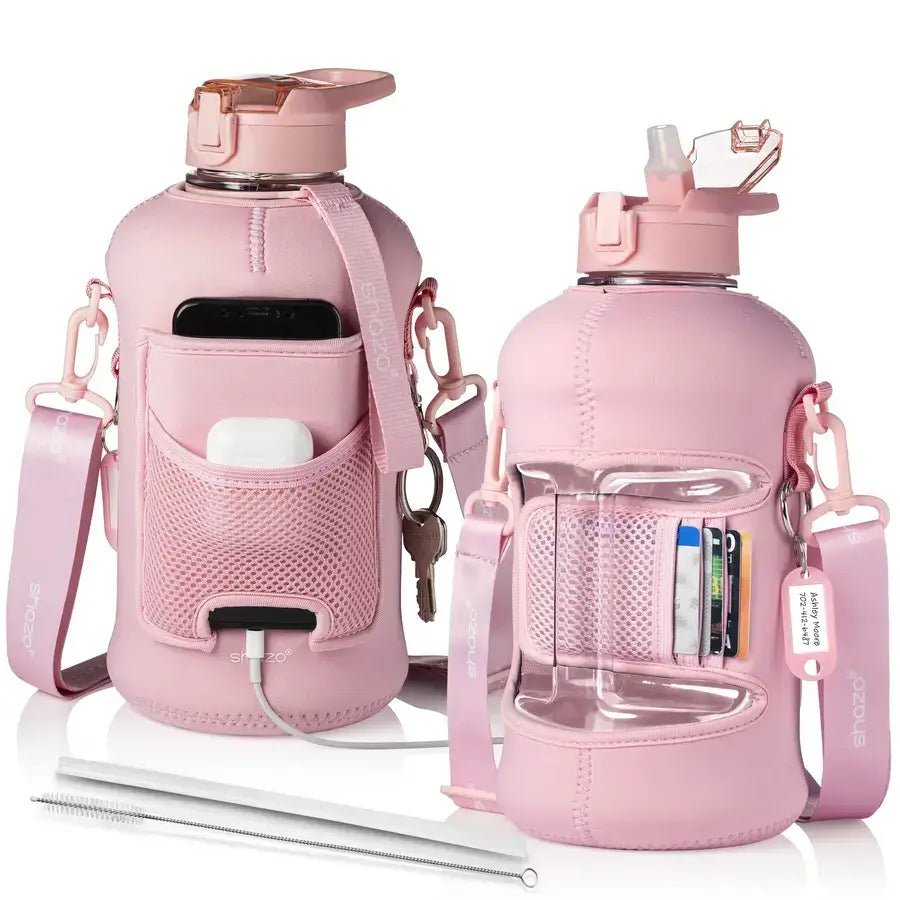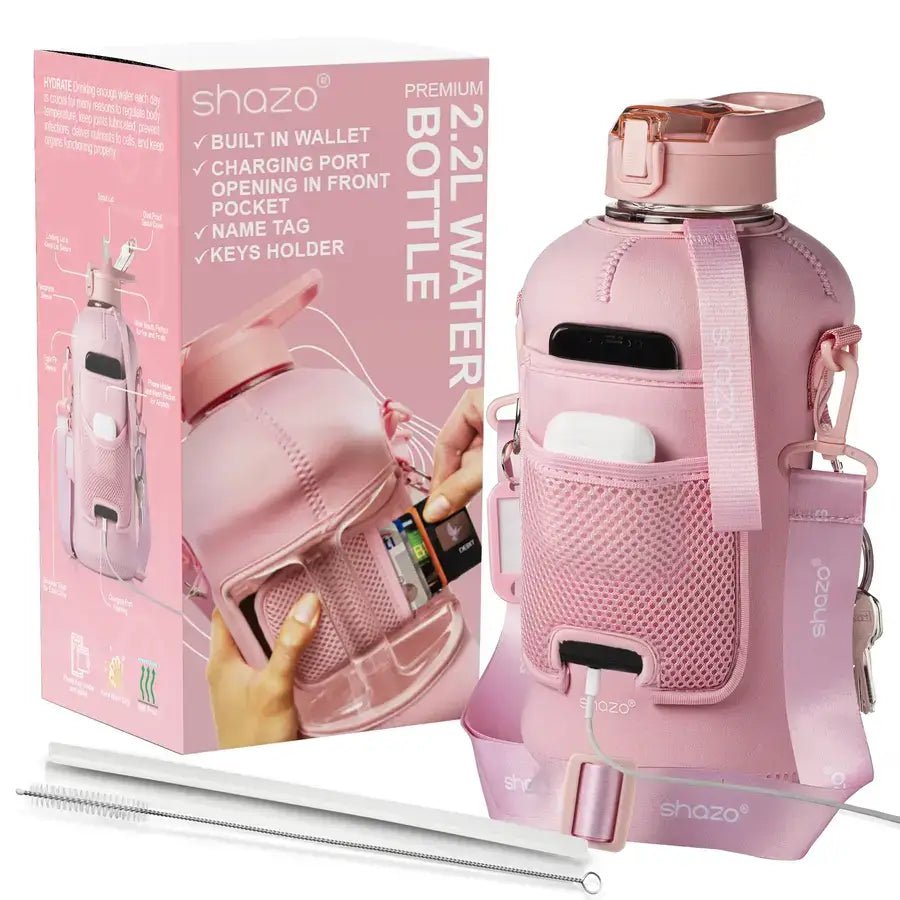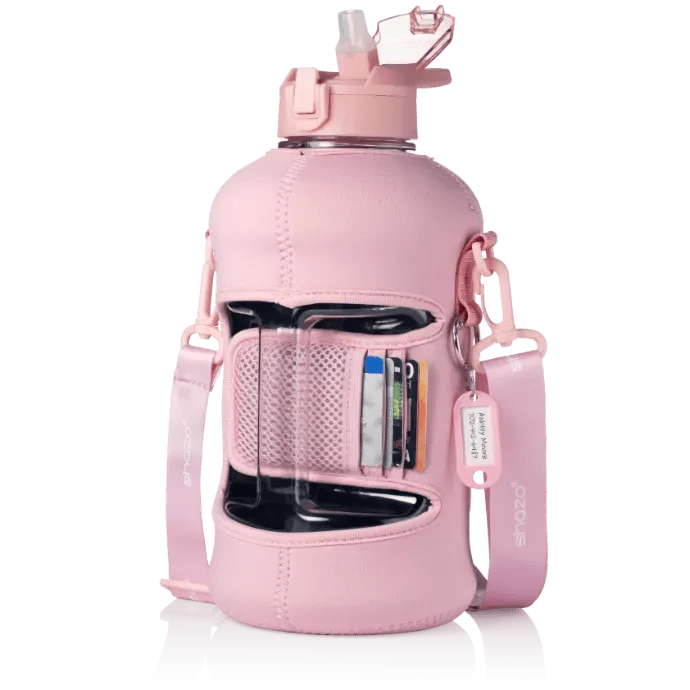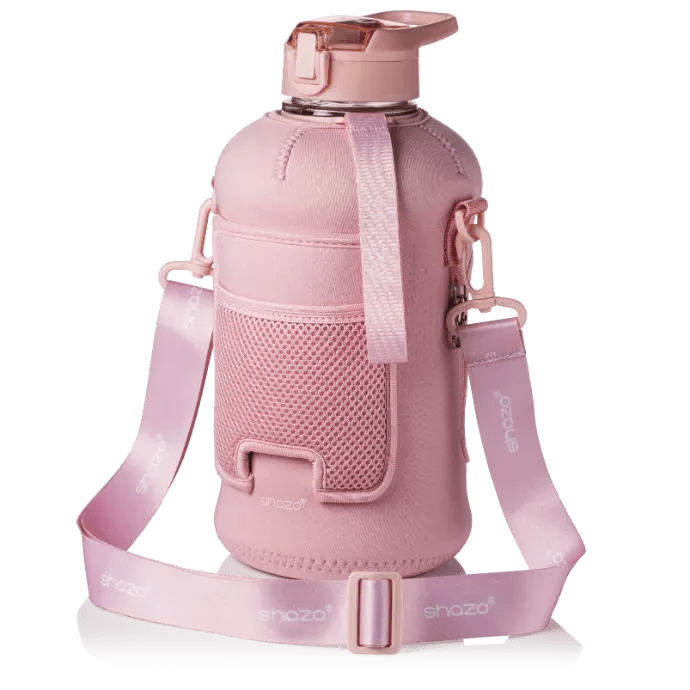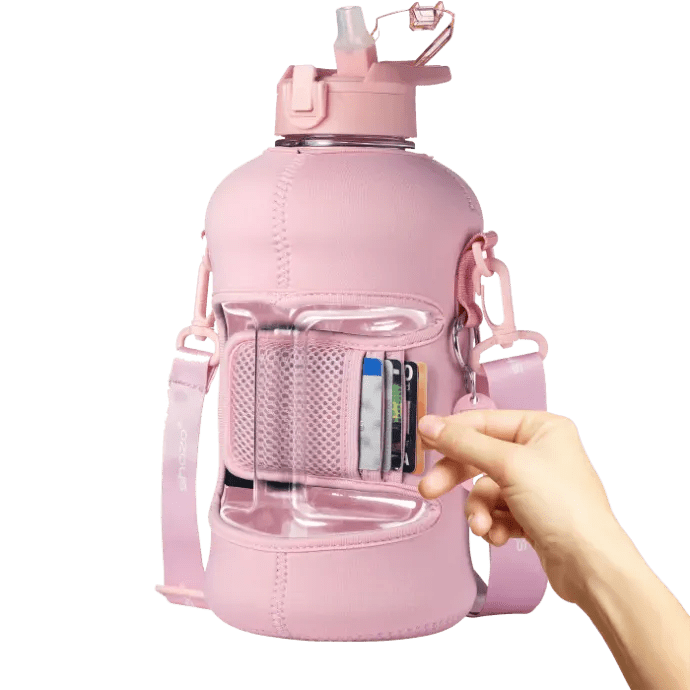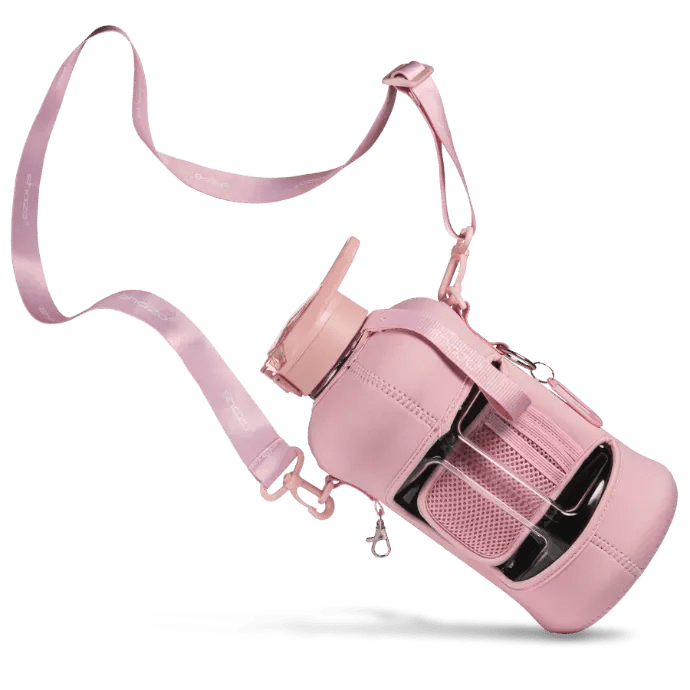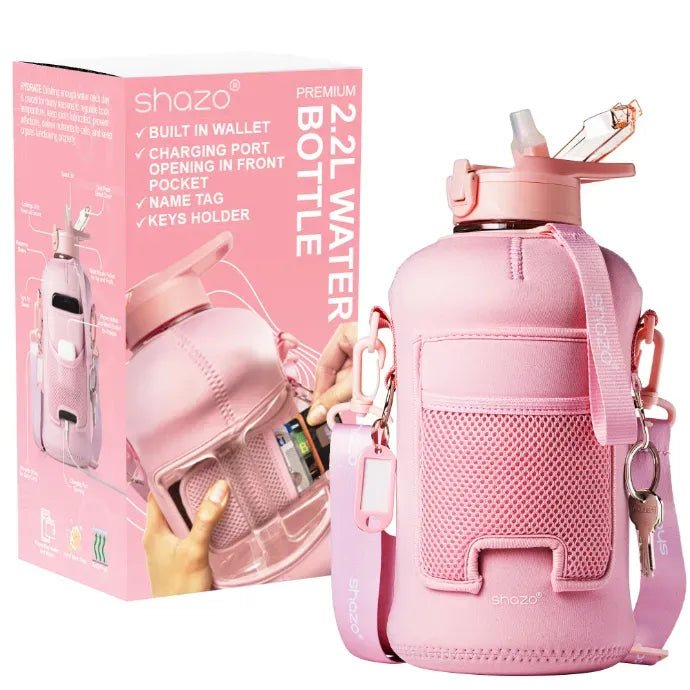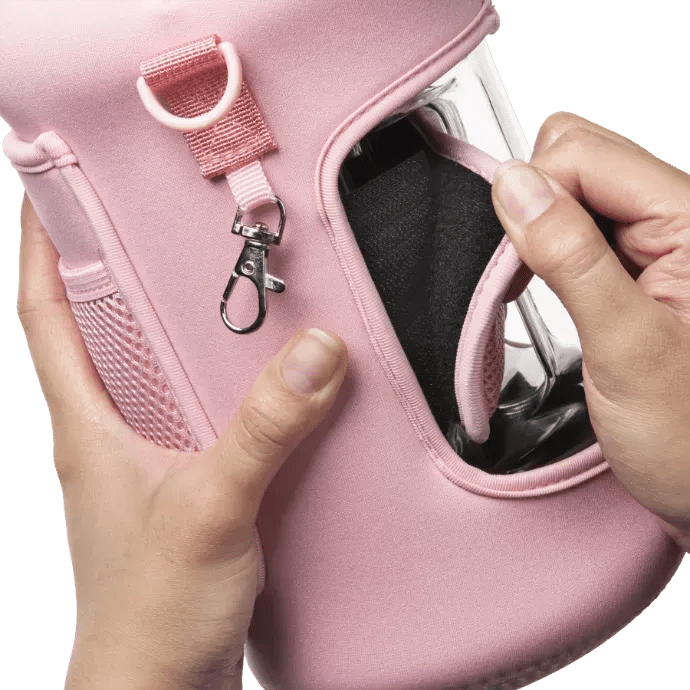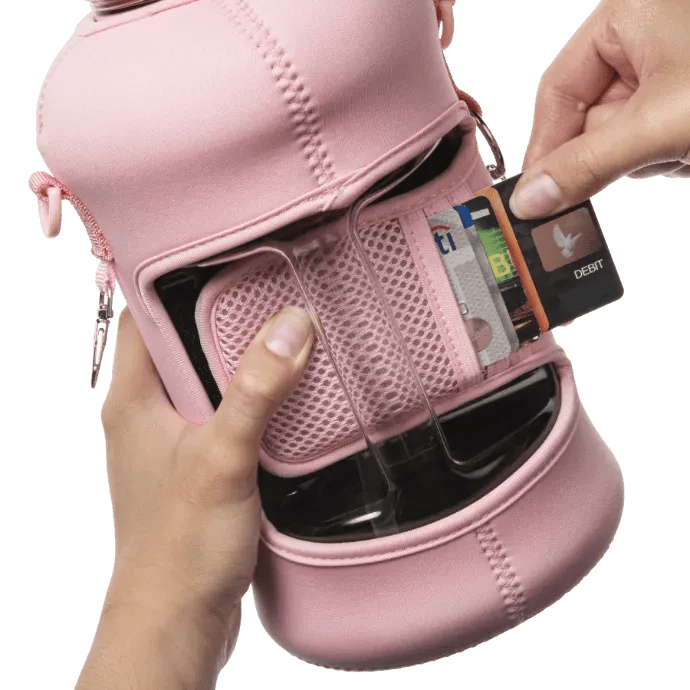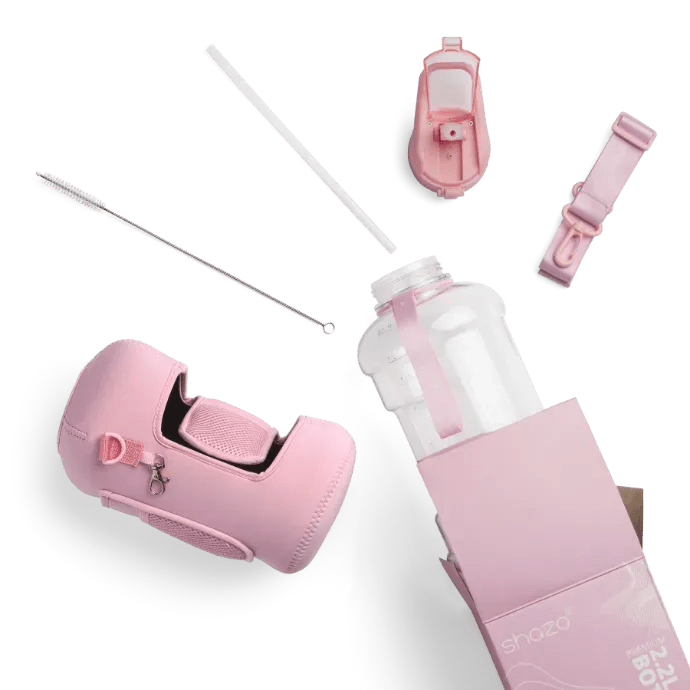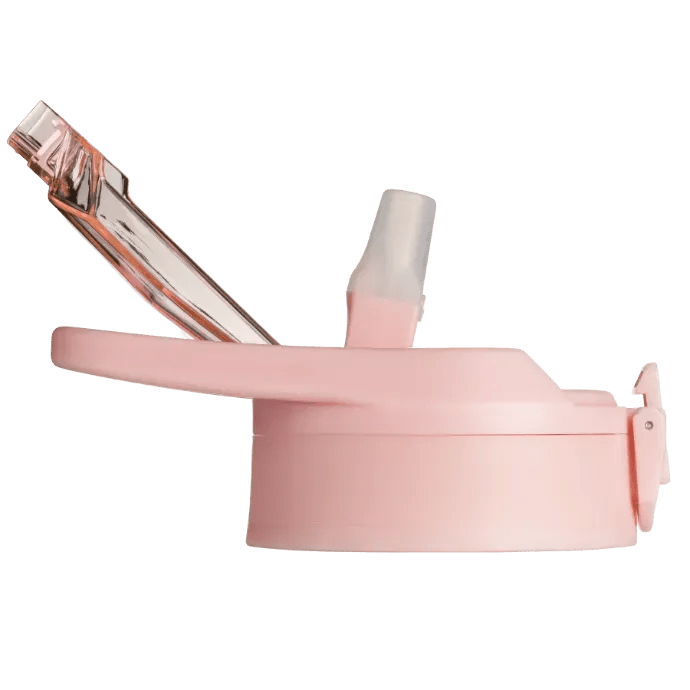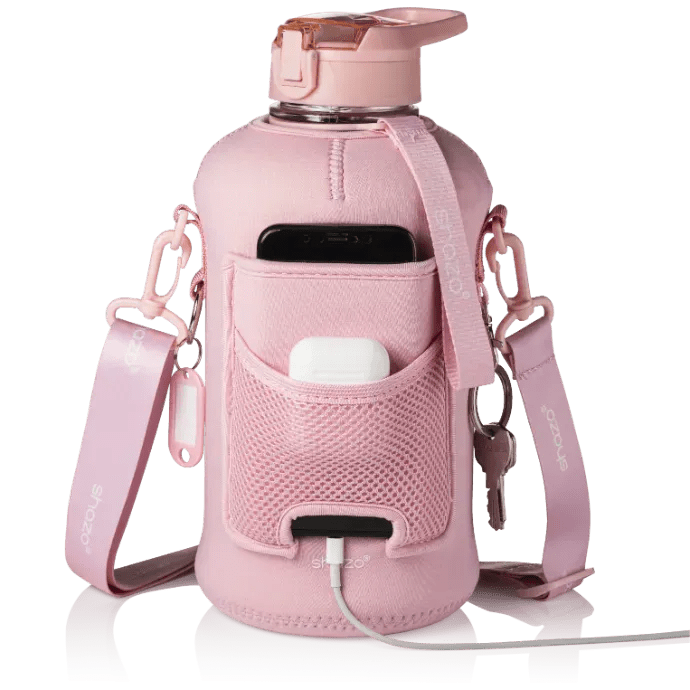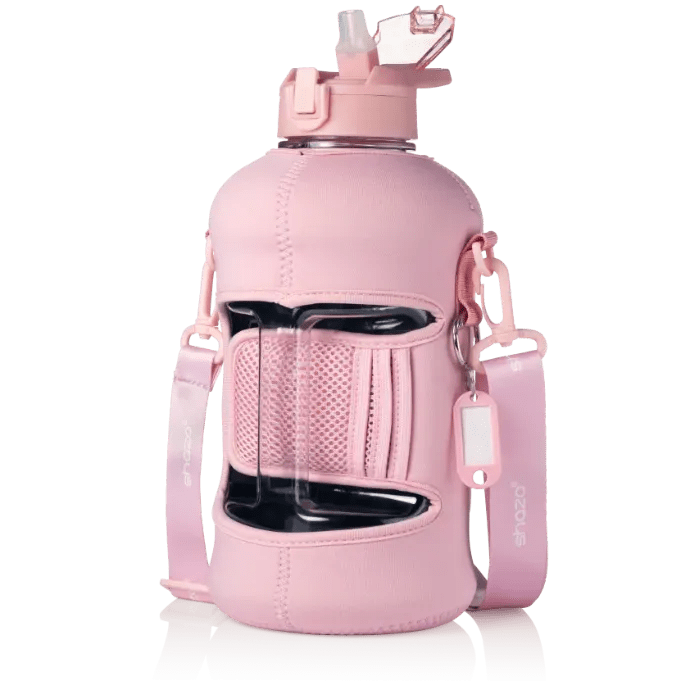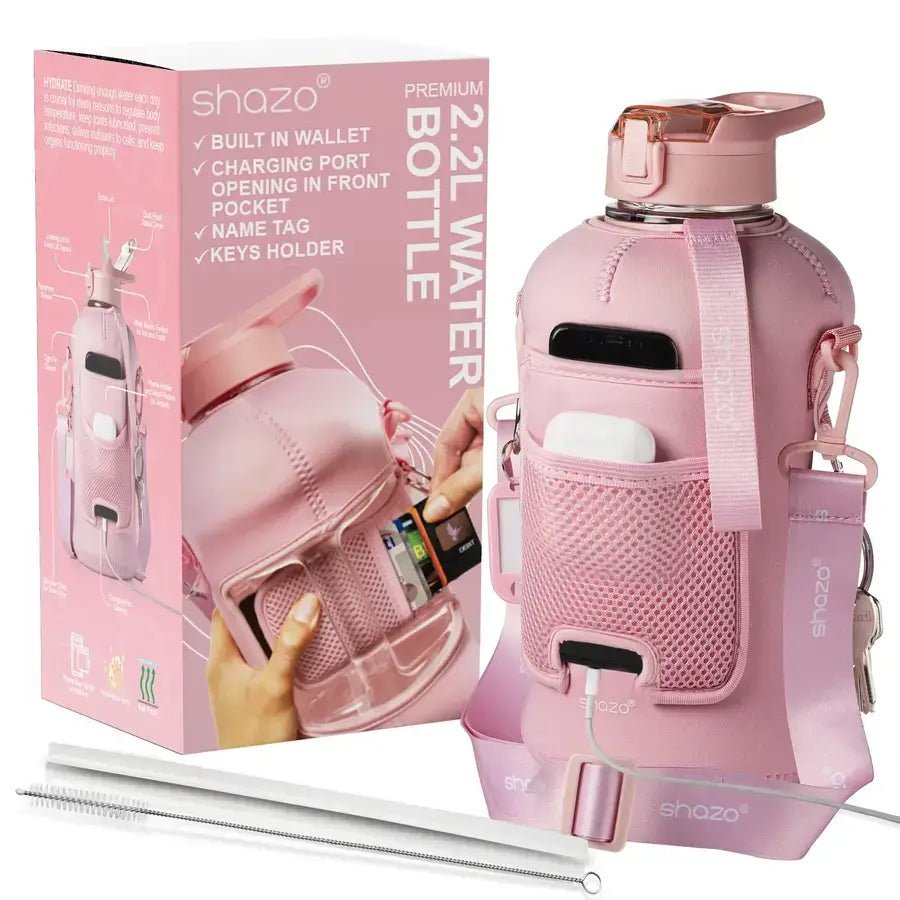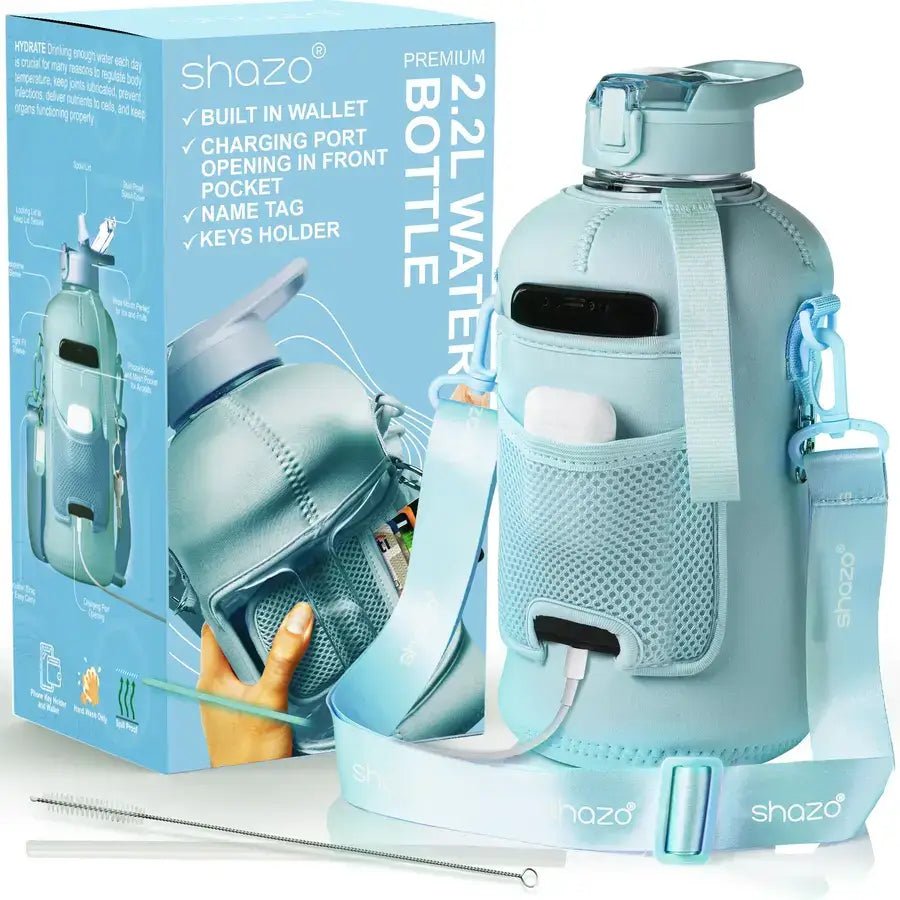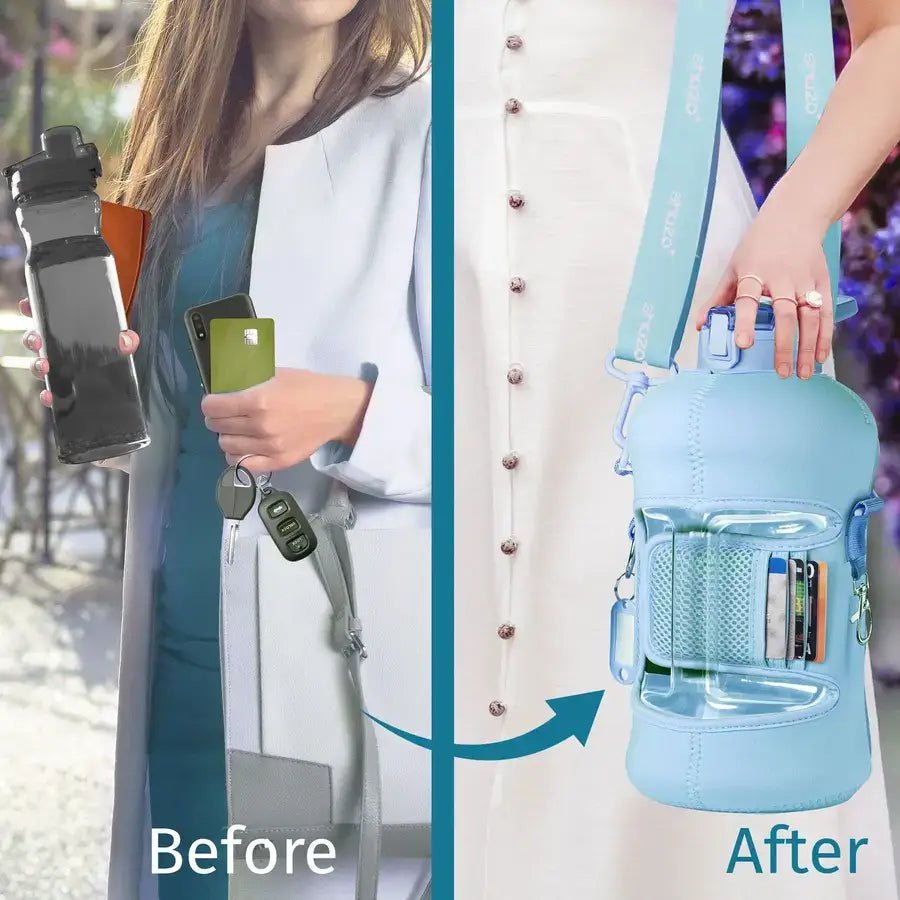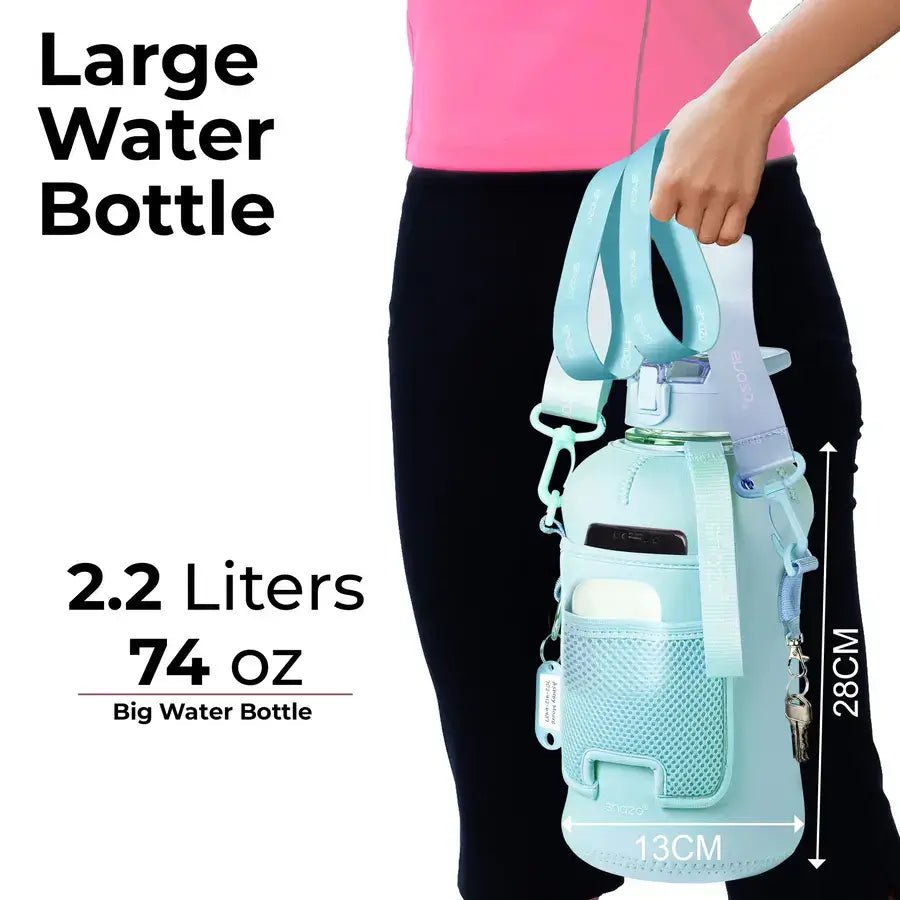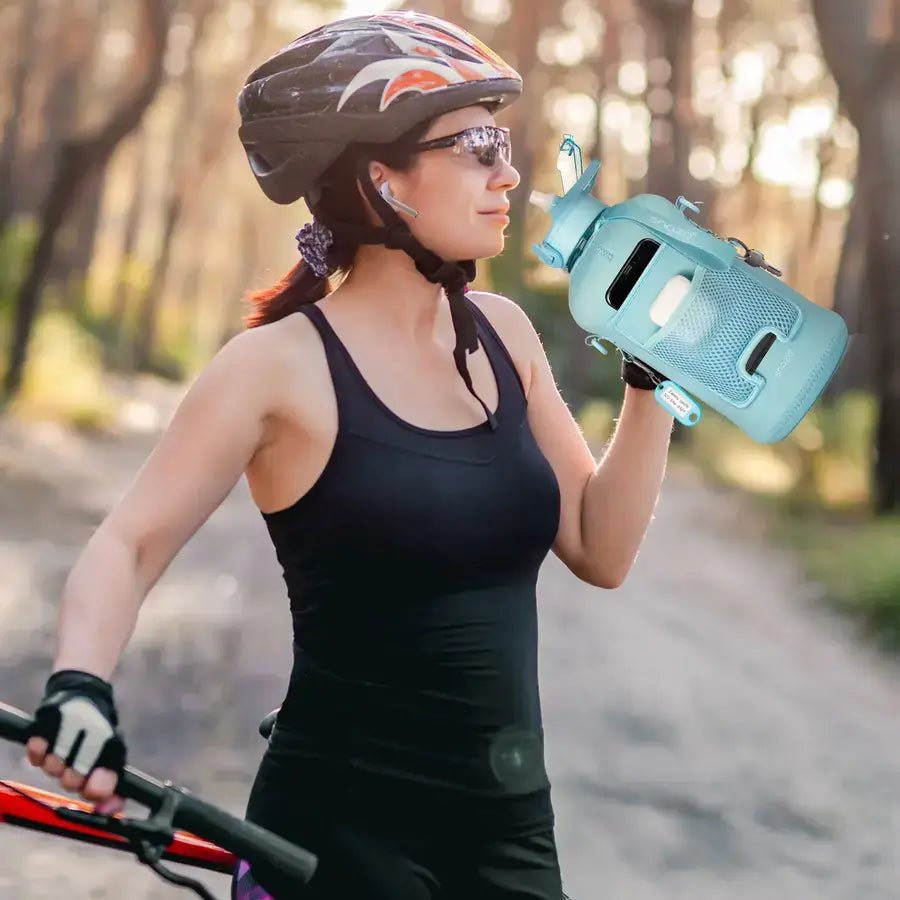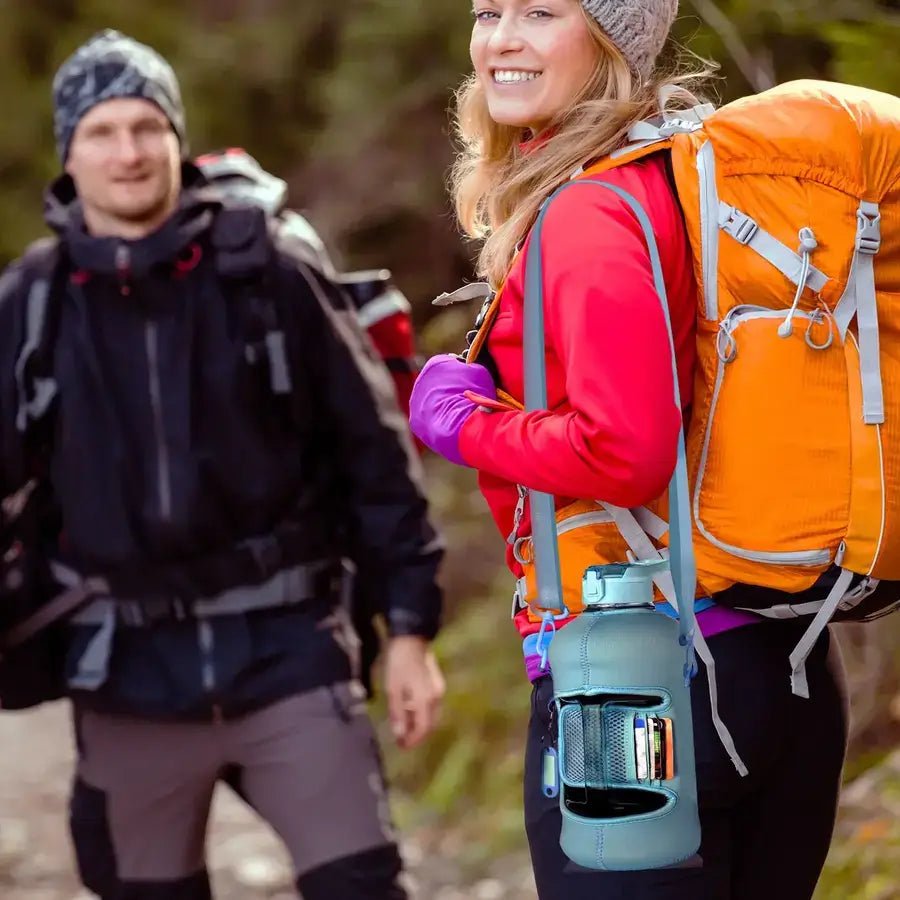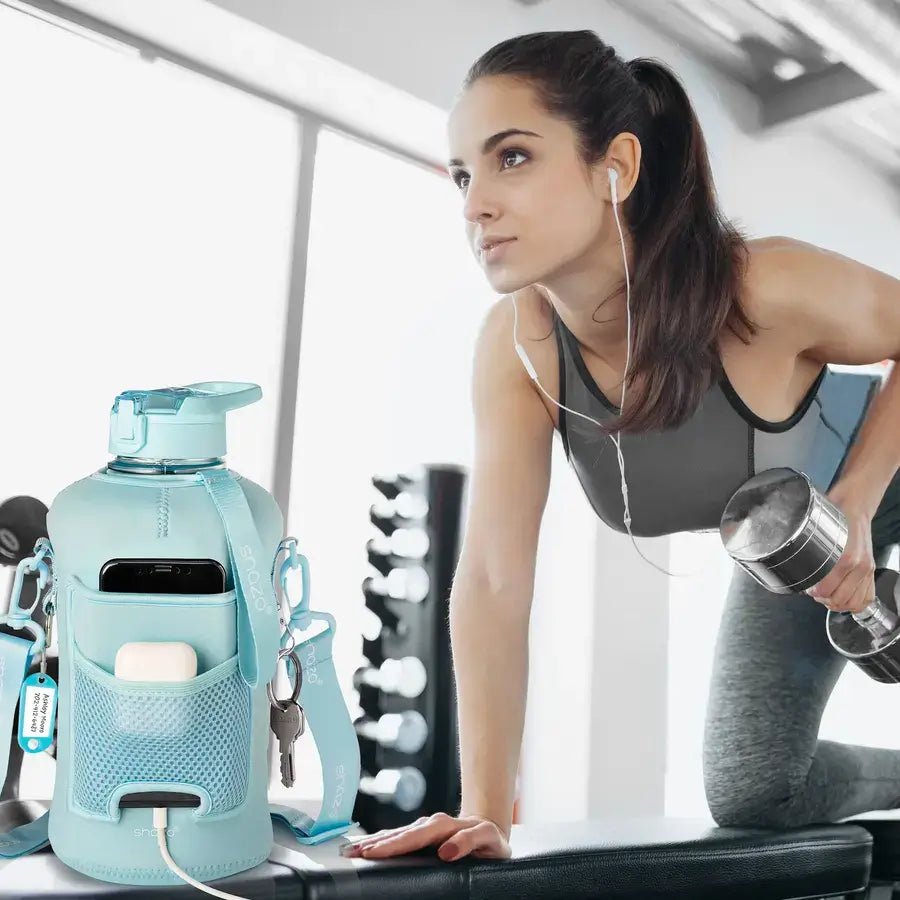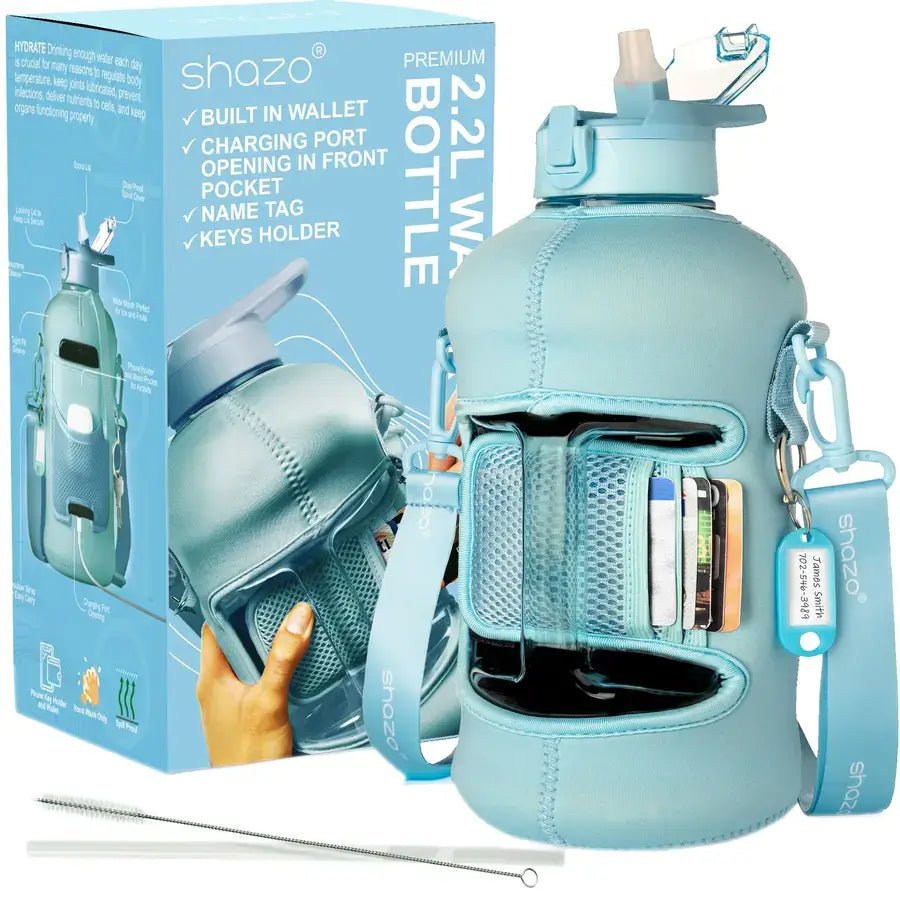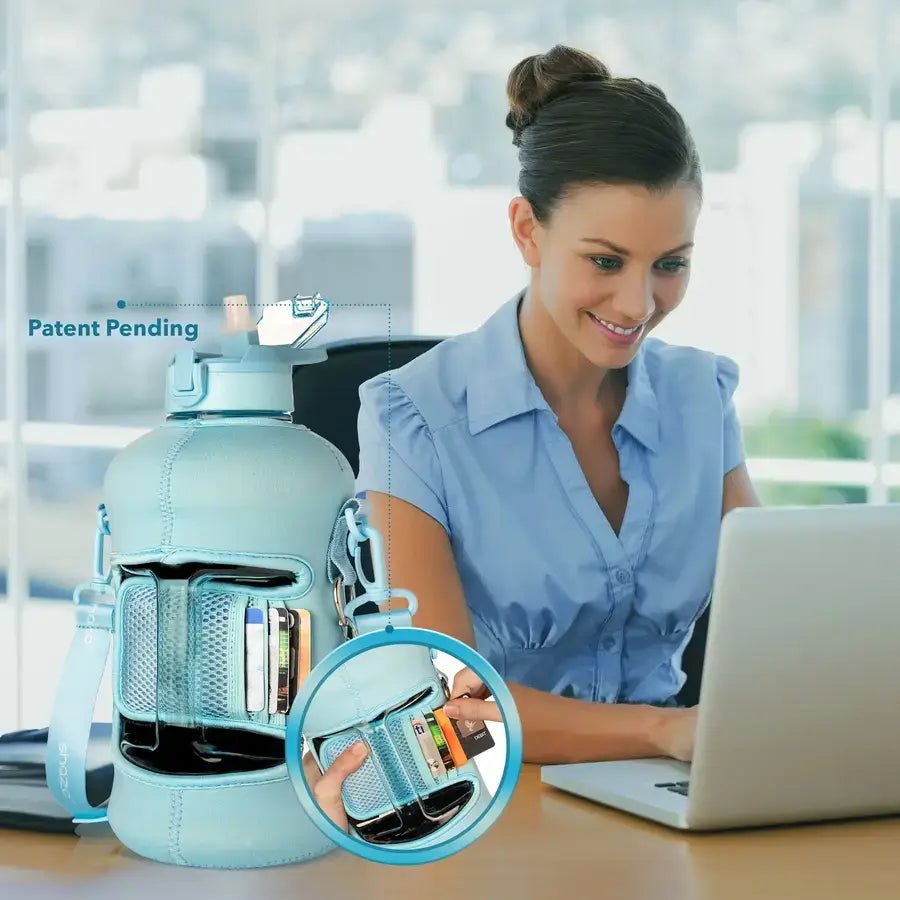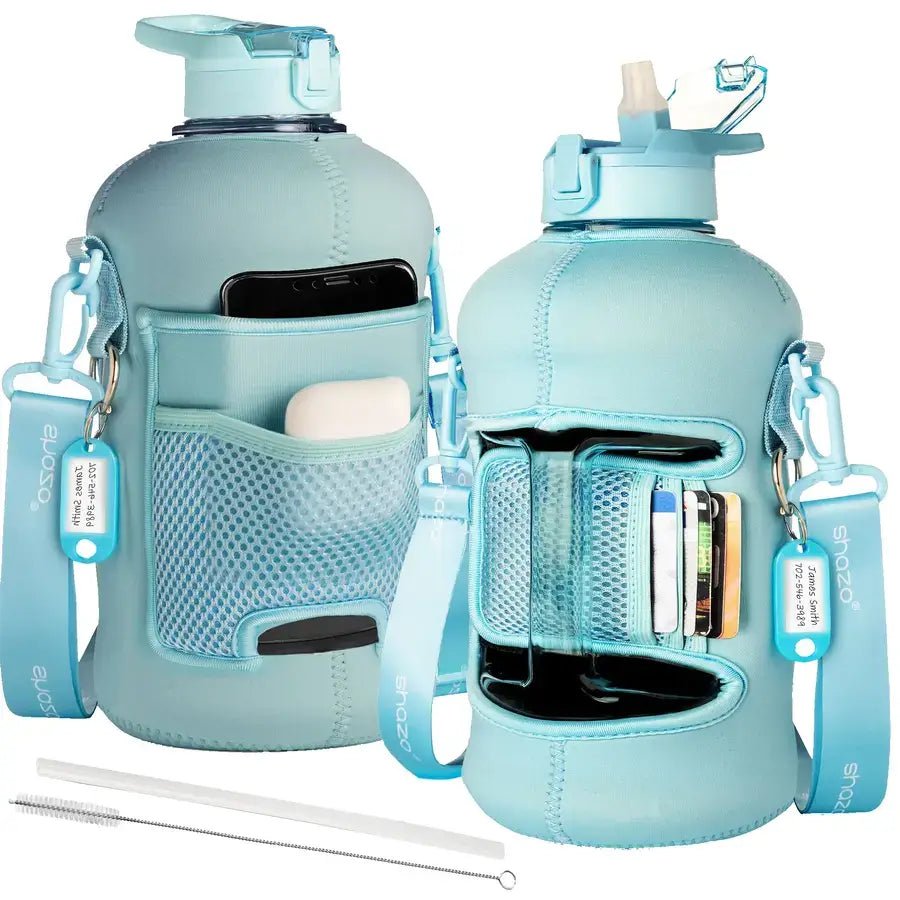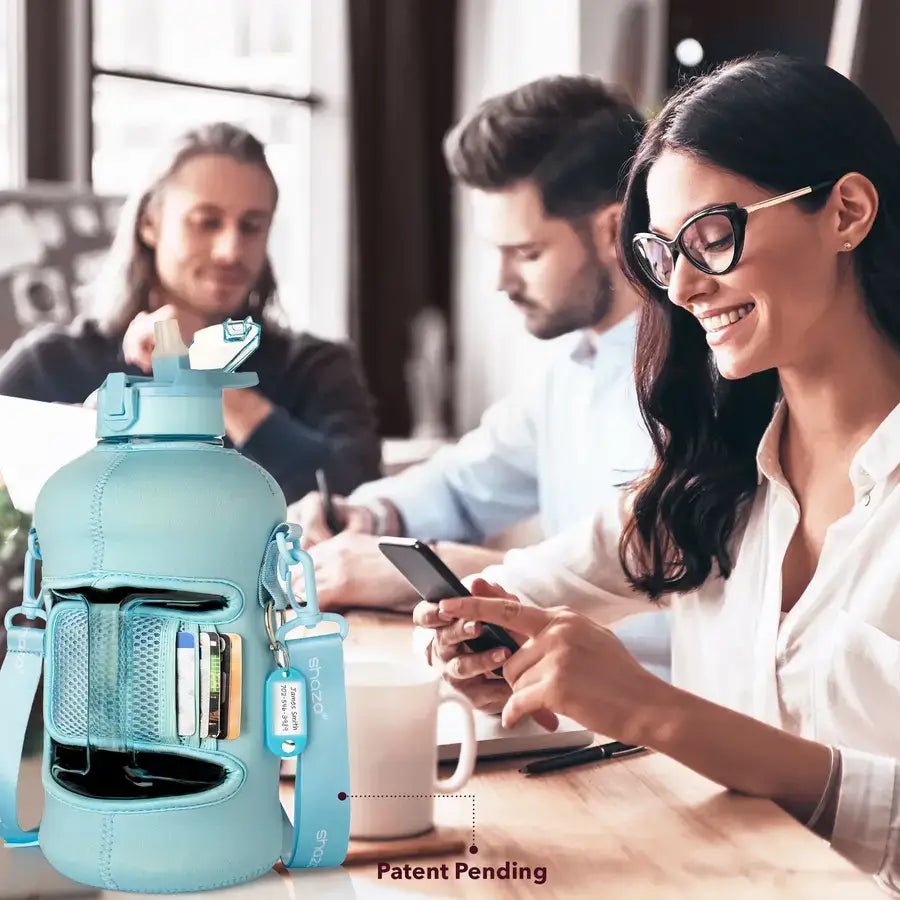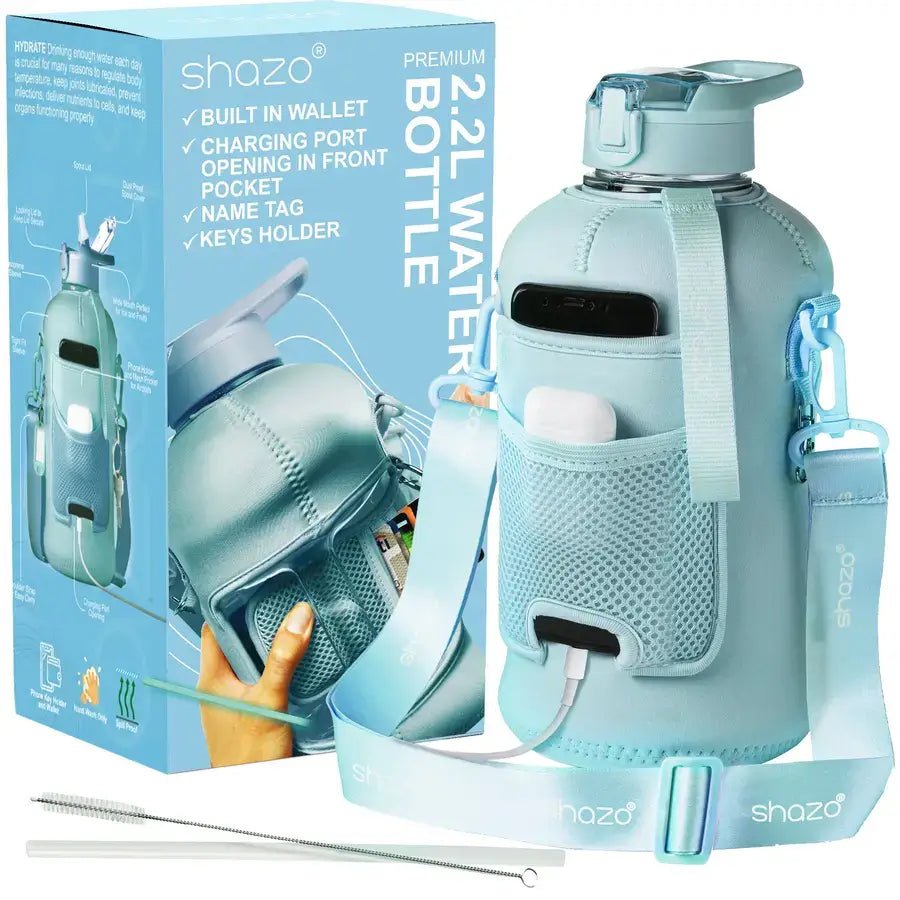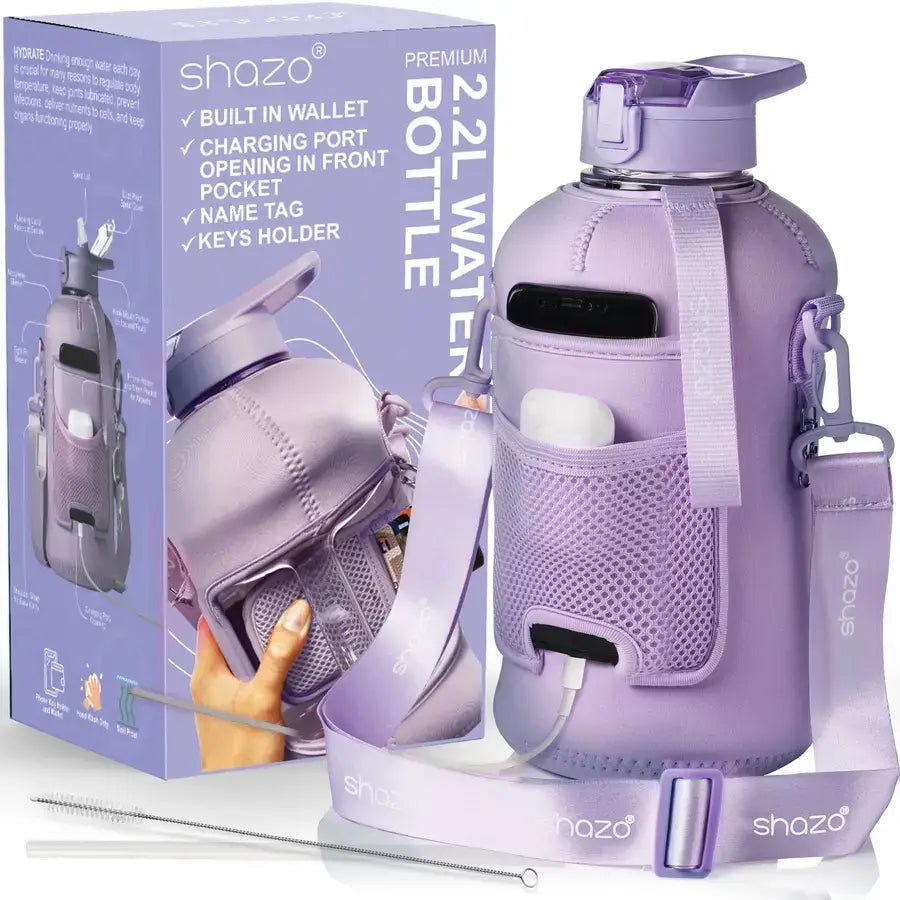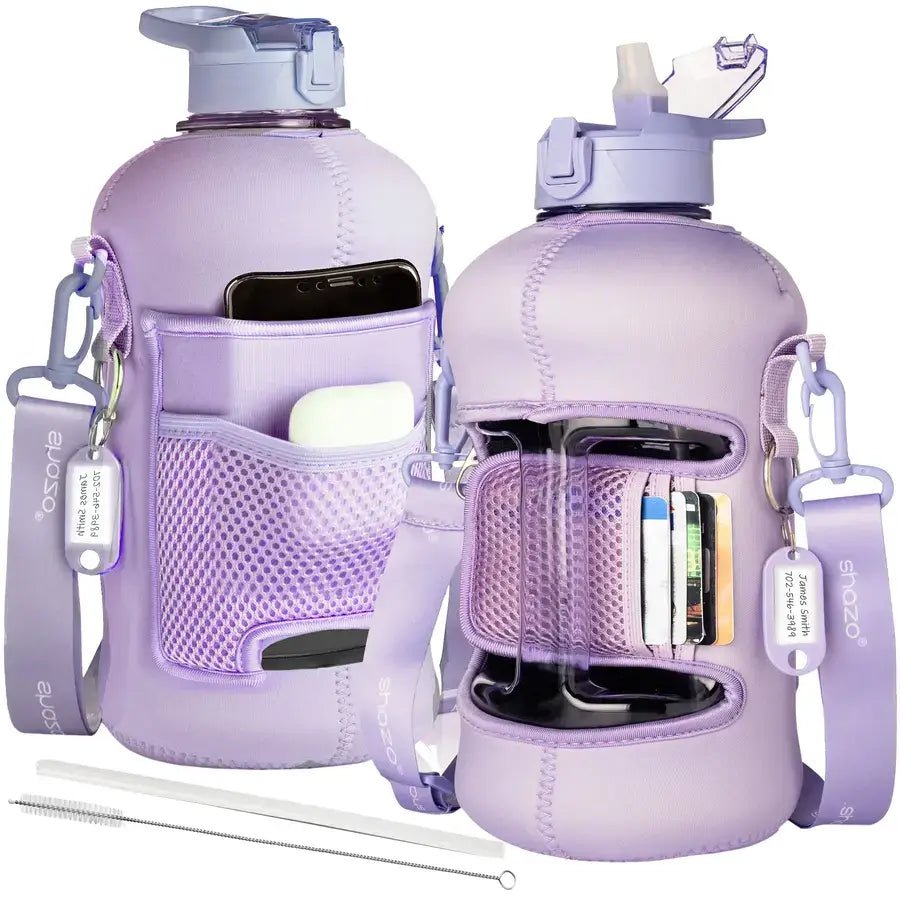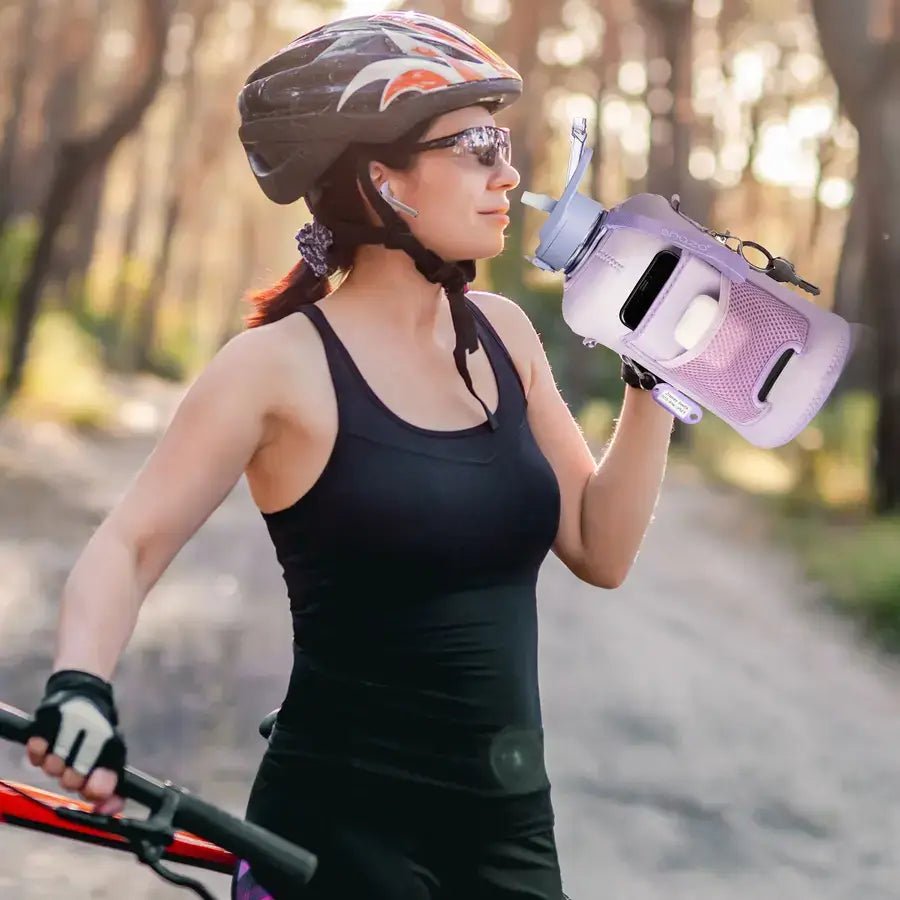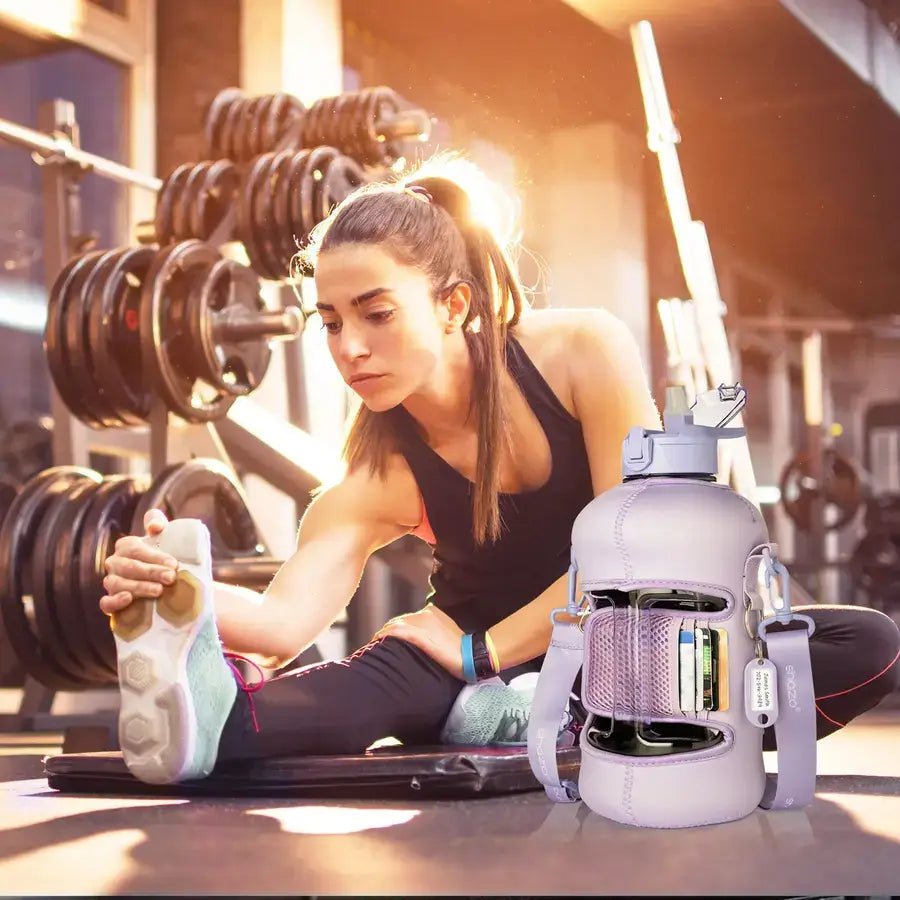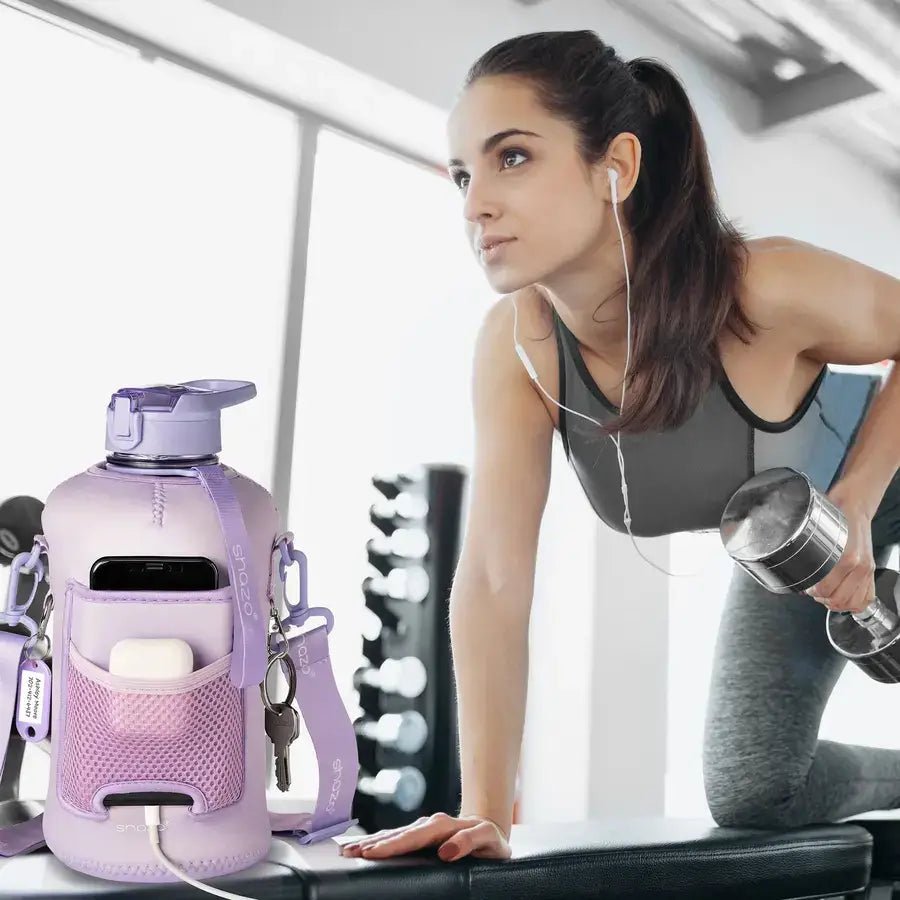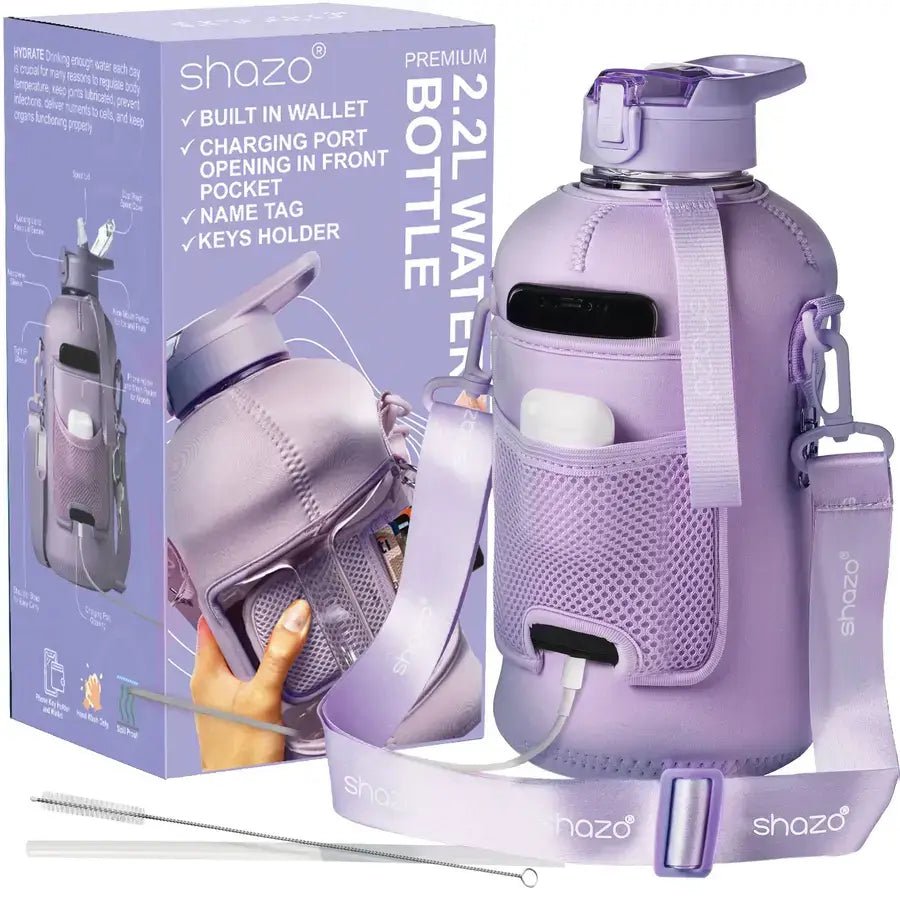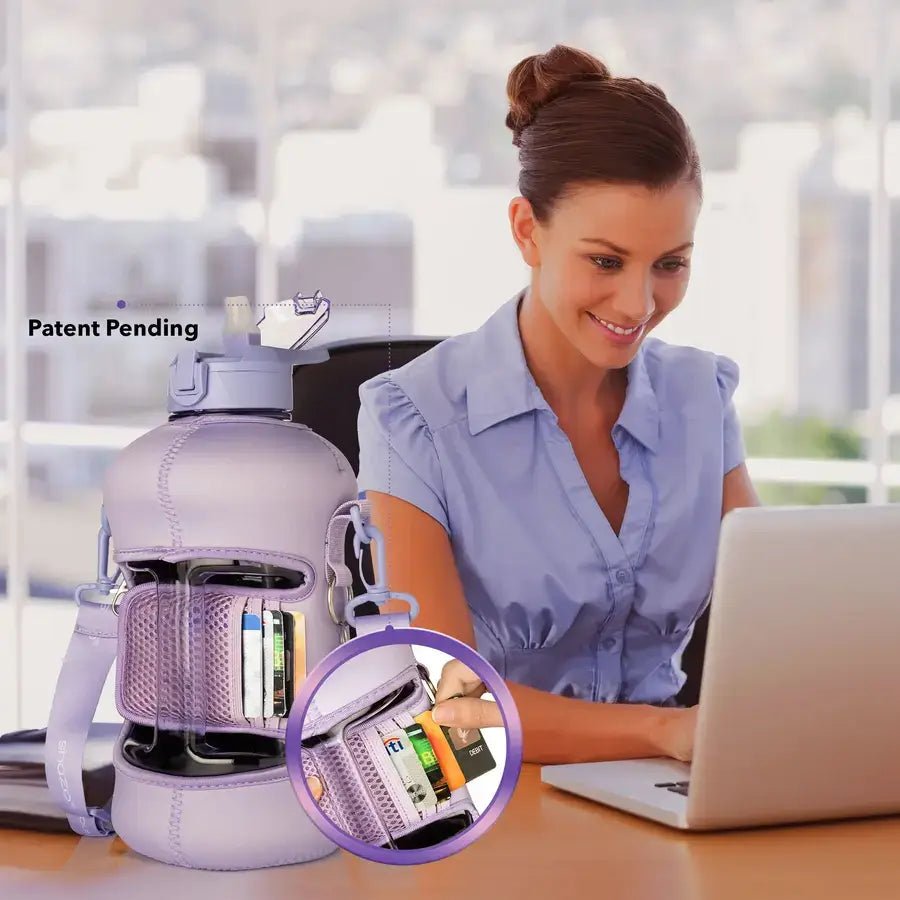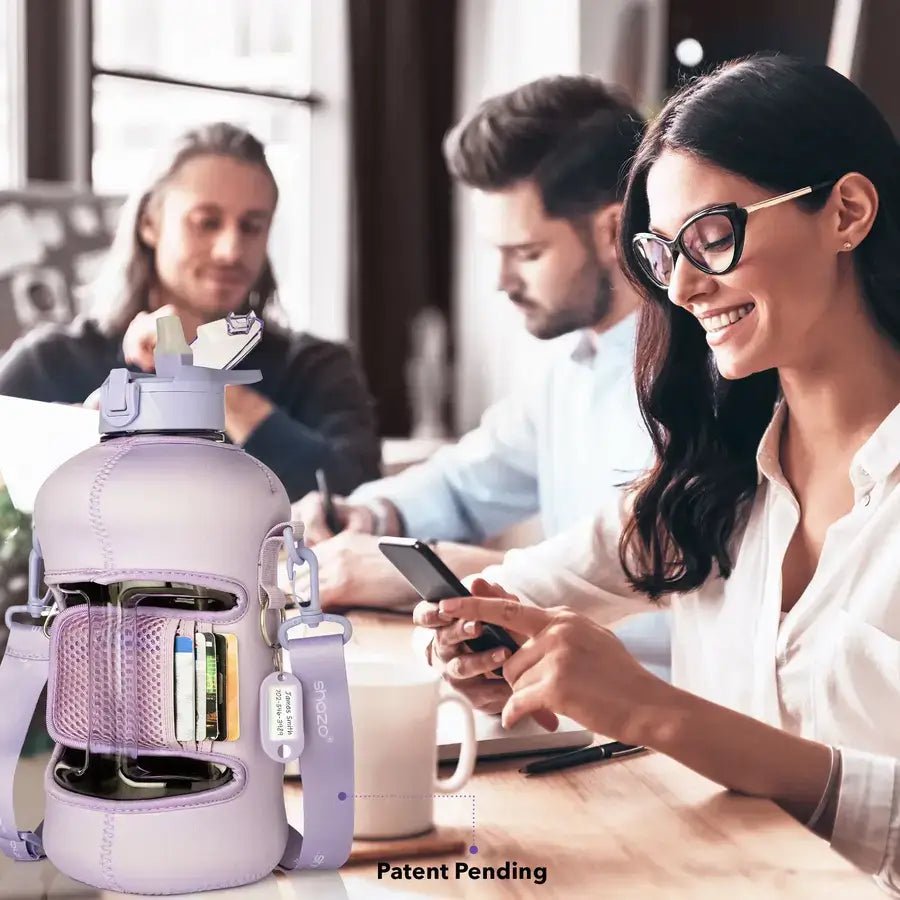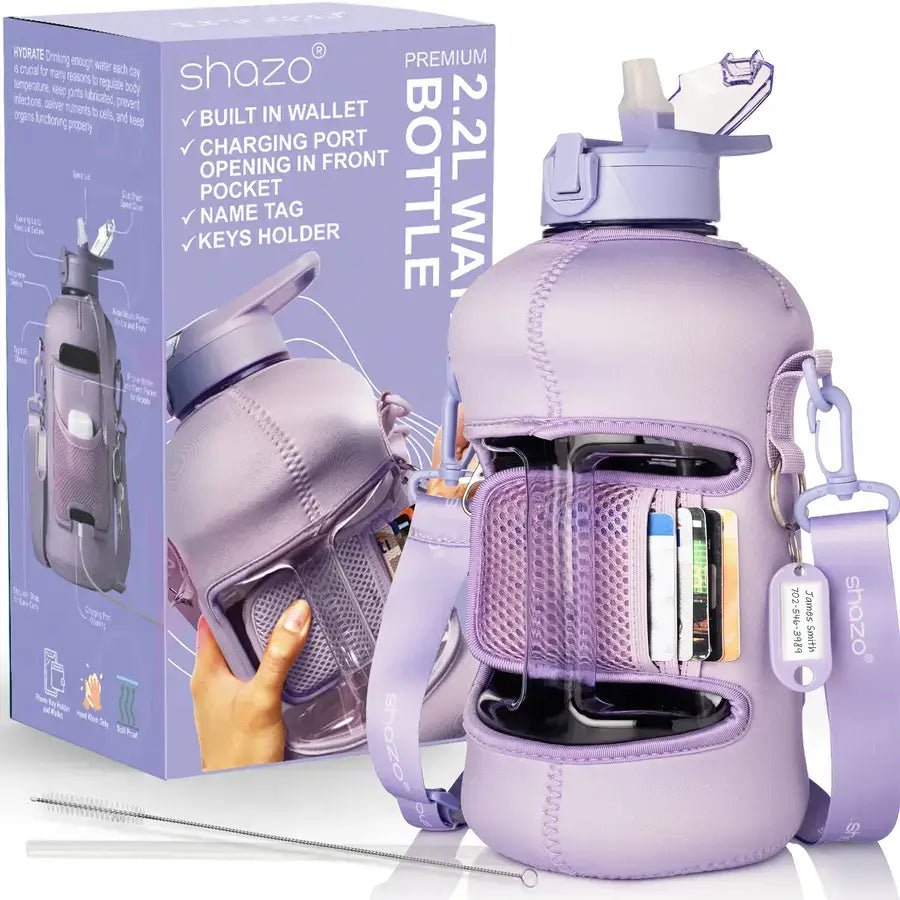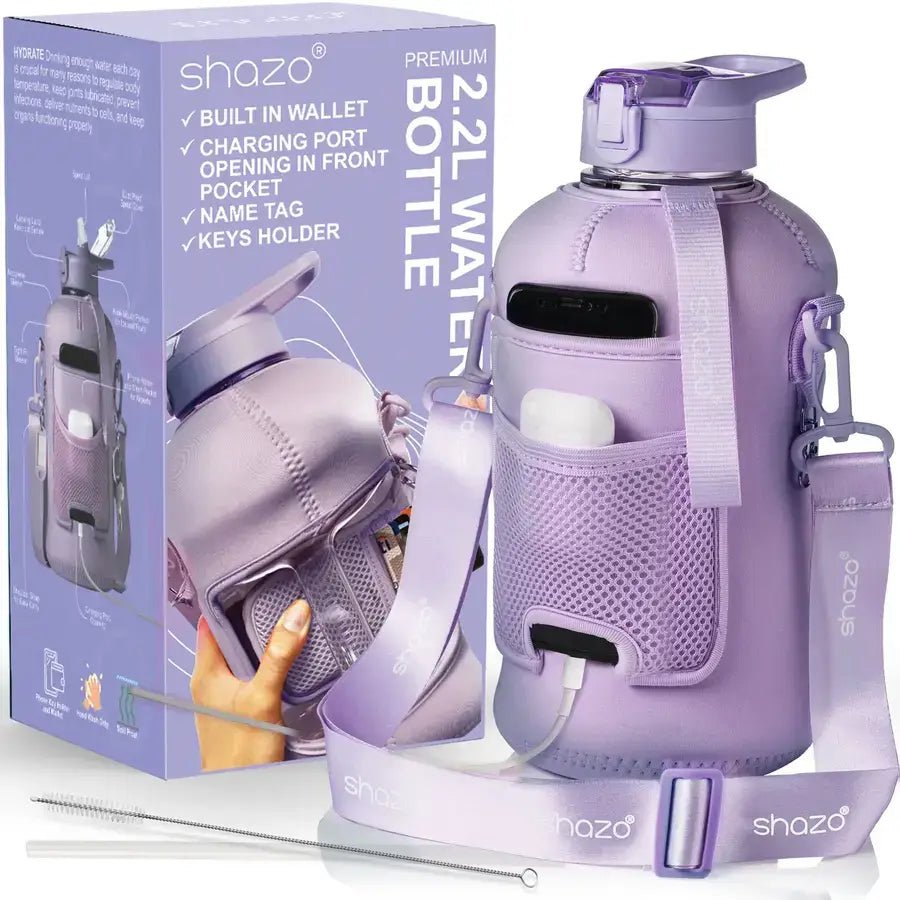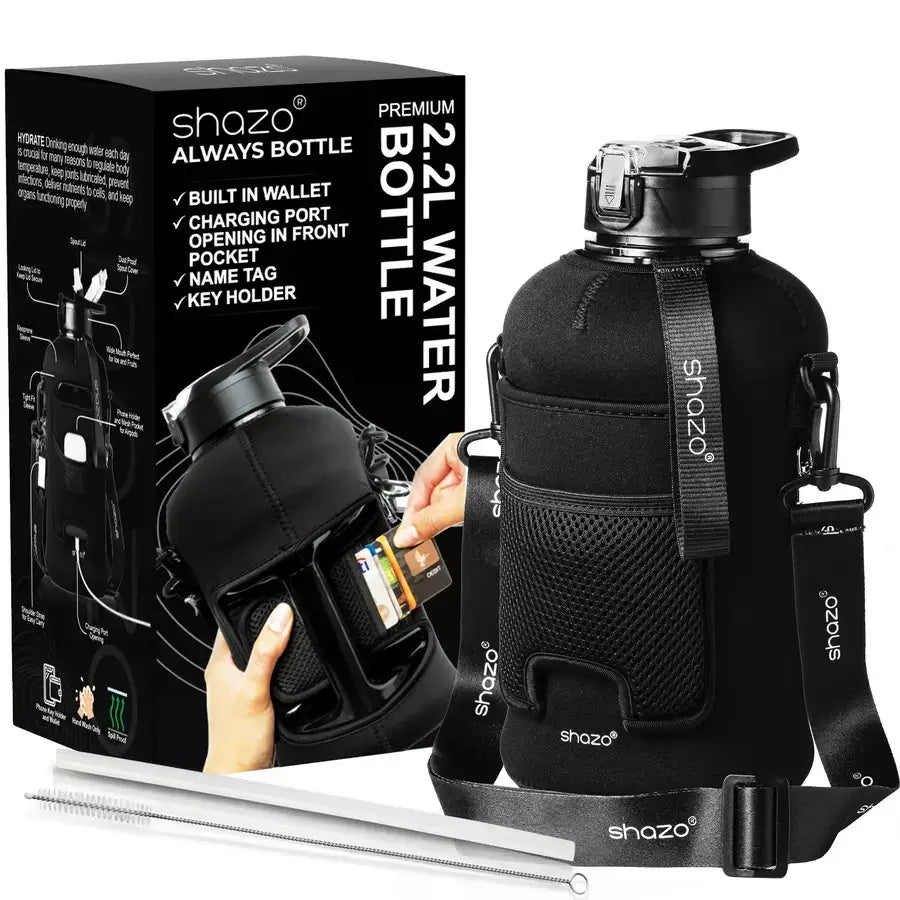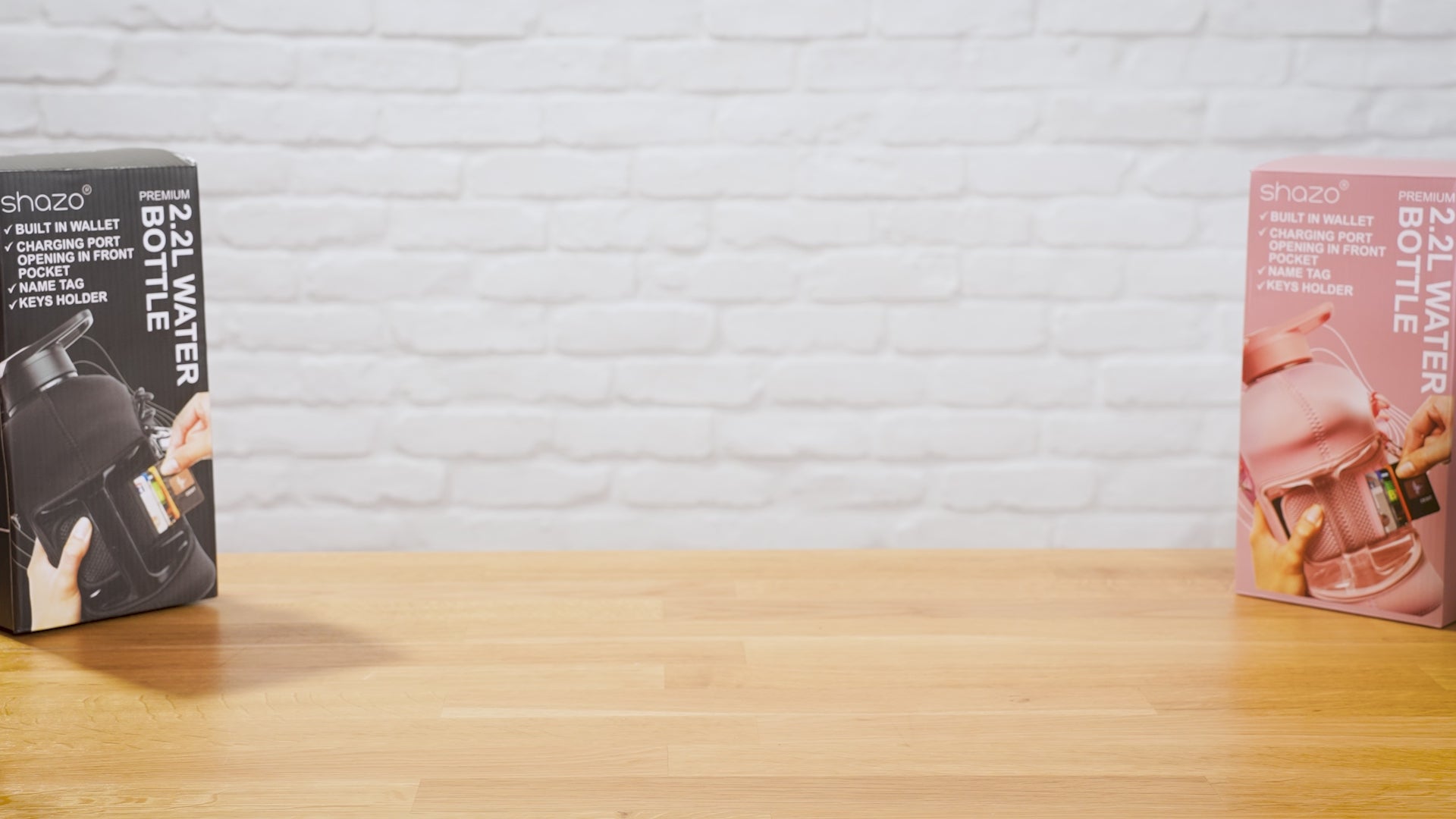 BPA-free bottle provides daily hydration and storage for essentials. Durable, leak-proof, and includes a cleaning brush and shoulder strap. Perfect for gym, hiking, and outdoor activities.
No more worrying about carrying keys, wallet or leaving phone on the dirty gym floor. Shazo Water Bottle is the only sports water bottle with a protective sleeve that has a unique feature which no other bottle has, it not only holds your Phone, Air Pods, keys, cards but you can also charge your phone while keeping it in the pocket while you work out.
Our unique gym water bottle for men and women is crafted with premium plastic and built with 40% more plastic than standard plastic water bottles. Combined with neoprene sleeve.
Using the space under the large jug handle to store your stuff, the patent-pending removable thermal sleeve has a unique design that holds your cards and cell phone, Air Pods, keys and is finished with an in-built key chain and removable shoulder strap for convenient hands free carrying!
Shazo 2.2L Bottle
This is an amazing ALL IN ONE bottle!
The amazing unique botle
I am recomend good quality
very convenient and easy to carry anywhere!
I love this water bottle! It is a perfect size for taking to the gym, and I love that you can put all your important belongings like your cell phone, keys, ID, credit cards, and even a little snack in the side pockets. I also love how the bottle has a flip top cap that securely closes and is leak proof. This is my new favorite water bottle.